10+ Pretty Pink Places in London You Will Want to Visit
If pink is your color, you're in the right place. Especially if you plan to visit London soon!
In London, they surely know how to create instagrammable places. It has the girliest cafes, restaurants, decors, windows, doors, facades… it's a photo paradise for people like me, and I guess for you too if you've ended up reading this.
If you want to add a pinch of pink to your next visit to London, keep reading to find out the most beautiful pink places in the city, including some of the most famous instagram spots in London.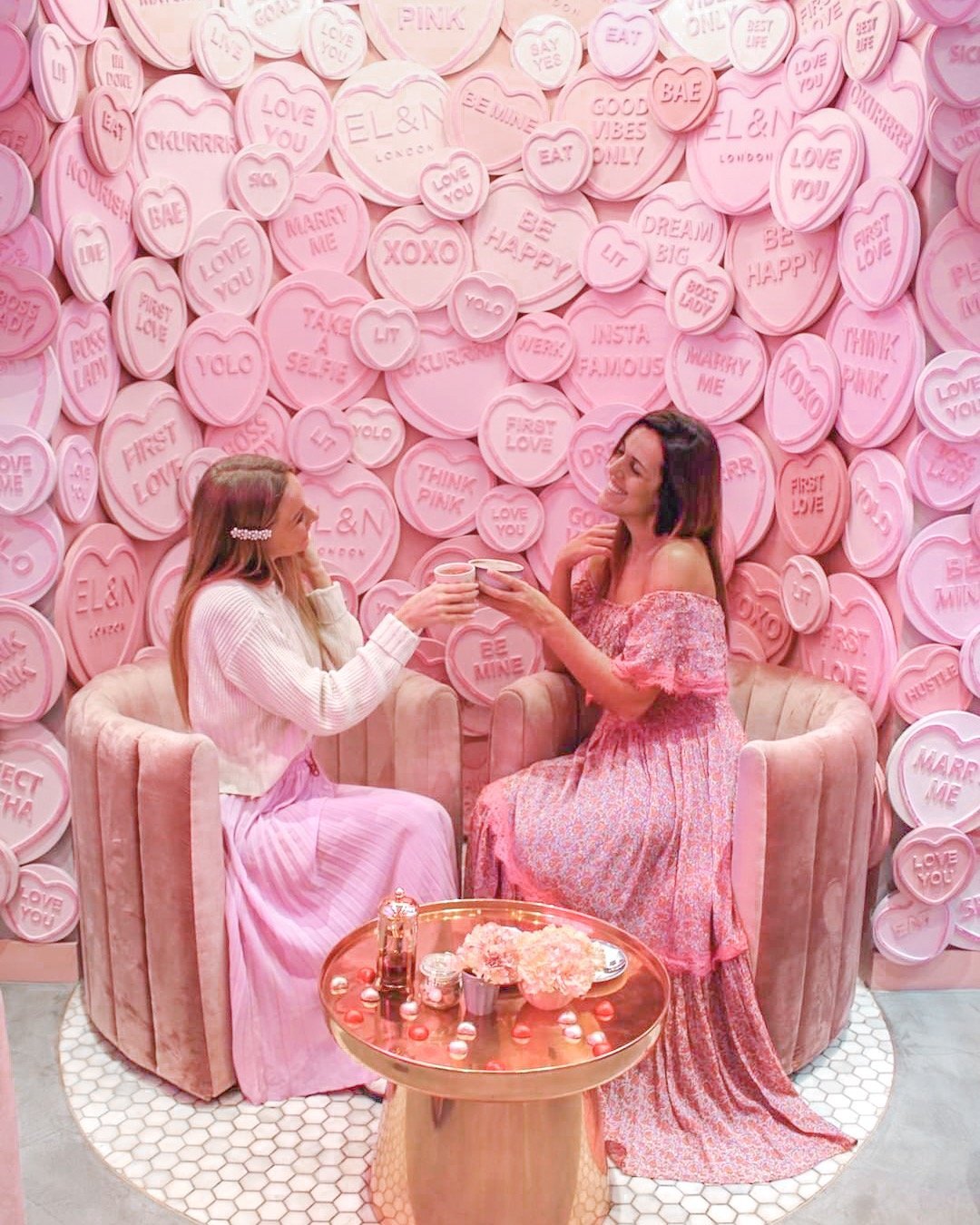 Peggy Porschen Cakes
116 Ebury St, Belgravia, London SW1W 9QQ
Peggy Porschen Cakes is probably the most instagram famous spot in London! It's always pretty in pink and covered with flowers, and they keep changing its facade decorations depending on the season. As every famous instagram spot, it's often busy and there's even people queueing in the street for a photo! I'd recommend you going early in the morning if you can.
In the photo, the "love" sign they had during St. Valentine's 2019.
14 Trevor Square
14 Trevor Square, Knightsbridge, London SW7 1DT
This is just an example of the many pretty facades you can find in London.
Just a quick reminder: remember these are real homes so always respect the locals. Pictures look awesome just passing by the street – remember to be careful not taking photos of the neighbors, let them just enjoy their pretty homes!
Love Actually Mews
St. Luke's Mews, London W11
Mews are former stables that have become lovely little houses. There are lots all over London!
The most famous one is the pink house that appeared in Love Actually, where Keira Knightley has a memorable declaration of love.
If you go here, remember to not disturb the neighbors as in the previous photo location!
Notting Hill Pink Houses
Hillgate Place, Kensington, London W8
The prevalence of pink houses has a peak in Notting Hill, my favorite neighborhood in London – I always wanted to live there! Every single street looks like this around Hillgate Place. It's like a pastel rainbow taking the streets!
Notting Hill has so many pretty streets and colorful facades and it's a must if you're looking for candid shots.
Bywater Street
Bywater Street, Chelsea, London SW3
Bywater Street is one of the most instagram-worthy locations in London! There's no wonder why: this row of pastel houses make a beautiful pastel-colored rainbow that attracts photography aficionados like you and me.
Again, remember to respect the neighbors: be quiet and behave! Otherwise I will stop sharing pretty locations, ok?
DYCE
27 St James St, Marylebone
DYCE is the latest instagram pink sensation in London – it does look like if it was made for instagram!
The Snug at The Berkeley Hotel
Wilton Pl, Knightsbridge
The Berkeley is one of the most incredible 5* hotels in West London.
Its bar features The Snug, a cocoon designed by Bryan O'Sullivan Studio that can be booked for meetings that require a dose of pink!
Woolwich Town Hall
Wellington St
Woolwich Town Hall is a pink hidden gem located in South East London. It's magnificent galleried entrance and grand staircase will blow your mind. It looks like a pink layered wedding cake!
And guess what: it's also a wedding venue.
Elan Cafe
Flowers wall: 25G Lowndes St, Belgravia, London SW1X 9JF
Hearts wall: 42 Hans Cres, Knightsbridge, London SW1X 0LZ
There are a few Elan Cafes all over London, and all of them are becoming insta-famous thanks to their girlie decor.
The most famous ones are the one with a wall made of flowers and the one with a wall made of candy. They're sweet for sure!
God's Own Junkyard
Unit 12, Ravenswood Industrial Estate, Shernhall St, Walthamstow, London E17 9HQ
This location is a bit out of town. To get there, you can use public transportation to Walthamstow Central and from there you'll have to walk around 15 minutes to get there. You can follow the indications on google maps or the indications God's Own Junkyard has in their own website.
Take into account that only phone photos are allowed, so you can leave your camera at home.
Saint Aymes
59 Connaught St, London W2 2BB
Saint Aymes is a clear example of a social media friendly business.
This lovely cafe was created with the goal that beauty should exist with no excuses in out day life.
And good news, they've just launched afternoon tea!
Sketch
9 Conduit St, Mayfair, London W1S 2XG
Sketch is one of the most instagram famous restaurants in London.
Not only the dining space is pretty in pink, also the bathroom is well worth a visit photo wise!
Naild'it
Bath tub: 41 Paddington St, Marylebone, London W1U 4HN
Phone cabin: 5 Ellis Street, Belgravia. London SW1X 9AL
There are a few Naild'it stores all over London, and they have literally nailed it (pun intended) with their decor in every single one.
The most instagram famous Naild'it to date are the one with the pink telephone cabin and the one with the pink bath tub.
Will you go for a manipedi on your next trip to London?
Sugaring London
32 Uxbridge St, Kensington
Located in insta-paradise Notting Hill area, Sugaring London is the proof that all types of businesses can make it on instagram: this place is especialized in sugaring, the latest trend on hair removal. And they have proved they can be the latest trend on instagram too, just mixing cacti and pastel pink!
Where to stay in London for a pink experience
Looking for a 100% pink stay in London? I've got you covered!
As usual, I give you different options:
Luxury: The Lanesbogough Hotel
With an excellent location, ornate Victorian decor and exceptional service, The Lanesborough offers one pink suite. Just make sure to book the Premier Suite and request the pink room on your booking request.
Airbnb: The Pink House
If you'd rather stay at an apartment in the heart of Notting Hill, then you'll love this property with a beautiful pink facade.
Check rates and availability here.
If it's your first time using airbnb, get up to 34€ discount on your first stay if you sign up through this link.
All the locations in the map
If you've liked this post, pin it for later!