Oaxaca is a photographer's dream.
You could be taking photos non-stop in every corner. There's stunning temples, colorful buildings, impressive archaeological sites, flowers in bloom all year round and eye-catching street art. There's no wonder Oaxaca is famous for its art scene!
Keep reading to discover the best photo locations in Oaxaca!
Santo Domingo
This temple and former monastery is located in the heart of the city.
For me, this façade is an icon of the city of Oaxaca, that's why I believe this is the best place to take photos in Oaxaca.
Tip: try to visit early in the morning to avoid the crowds.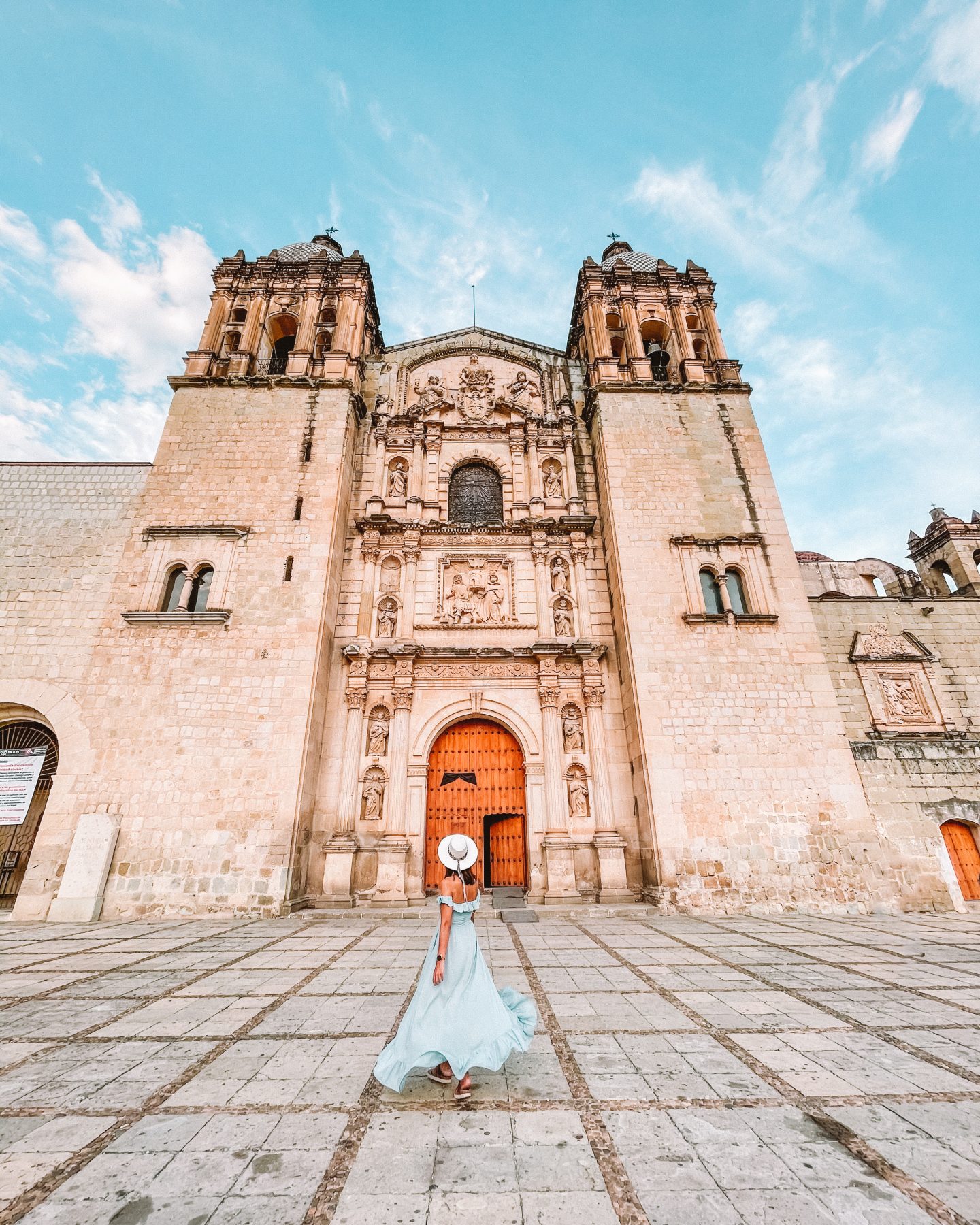 Agaves at Santo Domingo
Santo Domingo looks amazing from every single corner, especially from the agaves on the left side of the façade.
Take your photos here to get a different point of view!
Rooftops facing Santo Domingo
The best way to fully enjoy the view to Santo Domingo is probably with a mezcal in hand from a rooftop with a view.
These are the rooftops with the best views to Santo Domingo:
Los Amantes
Los Danzantes
Casa Crespo
Casa Oaxaca
Pitiona
Basilica de Nuestra Señora de la Soledad, façade
Speaking of pretty façades, the Basilica de Nujestra Señora de la Soledad ir pretty unique.
Its intricate façade is well worth your photos. This spot is not as busy as Santo Domingo so it's ok to visit later in the day.
Basilica de Nuestra Señora de la Soledad, from the side
Another great perspective to photograph the Basilica de Nuestra Señora de la Soledad is from the side. The wall on the right hand side allows photographers get more creative shots.
Tip: Try sitting or standing on the wall!
Jalatlaco mural by Bouler
Location: Calle 5 de mayo.
The most famous mural in Jalatlaco is the one featuring a Katrina having a mezcal with her dog, created by Bouler.
Visit this spot around mid-day to avoid shadows!
Street art in Aldama Street
There are many murals in Jalatlaco, especially in Aldama street.
Almost every wall is a work of art!
Casa Curtiduría façade
Location: Calle del Salto
Casa Curtiduría is a hotel in the Jalatlaco neighborhood, with a colorful façade also designed in pastel colors by Bouler.
Calle de la Noche Triste
Location: Calle de la Noche Triste
This pretty corner looks like an ice cream! Play with perspectives to mix the 2 colors to create amazing pastel colored pictures.
The prettiest street in Oaxaca
Welcome to the most colorful street in Oaxaca! This was my favorite spot for photos in Oaxaca.
Besides, they usually display papel picado here which makes it even prettier.
Jalatlaco blue cactus wall
Another pretty spot in Jalatlaco is this blue cactus wall decorated with cacti.
Keep in mind this is someone's house, so make sure to respect the local neighbors.
Xochimilco mural
The most famous mural in Xochimilco is this massive artwork featuring 2 mariachis representing a scene from the movie Pulp Fiction.
It's really cool to see – and photograph!
Xochimilco bouganvilleas
There are always flowers in bloom in Oaxaca.
I absolutely loved this massive bougainvillea in the Xochimilco neighborhood to create the most romantic photos.
Fish street art
Location: Plaza De la Cruz de Piedra
This artwork, created by Katalina Manzano, is another amazing spot to photograph.
Do not miss this instagrammable spot in Xochimilco!
Oaxaca Te Amo spot
Location: AM Siempre coffee shop
While in Xochimilco, do not miss this instagrammable location.
The Oaxaca Te Amo spot is located at the AM Siempre coffee shop. If you want to take your photos here, grab a coffee first!
The patio at Oaxaca City Centro Hotel
Pink colors in Oaxaca never cease to amaze me.
I absolutely loved staying at Oaxaca City Centro, an instagram-perfect hotel in pink colors.
If you want to take photos here, keep in mind that this space is only accesible for guests staying at the hotel – I promise it's really worth it! You'll be in the heart of Jalatlaco.
The rooftop pool at Oaxaca City Centro Hotel
Oaxaca City Centro is full of instagram spots in every single part of the hotel.
I especially loved the rooftop where I chilled in the mornings with a book. This is another great reason to book your stay at Oaxaca City Centro since there aren't many options in town combining a pool with a great location and a mid-range price.
The cactus at Oaxaca City Centro Hotel
Another great spot for photos is the cactus pink wall at Oaxaca City Centro. It's quite similar to the aforementioned blue wall also located in Jalatlaco, just a few steps from here… but this one is so pretty in pink!
Teatro Macedonio Alcalá
I absolutely loved this building. The Teatro Macedonio Alcalá stands majestic in the center of Oaxaca.
It's one of the greatest examples of Art Noveau in all Mexico and it's a stunning photo location.
Hierve el Agua
This site consists of 2 waterfall rock formations which have been formed over thousands of years – pretty impressive!
The most popular photo spot in Hierve el agua is the pond in the smallest waterfall.
Monte Alban, North platform
Monte Alban is located just 10 km away from Oaxaca city and it's a must-visit spot to include to your itinerary in Oaxaca.
The view from the north platform is pretty iconic!
Monte Alban, South platform
When in Monte Alban, make sure to check out all the photo locations.
The steps in the south platform are amazing to photograph!
Mitla from the outside
My favorite way to photograph Mitla was actually from the outside. There, you'll see some cacti you can use to create a cool framing including the domes in the equation.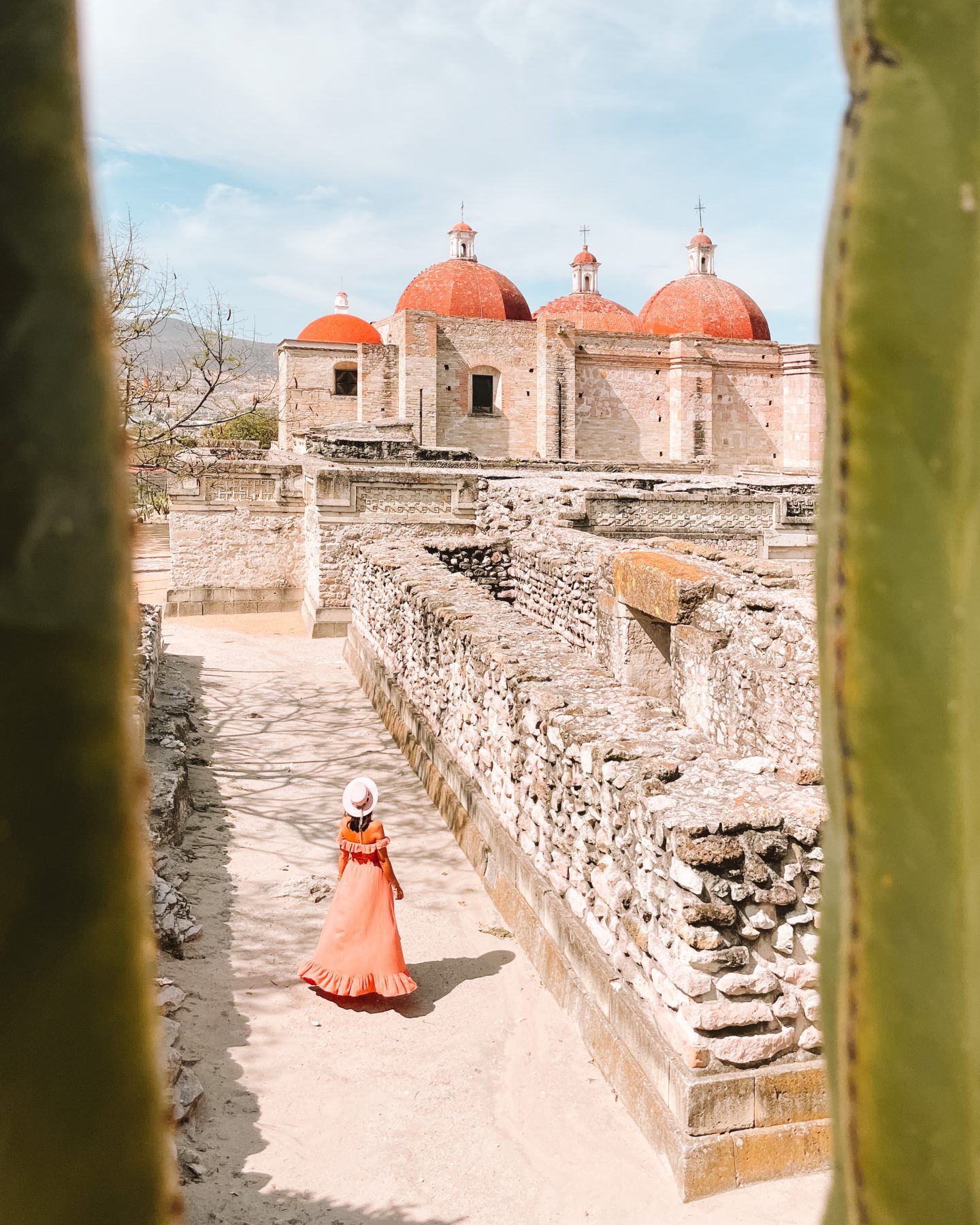 Mitla, Hall of steps
The Hall of steps is one of the most striking parts of Mitla.
The stone columns and fine mosaics are fascinating!
Tip: if you want to take photos here, you need to visit early in the morning before it gets too busy.
Tlacolula Church
When visiting Tlacolula market, make sure to visit Tlacolula church too while you're in the area.
The outside of the church is especially pretty when it's decorated with papel picado.
If you've liked this post, pin it for later!