My recent African safari was a dream come true – it's been on my bucket list for ages!
I was beyond excited for this trip of a lifetime: watching the animals in the wild, as they should be! I was really happy even before traveling as we were visiting remote areas in Tanzania like Mahale and Katavi. I knew it was going to be an unforgettable experience!
Before every trip, the same question comes to my mind: "what to pack?". My African adventure was no exception.
I found it challenging when I started packing: I wanted to keep my outfits stylish but also functional and comfortable, and I was not planning to spend a fortune on new clothing!
Besides, Tanzania is mostly Muslim and conservative so I had to avoid any revealing outfits.
I was lucky to find many cute safari styles available in fashion shops right before traveling to Tanzania. This way I was able to "travel chic" with dresses as I like to do. You can never go wrong with dresses!
Disclaimer: you can stop reading now if you don't care about how to safari in style!
African Safari Outfit Inspiration
What to wear on a safari in a nutshell:
Choose neutral colors like beige, tan or khaki.
Avoid wearing red (it may scare the animals) and blue or black (they both attract the Tse-Tse flies).
Also, avoid patterns like leopard or camouflage.
Wear natural fabrics like cotton and linen.
Bring layers: a light jacket or a scarf come very handy in early game drives and night safaris.
Last but not least: you must pack a maximum of 15kg!
Get some safari outfit inspiration through my own pictures!
Shirt Dress + Ankle Boots
When I first saw this dress at the shop I automatically knew I had to pack it for the safari in Tanzania. I felt like Meryl Streep in Out of Africa when I was wearing it! But no, Robert Redford was not around this time.
I styled this dress with a pair of ankle boots from Karma of Charme, an Italian brand with a cute shop in Ibiza. They were super comfy but to be honest, I love to be barefoot whenever I can and I did most of the time on the jeep.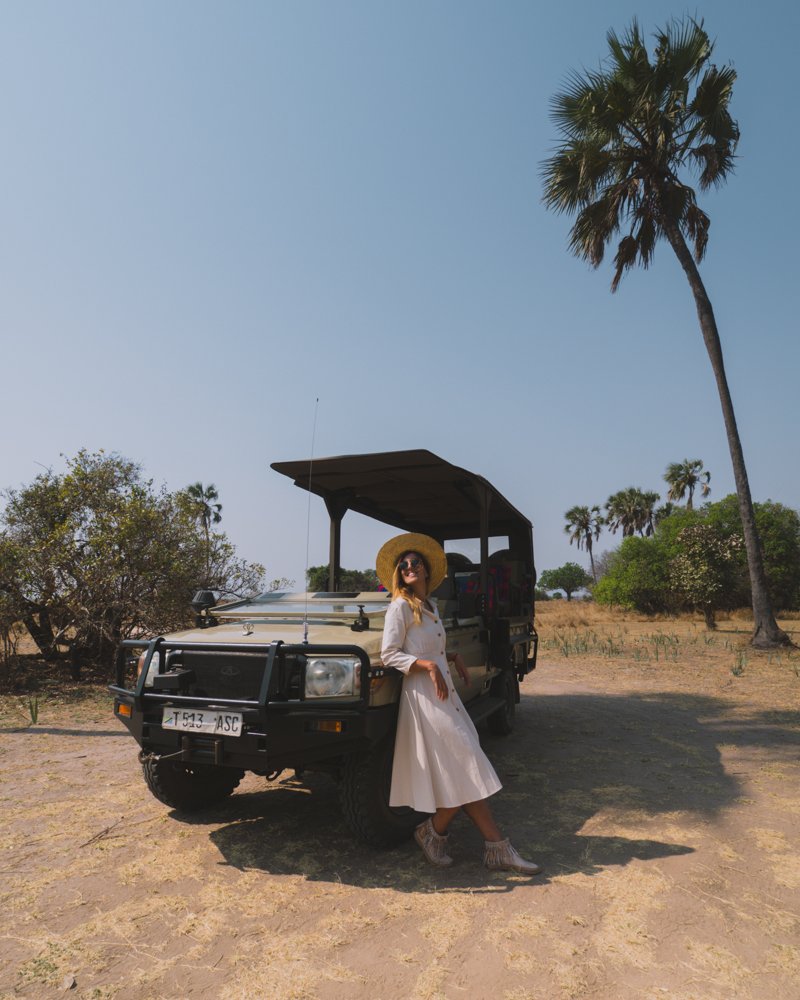 Khaki Dress + Safari Hat
This khaki dress in linen was one of my favorite outfits during the trip and I wore it a few times. The fabric is cool and perfect for the hot temperatures and I styled it with a safari-style hat that I borrowed from my friend Layla.

Pants + Top + Functional Shirt
It's very rare to see me wearing pants! Well, I did while in Mahale. We went on an easy trek 2 different days to find the chimps into the wild and wearing pants was the best idea.
The first day I styled my joggers with a white blouse while the second I went for this white top and functional shirt with pockets. This type of shirt is very convenient when changing camera lenses!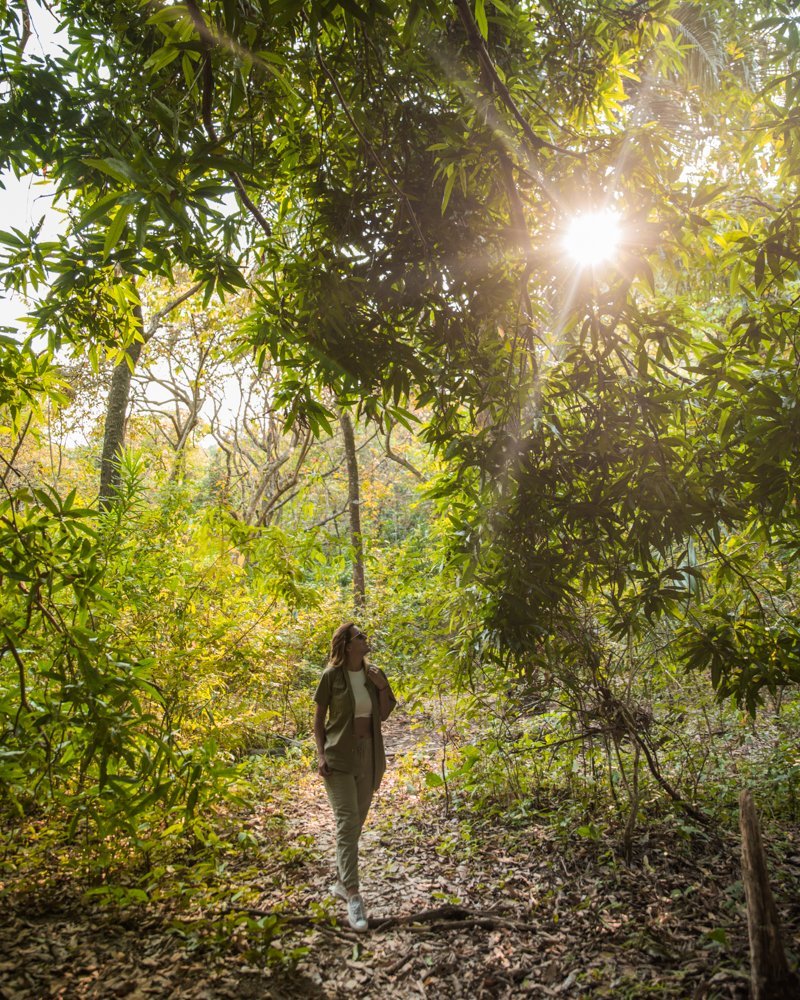 Jumpsuit + Converse
If you don't feel as comfortable as I do with maxi dresses but you want to safari in style, a loose jumpsuit can be perfect! I wore this golden jumpsuit with white sneakers for one early morning game drive.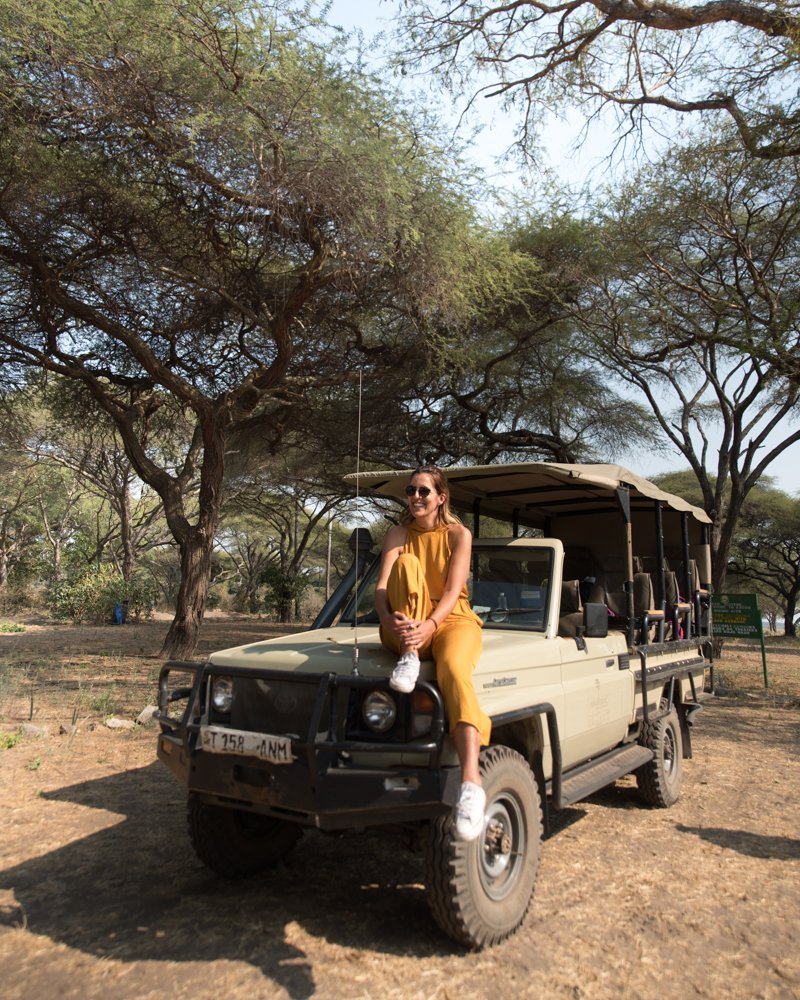 White Dress + Straw Hat
Before the trip, I was told that while on a safari you can get really dusty, but you also have free time in between animal encounters. I decided to pack one of my favorite white dresses along with my favorite straw hat to be worn for chill moments at the lodge – and I ended up wearing it on a game drive too. Our safari in Katavi couldn't be described as dusty at all!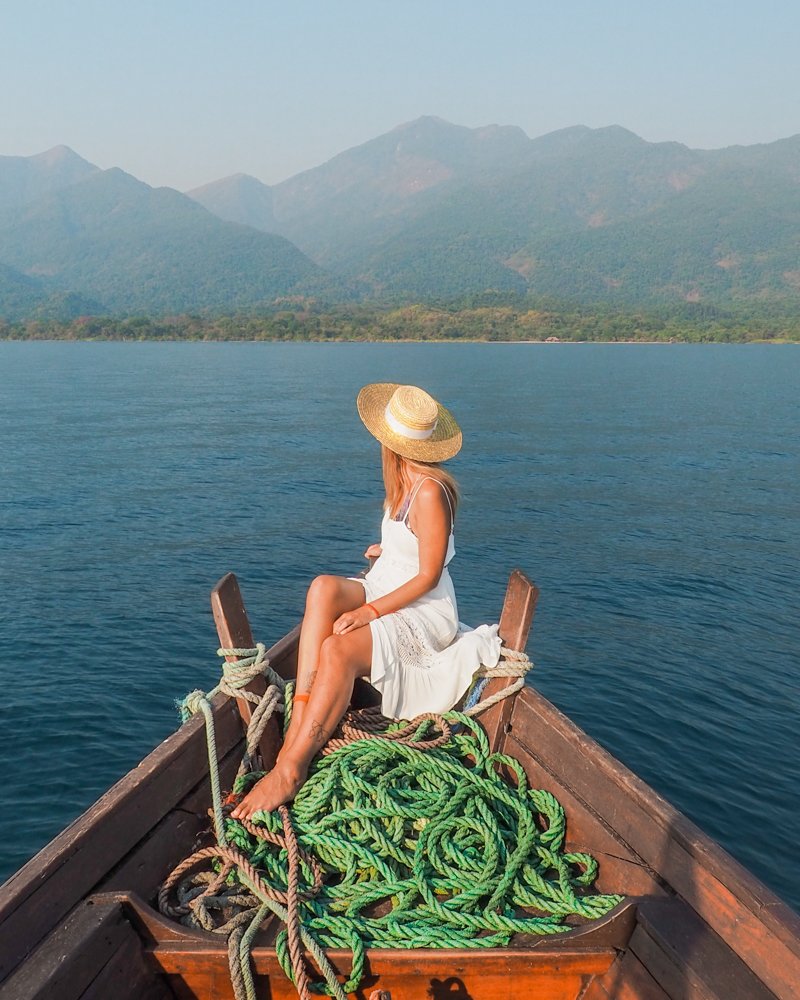 Flowy Dress + Sandals
Besides the white dress, I packed a flowy maxi dress for the moments at the lodges. For me it's the most comfortable thing ever and plus, they look awesome for sunset pictures!

Swimsuit + Flip Flops
If you're planning to stay at a lodge, check in advance if it has a pool as many of them do. It's really nice to relax and cool down in between game drives – unless you fancy have a siesta.
You can also mix and match your swimsuit with your safari pants!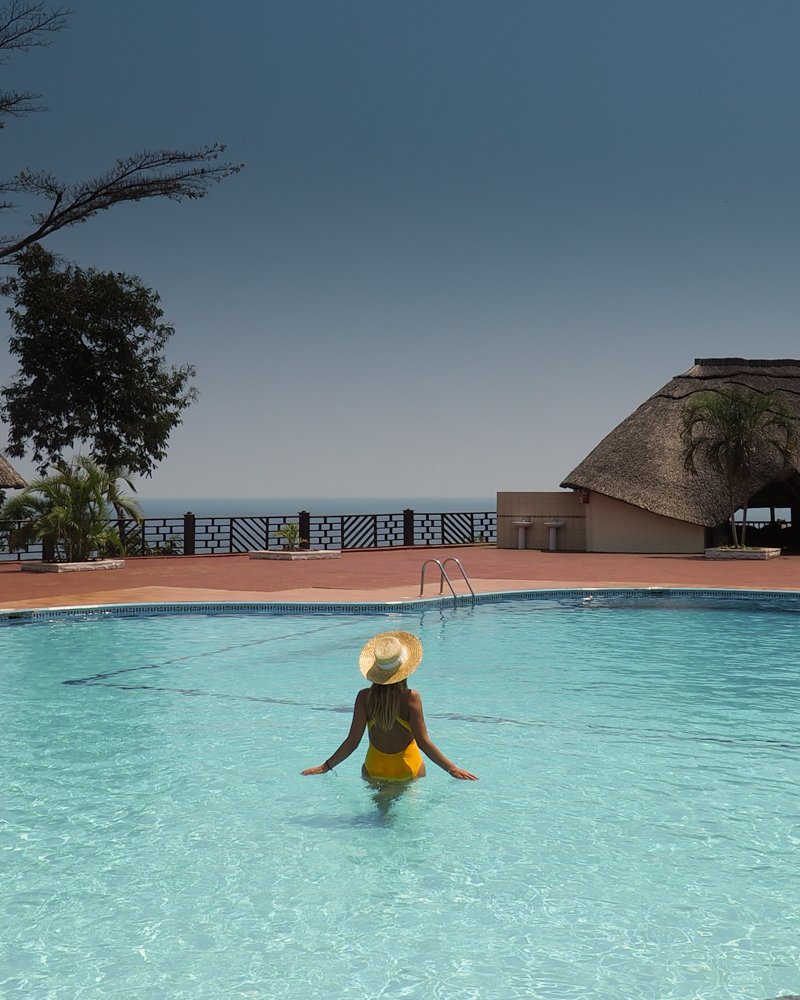 Camera Bag
I'm a big fan of Gatta Bag and not only because Diana, the creative behind the brand is my friend. I really love the product after being using it for more than a year now for almost all my trips. My Lola bag still looks brand new.
During this trip, I fitted a mirrorless camera, 3 different zoom lenses, my iPhone 8plus and a big battery pack in my Lola bag and there was still room for more!
Related post: My Safari Photo Gear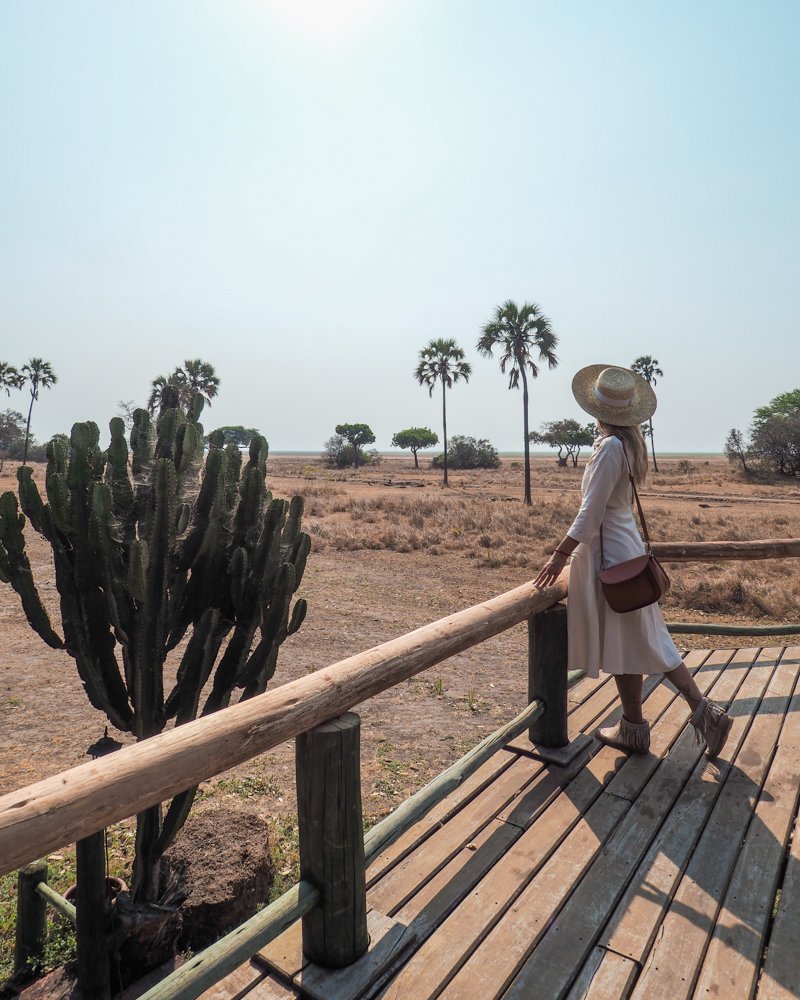 Duffel Bag
Remember that you need to fit all your outfits in one duffel or soft shell bag. Double-check the baggage allowance of your airline as they usually allow 15-20kg maximum.

Sunglasses
Don't forget your sunglasses! Aviator or fake Carey sunglasses are good options.

Mosquito Repellent Bracelets
My friend Layla brought mosquito repellent bracelets for all the group: and they worked! Some of them were actually cute and they last around 2 weeks. I'm still wearing it because it looks good and also reminds me of the trip.


And that's how I rocked the safari-style in Tanzania! Not bad for a first-timer, huh? Let me know if you like to travel in style too in the comments 🙂
If you've liked this post, pin it for later!