After experiencing a few Ayurveda massages during my trips to Kerala in India, I wanted to try something else during my recent trip to Sri Lanka.
If you want to know what to expect from an Ayurveda retreat in Sri Lanka, you're in the right place.
What to expect from an Ayurveda retreat in Sri Lanka
What is Ayurveda
Ayurveda literally means the science of life (ayur = life; veda = science).
Ayurveda therapy is a restorative art of healing that dates back 5000 years. Traditional Ayurvedic programs help willl cleanse, detoxify, and rejuvenate mind and body.
Simply put, the goal in Ayurveda is finding the balance between mind and body. This can be done through exercise, diet, meditation and the right organic treatments.
All the programs are developed under the guidance of Ayurvedic doctors and using 100% organic products.
In Ayurveda, diseases occur after an imbalance between the 3 doshas. The 3 doshas are related to the elements in nature but also to 3 body types called Vata, Pitta and Kapha. All this elements are present in our body, and Ayurveda aims to find the balance between them.
How a day in an Ayurveda retreat in Sri Lanka looks like
I had the chance of learning more about Ayurveda during my days at Siddhalepa Ayurveda Health Resort in Wadduwa. Every day we had a schedule to follow with activities, but we also had free time.
You can expect the following daily activities during an Ayurveda retreat:
Morning meditation
Morning yoga class
Ayurvedic breakfast, following a personalized diet based on your body type
Dr. apointment
2 hour treatments including head and full body massage with different types of oil, pindas, inhalation, face masks and foot baths
Ayurvedic lunch, following a personalized diet based on your body type
Free time
Afternoon meditation
Afternoon yoga class
Ayurvedic dinner: following a personalized diet based on your body type.
Your doctor will prescribe you the diet you should follow and some organic medicines and teas depending on your needs. All the treatments are customized for every person.
A proper Ayurveda retreat should take no less than 21 days, but if you don't have as many days, I can recommend you trying at least for 3 days as I did to get a glimmer of it.
Ayurveda treatments
Every morning you'll get to discuss how you feel with the doctor to decide what's best for you.
Ayurveda is not a substitute to medicine, but it helps with detox, and weight loss, strengthening mobility, joint care, beauty care, and prevention of diseases.
A range of treatments are available, such as:
Abhyanga: body massage from head to toe.
Navarakizhi: traditional rejuvenating body massage with pindas (fomentation)
Preenanaya: deep cleansing exfoliating treatment.
Foot bath
Inhalation
Ayurveda Retreat at Siddhalepa Ayurveda Health Resort
I experienced my Ayurveda Retreat at Siddhalepa Ayurveda Health Resort in Wadduwa, a family owned company that created the famous Siddhalepa balm (similar to tiger balm).
They also have a city hotel in Colombo that offers Ayurveda and spa treatments: Siddhalepa Anarva Mt. Lavinia. I also visited this place during my first day in Colombo to get a relaxing massage to rub off the jet lag! They have half-day and full-day Ayurveda spa rituals available.
You can also find their spas at luxury hotels around the world.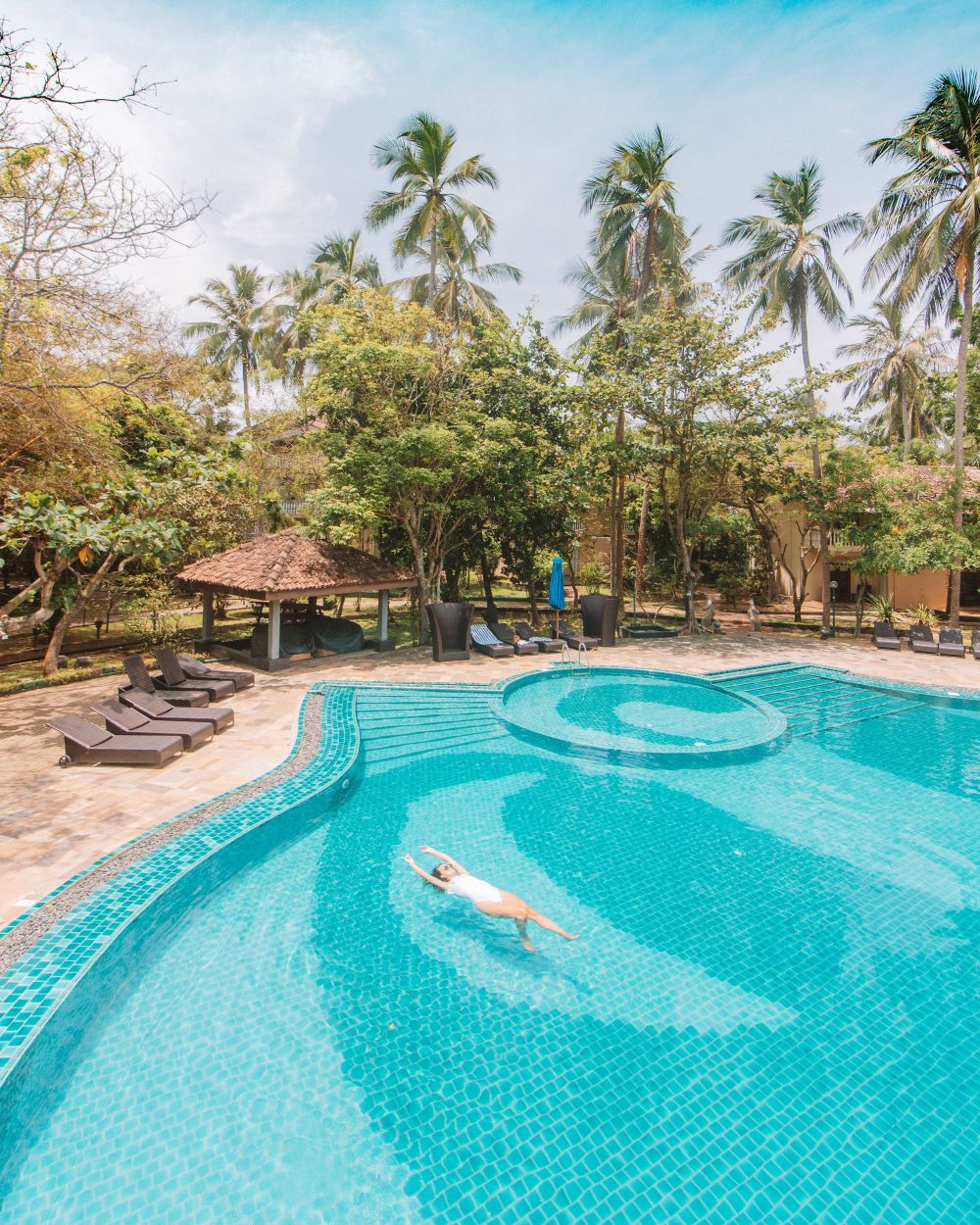 As soon as we arrived to Siddhalepa Ayurveda Health Resort in Wadduwa, we were welcomed with drinks and a candle ceremony. I instantly fell in love with the place: 6 acres of land with more than 200 types of trees in front of the sea: so dreamy!
They have 52 rooms, including spacious suites and garden bungalows and beach bungalows with all the comforts and facilities (except wifi in the rooms!) and some of them feature an outdoor bathroom. I stayed in a massive suite in the quieter area of the hotel.
Following the Ayurvedic diet was very easy. The restaurant was located by the beach and there was always a doctor to help us choosing the right products for our needs. We also joined an Ayurvedic cooking class to get to know how to prepare this delicious food!
As my body type is kapha and I wanted to follow a vegan diet, my options were a bit restricted, but still good.
During the 3 days I stayed in Wadduwa, I visited the doctor, had different treatments and joined yoga and Ayurvedic cuisine classes, and had a meditation session with a monk. Everyone was extremely nice and helpful.
We also went walking around the beach, played with local kids and discovered a bit of the real Sri Lanka in Wadduwa. The beach was not really good for swimming at that time of the year, so I really get to enjoy the swimming pool! It was such a nice way to add a bit of activity to this relaxing retreat.
I can recommend Siddhalepa Ayurveda Health Resort to anyone looking for a wellness resort with traditional Ayurveda treatments.
If you've liked this post, pin it for later!