Best Sunset Spots in Ibiza
Sunsets in Ibiza are truly spectacular, setting the sky and the sea on fire every night with the colors of the summer. Sunsets vary depending on where you're experiencing it, so choose wisely.
You will find all the locations on the map at the end of the post. To get to these spots, just follow the directions on google maps.
Here you will find the best sunset spots in Ibiza that you shouldn't miss!
Magical: Es Vedrà
The most magical point of Ibiza is located in the South West of Ibiza. The mystical Es Vedrà is an inhabited rock island that is known as the third most magnetic point of Earth – this may not be 100% true but it's beautiful to believe so.
Truth is, Es Vedrà is the most awe-inspiring experience you can have for sunset in Ibiza. It makes you dream.
Where to get the best view to Es Vedrà?
The best view to Es Vedrà is either from Torre des Savinar or Sa Pedrera de Cala d'Hort, just a short drive from Cala d'Hort – where I'd recommend you to spend the day before heading to see the sunset.
Follow the indications on Google maps and park wherever it's possible. From there you'll have to hike a few minutes to get to the viewpoint.
Hippy Vibes: Cala Benirrás
Located on the north of the island, Cala Benirrás is home for one of the most famous sunsets in Ibiza. The sound of the drums is the main attraction every day every summer since the '70s and it's the most famous hippy tradition on the island along with Las Dalias Hippy Market.
When to go to Cala Benirrás
On Sundays, this beach is the place to go, to join hundreds of hippies playing the drums during sunset. Because of this, access by car is limited on Sundays so make sure you go in the morning to find a place to park your car. Otherwise, you can get there by bus or boat bus from San Antonio.
However, I'd recommend you go any other day of the week if you're not really into partying. There will be a few hippies playing the drums during sunset as well.
Must-see: Cala Comte
Welcome to paradise: Cala Comte is one of the most famous beaches in Ibiza and it's for a reason. Its turquoise waters are out of this world being also perfect for snorkeling.
During sunset, the fabulous views over the tiny islands keep changing colors dramatically.
How to get to Cala Comte
A public bus will get you there, but my advice is to rent a car during your days in Ibiza so you can explore the island freely. I rented a 4WD and it was perfect. This way I drove a bit off-road and found less touristy spots around Cala Comte.
Unique: Hacienda Na Xamena
Hacienda Na Xamena is the first 5* hotel in Ibiza that was built in the '70s with an outstanding view of the cliff. As a guest, you can enjoy its facilities during sunset, from the spa to the private hot tub in your room terrace.
In case you're not staying at Hacienda Na Xamena, you still can see the sunset from there. Book your dinner during sunset time at Eden Restaurante by Fran López and enjoy the typical food from the island with that unforgettable view. Hard to beat!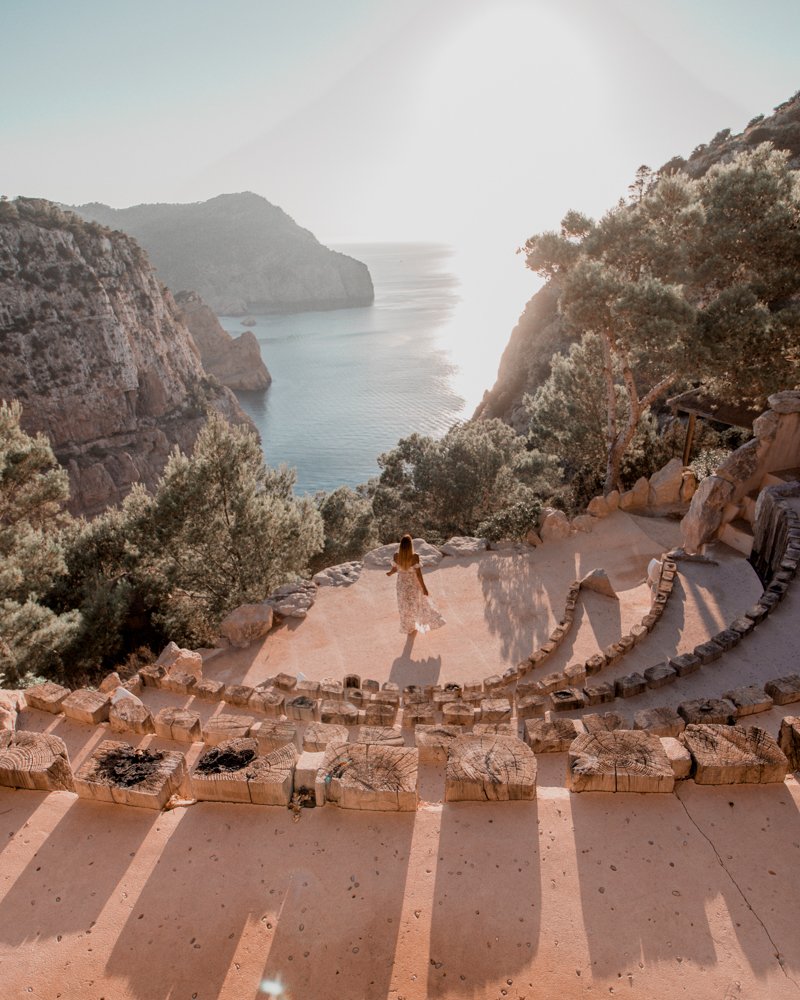 Exclusive: By Boat
The most private and exclusive way to enjoy sunset in Ibiza is for sure on your own boat!
You will find plenty of options in Ibiza, from massive party boats to private charter yachts. Choose your favorite option and sail the coast of Ibiza or even sail to Formentera. Tip: the sunset overlooking Es Vedrà from the boat is unforgettable!
Mystical: Time & space
Cala Llentia, in the west of the island, is home for a mysterious sculpture formed by 13 basalt columns in an elliptical shape. Because of that, this monument is known as "Ibiza's Stonehenge", however, it's real name is "Time and Space".
It's for sure a very special place for sunset.

Spectacular: Salines Natural Park
Not everything is about parties and beaches in Ibiza.
I especially love it because unlike other Mediterranean islands as Mykonos and Santorini, Ibiza is very green, and it's also home for a natural park: Ses Salines.
There, you'll see the salt mines reflecting the colors of the sunset and if you're lucky it will be spectacular: when the sunsets are especially red-ish, the salt mines look like if they were on fire.
Go on your own car to find the perfect spot.
Get a 15% discount in Centauro Rental Cars with the code INDMRL15

Relaxed: Cala Tarida
If you're in Ibiza for a relaxing vacation, Cala Tarida is a good place.
Cala Tarida is a long sand beach, sheltered by hills, and very family-oriented. There you can enjoy a beautiful sunset that is not as popular as the other ones on this list, so you can enjoy the sunset without the crowds and avoiding party-goers or Instagrammers.
Enjoy!
Party time: Cap des Falcó
If you're looking for a party, Ibiza has it covered. There are several spots in Ibiza where many gather to celebrate sunset with cocktails to the sound of the music.
Some of the best beach clubs for sunset in Ibiza are:
Experimental Beach at Cap des Falcó
Kumharas in San Antonio
Sunset Ashram in Cala Comte
Blue Marlin in Cala Jondal
Cala Bassa Beach Club in Cala Bassa

Locations
Find the Best Sunsets in Ibiza on this map:
Have you ever been to Ibiza? If so, would you recommend me any other sunset spot?
If you liked this post, pin it for later!