10 Best Things To Do In Porto When It Rains
Here's the best things you can do in Porto when it rains, including tourist attractions and secret places!
If you're reading this, you're probably in Porto and it's raining cats and dogs. Or maybe, you're planning to go and the weather forecast doesn't look really promising.
You've probably came to Porto looking for sun (isn't the south of Europe always sunny?) but the reality is, Porto usually experiences heavy rain periods, especially during winter and spring – actually you're not even safe in summer! I live close by so I know what I'm talking about: it can rain non-stop for a whole week, which can be quite depressing, especially when you only have a few days to visit.
However, don't let the rainy weather change your travel plans. You can still visit Porto under the rain! Actually, Porto looks even more pretty and melancholic when it rains. And to be completely honest, it's not as rainy as it used to be.
In case you need some ideas about things to do when it rains in Porto, you're in the right place. Keep reading to find out!
Visit the beautiful indoors
Most tourists come to Porto looking for blue tiles and colorful buildings in Ribeira… but Porto has so many other beautiful buildings you need to visit for their wonderful interiors!
Do not miss these 7 incredible buildings when visiting Porto:
Livraria Lello
Sao Bento Railway Station
Casa da Música
Sé do Porto (Porto Cathedral)
Palacio da Bolsa
Casa de Serralves
Soares dos Reis National Museum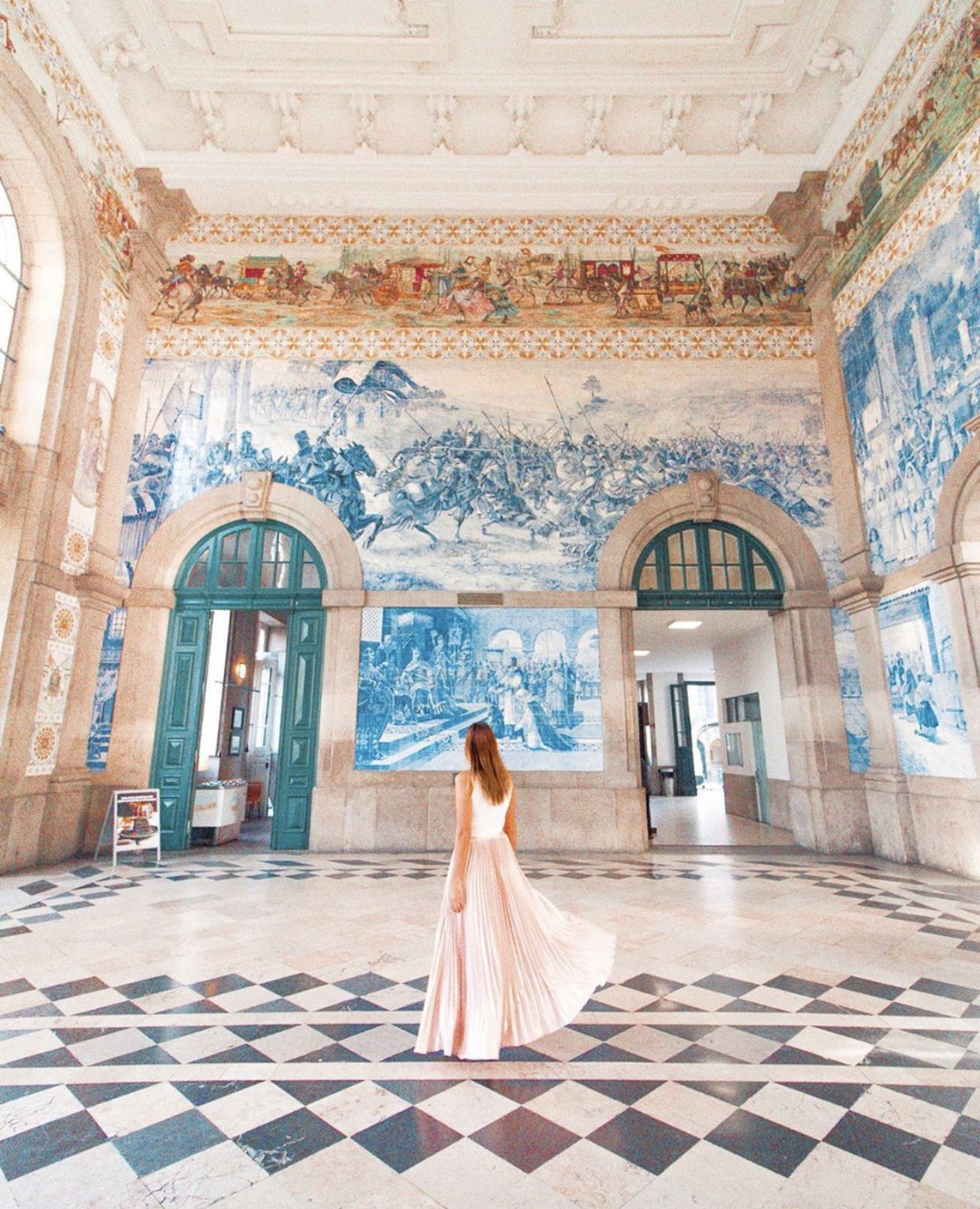 Wine tasting
Good news!
It doesn't matter if it's sunny or rainy, the most typical tourist attractions in Porto – and probably the most fun – is available 24/7!
You can visit one of the numerous wine cellars of Porto to join a wine tour.
Join a food tour
One of the best plans for a rainy day in Porto is eating your way through the city.
The most famous food in Porto is the francesinha, a huge sandwich that is available almost everywhere! Another meat dish you may want to try is the alheira, a type of sausage without pork created by the Jews back in the day. However, everyone's favorite is bacalhau (cod), bolinhos de bacalhau and pasteis de Chaves; being the latter available both in veggie and sweet options! You will also find many sweet shops with plenty of options when it comes to delicious sweets.
A rainy day is the perfect time to learn more about the Portuguese gastronomy by visiting the Bolhao market, traditional tascas and learning more about wine. Join a food tour and you won't regret it!
Feel the fado
According to the fado singer Amália Rodrigues: "The point is to feel the fado. Because fado is not sung, it happens. It cannot be explained, only felt."
You can enjoy this experience at Casa da Guitarra in Porto. It's actually something you should add to your list, it doesn't matter if it's not raining: you need to feel the fado!
Check the weather and visit somewhere else
If you're tired of watching the pouring rain, maybe it's time for you to plan something else.
Weather may be depressing in Porto but there are so many places around the corner where the weather can be totally different. You can easily rent a car to get to these places or just book a day tour.
Just check the weather and plan accordingly! You're most likely to find good weather if you go south.
The best day trips from Porto are:
Go shopping
If you like to go shopping, then you'll love Porto!
Porto has some pretty good options when it comes to shopping, and it's a great alternative for a rainy day.
You'll find well known international shops in Rua de Santa Catarina – do not miss Bolhao market nearby to get a sense of the real Porto!
A beautiful shop I love in Porto is A Vida Portuguesa, located close to Lello Library. It's my favorite place for souvenirs, travel accessories and it also has some Portuguese designers' creations that you need to check.
My absolute favorite is Armazem, not far from Alfandega do Porto: an old warehouse that houses several antiquities shops, an art gallery, and even a tapas bar!
The best option for hipsters is Barrio das Artes: do not miss the art at Rua Miguel Bombarda.
If you'd rather visit the malls with all the high street shops, fast food restaurants and cinemas (because in Portugal they play movies in the original version) then pay a visit to Norte Shopping. Most of the malls in Portugal close at midnight – crazy, right?
In Gaia, El Corte Inglés offers a free shuttle service available from the Cable car station.
Visit the Cat Café: O Porto dos Gatos
Can you imagine a better way to spend a rainy day than coffee and cats? I certainly don't.
There are cat cafes almost everywhere in Europe, and Porto is no exception. O Porto dos Gatos is the best if you need some cat love – it's the perfect way to spend a day while it's raining outside!
The cat cafe in Porto is called O Porto dos Gatos, and they shelter abandoned cats that can now live their best life in here. Plus, this place is 100% vegetarian and surprisingly cheap! I loved the lunch menu. It's located in Av. de Rodrigues de Freitas.
Another famous cafe you may want to visit when in Porto (although it doesn't accept cats) it's the famous Majestic Cafe. Make sure to add it to your list!
Do not miss the exhibitions at Alfandega do Porto
A great option for a rainy day in Porto is visiting the Alfandega do Porto, the conference center of the city.
It's a historic building located by Douro river with a few spaces that are nowadays being used as a museum (alfandega literally means customs in English). They usually have amazing exhibitions and music events.
Spa time
Sometimes when we travel, we end up forgetting about the purpose of our holidays: to relax!
Slow down, pamper yourself and get a relaxing break while it's raining outside.
My recommendation? Go for the award-winning spa Caudalie Vinotherapie at The Yeatman. As they say, it's an oasis of tranquility and wellbeing.
Play with reflections
If you've come to Porto for the photos, don't you worry!
Remember that ponds are perfect for playing with reflections. There's no need to recreate instagram photos, you can get out of your comfort zone and make incredible pictures by using the ponds. Challenge yourself!
The best moment to visit Porto
I've visited Porto infinite times, in every single season and experienced all times of weather – including scorching hot! Last time I've visited I experienced a lovely sunny weather for a couple of days and it was pouring rain on our last day: and this was in January.
Don't let the weather deter you to visit this beautiful city. Bad weather is totally unpredictable, just like good weather!
In general, the best time to go should be late spring, summer, and fall.
My favorite season to avoid the crowds is actually wintertime. It never gets too cold in Porto during winter and if you're lucky enough to get a bit of sun, the city looks better than ever.
Anyways, now you know that there's plenty to do on a rainy day in Porto!
All the locations in the map
If you've liked this post, pin it for later!