Best Cafés in Porto – Tried and Tested
If you're looking for the best cafes in Porto, you're in the right place!
After revisiting Porto may times, I've managed to visit all the famous cafes in the city but also some hidden gems that I'm sharing with you in this article.
The selection of these cafes has been based on the quality of the coffee and overall ambiance or decor. Here you'll find traditional and touristy cafes but also trendy and hipster, off the beaten path options.
And good news, I've made it easy for you: you'll find the exact locations at the end of this post.
Here's my tried and tested guide to the best cafes in Porto!
Cafe Majestic
Rua Santa Catarina 112
The most famous cafe in Porto is hands down, Cafe Majestic.
Located in the shopping heart of Porto, it's one of those special places that inspired J.K. Rowling to write her Harry Potter series.
This historic cafe is considered to be one of the most beautiful in the world. It's really special! Its Art Deco details will make you travel in time to the Belle Epoque.
Keep in mind that due to its popularity, some days you'll have to queue outside to get a table.
Apart from coffee, it also offers dining options. Do not miss it when visiting Porto!
Vogue Cafe
R. de Avis 10
Vogue Cafe is the perfect one for fashionistas.
This chic cafe, restaurant, and bar is located on the side of the luxury hotel Intante Sagres.
On its walls, you can admire some of the most famous Vogue magazine covers, including the iconic January 1990's British Vogue cover by Peter Lindbergh with the 5 top models in black and white.
It's one of those instagram perfect places in Porto: so chic! Besides delicious coffee, they offer all-day dining and organize cool music events in the bar area. Make sure to check them out.
Leitaria da Quinta do Paço
Praça Guilherme Gomes Fernandes 47
This century-old shop is more than just coffee! At Leitaria da Quinta do Paço you need to order your coffee with one of their famous eclairs filled with Chantilly and with milk chocolate icing on the side.
The walls are covered with old photographs from the '20s that show the people queuing for chantilly back in the day. You can still buy it there: it follows the traditional recipe without coloring or preservatives.
Lazy Breakfast Club
R. Das Oliveiras 110
Looking for a cute pink place to visit in Porto! We've got you covered, especially if you love a good breakfast at any time of the day: Lazy Breakfast Club is your place.
The concept and design are fabulous, and so is the coffee and food. Besides, it has the coolest atmosphere – go before it becomes instagram famous!
Moustache Coffee House
Praça de Carlos Alberto 104
Another trendy spot you should check for coffee is Moustache. The decoration details in warm colors make it very cozy.
Besides coffee, Moustache Coffee House also serves beautiful Benedict eggs and cakes that you should try!
It also features a cute terrace.
Zenith Brunch & Cocktails
Praça de Carlos Alberto 86
Zenith Brunch & Cocktails is the one with the most vibrant atmosphere from the list: it's the coolest spot in town!
It's the best place to go for brunch and enjoy their specialty coffee. They also serve mouthwatering eggs, delicious pancakes, and smoothies!.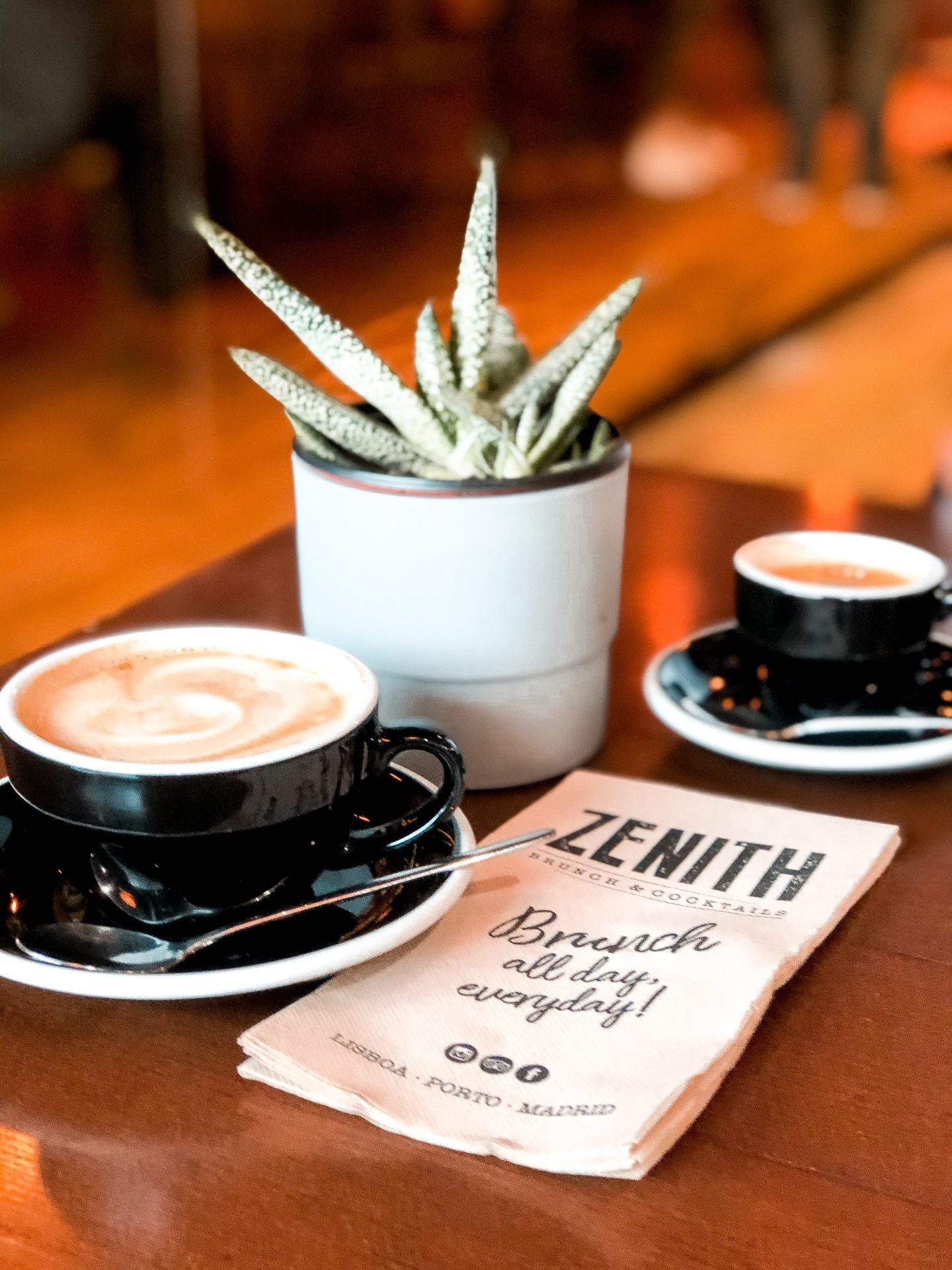 O Porto dos Gatos
Av. de Rodrigues de Freitas 93
O Porto dos Gatos is my personal absolute favorite because cats!
Go here if you need a cat-uccino with extra love! Plus, it's 100% vegetarian and the prices are really affordable. The decoration details are also amazing!
Most importantly, this cat cafe gives shelter to abandoned cats that are simply the sweetest.
There are 3 different areas in O Porto dos Gatos: the inside dining area, the outside terrace, and the cat's room.
In Gaia: 7G Roasters
R. Franca 52, Vila Nova de Gaia
Technically, 7G Roasters is in Gaia, on the other side of the Douro River, however, it takes less than 5 minutes to get there on foot from Ribeira. Anyways, Gaia is a must-visit!
Go here if you're looking for specialty coffee and healthy food.
They also offer accommodation: their design apartments on top of the coffee shop have gorgeous views over Porto. Highly recommended!
McDonald's Imperial
Praça da Liberdade 126 (Av. dos Aliados)
Before you start booing me, take into account why I'm recommending you McDonald's in Porto. As I've said before, some of my recommendations on this article are based on the beautiful decoration and ambiance and this one it's considered to be the most beautiful McDonald's in the world.
You will be mesmerized by all the Art Deco details, stained glass windows, and chandeliers that were once home to Cafe Imperial, an emblematic cafe from the '30s.
Make sure to swing by while you're in the area, at least just to enjoy the architecture and decoration. If you decide to go for a coffee, order the traditional tart (nata) too so it feels more local!
All the locations in the map
If you've liked this post, pin it for later!