Campeche Travel Guide
My first visit to Mexico left me wanting more. Because traveling all-inclusive is cool but you don't get to experience the culture or visit the road less traveled. I'm happy that only 3 months later I had the chance of coming back to this country to discover more and get the chance to visit one of Mexico's most underrated destinations: Campeche.
Places to visit in Campeche City
Calle 59
Campeche historic center is listed as a UNESCO World Heritage Site given its unique colonial architecture. It's divided longitudinally by Calle 59, a rainbow-colored pedestrian street with Puerta de Mar and Puerta de Tierra in each endpoint.
This quiet street wakes up for sunrise with a bunch of pigeons flying before life comes backs to normal, little by little, with restaurants and bars setting their terraces there.
Related post: 14 Reasons why you need to visit Campeche.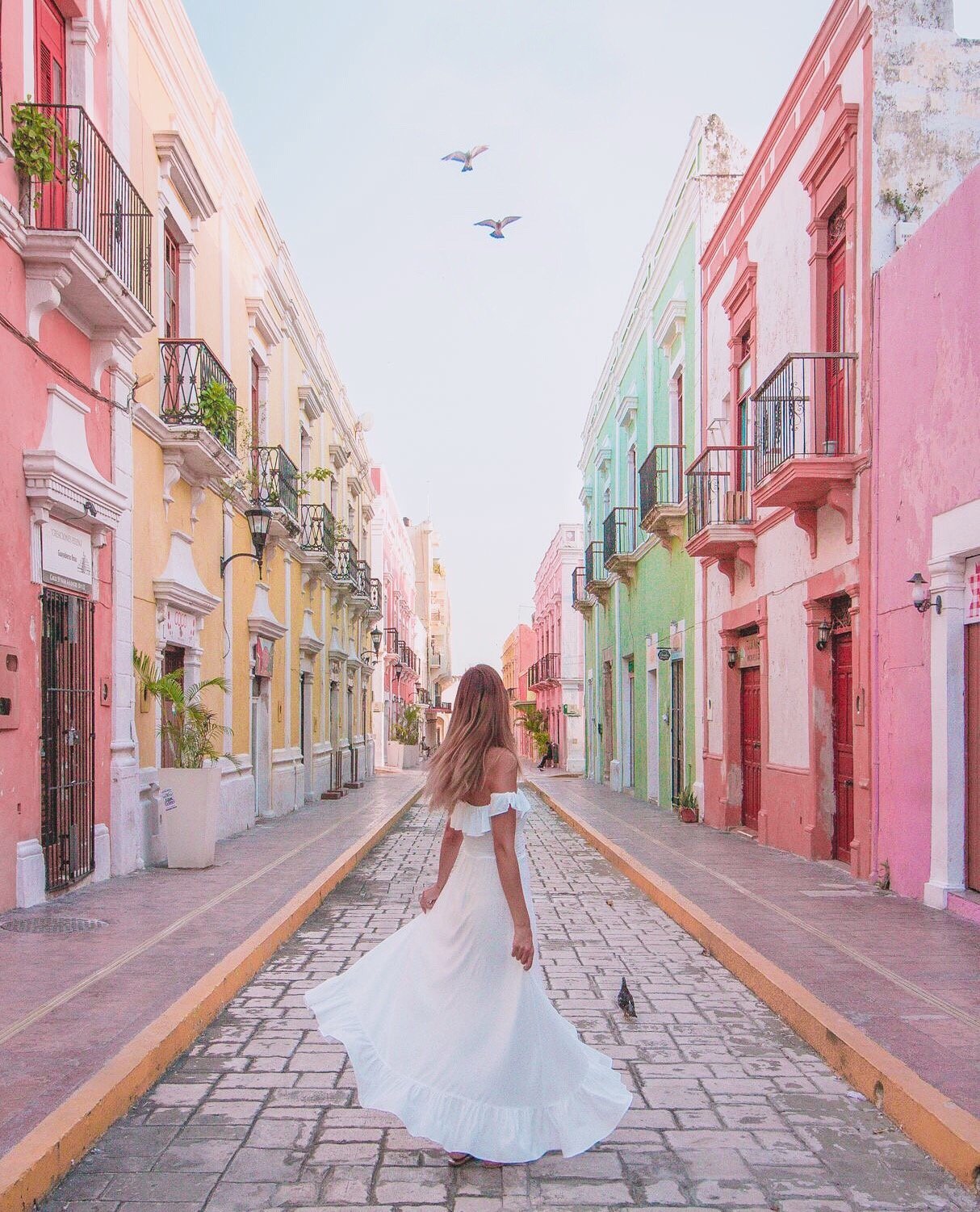 Plaza de la Independencia
Plaza de la Independencia is the heart of the historic center. Surrounded by historic buildings and the Cathedral, this square often celebrates open-air concerts.
Photo tip: visit Hostel Boutique Casa Balché (next to Casa no. 6) for epic views to Plaza de la independencia.
Casa Número 6
Casa Número 6 is a Cultural Center where a collection of replicas and original pieces depict how a traditional Campeche 19th century house looked like. As a Cultural Center, events are celebrated here often. Check them out during your stay in Campeche!
Malecón
The best place to experience sunset is the malecón, where Campechanos have a walk, exercise or just enjoy the colors over the Gulf of Mexico.
Head over to the sculpture La novia del mar (literally translated as Sea's Girlfriend) and just emulate her. Because you will fall in love with the sea from there, too.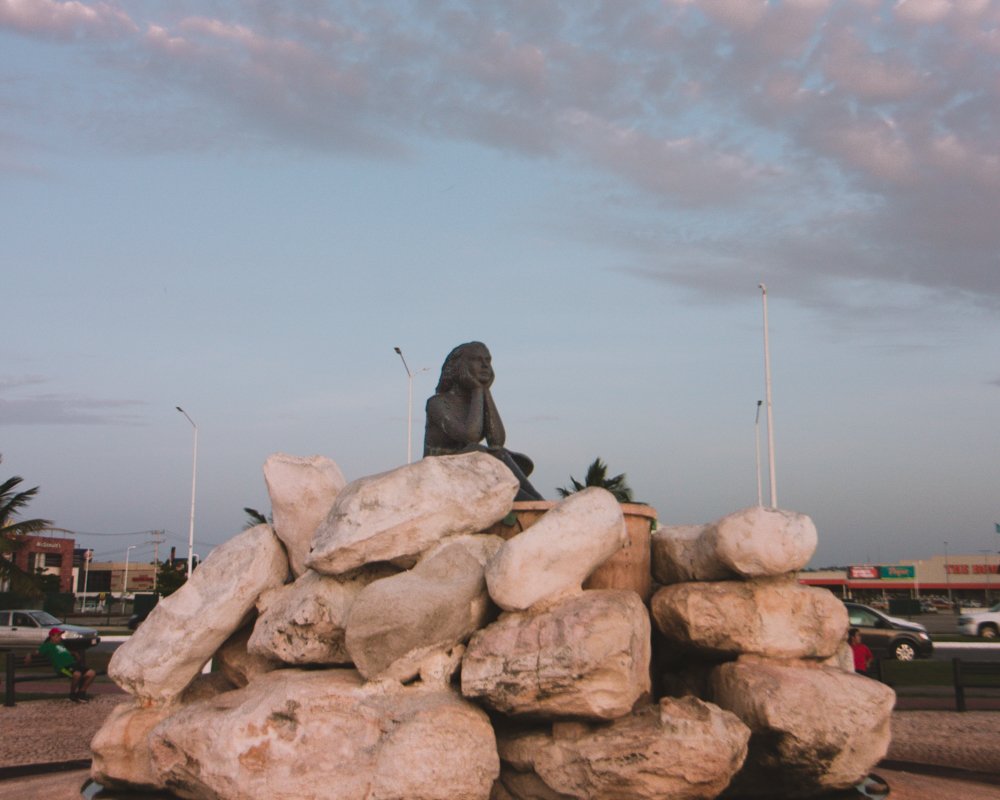 Fuerte de San José el Alto & Fuerte de San Miguel
Campeche is famous for being a walled fortress city. With epic views and vibrant colors, San José el Alto Fort and San Miguel Fort (a bit out of town – you better go by car) hold respective museums and are one of the main historic attractions of the city.
Capilla de San Román
One of the most venerated churches in Campeche is Capilla de San Román because of the image of the Black Christ of Saint Roman that you can visit on its inside.
Places to visit in Campeche state
Edzná
If you were impressed by Chichén Itzá, Edzná will blow your mind.
We got there early in the morning and we got it all for ourselves. We were walking in line behind our tour guide Erik, who at some point asked us: How are you liking it, so far? If you've liked it, now it's the wow moment. And then we turn right and oh my, we all exclaimed a big Woooow!
The photos won't make Edzná justice. It's a huge place, with the greenest green in the ground, the bluest blue in the sky and the more than 200 structures crowned by a tall pyramid.
Seriously, Campeche city and Edzná justify a trip to Campeche state. But there's more to see.
Calakmul
Calakmul is an impressive Maya archaeological site that I've missed this time. It's a vast complex, actually the biggest in Mexico with more than 6,000 structures. How crazy!
Photo tip: The pyramids are still a bit hidden in the jungle so if you have a drone, fly it there! The view is awesome.
Cenote Miguel Colorado
There are 3 cenotes in Miguel Colorado, around 2 hours away from Campeche city: Cenote Azul, Cenote de los Patos, and Cenote K41. There are ziplines and kayaks available!
I didn't get the chance to visit them this time but will try to do it on my next visit to Mexico.
Bécal
Close to the border with Yucatán, Bécal is a little village where the economy is based on the manufacture of jipijapa hats (commonly known as Panama hats) that are finally sold in the touristic areas across all Mexico.
You can visit one of the shops, where they will happily show you how the hats are made. Part of the process is made in a cave!
Where to stay in Campeche
Hotel Boutique Casa don Gustavo
Hotel Boutique Casa don Gustavo is located in the heart of the city, in Calle 59. This small luxury hotel exquisite decoration recreates a traditional 18th century Campeche home. Breakfast is served in a lovely central courtyard and you can spend the hottest hours of the day just relaxing at the swimming pool.
Puerta Campeche
The Hacienda Puerta Campeche, part of The Luxury Collection, is located in the historic center of the city. The building dates from the 17th century and it was formerly known as Casa Guerrero, as it was home of one of the first traders who sold imported products in the area.
Check rates and availability here.
Hacienda Uayamón
Hacienda Uayamón is enclosed in a natural setting where 12 separate stylish villas and suites spread along serene paths. Its unique swimming pool has won several design contests and prizes. Indulge yourself on its spa treatments.
Where to eat in Campeche
Campeche gastronomy is famous for its quality seafood, fish and octopus.
Recommended restaurants in Campeche:
La Pigua: the best restaurant in the city, where you should order octopus a la sir Francis.
Restaurante Bastión: located in Plaza de la Independencia.
Portales de San Francisco: an awesome option to enjoy a lovely dinner in a terrace with antojitos and dragonfruit water.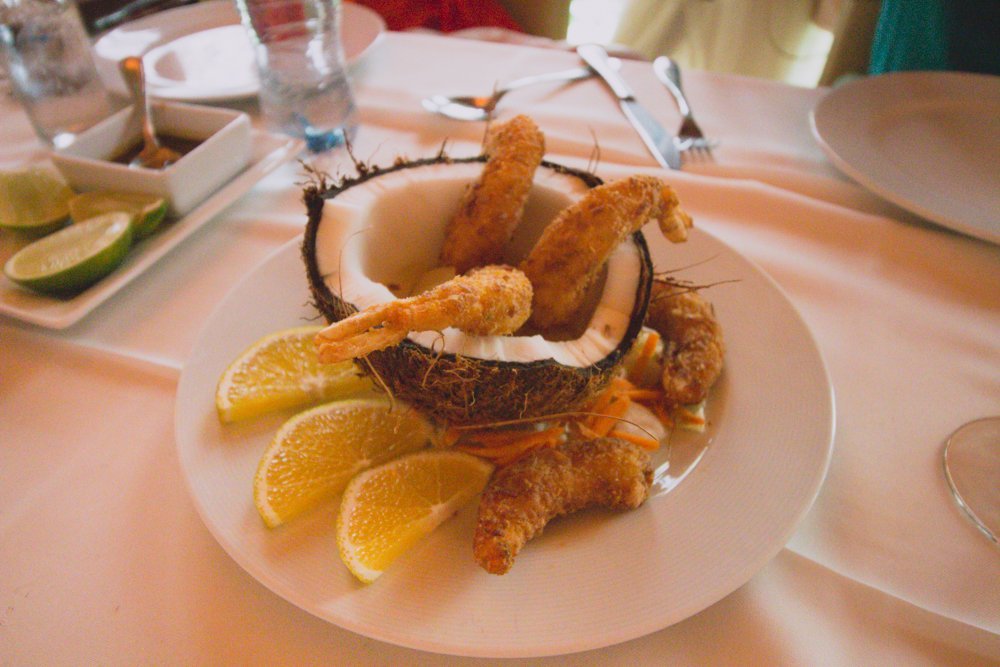 If you liked this post, pin it for later!