Best Day Trips from Porto
If you're planning a road trip to Portugal, you've probably added Porto, Lisbon, and Algarve to your list, but Portugal has much more to offer. There are so many villages that are well worth a visit and any of them are perfect for spending a few hours or an entire weekend.
All these towns are located in the north of Portugal and it's easy to get to any of them from Porto by car or on a day tour.
Vila Nova de Gaia
You've probably heard from Gaia already, especially if you're planning to visit Porto.
Many think its a different town once you cross the bridge you're in Gaia.
You can visit Gaia literally on foot from Porto, just crossing the bridge from Ribeira – and I highly recommend it for epic views of the city! However, Gaia is much more than a place to go for views or drinking wine (yes, you'll also find many wine cellars in this side of the river Douro).
My favorite thing about Gaia is, as you could have expected, the beach! The chapel Senhor da Pedra, built on the rocks of the beach, is well worth a visit and the surrounding areas are really pretty. There are buses available but I'd recommend hiring your own car.
Douro Valley
The Douro Valley is one of the most spectacular regions in Europe, an absolutely incredible landscape made of vineyard terraces. It's the perfect day trip from Porto!
Expect scenic views, windy roads and of course, wine!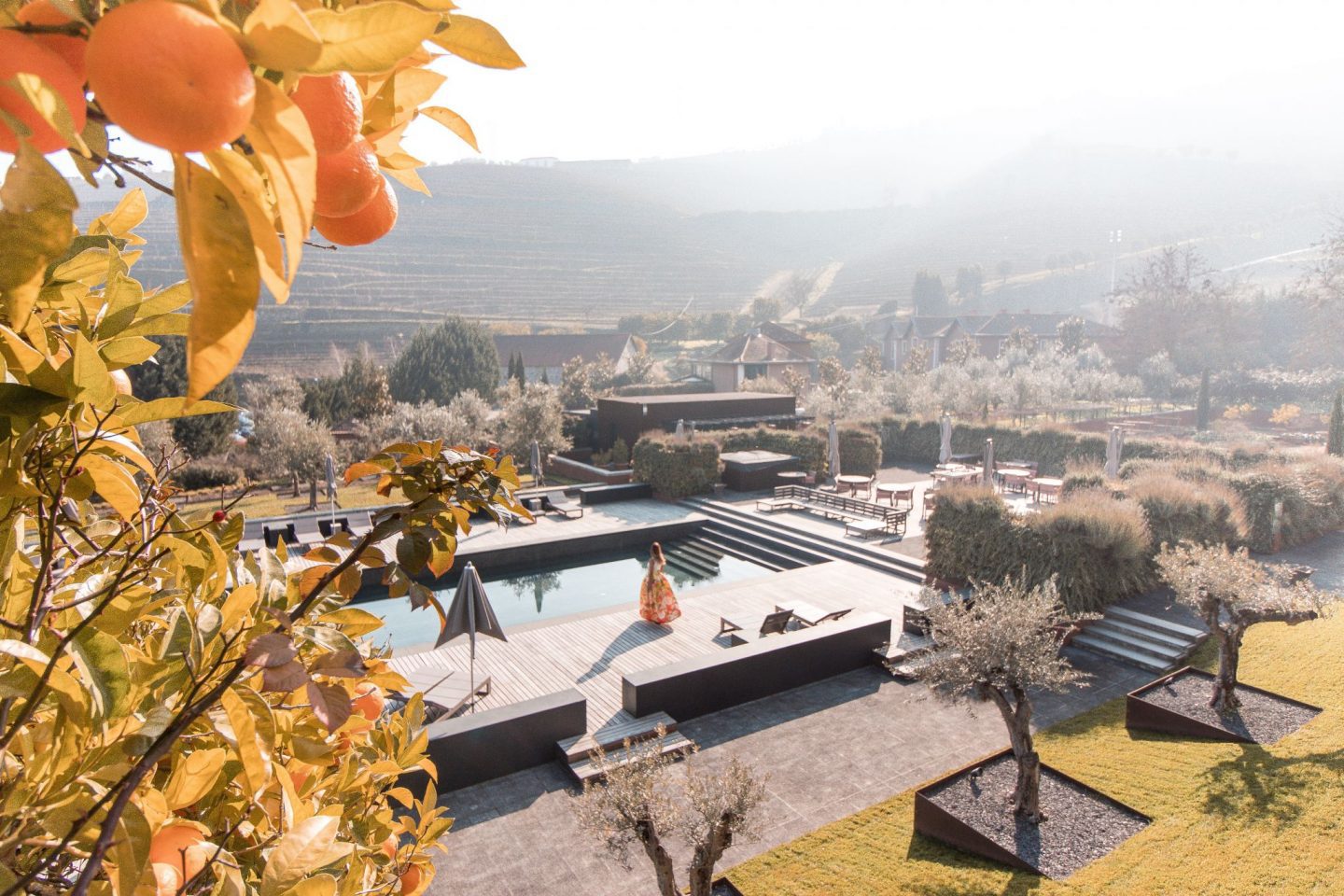 Lamego
The Douro region is one of the most beautiful areas in Portugal and Europe. Windy roads, wine cellars, little towns, and the ricer Douro create an unique scenery that everyone should add to their itineraries in Portugal.
The most famous site in Lamego is this impressive church, Santuario da Nossa Senhora dos Remedios. Its spectacular Baroque staircase and blue tiles will leave you speechless!
Aveiro & Costa Nova
Aveiro is known as the Portuguese Venice – they even have their own version of the gondolas: mouliceiros!
In the coastline of Aveiro, Costa Nova do Prado is insta-famous thanks to its stripped colorful houses – I'm sure you've already seen them before!
Viana do Castelo
Viana do Castelo is one of the most beautiful towns in the north of Portugal, but it's often overlooked.
The most famous site in Viana do Castelo is the Santuario de Santa Luzia, located on top of a mountain and accessible by car or cable car: the views from up there are breathtaking!
But Viana has much more to offer: the town center is really pretty, and they even have a street art installation with umbrellas! And the seaside is well worth a visit, too: Afife, Arda, and Cabedelo are my absolute favorite beaches in Viana do Castelo.
It doesn't matter where you go to Portugal, it's always a foodie's paradise. If you have a sweet tooth, do not miss the opportunity of having a traditional "bola de Berlin" at Ze Natario, very centrally located.
Vila Real
I've spent a weekend with friends in Vila Real and we had a blast!
Located by the river Corgo, it's less than an hour away from Porto and very recommended for every road trip in Portugal.
Vila Real has a few well-preserved chapels and buildings in the traditional Manueline style, interesting museums (psst, all of them are free to visit!), and a very relaxed vibe.
Distance:
95 km / 1h by car

Day tour:
not available – I recommend you rent your own car with
Rental Cars
.

Where to stay in Vila Real:
Hotel Miracorgo
: recommended for its location and sunrise views
If you've liked this post, pin it for later!