Glamping at Scarabeo Camp
Scarabeo Camp is been on my list for ages and it became one of my fondest memories from Morocco. Sleeping in a tent in pure silence, in a virgin natural landscape under a million stars is such a magical experience, and Scarabeo Camp knows how to make it in style.
Here, you can expect glamping at its finest.
Location
Scarabeo Camp is just 35km outside Marrakech and it's located in Agafay, a stone desert with a gorgeous view to the Atlas mountains.
If you are in Marrakech and want to visit the desert, Agafay is a great alternative. It's just a 40 minutes ride from the city while you would need around 10 hours to get to the Sahara. Keep in mind that Agafay is a dusty rocky desert, so do not expect sand dunes.
Sunsets and sunrises here are simply stunning. It's also an incredible place if you're looking for silence.
How to get there: Scarabeo Camp organizes the transfer from any point in Marrakech, but you can also get there on your own if you're traveling in Morocco with your own car.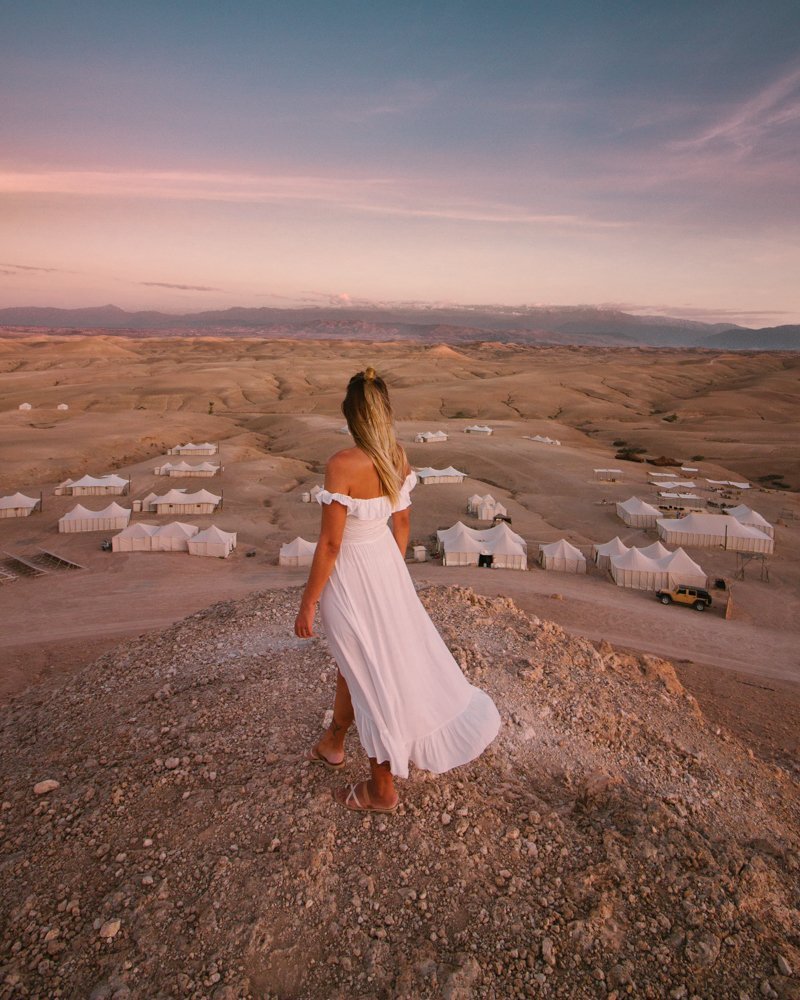 The tents
Scarabeo Camp features 15 white tents.
Each private tent features a comfortable space with beautiful decor and Berber details where it's easy to feel cozy. Every tent has also a private terrace just outside to enjoy the views of the Agafay desert and the Atlas mountains.
Every suite is 50 square meters and features a king-sized bed, a Moroccan lounge, an ensuite bathroom, a writing desk, a safety box and all kinds of decor details like old suitcases, mirrors, and world maps. There's also a heat in case you visit this place in winter.
Dining
Scarabeo Camp features an incredible dining experience: there I had the best food ever in Morocco. Everything is homemade and the bread is cooked in a traditional oven every day. If you have any dietary restrictions, just let them know in advance.
There's no alcohol available at the camp, but you can feel free to bring your own bottle of wine to enjoy your dinner.
Stargazing
I've never seen so many stars in the sky before. Ever. The Milky Way was visible to the naked eye, and we had so much fun trying to find all the stars and constellations. Plus, every few minutes we spotted shooting stars and imagined our wishes come true. It was such a memorable experience.
Tip: you can use the app Star Walk to identify all the stars and constellations. With that many stars, we could barely distinguish them without this app.
Activities
There are optional activities available at Scarabeo Camp:
Petanque
Board games
Buggy tour
Massage
Camel ride
Yoga
Stargazing
Rates
Prices start from 250€ per night (for 2). You can check the public rates here.
If you've liked this post, pin it for later!