It's always a pleasure to come back to Ibiza. Something I find mesmerizing is the adlib spirit that still reigns in the White Island.
Adlib comes from the Latin word "Ad Libitum" which literally means "freely", inspired by the first hippies that arrived to Ibiza back in the '70s. As Smilja Mihailovich said: "dress as you like, but stylish". Adlib is a timeless style characterized by the white color, natural fabrics, and fresh spirit.
After 3 trips to Ibiza in the summer, I learned how to keep my outfits stylish and comfortable! Keep reading and you will find out too.
Ibiza Outfit Inspiration
What to wear in Ibiza in a nutshell
Feel free to wear whatever you want, just keep it stylish!
You can't go wrong if you choose bohemian and adlib styles.
As Ibiza is known as the white island, white outfits are always a perfect match.
Go for natural and light fabrics like cotton and linen: it gets so hot in summer!
Accessorize your outfits with boho jewelry, espadrilles, hats, and bags.
Don't pack layers: it's really hot even at night during the whole season.
Go crazy for the clubs! You can add all the paillettes and as much glitter you want.
Don't forget to pack your swimsuit!
Get some Ibiza outfit inspiration through my own pictures!
Easy Ibiza Outfit Ideas
Adlib white dress
There's nothing better than a white dress in Ibiza! Especially those in natural fabrics as cotton or linen and the ones that include lace, embroidery or crochet.

Bohemian white set
Besides dresses, feel free to wear tops and bottoms and combine them as you wish. You can't go wrong.

Romantic Maxi Dress
Your suitcase would be very boring if everything was white, right? Add romantic outfits in soft colors like blue and pink and floral patterns.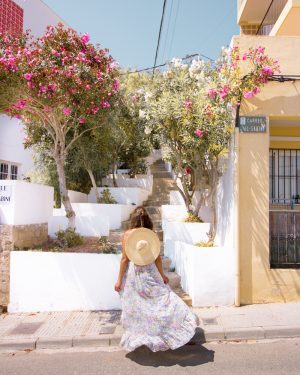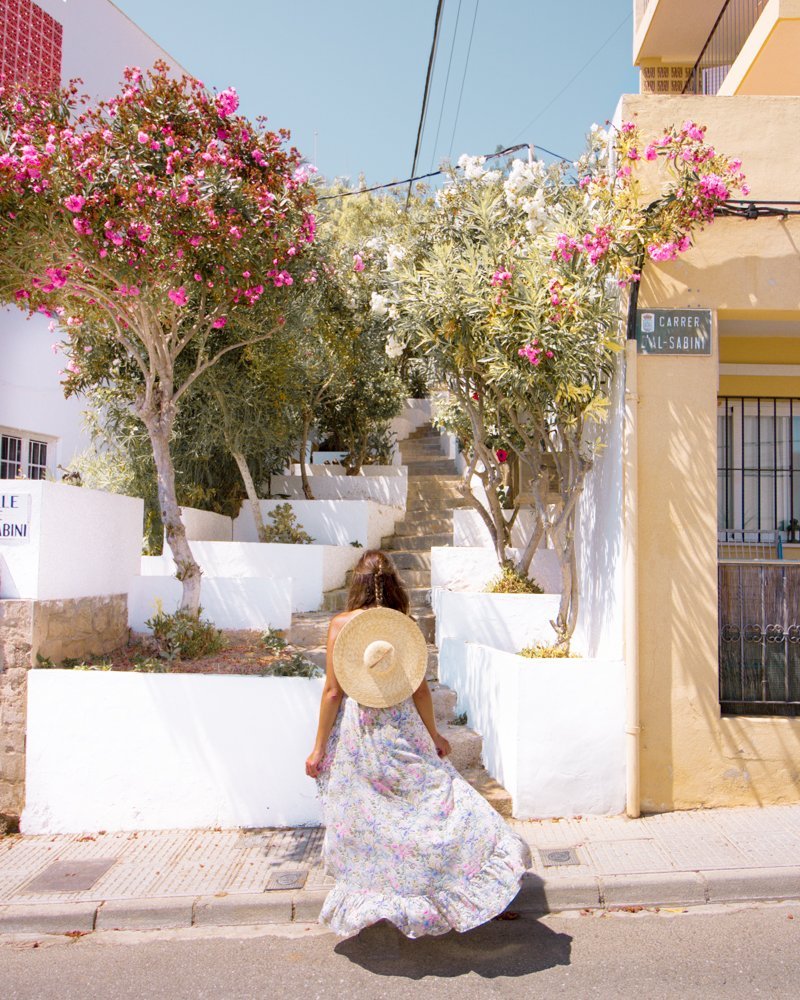 Kimono + Denim Short
If you're looking for a comfortable but elaborated gypsy outfit, style your denim shorts with a kimono: there are so many to choose from! The perfect combo for Ibiza is adding a white lace kimono or one in colorful patterns.

Boho accessories
Last but not least, accessorize your Ibiza outfit like a pro!
You'll find a lot of options when it comes to boho jewelry and bags in Ibiza markets and shops, so I'd recommend you leaving some empty space in your suitcase!
How to accessorize your Ibiza outfit:
Espadrilles
Straw hat
Straw beach basket
Bamboo bag
Sunnies
Boho jewelry: anything from necklaces to rings!

Ibiza Beachwear

When it comes to beachwear, feel free to wear whatever you want, too! From neon colors to minimalist swimsuits, anything will be perfect in such a beautiful surrounding.
Even if you're into naturist beaches, don't forget to pack your swimsuit – you never know if you end up attending a pool party!
What to Wear for Ibiza Nightlife

In Ibiza, you're free the wear whatever you may prefer. Even at the clubs, there's no need to follow a certain dress code.
My advice? If you plan to dance until dawn, wear comfortable clothes and shoes: most of the people in Ibiza party in sneakers!
At the clubs, feel free to wear all the glitter, paillettes and the most bizarre clothes from your closet if you feel like it – there's no better occasion to recreate crazy Coachella outfits!
Ibiza Packing Tips
Dress for the weather: if you're visiting Ibiza between May and September, it's going to be hot. You can forget your jacket at home.
Don't forget to pack your swimsuit, sunglasses, and sunscreen.
A bum bag might be useful if you want to party!
Where to shop in Ibiza
Luckily, there are so many shopping options in Ibiza!
I highly recommend you visiting the markets across the island and shops in Ibiza Town to get the Ibiza look.
These are my favs:
Las Dalias Hippy Market
Street markets
Ibiza Trendy
Aurobelle Ibiza
Karma of Charme
Sal de Ibiza – The Store
Hippy Chick Ibiza
Charo Ruiz Ibiza
Vicente Ganesha
My Ibiza Essentials

If you've liked this post, pin it for later!