7 Pines: absolutely amazing
7Pines Kempinsky is most likely, the best resort in Ibiza.
We recommend booking a table around sunset time at The View restaurant or book one of the sunbeds next to the infinity pool.
Into the wild picnics: a unique experience
One of the best experiences we've had in Ibiza: a private picnic with a view.
Lieke is the creative mind behind Into the wild picnics. She created this beautiful picnic with a view to Es Vedra, with a bottle of rosé and a delicious vegan dinner created by Moos Ibiza.
I believe this is the best option if you're planning to propose or celebrate something really especial during your trip!
Hostal La Torre: the ultimate sunset experience
Hostal La Torre is a must in every trip to Ibiza. Hundreds of people gather around the cliff during sunset time to experience such a beautiful moment.
Book your table in advance to get a the best views and I promise it'll be one of the most memorable moments of your trip. As sun sets, everyone stays quiet and the sound of the music makes it so especial!
Edén restaurante: the most romantic views
Edén restaurante se encuentra en la Hacienda Na Xamena, el primer hotel 5* de Ibiza.
La cocina está al mismo nivel de excelencia que el hotel. Tienen un menú degustación delicioso con unas vistas a la puesta de sol en el acantilado inolvidables.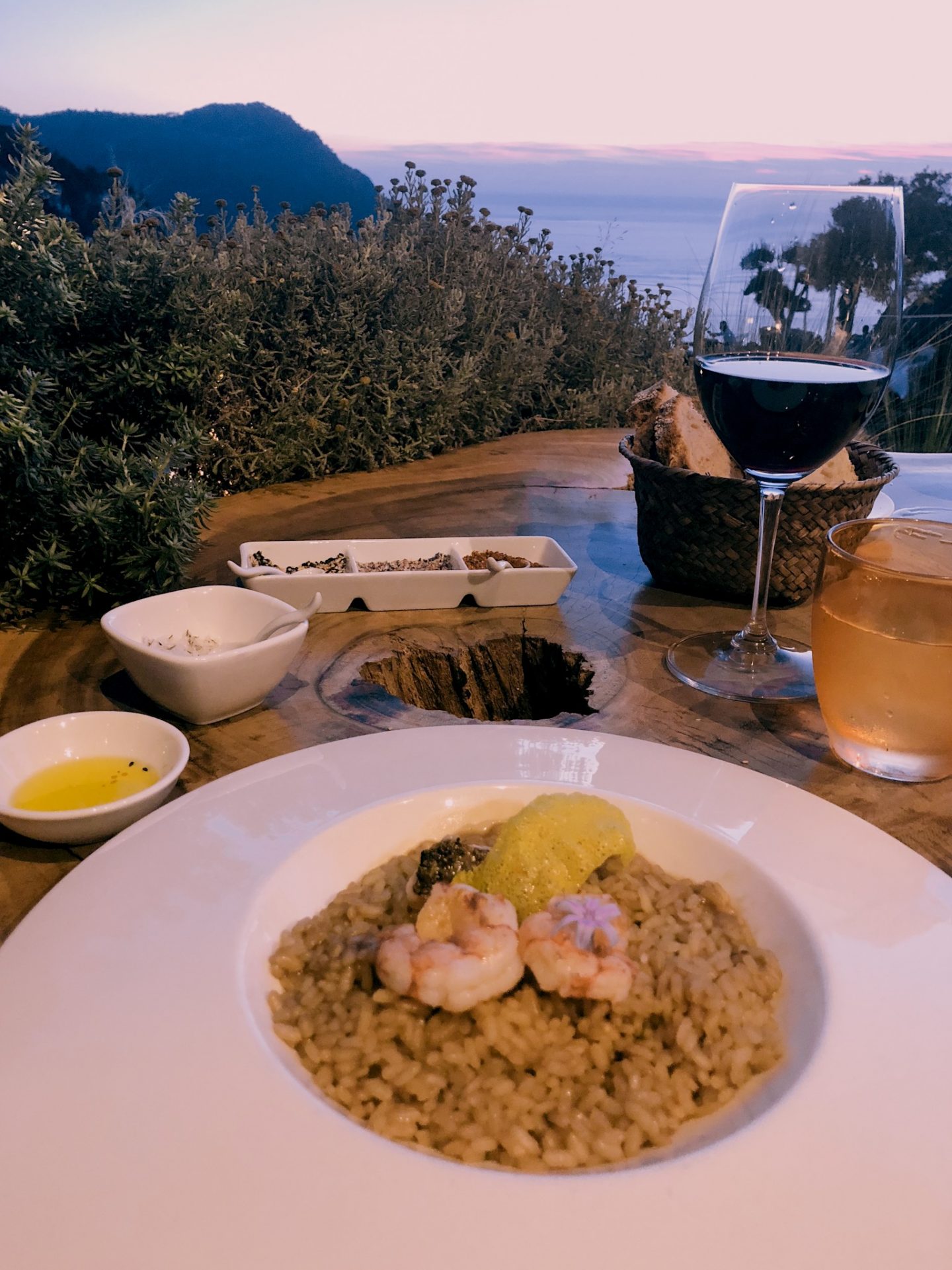 The Beach by Ushuaia Ibiza: the best beach club in the world
Ushuaia is a must on any trip to Ibiza.
Either for its legendary parties in its club, for its atmosphere in every corner of the hotel or for its beach club that we recommend from here. Our recommendations: lobster rice and cava sangria. Absolutely delicious!
Of course, it is not a quiet experience. Instead, you will find the best electronic music and the best atmosphere on the island.
The Beach at Hard Rock Ibiza: so delicious!
I can't speak highly enough of the beach club at the Hard Rock Ibiza Hotel.
All the dishes and the staff exceeded all my expectations. I highly recommend both the ceviche and the crunchy octopus and all the desserts! All the chef's creations were spectacular to us!
Bam Bu Ku: an amazing beach club in Sant Antoni
Have you really been to Ibiza if you haven't spent a day at a beach club?
Bam Bu Ku is Ibiza's new beach club, next to the mythical O Beach in San Antonio – with great sunset views.
It is a beautiful beach club, with a swimming pool and a wave pool for surfing. While the music plays in the background, you can relax with their spectacular cocktails and quality food. We loved it.
Bar Costa: original tapas from Ibiza
If there is a typical place in Ibiza, that is Bar Costa in Santa Gertrudis.
If you are interested in getting to know the most authentic Ibiza, you have to visit this town, enter its shops, and finish the walk with some traditional tapas at the Bar Costa.
Ve café: best vegan in Santa Eulalia
Ve café is part of the W hotel in Santa Eulalia, where we spent a few days.
Although I am not vegan – I still can't resist seafood and sushi, I have been cutting out meat for years.
I had to try this restaurant next to the hotel and it was a pleasant surprise. The burger has a surprising flavor as it really tastes like meat.
La mesa escondida: is it worth it?
I can't really recommend La Mesa Escondida, but I've decided to include it on the list in case this can help you decide.
La mesa escondida is the restaurant of the hotel Petunia, with incredible views of Es Vedrà. It has been very successful this summer and needs to be booked well in advance – which I did.
However, despite the fact that I booked well in advance and they called to confirm my reservation on the same day, once I was there they did not have my dinner reservation. Luckily we were able to enjoy drinks on its beautiful rooftop with live music during sunset, but I cannot tell you about its cuisine or recommend it 100% since I cannot assure that the same won't happen to you or if they will give you a solution once there.