A trip to India will never be complete if you don't travel by train.
My first time traveling by train in India was in the wonderful Kerala. There, I made some trips by train: some of the journeys I was accompanied by others, some others I traveled solo, but all of them fascinated me. I keep experiences and memories from every trip, all of them being positive.
Travelling in India by train make wonderful situations happen. The first and most important – and the one that captivates us as tourists – is the hospitality of the locals with whom you can talk for hours, share a masala chai and talk about random aspects of life.
But traveling by train in India also implies most of the time, uncertainty. Booking a ticket to travel where and when you want can become a mission impossible. To make things more difficult, some trips can take almost 24 hours from one place to the other and after every trip, your main thing you strive for is a good, long shower.
I was unaware that there was another way to travel by train in India. In India, trains are not only first, second and third class. There are a number of luxury trains across the country that create an unique experience for the passenger, a 5-star experience.
And unexpectedly, I came to India to live this experience aboard Palace on Wheels, the luxury train with the best itinerary to explore Rajasthan.
India on a luxury train: Palace on Wheels
Palace on Wheels makes traveling in India an easy task. In any other way, the overwhelming amount of people, the incessant noise of hundreds of horns at the same time and the heat play a leading role in the experience.
In addition, Palace on Wheels has – in my humble opinion – the best itinerary to travel to Rajasthan. At least if this is your first time visiting this area.
Palace on wheels itinerary covers the most important points of Rajasthan including of course the Golden Triangle formed by Delhi, Jaipur and Agra*.
*Agra actually belongs to the neighboring state of Uttar Pradesh but because of its proximity to Delhi and Jaipur, and the opportunity to visit the Taj Mahal, it's a must in any itinerary by Rajasthan.
Palace on Wheels itinerary
Day 1: Departure from Delhi
Palace on Wheels begins its journey in Delhi with a reception with music and flowers, and this is just the beginning. Every day on board the Palace on Wheels will start like this.
We entered the Palace on Wheels stepping on a red carpet, and after being greeted by our butlers we boarded the Palace on Wheels to enjoy a week touring the most important places in Rajasthan.
Day 2: Jaipur, the Pink City
Palace on Wheels day tour in Jaipur covers the most famous spots in the Pink city: Albert Hall, Hawa Mahal, Jaipur City Palace, Amber Fort and Jantar Mantar.
This day was endless, and I wish it never ended. We visited so many places that at mid-afternoon it seemed that we had been there for two days, and I already had more than 2,000 photos in my camera: Jaipur is a photo paradise!
I could have spent a whole day just exploring Amber Fort, but sunrise in Albert Hall museum was pretty espectacular too with all those birdies flying around.
I don't know if it's because it was the first city we visited, or because it's pink, but Jaipur became my absolute favorite. Imagine my excitement: I visited it again for barely 24hours! Guess what: it was totally worth it.
Click here to discover all the instagram spots in Jaipur.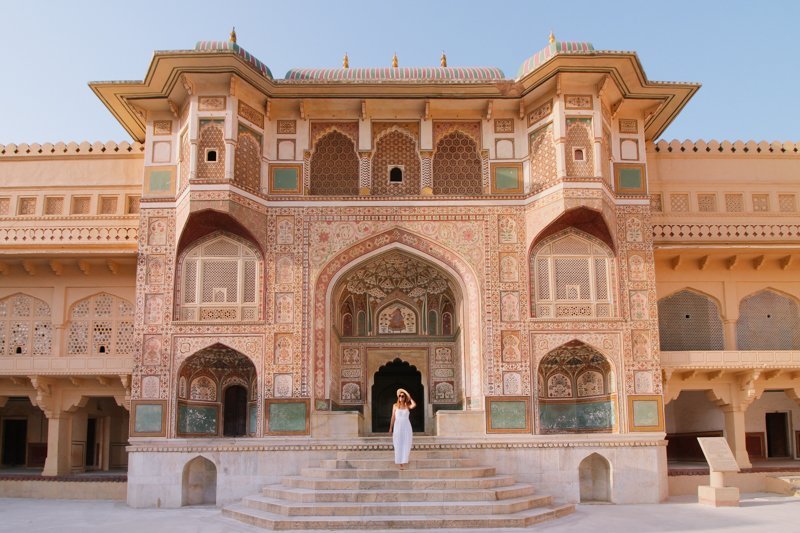 Day 3: Ratambhore National Park and Chittorgarh
Ratambhore National Park
The safari in Rathambore National Park was one of the most amazing experiences of the trip.
Although I didn't have the right lens to prove this, we were fortunate to see a tigress – named Arrowhead – during our early morning safari. She was literally a couple of minutes away from the main entrance to the park! She was still sleeping when we arrived and she didn't care much about us… but after a while, she decided to get up, have a walk, and cross the road right in front of our jeep! Isn't it amazing?
Ratambhore National Park Although has fewer tigers than other national parks in India, but Rathambore is is the best place in India to spot them because the size of the park is smaller, so it's easier to find them.
Chittorgarh
Before this trip, I had never heard of Chittorgarh. I didn't even know that before that this city that houses the largest fortress in all Rajasthan! In my opinion, it's also the prettiest one I visited during this week – and there were few!
During our hours there we did not meet any other tourists. There were only locals, monkeys and puppies, and an unforgettable sunset to top it up. It was definitely one of the nicest places we visited.
Day 4: Udaipur, the City of Lakes
Udaipur is an oasis on our journey.
Known as the Venice of the east, Udaipur stands out for its beauty, its havelis around Lake Pichola and other surrounding lakes. It's chosen by many to celebrate their wedding for a reason!
The City Palace of Udaipur was one of my favorite palaces too: a labyrinth with many different spaces with intricate decorations. I could spend hours and hours just enjoying the architecture, the art and the views to the city.
From Udaipur we hopped on a boat to Jagmandir island, a pretty place that nowadays houses a hotel and a restaurant.
Day 5: Jaisalmer, the City of the Sun
I would have loved to have extended our stay in Jaisalmer.
If I could, I would have added a night in the Jaisalmer desert under the stars to the Palace on Wheels itinerary.
Jaisalmer is known as the city of the sun and I could see why: it was the warmest destination we visited in Rajasthan and we ended up or day tour really tired. Still, Jaisalmer captivated me: it looks like time has stopped at Jaisalmer Fort, where daily life is still in and out of the fortress.
Day 6: Jodhpur, the Blue City
Jodhpur is known as the Blue City by the color in which the Brahmans' families painted their houses as a way differentiate themselves from other castes.
There, we visited Meharangarh Fort and Jaswant Thada. Meharangarh Fort is one of Rajasthan's most impressive forts and the view from there to Jodhpur. Meanwhile Jaswant Thada is a beautiful marble mausoleum by the lake.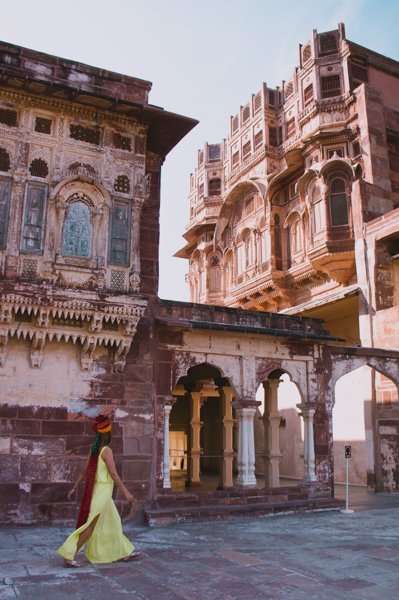 Day 7: Bharatpur and Agra
Bharatpur
Our last day on the Palace on Wheels we woke up at 5 a.m. to visit Bharatpur bird sanctuary. Although our visit was during a foggy morning, it was very nice to visit it and discover different types of birds and of course a bunch of monkeys.
Agra
In Agra we visited Agra Fort and of course, Taj Mahal.
There are no words to describe the Taj Mahal. It's the greatest monument created by love, one of the wonders of the world – my favorite from the ones I have visited so far – and visiting during sunset was pretty magical.
Day 8: Back to Delhi
Checking out was really early in the morning so we made the most of our day visiting as much as possible in Delhi, including Qutub Minar, Humayun's Tomb, India Gate and Agrasen Ki Baoli.
Find more about these places here.
An impeccable service
Keith and Rajendra were our butlers for a week aboard the Palace on Wheels.
Every day they brought us coffee and biscuits to our room and they treated us like princesses.
The service is amazing at all levels: every time we arrived in a new city the locals would welcome us with live music, flowers and tikka, and our tour guides at each location gave us the most valid tips to explore each place and to get the most out of our visit.
Facilities
Rooms
The rooms are quite small but they have enough space to feel at ease. Each room has an ensuite bathroom, with hot water 24 hours and all the amenities you may need for a week.
The beds have space under them to store the suitcases, and the cupboard and desk are small but useful, including a small safe box. However, the train is perfectly safe.
Restaurants
Palace On Wheels has two restaurants: Maharajas and Maharanis. We had most of our meals on board unless we were in the cities. In those cases we had our meals in 5* hotels.
The menu varied each day and included a wide variety of dishes: about 13 every day to be exact! Some days the focus was in Continental, Indian or Chinese food.
Alcoholic beverages are available at extra cost.
Gym/Spa
Palace on Wheels cares about the needs of every type of passenger and there's a space at one of the wagons as a gym, a hairdresser and massage cabin for those who need it after a long day playing the tourist.
Rates
Palace on Wheels rates range from $4550 to $13862 per double room (price for the entire stay for two people). Prices vary depending on the season.
This rate includes not only the train and all meals but also all tickets to the tourist attractions, tour guides, transportation, bottled water, coffee and tea.
If this train doesn't fit your budget – honestly it doesn't fit mine either! – you can at least take the itinerary indicated above and try to replicate it on your own, either by train, bus, private driver or a mixt of different types of transportation. Just add extra days in Jaipur and Jaisalmer (your can thank me later) and add some extra days to be spent traveling from one place to the other.
Final considerations
Although everything is included in the price, tips are expected for the tour guides, kitchen team and butlers.
Before traveling to India, make sure to have your visa, vaccination and travel insurance ready. Despite being a luxury train and the least stressful way possible to travel in India without giving up on a train ride, you should keep in mind that it is not a relaxed trip. Every morning the activities start early in the morning and you visit places from sunrise to sunset.
Besides, keep in mind that it's a luxury train but it travels along the same roads as the rest of trains in India, meaning that sometimes the train can move a lot and make noise.
Did you ever imagined that there was such a thing as these luxury trains?
If you've liked this post, pin it for later!