10 Best Instagram Spots in Australia
There's no doubt that Instagram influences our travel choices. More and more people design their travel itineraries and activities according to photo opportunities.
When it comes to Australia, it's just so easy to find scenic places and incredible landscapes. Possbilities are endless!
If you're planning to visit Australia soon, you're in the right place. Here you have the 10 best photo locations you need to add to your itinerary!
Keep reading to find the most instagrammable places in Australia.
Sydney Opera House
Location: Bennelong Point, Sydney, NSW
The Sydney Opera House is not just an architectural gem. It's a symbol for the whole country and also one of the most famous buildings in the world. It's a must in every itinerary in Australia, especially for photography and architecture aficionados.
If you're wondering where to get the perfect shot of the Sydney Opera House, I've got you covered. The best photo spot is the public platform located right in front of it. Do not miss sunrise and sunset over there for adding incredible colors to your photos!
Uluru Mountain
Location: Uluru, Northern Territory
Uluru, also known as Ayers Rock, is the most mystical place in this list. Plus, it's a sacred location for the Australian aborigenes in the Northern Territory.
For an overwhelming experience, get ready to be there for sunrise. The mountain changes colors depending on the light, going from yellow and orange to pink and violet. Simply magical.
Beware that climbing Uluru it's completely banned.
Bondi Icebergs Club
Location: 1 Notts Ave, Bondi NSW
Bondi Icebergs Club, in the southern end of Bondi Beach, is another must for every visitor in Australia – especially if you're looking for picture perfect places!
Apart from photos, don't forget to have a swim and enjoy a few drinks at the club!
Keep in mind that drones are allowed in this area with a 30 meters height restriction.
For more information about prices and timetables, please check the official website here.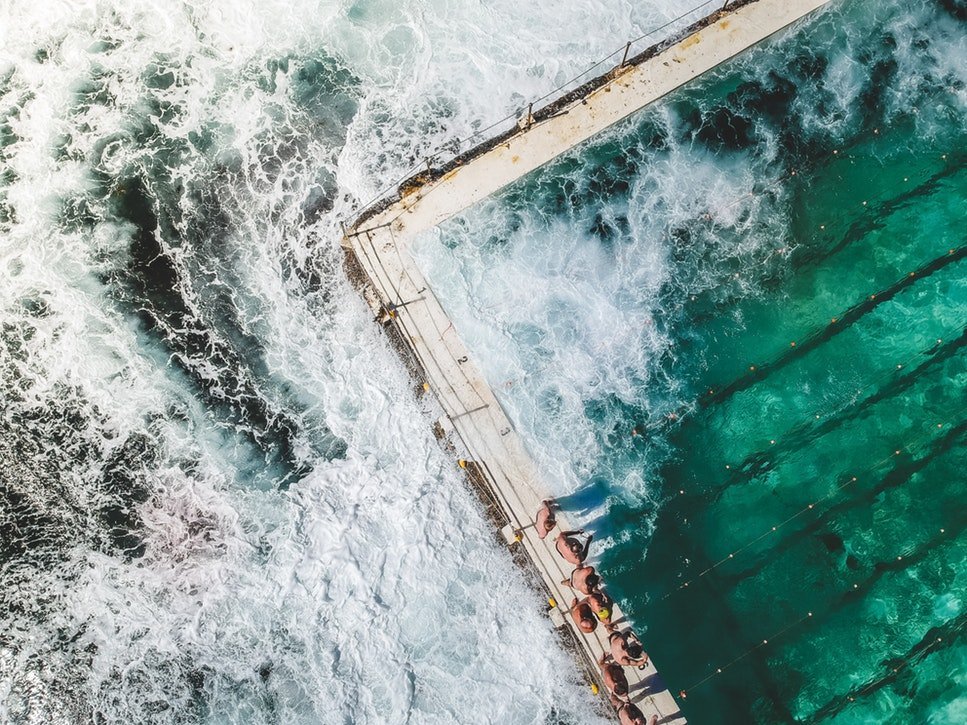 Heart Reef
Location: Great Barrier Reef of the Whitsundays
The Heart Reef is, as its name suggests, a coral formation with the shape of a heart in the Great Barrier Reef. If you ever wanted to fly on a helicopter, this must be one of the best places in the world to do so!
Click here to book the helicopter ride that will take you to this incredible place!
Whitsunday Islands
Location: Queensland
Whitsundays are a true paradise. You can explore the archipelago by helicopter, seaplane and luxury yacht and expect turquoise waters and plenty of nature. This place is really insane.
These are the top places you need to visit out of the 74 Whitsundays:
Heart Reef
Whitehaven beach
Daydream Island
Hayman Island
Hook Island
The best time to visit this area is between May and October.
Pink Lakes
Location: Western Australia
There are a few pink lakes in Western Australia, made of a bubble gum pink that is just perfect for instagram pictures. This color is due to a particular algae that can be found in this area.
These are themes beautiful pink lakes you should visit when in Australia:
Lake Hillier
Hutt Lagoon
Pink Lakes, Victoria
The best way to visit all these places is on a road trip. You can find the perfect camper van for your trip here.
12 Apostles
Location: Great Ocean Road
The 12 Apostles are a series of limestone stacks standing off the shore by the Great Ocean Road. It's one of the most popular places in Australia and despite its touristy nature, it's worth the visit. Don't forget to take a few snaps of this insane landscape!
Don't let the name fool you, though. There are actually only 8 stacks left.

Byron Bay Lighthouse
Location: Cape Byron Walking Track, Byron Bay NSW
Located in Australia's most Eastern point, Byron Bay lighthouse is the most iconic image from Byron Bay, a town you should put in your radar. It has a surfer, laid-back vibe you don't want to miss.
You can hike to the top to get some amazing views. Go there for sunrise for extra awesomeness!
Bathing houses at Brighton Beach
Location: Esplanade, Brighton VIC
A bit if color never hurt anyone!
You will find these colorful bathing houses at Brighton Beach. Apart from their practical use, they work as perfect backdrops for instagram pictures.
Melbourne State Library
Location: 328 Swanston St, Melbourne
If you're visiting Melbourne, you need to see this place by yourself.
The architecture of Melbourne State Library doesn't lack symmetry and it's literally perfect for instagram pictures. Apart from photos, they have a free tour going on every morning and they always run interesting exhibitions that worth the visit. Add this place to your itinerary in Australia and you won't regret it!
If you've liked this post, pin it for later!