Amsterdam is a vibrant and multicultural city that draws millions of visitors every year. Located in the heart of the Netherlands, the city is known for its stunning architecture, picturesque canals, world-renowned museums, and liberal attitudes. It's also one of the most beautiful cities in Europe.
In this article, we will explore the most instagrammable locations in Amsterdam.
Damrak
Damrak is hands down, the most photogenic place in all Amsterdam. It looks like a postcard!
It's usually very busy but it's not to hard to get a photo here.
Tip: get a fries paper cone from the famous food spots nearby and enjoy them with this view!
Moco museum
This is hands down, my favorite museum in Amsterdam!
Moco museum features artworks by Banksy, Basquiat, Kaws, Kusama and more. The studio Irma rooms (pictured below) are a dream! They reminded me to Teamlab exhibitions in Tokyo.
It's located just steps away from Rijksmuseum and the Van Gogh museum, but it's not as visited.
Amsterdam Centraal
The best way to get to Amsterdam from the airport or from other nearby cities is ny train – it literally takes just around 15 minutes from Schipol airport.
That's why Amsterdam Centraal Station is probably the first thing you visit in Amsterdam. It's such a pretty building!
Staalmeestersbrug
If we're talking about postcard places, Staalmeestersburg literally looks like a painting. It's so pretty!
This spot is located on a small bridge. Make sure you don't stand right in the middle of it to take your photos as bikers rule the city!
De Beurs Passage
De Beurs is an 19th century passage with a nautical theme. It's full of green and yellow mosaic tiles, chandeliers and artworks.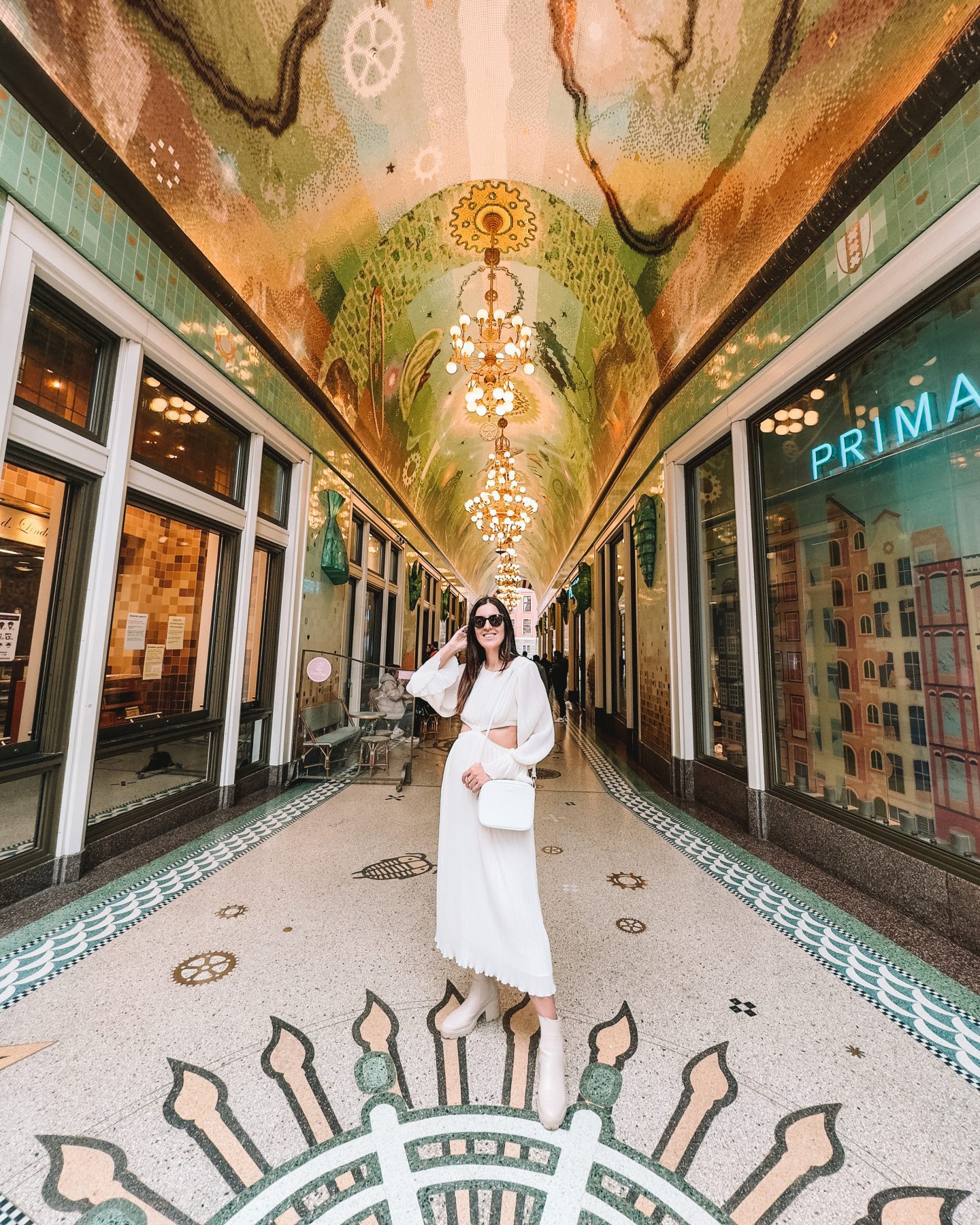 Dam Square
The main square of Amsterdam, Dam Square is always busy. I highly recommend visiting in the early morning if you want to have it all for yourself!
Tip: for a very unique view of Dam Square, go to the upper floors of the H&M store. They have such a wonderful view!
Abel Weetnietbrug
This is another postcard spot in Amsterdam. The cute buildings and the bridges make it perfect for photos!
Kees de Jongen
Not far from Anne Frank's house, we found this beautiful view.
If you're visiting in spring, summer or fall it will look even better!
Bloemenmarket
If you're into taking flatlay photos, you will love the famous flower market in Amsterdam known as Bloemenmarket.
They always have pretty tulips in all the possible colors. Such a pretty spot!
Kaptain Zeppos restaurant
This charming restaurant is located in a wonderful little alley.
Rijksmuseum façade & library
Visiting Rijksmuseum is a must when in Amsterdam, and if you're here for the photos you will love the building and the library on the inside.
Beulingsluis
You will find many, many picture perfect locations in the 9 streets area. Beulingsluis was one of my favorite picture-perfect corners.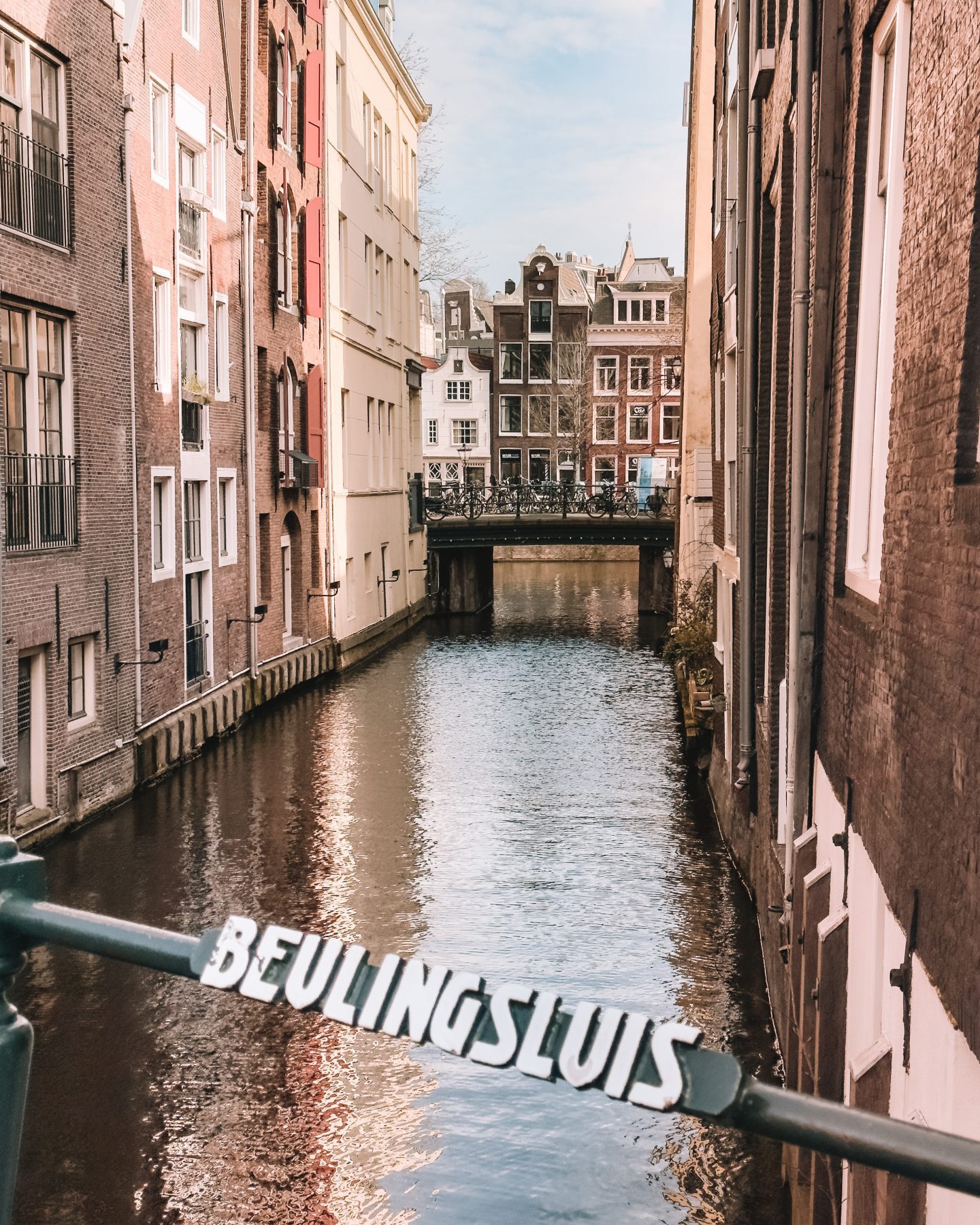 Colorful bikes in Amsterdam
Sometimes the bridges are decorated with bikes in colorful tones and flowers. I've randomly found 3 in different colors: green, lilac and pink, but I'm sure there are many more so keep your eyes peeled!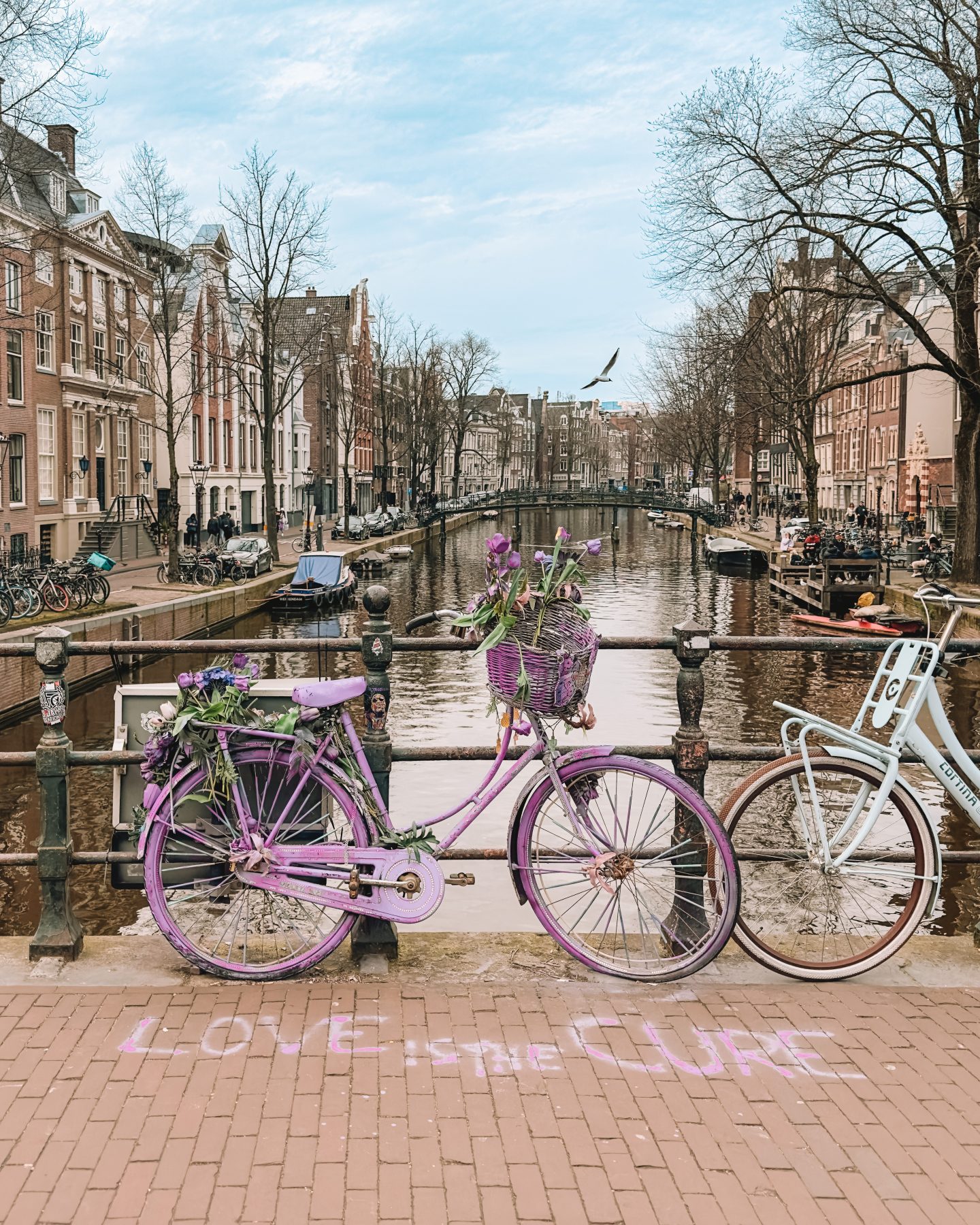 Van Wonderen Stroopwaffles
The worlds best stroopwaffles are located in the most beautiful store in Central Amsterdam.
Decorated with little hot air balloons and floating stroopwaffles, it looks like a fairytale shop.
Make sure to visit the store and get a colorful stroopwaffle! They're also extremely photogenic.
Oudekerke
It's not allowed to take photos around this church as it's in the Red Light Disctric, but a few meters away you can get a view of this church from afar.