If you're looking for all the Instagram locations in Barcelona, search no more. Here you have the most complete guide with all the Instagram spots in Barcelona – with exact locations!
Scroll down to find them all and follow me on instagram for more travel inspiration!
25+ Best Instagram spots in Barcelona
Sagrada Familia
Carrer de Mallorca, 401
If you could visit only one place in Barcelona, that must be Sagrada Familia.
Sagrada Familia is the most visited monument in Spain, a UNESCO heritage site and an outstanding architectural gem. It's an inspired by nature work of art and its only imperfection is that it's not finished yet! Its completion is due in around 10 years when the cranes won't be around anymore.
But let's talk about photos. The best picture you can take of Sagrada Familia is from Plaça de Gaudí, a garden with a pond that is perfect to play with reflections.
However, there are infinite angles to photograph this masterpiece. Be creative and also, do yourself a favor visiting its interior: the light coming through the stained-glass windows is something you need to see by yourself.
Palau de la Música Catalana
Carrer del Palau de la Música, 4-6
Palau de la Música Catalana is the only concert hall that has ever been declared a UNESCO heritage site and it's another modernist architectural jewels in Barcelona. Its colors and motifs of nature can recall Gaudí's works but it was designed by Domenech i Muntaner as a commission for the Catalan Orfeo. The concert hall is beautiful at every level: sound, colors, and light.
At the Palau de la música Catalana you will also find one of the most popular Instagram places in Barcelona: its colorful balcony. The interior of the building is also very insta-worthy. Let yourself fall in love with the colors!
The insta-famous balcony is usually closed for concerts, being the only way to visit (and photograph it) by joining a tour.
Casa Batlló
Paseo de Gracia, 43
Casa Batlló is Gaudi's masterpiece.
The best Instagram spots in Casa Batlló are the windows in the main living room, the white hallway that leads to the storerooms and its colorful rooftop. Plus, its beautiful facade, one of the most iconic images of Barcelona.
If you want to take a picture with the windows, remember to bring a bag full of patience! Book your ticket in advance and use a couple of hours to visit all the corners of the house.
La Pedrera – Casa Mila
Provença, 261-265
La Pedrera is another epic Gaudí creation. A huge building with a surreal rooftop that is a must-visit in Passeig de Gràcia. I wish I lived there!
Barcelona Cathedral
Pla de la Seu s/n
Barcelona Cathedral – also known as La Seu – is located in the Gothic quarter and every day thousands of people gather in front of its facade to enjoy their time.
As for Instagram, if you want a photo alone in front of the cathedral you need to go there for sunrise. However, my favorite picture here is from the rooftop!
Use the elevator inside the cathedral for one of the best views you can have in Barcelona.
Pont del Bisbe
Carrer del Bisbe, 1
Gothic Quarter and La Rambla are two must-see places during your visit to Barcelona. Unfortunately, there are always tons of tourists so it can be hard to get the perfect Instagram photo!
The most iconic street in Barcelona is the Pont del Bisbe at Carrer del Bisbe – it's the most photographed street in the Gothic quarter.
Photographing this street without people is not an easy task. The best option is to visit this place for sunrise and visit the cathedral too as it's located right next to it.
Sant Pau Recinte Modernista
Carrer de Sant Antoni Maria Claret, 167
This Art Nouveau complex is the former hospital designed by Domenech i Muntaner. A collection of colorful buildings inspired by nature around a garden.
100% recommended.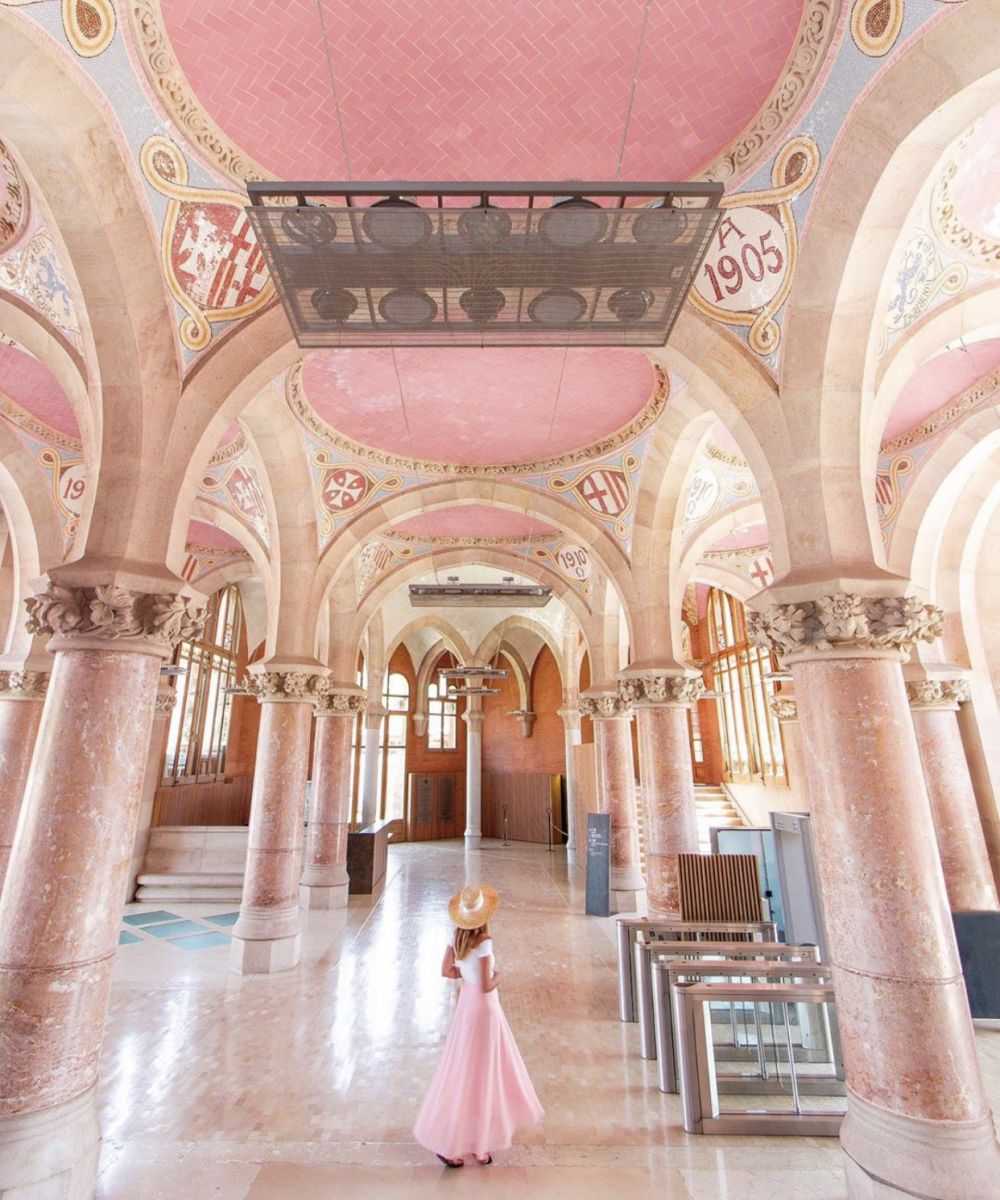 Arc de Triomf
Passeig de Lluís Companys
Arc de Triomf is a red brick monument that stands majestic right in front of Ciutadella Park. It's another icon in Barcelona that you shouldn't miss!
Casa Vicens
Carrer de les Carolines, 20
Casa Vicens is another technicolor house designed by Gaudí. Located in Gràcia neighborhood, it has many stories to tell and many surprising details. It's UNESCO Heritage Site and it's been recently opened to the public.
It's often overlooked by tourists but the visit is really worth it. You will be able to enjoy the experience without the crowds and it's as impressive as other Gaudí's creations.
Palau Güell
Carrer Nou de la Rambla, 3-5
In between la Rambla and El Raval, this mansion designed by Antoni Gaudí is another must during your trip to Barcelona.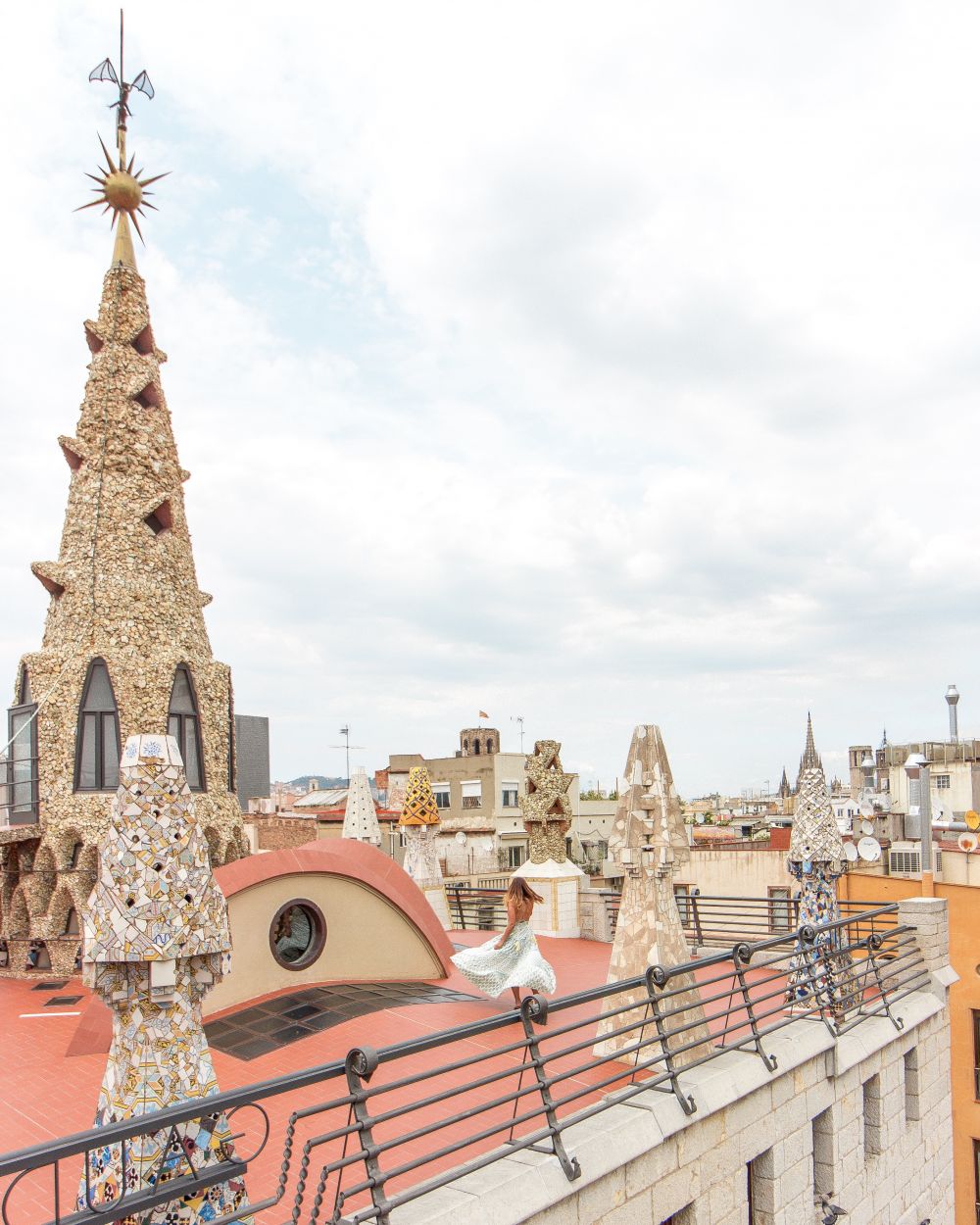 Casa de les Punxes
Avinguda Diagonal, 420
Casa de les Punxes is one of the most incredible buildings in Diagonal Avenue. Designed by Puig i Cadafalch, it reminded me of a medieval castle because of the towers in the rooftop. It has many different details that you won't get to discover. 100% worth the visit!
Carrer de l'Allada-Vermell
Carrer de l'Allada-Vermell, 12
Close to Born area, carrer de l'Allada-Vermell is a pedestrian street with a great vibe. You'll find cool cafes and eateries and lots of trees.
One building, the number 12, stands up with its vertical garden with loads of plants: it's already become an Instagram spot in Barcelona.
Carrer Padua
Carrer Padua, 75
When I first posted this picture on Instagram I got loads of comments and messages asking for its location: even from Barcelonians! Truth is, it's not easy to find – unless you've got the address that I just gave you!
If you're reading this before your trip to Barcelona, I've got you covered. Having its exact location you won't miss it! It's one of the most instagrammable places in Barcelona.
El Born neighborhood
Get lost in El Born neighborhood and discover its narrow streets, street art, and colorful pennants and of course, its market and the Basilica de Santa Maria Del Mar.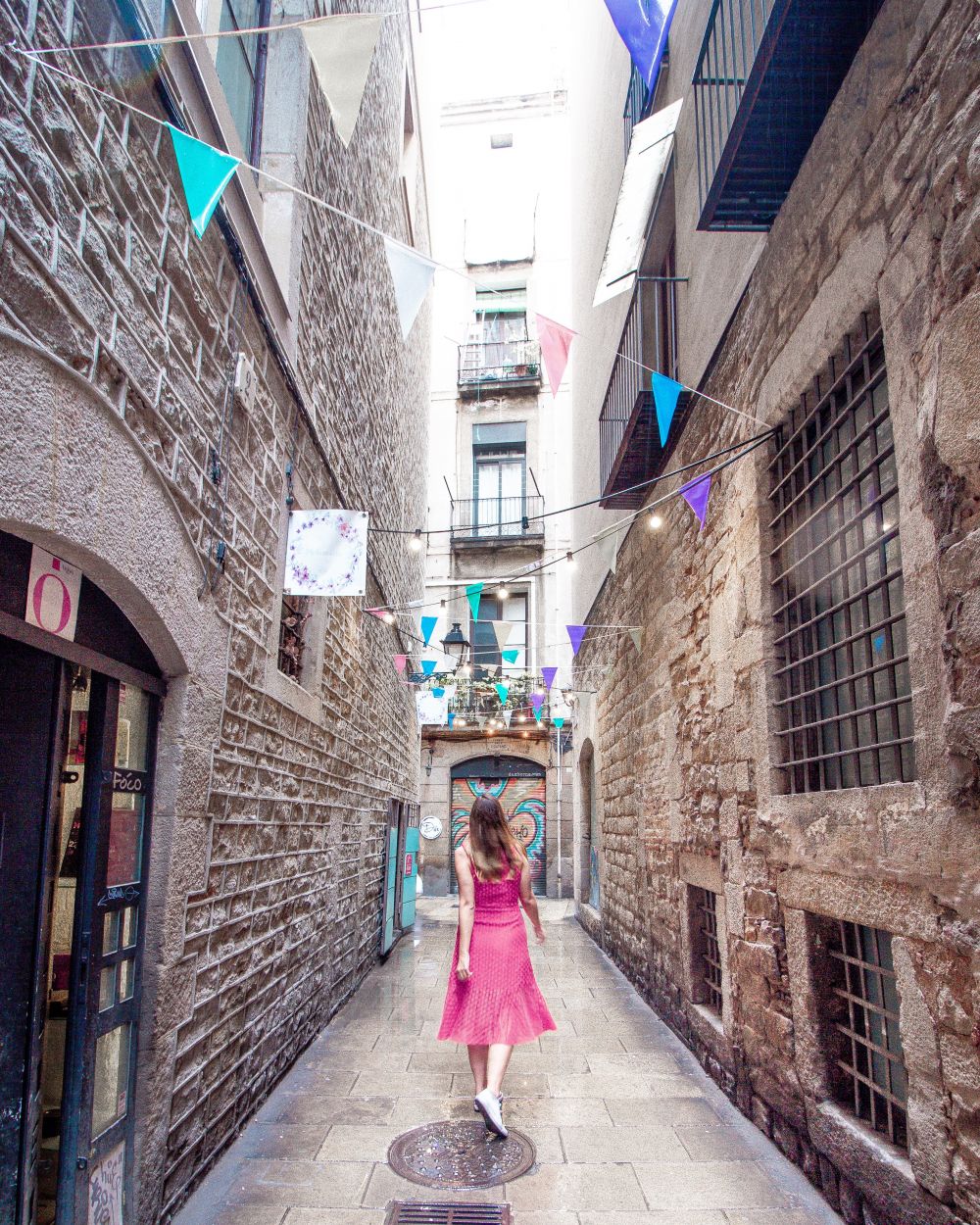 Boqueria Market
La Rambla, 91
Located in the busiest street in Barcelona, La Rambla, Boqueria Market is the most famous market in Barcelona and the first local market in the city. It's charming and delicious, and also very photogenic!
Go right before they close you'll find the fresh fruit for sale. It's so good!
Parc Güell
Parc Güell is also one of the most important works of Gaudí's legacy in Barcelona.
The most popular image on the social network? In the Nature Square, sitting in a trencadís bench and overlooking Barcelona from the top.
If you go for sunrise before it opens, entrance is free for all!
My advice would be to combine this visit with the Carmel bunkers – it's just 20 minutes walking distance apart.
Parc de la Ciutadella
Passeig de Picasso, 21
Ciutadella Park is not just your average park. Centrally located, it's perfect for peaceful walks, sport activities and of course, photos!
Jardins del Teatre Grec
Pg Santa Madrona, 38
These gardens nearby Montjuic are a beautiful green space. The views from the pergola are amazing!
Jardins Mossen Costa i Llobera
Ctra. de Miramar, 38
These gardens feature more than 800 types of cactus and plus, they have an amazing view of Barcelona and the Mediterranean sea.
Barceloneta Beach
Passeig de la Barceloneta
Barceloneta beach is a must on every trip to Barcelona, it doesn't matter if it's summer or winter: this beach and the W Hotel skyline are one of the most emblematic images of the city.
If you're visiting during the summer, you can practice SUP with a view!
Cofradía de Pescadors
Moll de Pescadors
Close to Barceloneta beach, the Fishermen's Guild features a beautiful clock tower that originally was the first lighthouse in Barcelona. If you go inside, you can open a little window in one of the numbers.
Tip: you can join the Barcelona Fishermen's Guild tour to know more about them and right after having dinner by the beach at Xup Xup restaurant. Recommended 100%!
França Railway Station
Av. del Marquès de l'Argentera, s/n
This historic and monumental railway station, designed in a modernist style, is another must-visit when in Barcelona.
Carmel Bunkers
Carrer de Maria Labernia, s/n
Good news: the best viewpoint of the city is free! It's located at Carmel bunkers, at Turó de la Rovira park. From there you will enjoy the panoramic views over the city, its skyline and its most emblematic buildings:
Sagrada Familia
Hotel W
Torre Agbar
Torre Mapfre and Hotel Arts
Montjuic Castle
Templo Expiatorio del Sagrado Corazón (Tibidabo)
Tip: this place is very popular during sunset – it's actually one of the best places in town to enjoy it. If you want it all for yourself, go there for sunrise. Otherwise, you'll be surrounded by hundreds of people. It's relatively close to Parc Güell so it may be a good idea to combine both visits.
Barcelona from a rooftop: Hotel Ayre Rosellón
Carrer del Roselló, 390
Hotel Ayre Rosellón has the most incredible view to Sagrada Familia – it's a must when visiting Barcelona!
Most of hotel rooftops open to the public from 7 p.m. in Barcelona: visit as many as you can!
Tibidabo mountain and amusement park
Plaça del Tibidabo, 3
Tibidabo mountain is one of the highest points in Barcelona and it has one of the best views to the city. There's also a very beautiful church and a photogenic amusement park atop it.
Barcelona from the sea
If you want to avoid the crowds, there is one way to enjoy Barcelona like no other: from the Mediterranean Sea.
Get yourself a private boat, sail the Mediterranean and enjoy the sunset. There's no better way to end the day in Barcelona.
We went for sunset with cocktails and I can't recommend them enough.
All these locations (and more) in the map
Tips on visiting Barcelona
If you don't have much time in Barcelona try to make the most of it with a little bit of planning. Places like Sagrada Família, Casa Batlló and Parc Güell are quite popular so you better book your tickets in advance.
Beware of pickpockets, especially in touristy areas as el Born and Gothic quarter: that labyrinth of alleyways makes it easy for them to disappear with your belongings. There's always undercover police watching over your safety, but still, stay alert at all times.
Where to stay in Barcelona
After many visits to Barcelona and after having stayed in a few hotels, I can totally recommend H10 Cubik as my favorite. Centrally located in Via Laietana, it had me with its unique design, top service and especially with that rooftop with a pool and a view to Barcelona Cathedral. A perfect place for a glass of cava!
If you've liked this post, pin it for later!