Planning on traveling to India for its amazing photo opportunities?
While Taj Mahal is the most photographed place in India, the most photogenic locations can be found in the Pink City of Jaipur.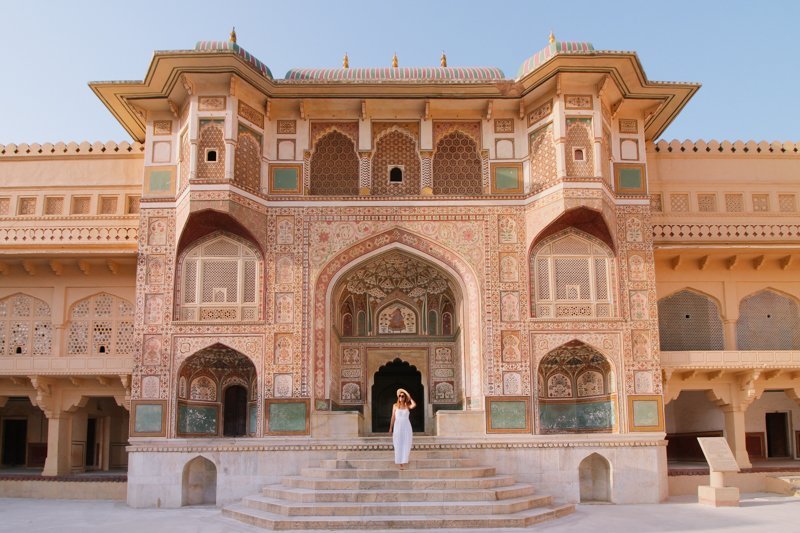 Instagram spots in Jaipur
Amber Fort
Amber Fort is one of the main attractions of Rajasthan. Such a majestic place!
It's famous for the elephant ride that takes you there like a Maharajah – luckily, they are about to shut down this activity! The elephants should not be ridden or forced to walk on the pavement, and many of the elephants in Amber Fort have turnt blind. Remember not to ride the elephants there: just walk or take the jeep, which is way more cool!
If you are an avid photographer make sure to visit Amber Fort at sunrise. Try to be the first one getting there so you can avoid groups of tourists. If you cannot go for sunrise, don't worry: Amber Fort is huge and you will always find pretty places with no people to photograph its amazing architecture details. It's a place where I could have spent an entire day.
https://www.instagram.com/p/Bfbfz5vAVsH/?taken-by=dianamiaus
Hawa Mahal
This place has many stories to tell.
Hawa Mahal is known as the Palace of the Winds because of its 953 windows on its façade, so the air could enter and refresh the interior.
The window design had also another intention: that the royal ladies could observe the daily life and the festivals outside, since they couldn't show their face in public.
Plus, this iconic façade is actually the back of the palace, which is located in a very noisy and busy street. Did you imagine it to be that way? The best way to enjoy the view to Hawa Mahal is from any of the numerous terraces in the opposite side of the road.
https://www.instagram.com/p/Bf6k7V2gLSi/?taken-by=dianamiaus
Nahargarh Fort
On the top of Aravalli hill, Nahargarh Fort offers the best view over the Pink City.
I'm sure you have seen many photographs from this location on Instagram, with people jumping or walking on the walls. The height is crazy and the wind is too so please, don't risk your life for a picture.
The best time to visit Nahargarh Fort is at dusk. Once you pass the golden hour and finish your photo shoot, I'd recommend you to get to the restaurant and enjoy the blue hour with a unique view of the city.
https://www.instagram.com/p/BfyzcbbAtbC/?taken-by=dianamiaus
Albert Hall Museum
Albert Hall Museum was the first place we visited in Jaipur on the Palace on Wheels itinerary: what a way to start the trip!
The light in the morning was perfect, the pigeons flew into our pictures every couple of minutes and it was the perfect appetizer of what our time in Jaipur would look like and what we expected in Rajasthan: pure beauty!
Although my photo is taken in front of the museum, I think it's way easier to capture the hundreds of pigeons from the outside.
https://www.instagram.com/p/Bfg2cvng_9E/?taken-by=dianamiaus
City Palace
Get ready to immerse yourself in colors at the City Palace.
If you are passionate about architecture, art, history and doors… you're going to love it.
One of the most surprising rooms of the City Palace are the 4 gates that symbolize summer, spring, fall and winter and are dedicated to different gods and goddesses for different reasons. My favorite? The inspired in the peacock's tail!
You can complete your visit by accessing the Royal Palace – Chandra Mahal – by paying an entry fee of 2500 rupees (photographic opportunities and colors there are multiplied also by 2500). This is something I couldn't do this time for lack of time but if you can, do not miss it.
https://www.instagram.com/p/BgHZy9bgXvf/?taken-by=dianamiaus
Jal Mahal
Jal Mahal is built on a lake and it literally means Palace on the Water.
Years ago it was accessible by boat but nowadays it's highly polluted – you will notice that bad smell as soon as you get there.
The best way to visit is on your way between Amber Fort and Jaipur, as it is located on the side of the main road.
To make the best pictures, visit it at sunrise or sunset and enjoy the colorful reflections on the water.
https://www.instagram.com/p/BgW3P9rAjHx/?taken-by=dianamiaus
Panna Meen Ka Kund
Nearby Amber Fort there is one insta-famous baoli: yellow, symmetrical and highly photogenic.
Despite being located so close to Amber Fort, Panna Meen Ka Kund doesn't receive that many tourists, unless instagrammers or tourists with a private guide.
Taking pictures on the stairs is apparently forbidden and if you do so you will be charged with 100 rupees. In our case we felt invited to pay.
You can easily find it in Google Maps as Step Well.
https://www.instagram.com/p/BfrDSp9gJHz/?taken-by=dianamiaus
Jawahar Circle
If you want your Instagram gallery to explode with thousands of colors and likes and comments, perhaps you're interested in visiting Jawahar Circle and its Patrika gate, the ninth door of Jaipur.
Patrika Gate is like a multi-colored cake of a thousand layers. Now seriously, you'll forget everything as soon as you're there: it's like entering Wonderland. It is also a perfect place to disconnect from the crazy traffic of Jaipur.
Look at these colors!
https://www.instagram.com/p/Bf1dBDDANL3/?taken-by=dianamiaus
I hope I convinced you to visit Jaipur 🙂
If you've liked this post, pin it for later!