Lisbon is a beautiful city with many stunning photo locations.
On this article you will find some of the best spots to capture amazing photos in Lisbon for your instagram content.
Elevador da Bica
Elevador da Bica
The Elevador da Bica is the most picturesque cable car in Lisbon.
This funicular connects Baixa with Bairro Alto and gathers most tourists on top of the hill to take pictures with the tram and the stunning views.
It costs 3,80€ to ride the elevator and this fee allows 2 trips, one in each direction.
Our tip: take a photo of the funicular from the side.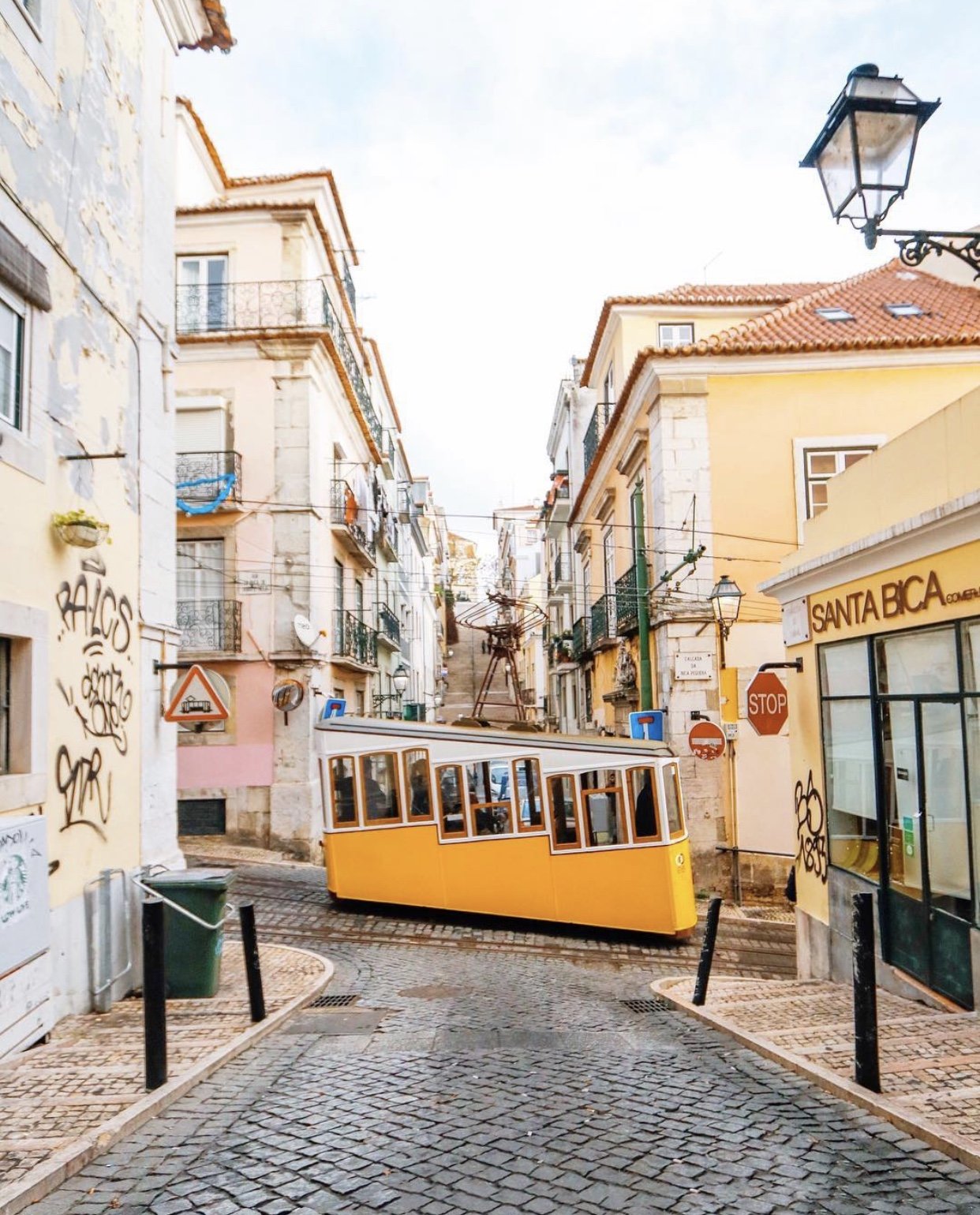 Comercio Square
Praça do Comercio
In between the Tagus river and Baixa neighborhood, Comercio Square (a.k.a. Terreiro do Paço) and its Rua Augusta Arch are a must-visit site in Lisbon. Besides the main square and the arch, the archway is really cool for photos.
It's always bustling with people and it's also a really good place to enjoy the sunset in Lisbon.
Belem Tower
Av. Brasília
Belem Tower is one of the most iconic symbols of Lisbon that you definitely need to add to your itinerary in Lisbon.
This former fort has been classified UNESCO Heritage site along with the nearby Jeronimos Monastery.
Our tip: go there for sunrise to avoid other tourists. It can get really busy during the rest of the day.
Jeronimos Monastery
Praça do Império 1400-206
Jeronimos Monastery is a UNESCO Heritage site in Belem with an intricate facade in Manuelino style.
Fun fact: it's often said that the original recipe of the pasteis de nata was created here.
Pink Street
Rua Nova do Carvalho
Underwhelming for some, we cannot deny that Rua Nova do Carvalho became insta-famous thanks to its colorful mix of buildings in blue and yellow combined with its pink pavement.
This area used to be the Red Lights district, but colors changed its reputation forever. Now, lots of photography aficionados come to visit it during the day, and the whole area is bustling in nightlife later in the day.
Do not miss Pensao Amor: it's one of my favorite hidden gems in Lisbon.
Green Street
R. da Silva
On my most recent visit to Lisbon I've found this quaint little street by chance.
It's a lovely street with nice bars and restaurant away from the tourists.
LX Factory
R. Rodrigues de Faria 103
Just a 15-minute drive from the historic city center, LX Factory is the coolest place in Lisbon.
What used to be an industrial area is now a myriad of restaurants, offices, concept stores, and street art. Every corner in LX Factory is worth a picture.
Every Sunday there's an open-air market if you want to go have a look!
Livraria Ler Devagar
R. Rodrigues de Faria 103 – G 0.3
You know I have a thing with bookstores and libraries and Lisbon has one of the most beautiful ones I've ever visited. Livraria Ler Devagar is a dream for book lovers.
It's located in an old printing plant and you can still check how the machines work, learn about the story of the place by its owner, have a coffee while you read, or visit one of their photography and art exhibitions.
It's one of our favorite places in Lisbon.
Campo de Santa Clara
Mural de azulejos – Botto Machado
Feira da Ladra, the Lisbon flea market, takes place in Campo de Santa Clara every Tuesday and Saturday.
There, a massive tiled wall with colorful street art by André Saraiva makes the best background for Instagram pictures.
National Pantheon
Campo de Santa Clara
The National Pantheon is an old church where many Portuguese personalities are buried.
It's a beautiful white-washed building.
Lisbon Cathedral
R. Augusto Rosa
Lisbon Cathedral (known as Sé) is the oldest church in the city and it's another must-visit sight in Lisbon.
It has survived earthquakes and several renovations.
Wait for the tram 28 to go in front of the façade for the perfect instagram photo.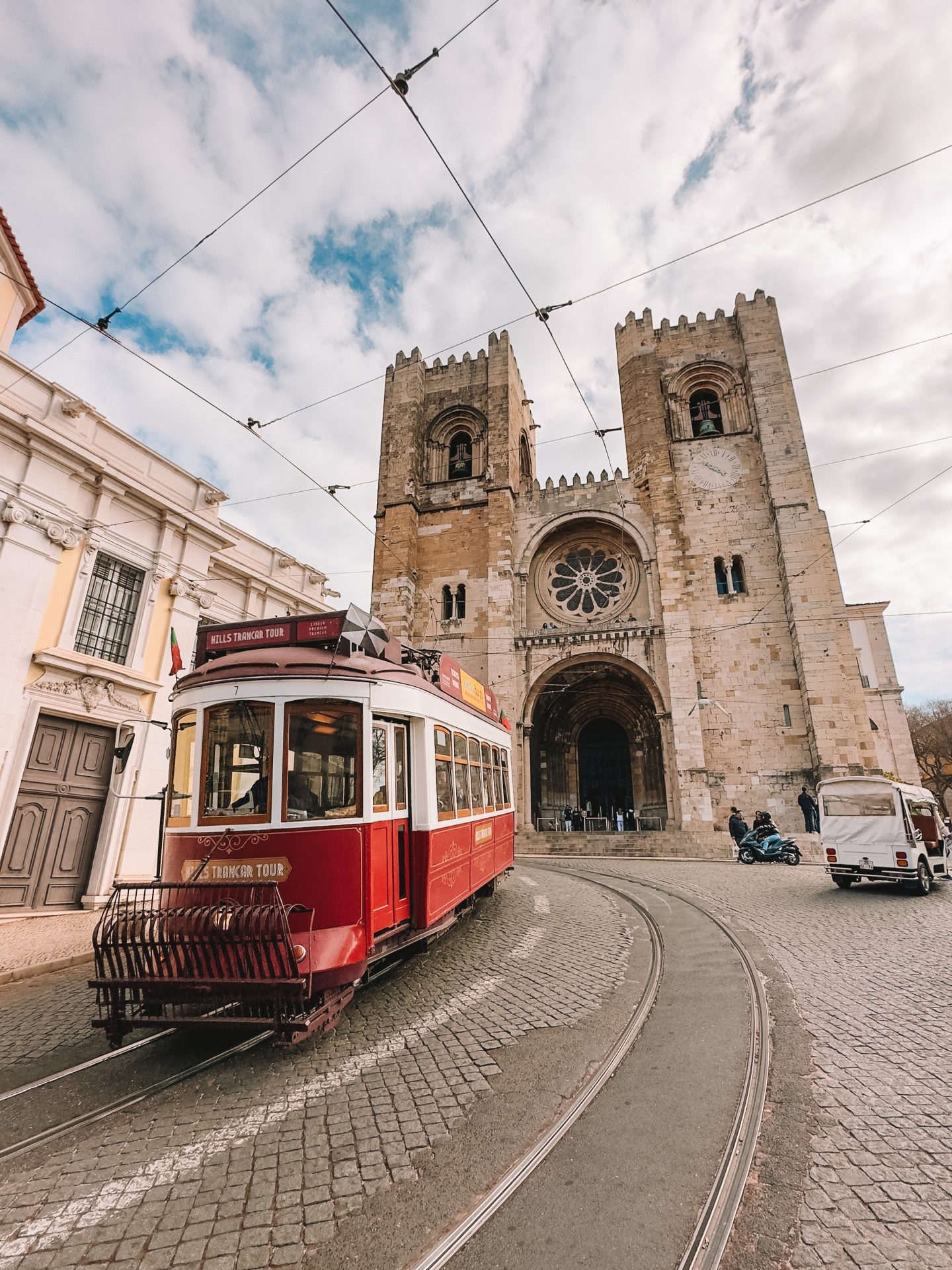 Miradouro de Santa Luzia
Largo Santa Luzia
The Miradouro de Santa Luzia is probably the most popular viewpoint in Lisbon, hence, it's usually pretty packed.
Anyways, it's still beautiful and worth the visit. There are usually buskers playing traditional music.
It looks especially beautiful in spring when the flowers are in bloom.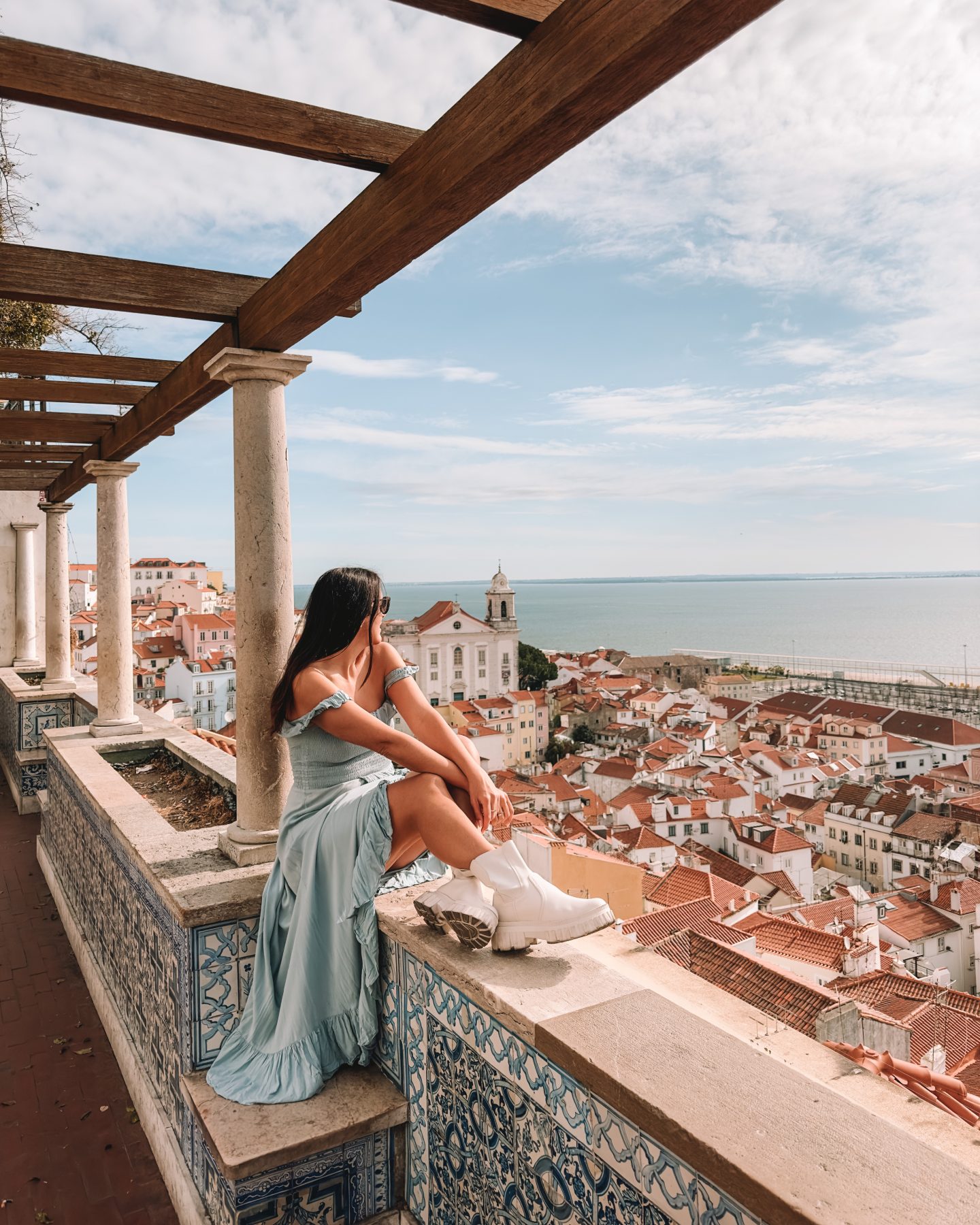 Miradouro Portas do Sol
Largo Portas do Sol
Miradouro Portas do Sol is really close to Miradouro de Santa Luzia and it's recommended to visit both while in this area.
Beware of street vendors in this area.
Miradouro da Senhora do Monte
Largo Monte
Lisbon is also known as the city of the seven hills and thanks to that, it's possible to get breathtaking views from many different spots throughout the city.
The best views are probably the ones you can get from Castelo de San Jorge, but if you don't want to pay the entrance fee, the second-best viewpoint is the Miradouro da Senhora do Monte. It's free for everyone and simply stunning.
Bairro Alto
Praça Luís de Camões 2
Bairro Alto is a peaceful and charming neighborhood, with many small shops, restaurants, and cafes. The architecture of the buildings is typical of Lisbon, with colorful facades, intricate tiles, and wrought iron balconies.
This area is also home of my favorite hotel in Lisbon: Bairro Alto Hotel
Rua do Telhal
R. do Telhal
Rua do Telhal is one of the most beautiful streets in Lisbon.
You will love this row of colorful buildings!
Rua do Espirito Santo
R. do Espirito Santo
Alfama is the most charming neighborhood in Lisbon and it deserves a full day walking down its narrow streets with little colorful buildings, plants and hanging clothes.
One of the most beautiful streets in Aflama is Rua do Espírito Santo, really close to Castelo de Sao Jorge.
Embaixada
Praça do Príncipe Real 26
Even the mall is pretty in Lisbon.
If Porto has the most beautiful railway station, Lisbon can proudly say they have the most beautiful shopping center.
Embaixada is located in a 19th-century palace with gorgeous frescos and a lovely skylight, featuring Portuguese designers & brands and restaurants.
Casa do Alentejo
R. das Portas de Santo Antão 58
This former Moorish Palace is one of those well-kept secrets in Lisbon. Located right behind a very popular street and with a tiny front door, you could easily miss it.
Behind its modest entrance, you'll find its impressive courtyard and beautiful tiles.
MAAT
Av. Brasília
MAAT stands for the Museum of Art, Architecture, and Technology. It faces a stunning view of the Tagus river and the 25 de Abril bridge.
The museum itself is an architectural piece of art and you can actually walk on top of it.
It's a recommended sunset spot in Lisbon.
Avenida da Liberdade
Avenida da Liberdade
Avenida da Liberdade is the most expensive street in Portugal. It's a beautiful boulevard that connects Baixa with Eduardo VII park.
This is where the designer shops or luxury hotels such as Four Seasons are located.
It's a pretty spot to visit during Christmas as the shops are very nicely decorated.
Instagram spots in Sintra
If you have the opportunity, it's really easy to visit Sintra from Lisbon either on public transport or in your own car.
The most popular attractions on Instagram are featured below.
Pena Palace
Pena Palace is a colorful palace that looks like it's straight out of a fairytale.
Tip: if you want to recreate the epic photos you see every day on Instagram, we highly recommend trying to be the first in line early in the morning: it gets really crowded and busy!
Quinta da Regaleira
Quinta da Regaleira is the most mysterious (and kinda dark) place in Sintra.
It's also another place that gets crowded now because of its Instagram popularity, so pack a bag of patience if you're planning to go!
Monserrate Palace
Monserrat Palace is a hidden gem in Sintra. While most tourists gather in Pena Palace and Quinta da Regaleira, Monserrate Palace is not as famous as its neighbors yet. That's exactly why we recommend visiting it.
Where to stay in Lisbon for the best photo opportunities
Lisbon offers a wide range of possibilities: from boutique hotels to the coolest hostels, try to book something centrally located so you make the most of your time. The best neighborhoods in Lisbon for first-timers are Baixa and Chiado.
These are the most photogenic hotels in Lisbon:
If you've liked this post, pin it for later!