50 Best Instagram Spots in London
Must-visit places in London
Tower Bridge
Tower Bridge Rd
Tower Bridge is probably the most photogenic bridge in London! It's always busy, so in order to take the perfect Instagram photos you will need to go for sunrise or try to get a unique angle – there are a few corners around you can use!
London Eye
Lambeth
To get the best pictures of the London Eye, head to the other side of the river!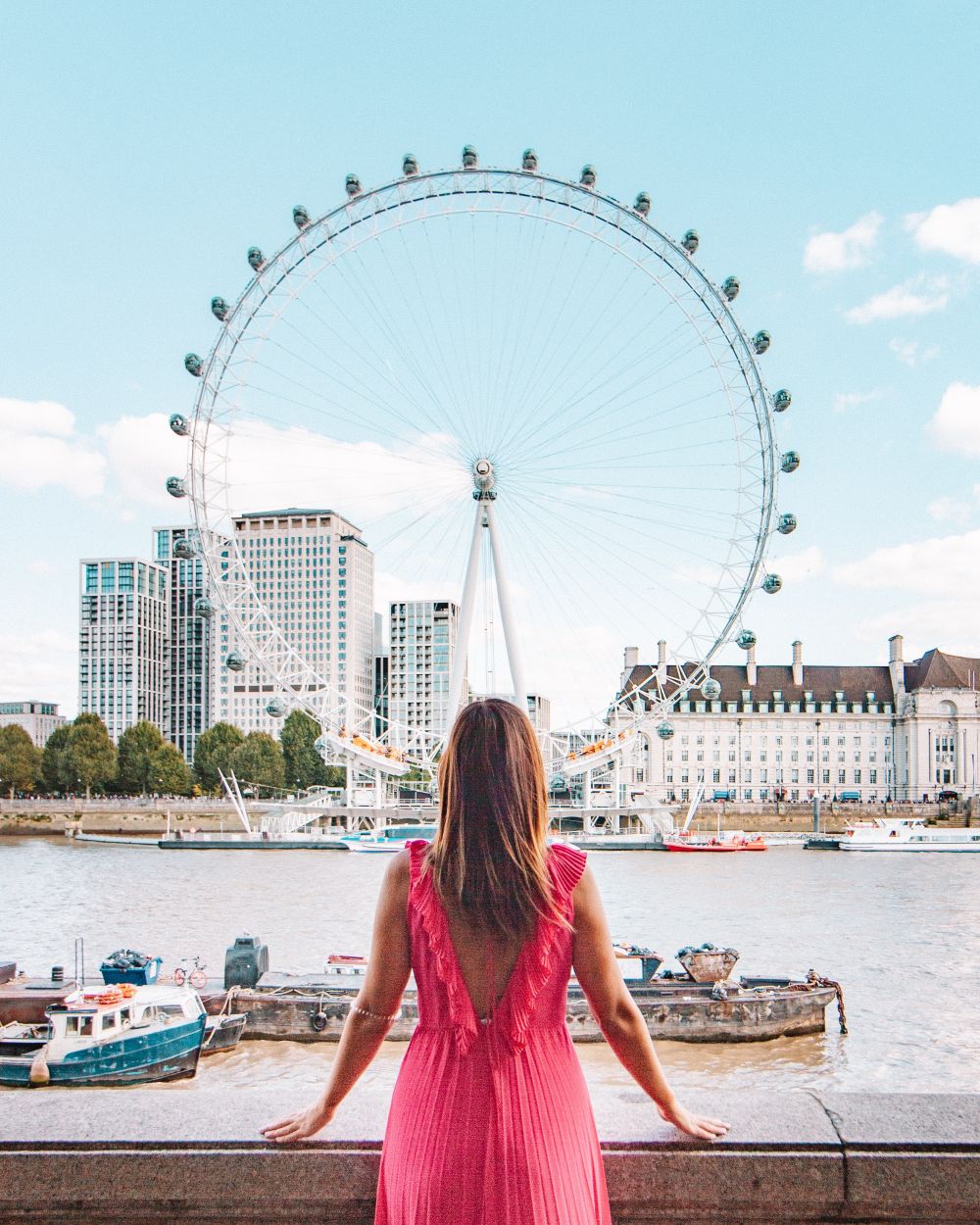 Big Ben
Westminster
For the best photos with the Big Ben, look for this iconic red photo booth by the bridge.
Millennium Bridge
Thames Embankment
Millennium Bridge makes a beautiful framing for St. Paul's Cathedral and it's one of the most iconic places in London.
Keep in mind that this location is really busy during the day so if you're going for photos, consider getting there for sunrise.
Kew Gardens
Richmond TW9 3AB
Do not miss the chance to explore the Royal Botanical Gardens! Fun fact: it's London's largest World Heritage Site.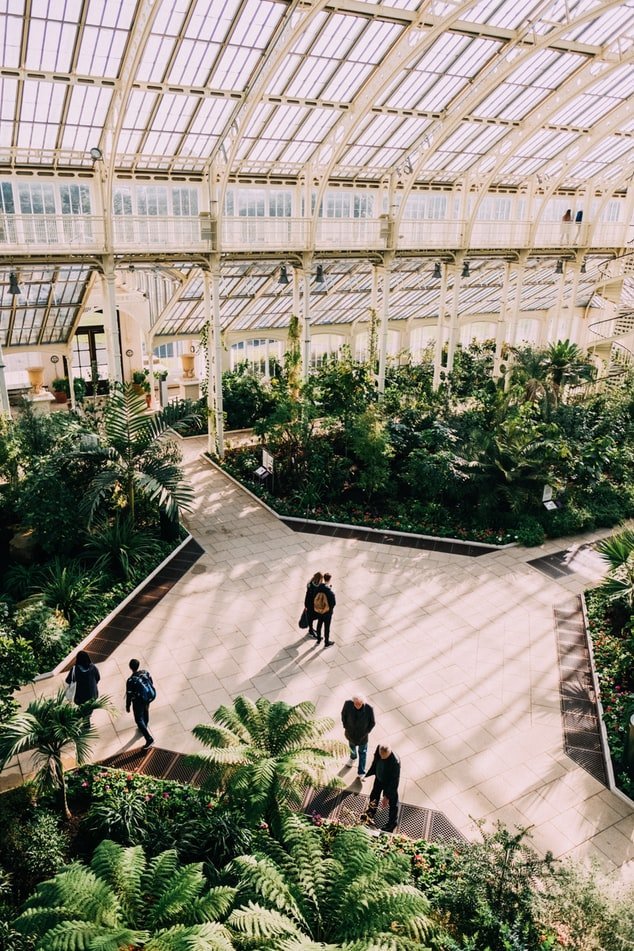 The most instagrammable hotels in London
St. Pancras Renaissance
Euston Rd, Kings Cross
I had the chance to stay at St. Pancras Renaissance during one of my trips to London and I absolutely loved it. Not only for its iconic building and a grand staircase that I always wanted to visit (blame Spice Girls' Wannabe music video for that), but I also loved to have breakfast at The Ticket Office, the afternoon tea at The Chambers Club, and most of all, falling asleep to that unique vie to King's Cross Railway station.
Cheval Three Quays
40 Lower Thames St
If you're dreaming of having the best view of London's Skyline, you need to stay at Cheval Three Quays.
The photos speak for themselves!
The Most Instagrammable Neighborhoods, Streets & Mews
Notting Hill
Notting Hill is without any doubt, the most beautiful neighborhood in London. Everywhere is literally picture perfect in this area.
Lancaster Road
St Luke's Mews
Westbourne Park Road
Colville Houses
Chepstow Villas
Hillgate Place
Chelsea
Bywater Street, Chelsea
Another cool spot for photos is Chelsea, especially Bywater street with its candy-colored buildings.
Knightsbridge
14 Trevor Square, Knightsbridge
Knightsbrigde is another beautiful area in London – so picturesque!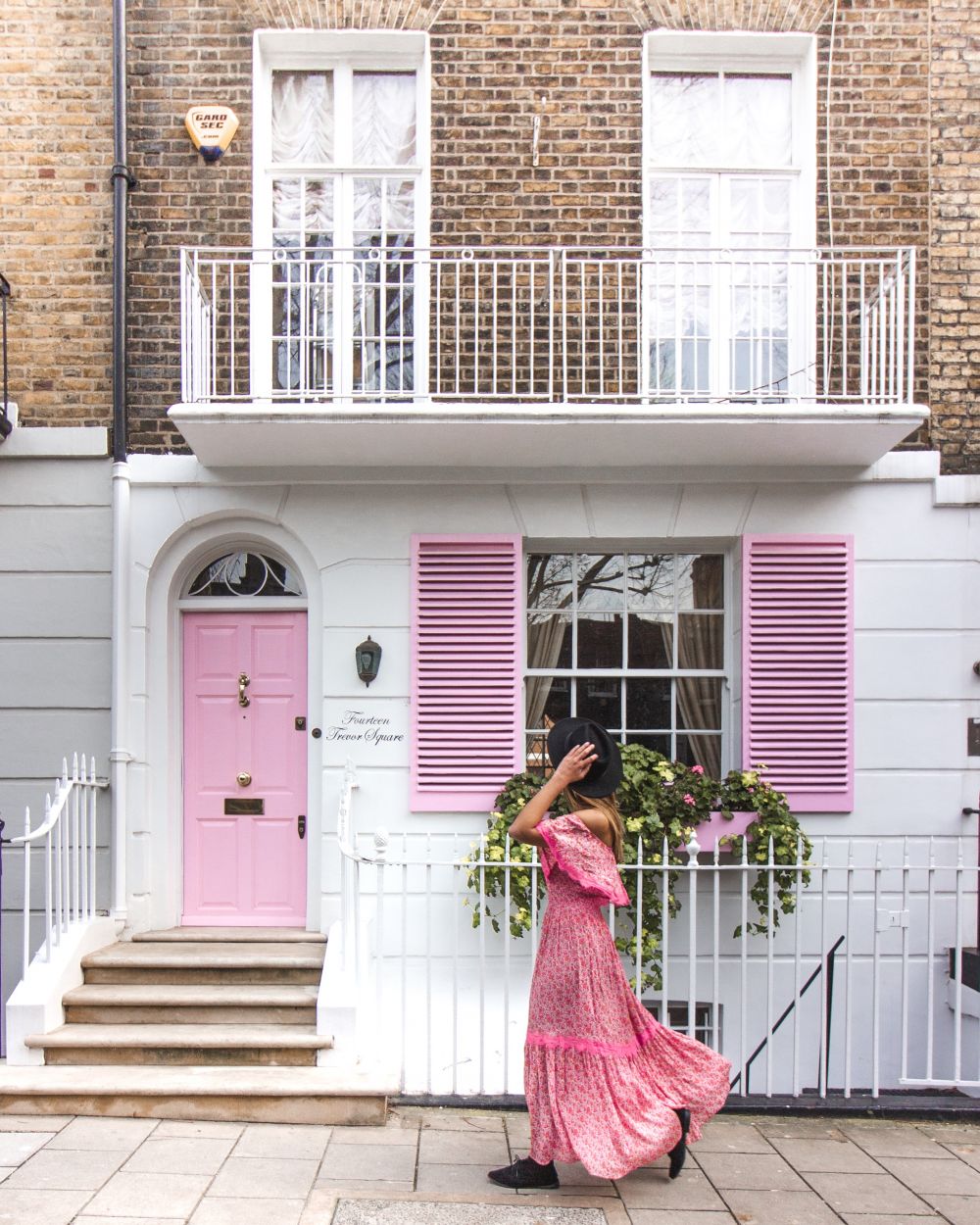 Marylebone
5 Wimpole St, Marylebone
Marylebone is home to some of the cutest cafes and shops. One of the most iconic facades in London in fall is 5 Wimpole Street.
Kynance Mews
Another instagram hotspot during fall is Kynance Mews with this beautiful arcade covered by red leaves.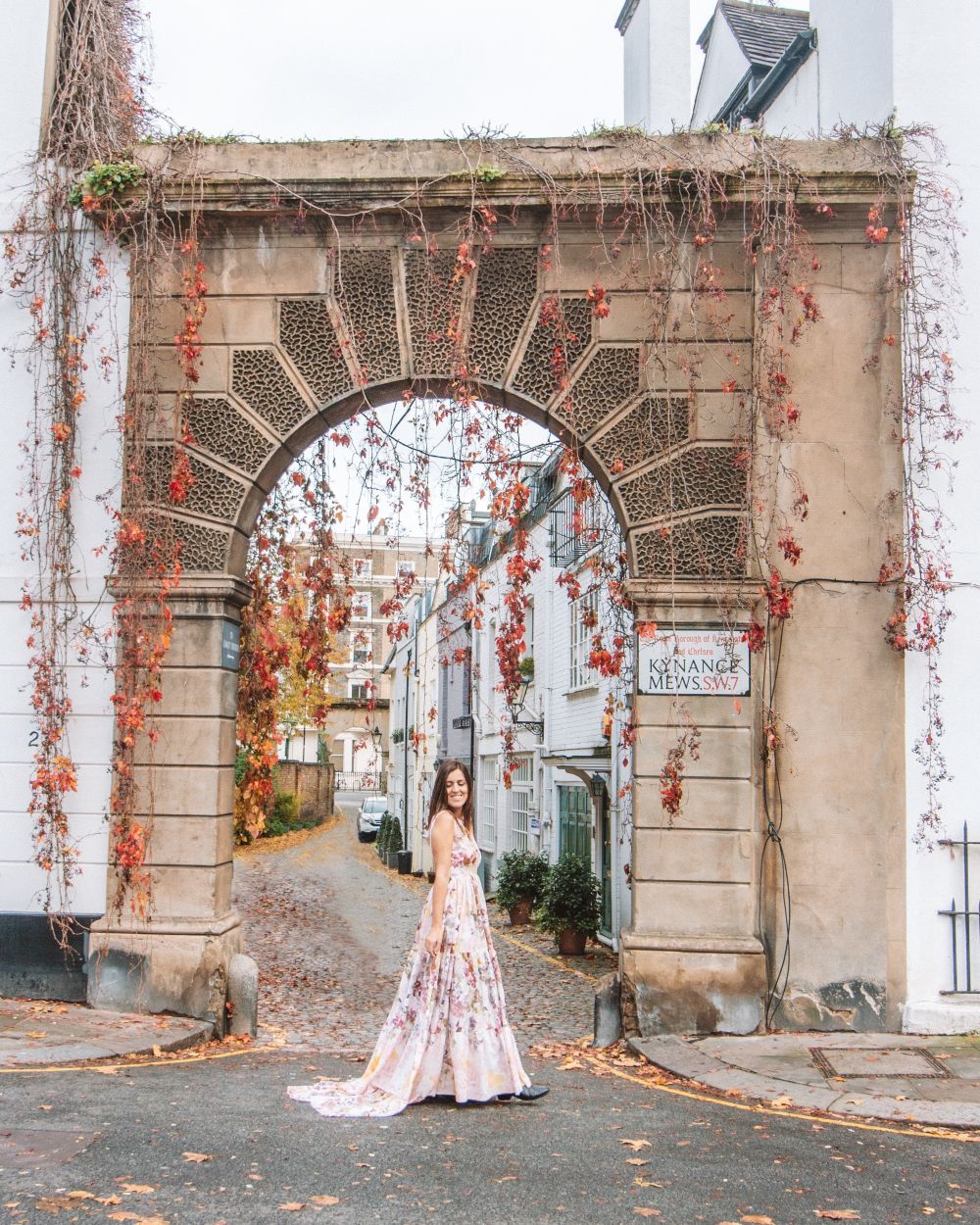 Chalcot Crescent – Primrose Hill
Chalcot Crescent, Primrose Hill
Here's where Paddington was filmed!
Neal's Yard
15 Monmouth St
Not far from Covent Garden, Neal's Yard is the newest Instagram spot in London – it's such a hidden gem!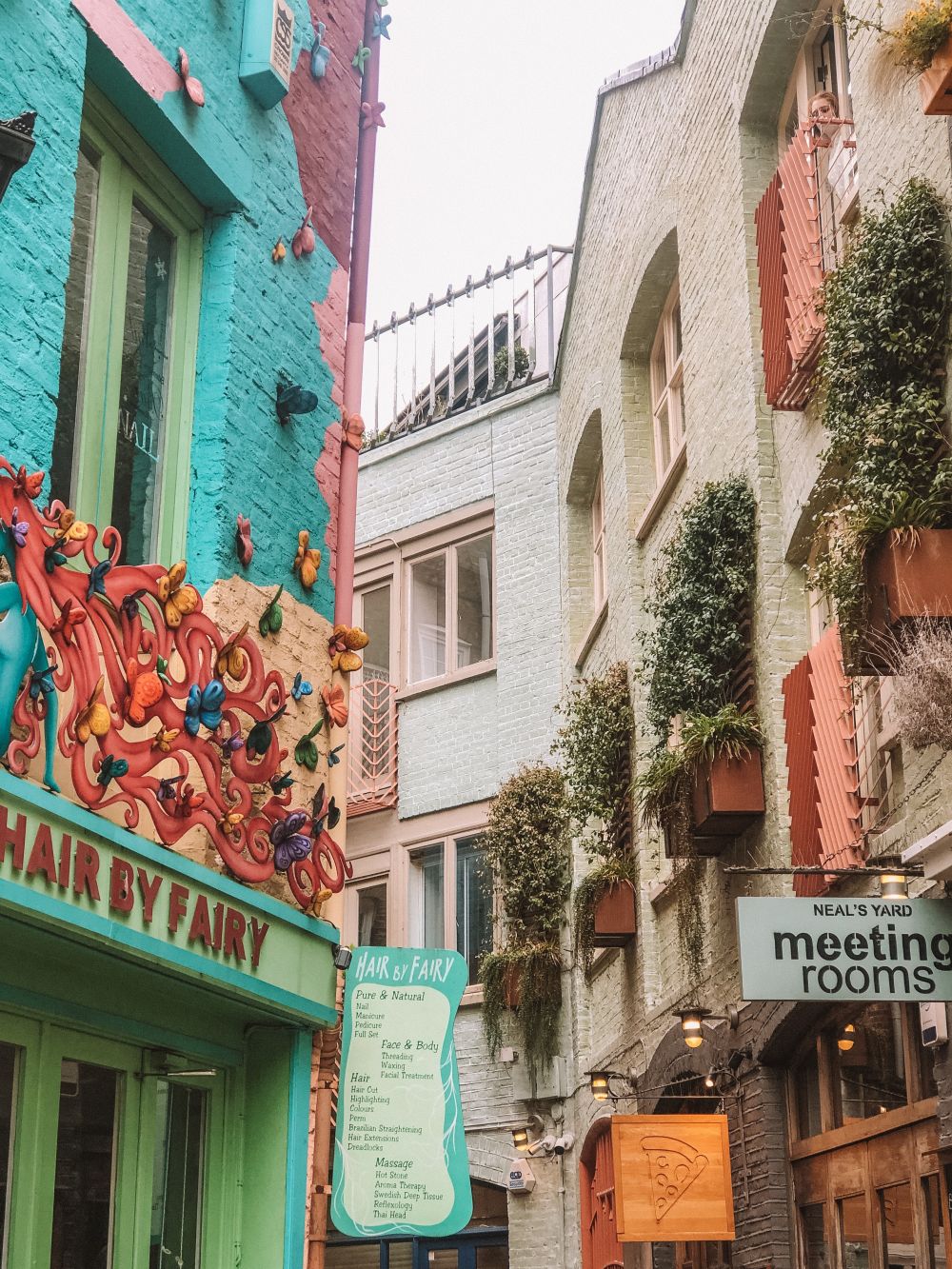 The most instagrammable rooftop bars in London
Sky Garden
20 Fenchurch St
Known as the Walkie Talkie, the Sky Garden has some of the best views in town!
Make sure to book your visit in advance on the official website – it's free! Make sure to go for sunrise if you want to take the best photos: the light will be perfect and it won't be as busy!
Madison Rooftop Restaurant at One New Change
Rooftop Terrace One, New Change, London EC4M 9AF, United Kingdom
One of my favorite rooftop bars in London is located on top of One New Change building. The view of St. Paul's cathedral is spectacular!
Shangri La at the Shard
31 St Thomas St, London SE1 9QU, United Kingdom
If you're planning to indulge yourself in London, try this!
Instead of going to The View at The Shard, why not visiting Shangri La for sunset drinks? It's about the same price (or even cheaper!) and you'll get to enjoy a drink in the highest hotel bar in Europe!
Shangri La London's Gong Bar at level 52 accepts walk-in guests but if you can, try to book it in advance. You won't regret it.
Skylight
Tobacco Dock, Pennington St entrance, St Katharine's & Wapping, Wapping, London E1W 2SF, United Kingdom
Skylight is the rooftop bar at Tobacco Dock, a colorful area with cocktails, street food stalls and oh, that view! There, you can even play croquet and it's the only one with an ice rink during winter.
Sky Bar at H10 Waterloo
284-302 Waterloo Rd, South Bank, London SE1 8RQ, United Kingdom
I had the chance to stay in a wonderful suite at H10 Waterloo and I absolutely loved the views from my bed, facing London's skyline. The hotel has a rooftop bar with a wonderful view of the London Eye and The Shard!
100% would do it again! I can totally recommend either staying at H10 Waterloo or visiting its Sky Bar.
Street Art
London is well known for its museums and art galleries (which are mostly free to visit!). London also becomes an open-air museum when it comes to murals and street art: do not miss the following areas if you're looking for urban art!
Hackney
Ada Street
If you enjoy street art, you will enjoy visiting Hackney, especially to pay a visit to Zabou's creations. You will find David Bowie's portrait in Ada Street.
Shoreditch
31 Whitby St, Shoreditch, London, E1 6JX, UK
Shoreditch is one of the best places if you're looking for street art in London.
You may probably recognize Jimmy C's artwork as it's become very popular on Instagram recently. You will find his murals in many other places, including Camden and Brixton. His mural in Whitby St. in Shoreditch is the most photographed one.
The most instagrammable Cafes, Restaurants & Bars in London
Peggy Porschen
116 Ebury St, Belgravia, London SW1W 9QQ, United Kingdom
One of the most popular places on Instagram is Peggy Porschen cakes in Belgravia!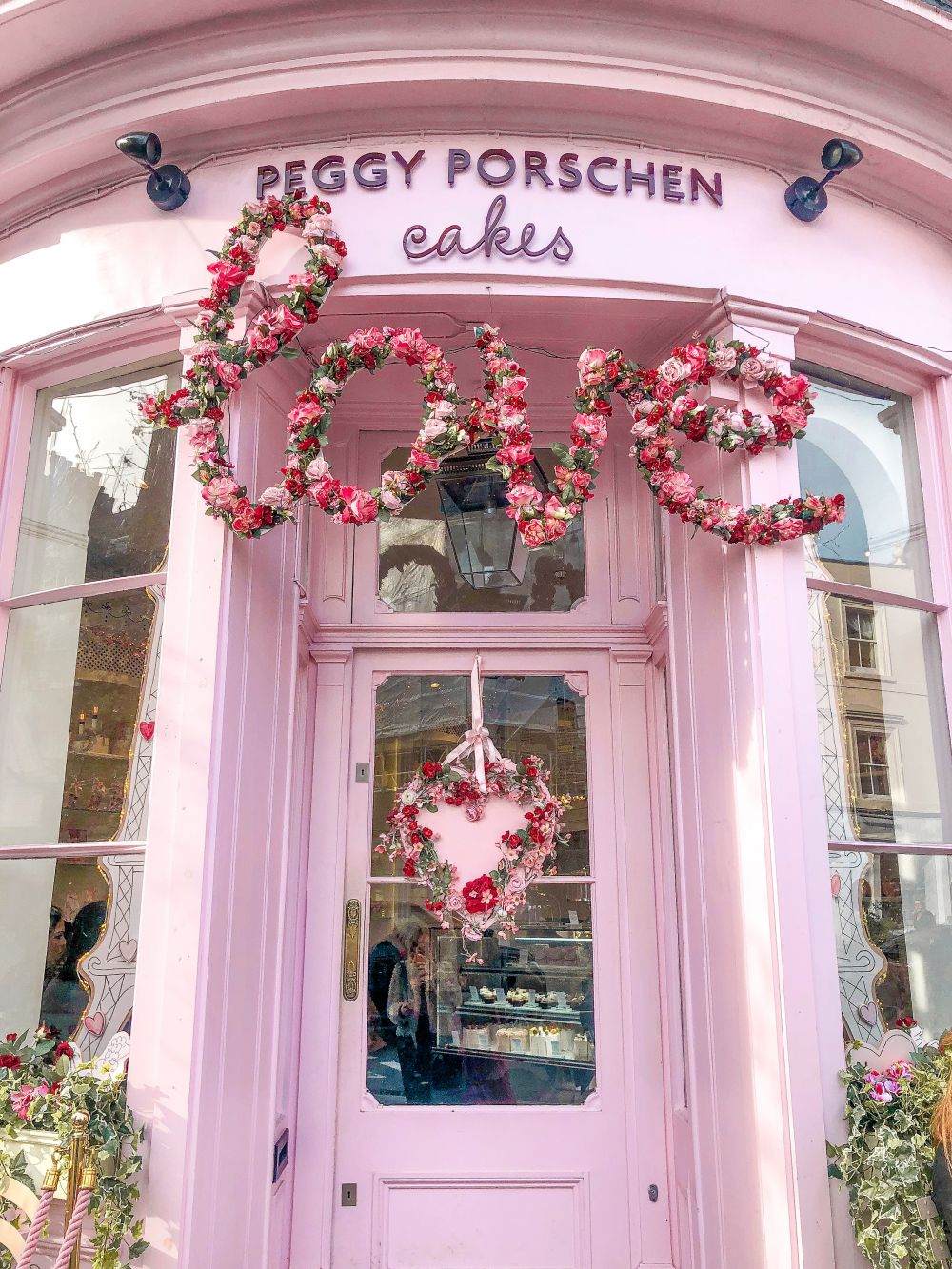 El&n Cafe
42 Hans Cres, Knightsbridge, London SW1X 0LZ, United Kingdom
El&n has several cafes in London and they are all extremely pink and girly!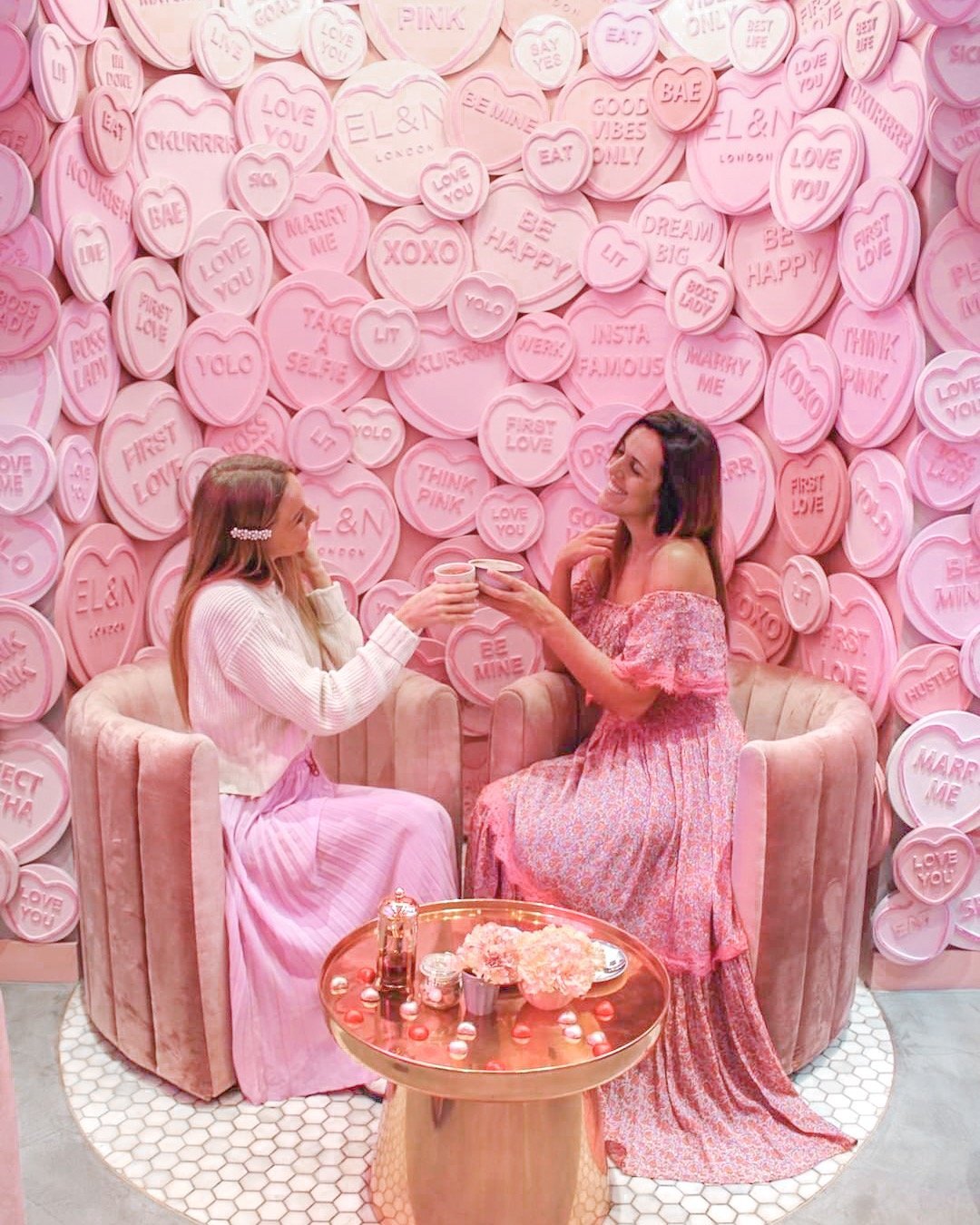 Biscuiteers
194 Kensington Park Rd, Notting Hill, London, W11 2ES, UK
If you're planning to take photos in London I'm sure you will be visiting Notting Hill. There you can find Biscuiteers Biscuit Boutique & Icing Cafe and its paper-like facade.
Dyce
27 James St, Marylebone, London W1U 1DX, United Kingdom
The newest instagrammable spot in Marylebone is Dyce Dessert Cafe, a colorful place where you can get your daily – or weekly – dose of sugar. Enjoy!
Feya
23 James St, Marylebone, London W1U 1DT, United Kingdom
Next to Dyce – and run by the same people – Feya is another must-visit cafe in Marylebone. Do not miss it!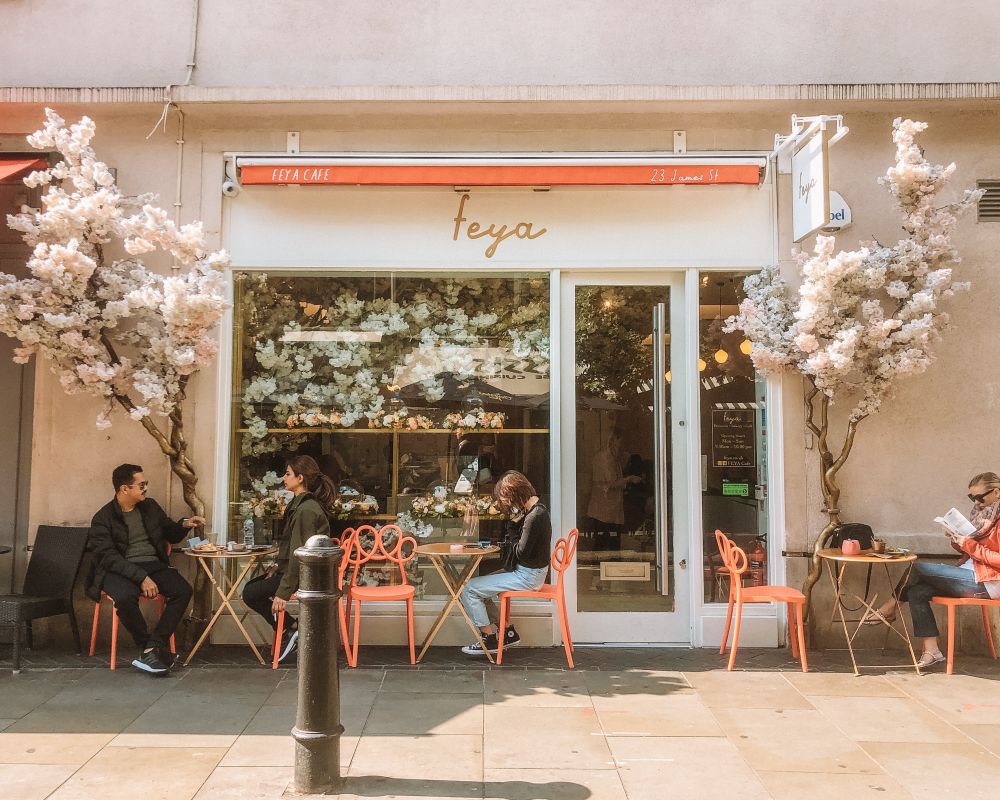 The Snug at The Berkeley
Wilton Pl, Knightsbridge, London SW1X 7RL, United Kingdom
The Berkeley is one of the most renowned hotels in London. You can book The Snug for private meetings!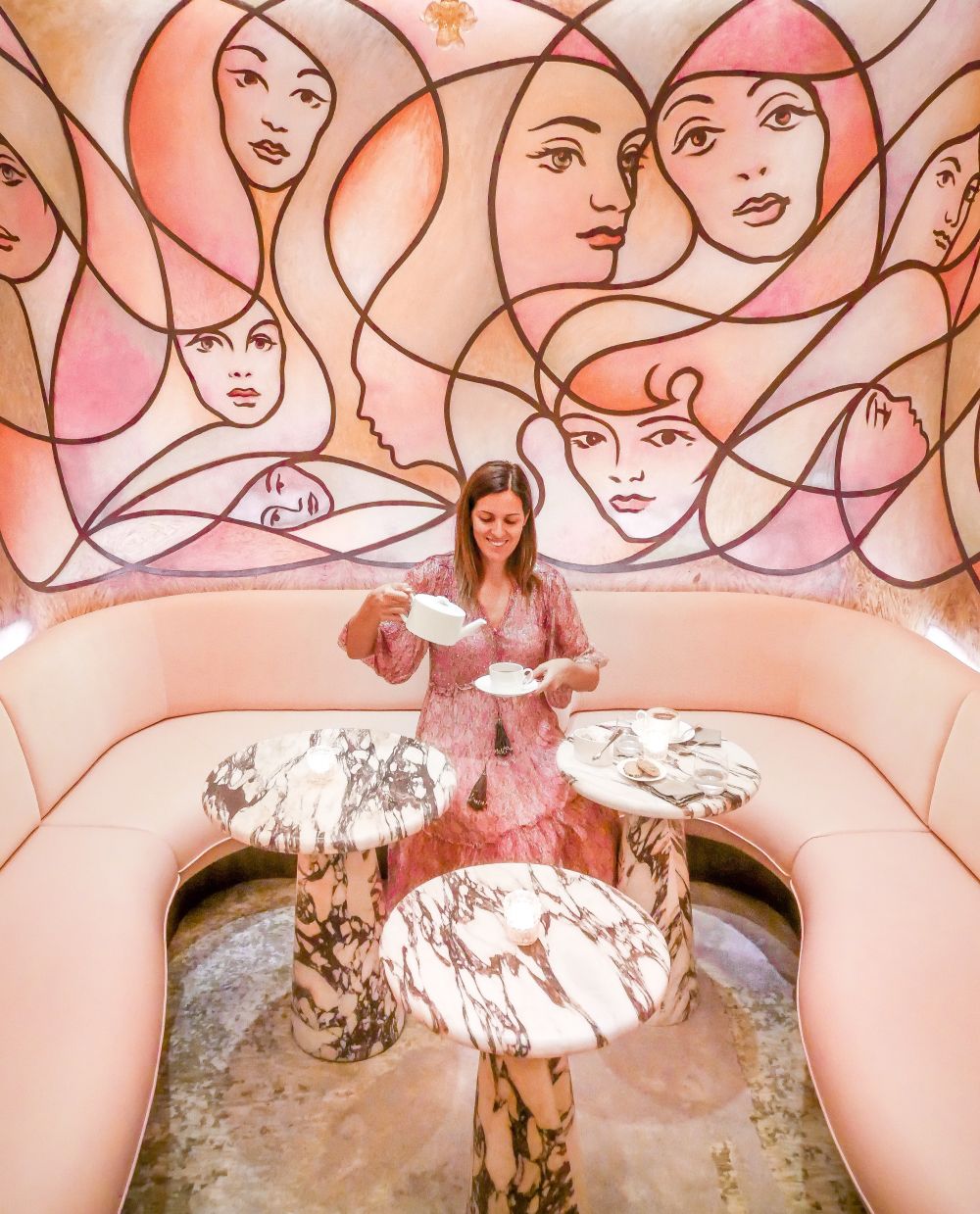 Hello Darling
131 Waterloo Rd, Lambeth, London SE1 8UR, United Kingdom
More than just a café but as pretty as the rest of the list, Hello Darling is the new hotspot in London.
A bit pricey but totally recommended for healthy food and organic – and delicious – cocktails.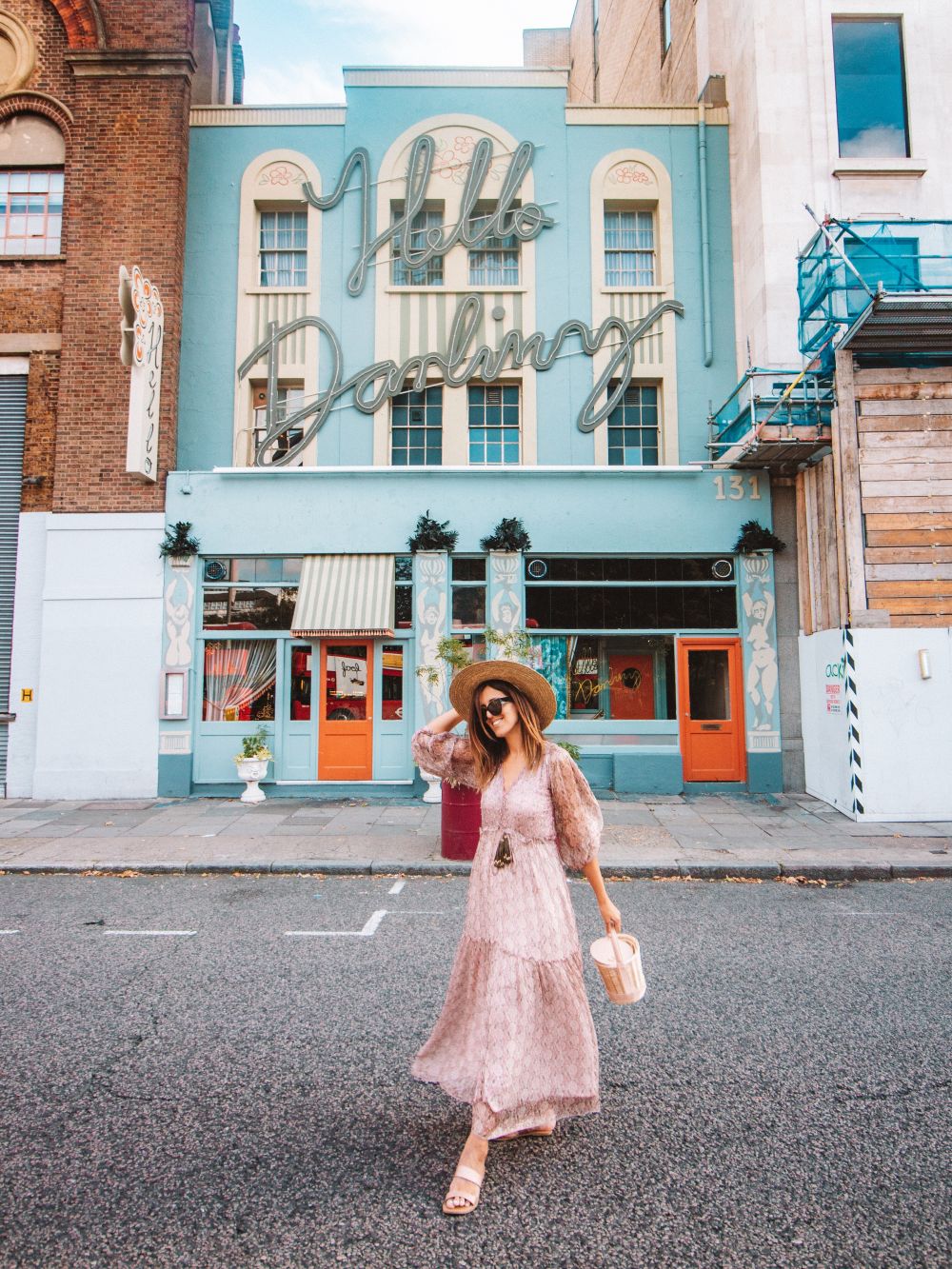 Coppa Club
3 Three Quays Walk, Lower Thames St, London EC3R 6AH, United Kingdom
Coppa Club at Tower Bridge opens all day and serves meals and cocktails with an amazing view of Tower Bridge and The Shard. It's really special during winter – make sure to book one of their igloos for you and your friends for an unforgettable experience.
The Churchill Arms
119 Kensington Church St, Kensington, London W8 7LN, United Kingdom
Dominique Ansel Bakery
17-21 Elizabeth St, Belgravia, London SW1W 9RP, United Kingdom
Saint Aymes
59 Connaught St, St George's Fields, London W2 2BB, United Kingdom
Sketch
9 Conduit St, Mayfair, London W1S 2XG, United Kingdom
Aubaine at Selfridges
2nd floor, 400 Oxford St, Marylebone, London W1A 1AB, United Kingdom
Dalloway Terrace
16-22 Great Russell St, Fitzrovia, London WC1B 3NN, United Kingdom
God's Own Junkyard
Unit 12, Ravenswood Industrial Estate, Shernhall St, Walthamstow, London E17 9HQ, United Kingdom
God's Own Junkyard is a neon light paradise. It's located a bit out of town, so make sure to visit this place during the weekend – otherwise, it's closed!
The most instagrammable shops in London
Alice's
86 Portobello Rd, Notting Hill, London W11 2QD, United Kingdom
Opened since 1887, Alice's is the most famous shop front in Portobello Rd. Another must-visit when in London.
One New Change
1 New Change, London EC4M 9AF, United Kingdom
You'd never imagined that you would be adding a mall to your must-visit places list in London.
One New Change is a mall with a gorgeous view – and framing – to St. Paul's Cathedral.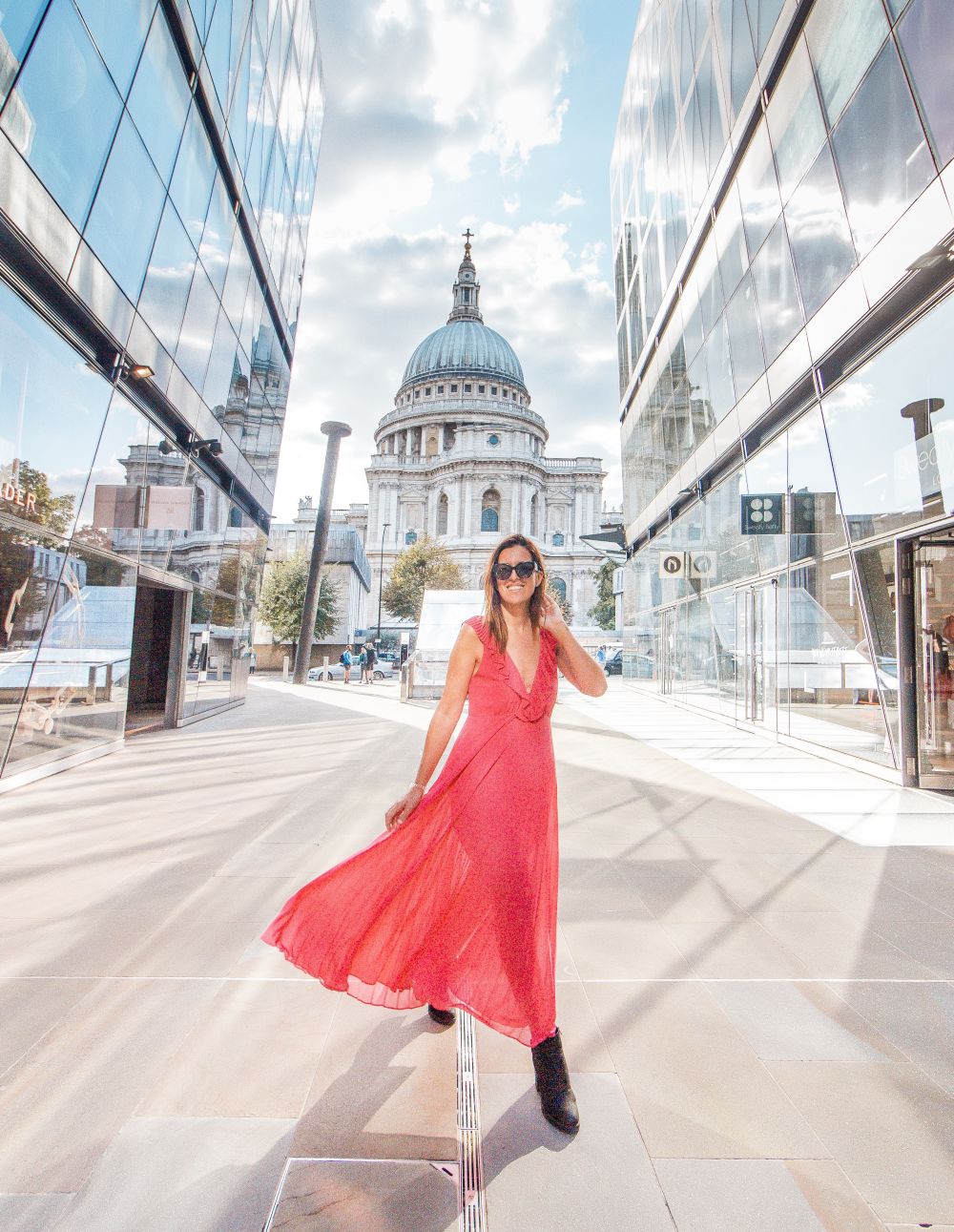 Moyses Stevens
53 Elizabeth St, Belgravia, London SW1W 9PP, United Kingdom
Moyses Stevens luxury flowers have several locations being the most famous store the one in Belgravia, next to Peggy Porschen Cakes.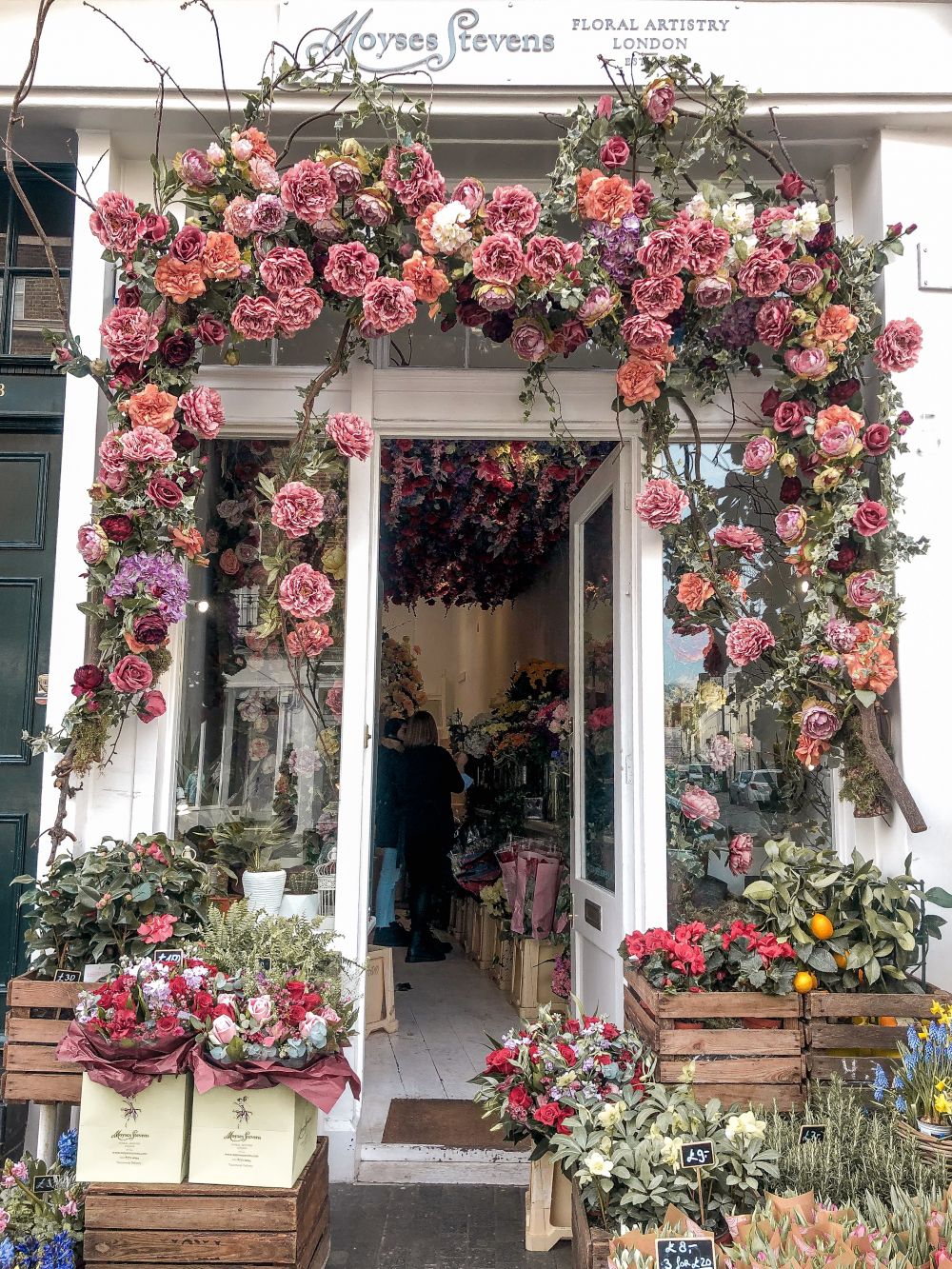 Les Senteurs
71 Elizabeth St, Belgravia, London SW1W 9PJ, United Kingdom
Les Senteurs is not just a pretty facade and setting: it's the oldest independent perfumery in London.
Nail'd it
Daunt Books
The Royal Arcade
28, Old Bond Street
London's Hidden Gems
Woolwich Town Hall
Wellington St, London, Woolwich SE18 6HQ, United Kingdom
Leadenhall market
Gracechurch St, London EC3V 1LT, United Kingdom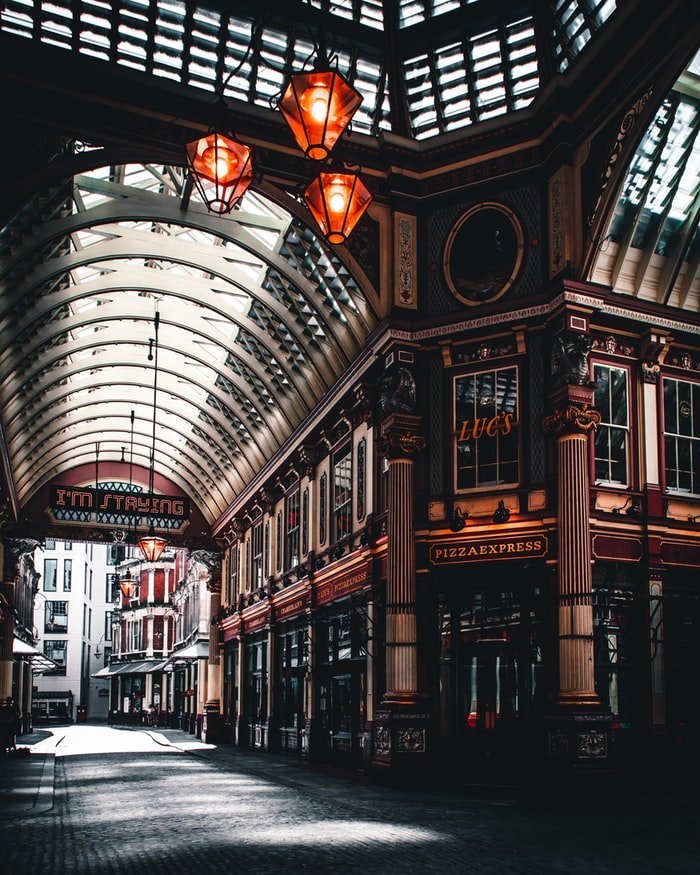 St. Dunstan in the East
St Dunstan's Hill, London EC3R 5DD, United Kingdom
The Hill Garden and Pergola – Hampstead Heath
The Pergola, Inverforth Cl, London NW3 7EX, United Kingdom
Kyoto Gardens – Holland Park
Holland Park, Holland Park Ave, Kensington, London W11 4UA, United Kingdom
Shri Swaminarayan Temple
220-222 Willesden Ln, London NW2 5RG, United Kingdom
The Queens House – Greenwich
Romney Rd, Greenwich, London SE10 9NF, United Kingdom
All the locations in the map
Click on the star to save this to your maps!
If you've liked this post, pin it for later!