15+ Best Instagram spots in Marrakech
Wondering where are the best places to take pictures in Marrakech? Here you'll find all the answers.
Discover all the instagrammable spots in Marrakech, including picturesque places, the rooftop bars with the best views, the most photogenic stalls in the souks and the dreamiest hotels. Marrakech has it all!
You will also find extra tips and a map with all the locations at the end of the post. Enjoy Marrakech!
Tips for taking Instagram photos in Marrakech
In a nutshell:
If you're going to take pictures of someone else, always ask for permission first.
Wake up for sunrise to avoid the crowds in the most touristy places
If you're planning to take photos at the shops in the souks, I'd suggest to buy something first and ask for permission after. They will likely accept!
Koutoubia Mosque
It's not possible to visit any mosque in Marrakech, but we won't complain about the beautiful surroundings.
Make sure to visit this square during sunrise as it gets really crowded during the rest of the day.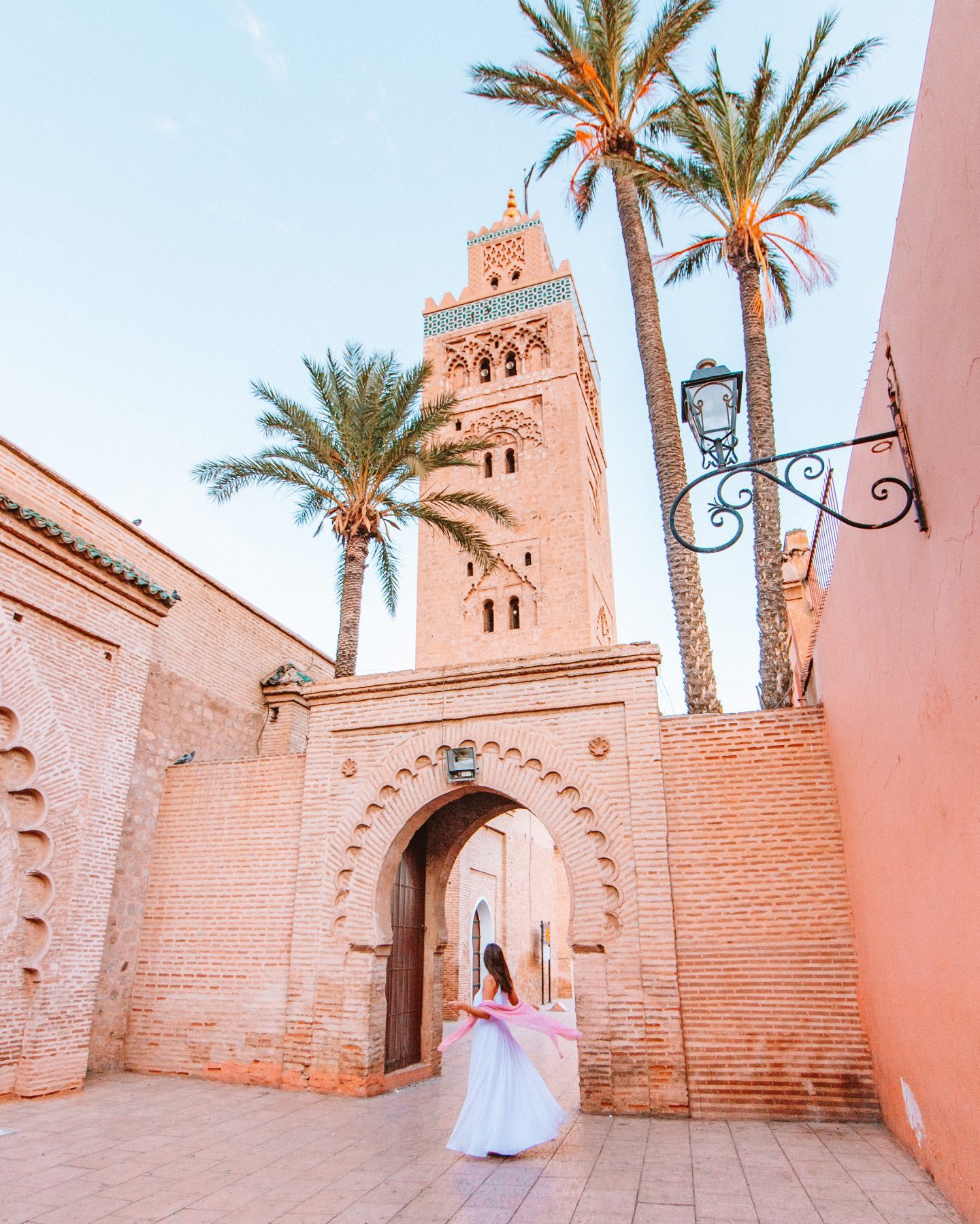 Palais El Badi
Bab Agnaou
One of the nineteen gates of the Medina is pretty photogenic too!
Jardin Majorelle
Jardin Majorelle is the most crowded site in Marrakech. Make sure to go early in the morning!
Le Palmeriae
Our ATV tour around Le Palmeriae was so much fun! I totally recommend it – much better than riding camels.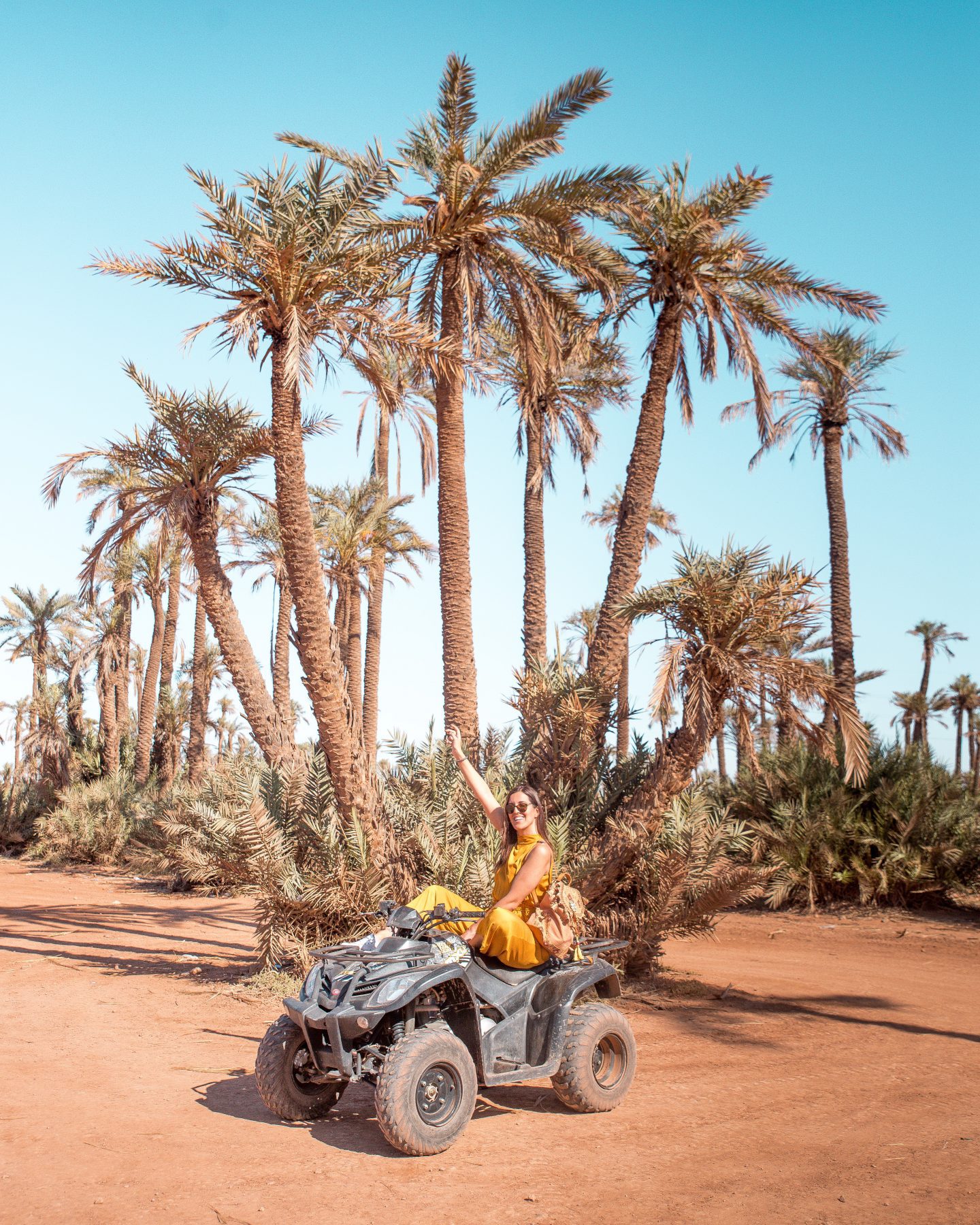 Ceramics shop
This plate shop is located in Souk Semmarine, pretty close to the entrance to the souks from Jemaa el Fnaa square.
Lamp shop
There are many lamp shops along Souk Semmarine, all with different styles. Pay attention as some of them have a sign that says "no photos".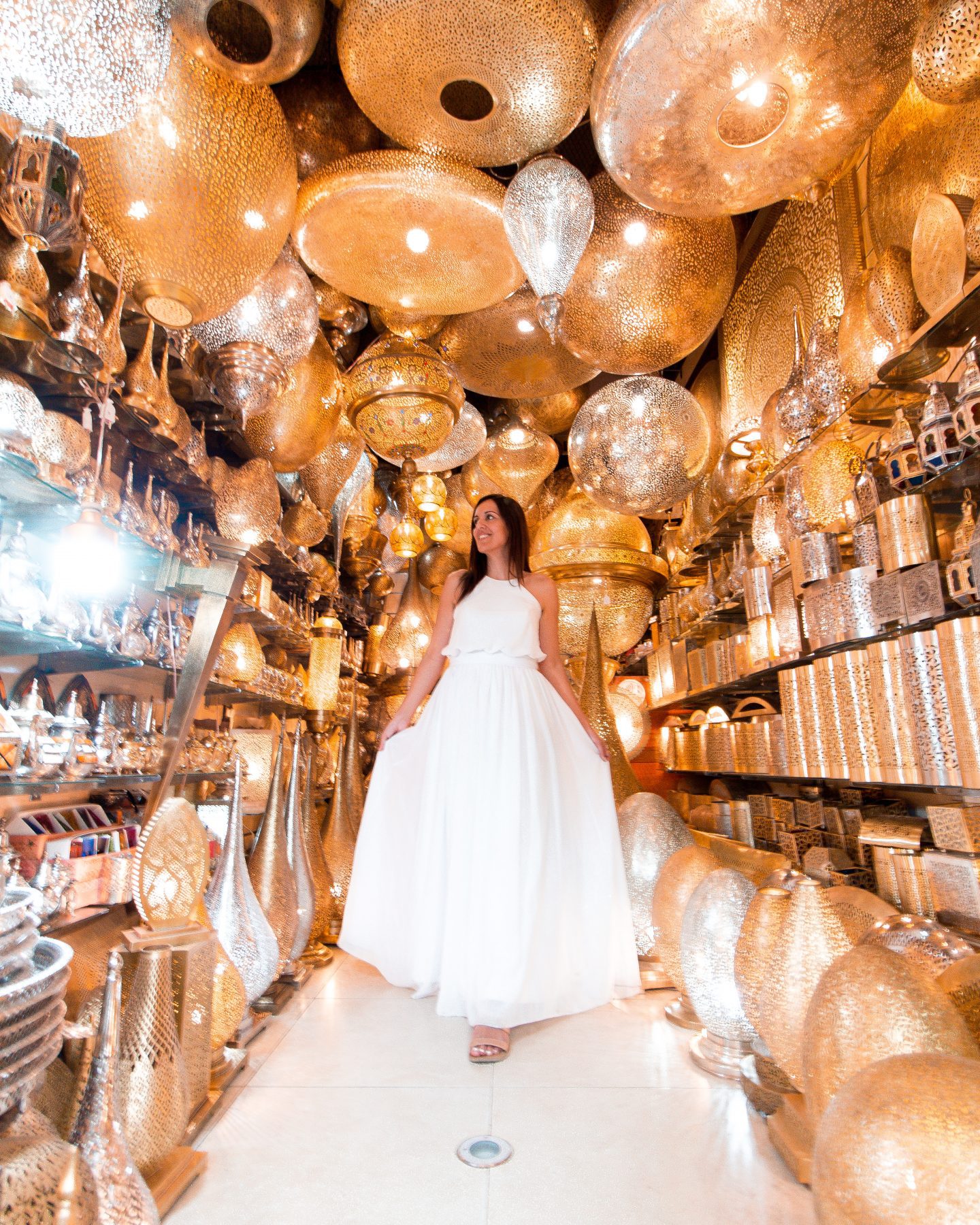 Rug shop
There's nothing more iconic in Morocco than the famous Moroccan rugs. You will find them covering the walls almost everywhere you go, so keep your eyes wide open and make sure to visit the famous one in the Spices market, next to Cafe des Epices.
Spices shop
Located in the Spices square, this shop looks like it was made for Instagram!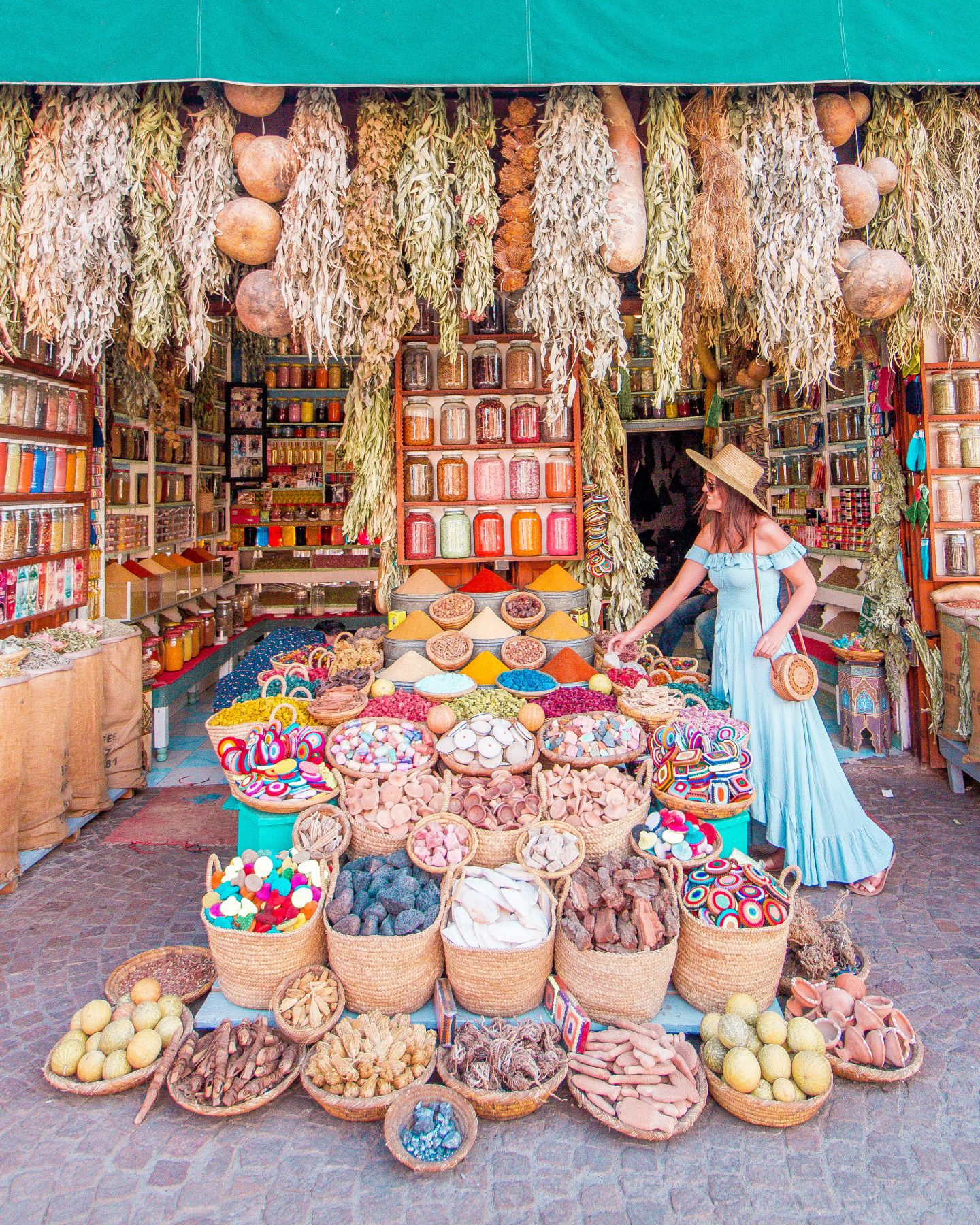 Atay Cafe
One of my favorite rooftop bars in Marrakech as it's apart from the souks, in a much quieter area. I also loved the decor details.
Cafe de France
Cafe de France is the oldest rooftop bar in Marrakech and it's really worth it for the views – and highly photogenic.
Es Saadi Resort
One of my favorite hotels in Marrakech: it feels like home! Es Saadi is an amazing property with probably the most famous spa pool in Morocco.
Mandarin Oriental Marrakech
Another incredible resort in Marrakech is Mandarin Oriental – one of my favorites!
Riad Tarabel
Whenever you visit Marrakech you need to experience how it's like to stay in a riad.
My favorite is Riad Tarabel, an adults-only riad with a top-notch service and style. I loved the location, in a quieter area of the Medina but still centrally located.
Ryad Dyor
Another favorite is Ryad Dyor, where I've stayed recently. Another beautiful riad with a lovely decoration: the pool is lovely! I also loved the lamps and all the decor details, and the staff was amazing. It's located in a quieter area of the Medina.
Scarabeo Camp – Agafay Desert
In just 30 minutes you can get from Marrakech to Agafay, aka the Rock Desert. It's perfect for those that don't have the time to get to the Sahara (it takes 10 hours one way to get there!) but still want to experience what it's like feeling in the desert.
Scarabeo Camp is perfect for stargazing and enjoying the silence in pure luxury.
All the locations in the map