Notting Hill is without any doubt, one of the most beautiful places in London.
It's not a secret. Notting Hill is really famous thanks to movies like Love Actually and also thanks to Instagram. There are many Instagram places in Notting Hill and it's quite popular, especially between fashion bloggers.
If you want to find all the pretty spots in Notting Hill for your Instagram photos, you're in the right place. At the end of this post, you can find the exact locations in the map for every Instagram location in Notting Hill.
You can easily spend the whole day in Notting Hill, but if you don't have enough time, you can possibly cover all these places in 2-3 hours. If you can, go early in the morning during weekdays: you will have the places almost for yourself. You can thank me later 😉
Instagram Spots in Notting Hill
Lancaster Road
The starting point for will be Ladbroke Grove underground station. From here, you just need to walk a few minutes to get to the famous colorful buildings in Lancaster Road.
Not far we will find our next stop: St. Luke's Mews.
St. Luke's Mews
St. Luke's Mews is probably the prettiest street in London.
This quaint street is really beautiful thanks to a perfect recipe: pastel-colored mews, cobblestoned pavement, plants and vintage bikes.
You may or may not recognize 27 St. Luke's Mews thanks to Love Actually. This pink pastel house is where Keira Knightley gets a silent and memorable love declaration.
It may look like a movie set but it's an actual neighborhood. Keep this in mind when taking your photos and respect the local people.
The owners of the famous pink house don't mind that people take photos in front of it, but they ask for a donation of 1£ per person to help the local homeless people – I loved the initiative!
If you're looking for a special place to stay at during your trip to London, you can stay in one of these mews in Notting Hill.
Westbourne Park Road
Not far from St. Luke's Mews you will find Westbourne Park Road with a few more pastel-colored façades. You could spend the whole day taking photos here!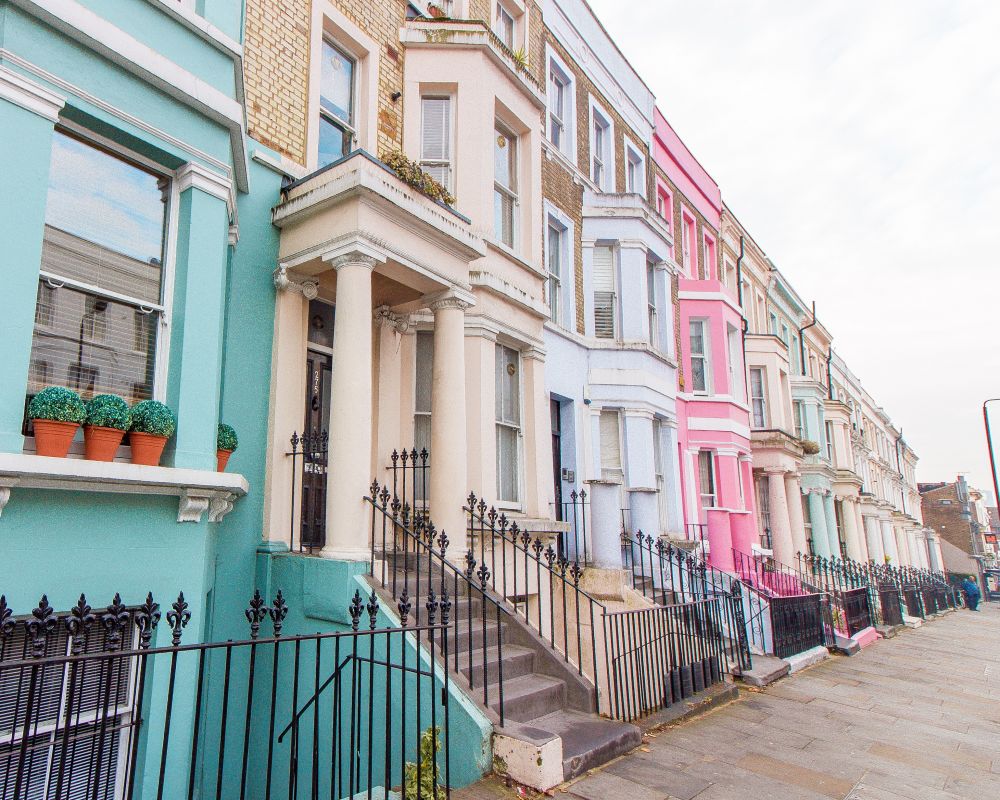 Colville Houses
Quite close to Westbourne Park Road, you will find Colville Houses, a lovely dead-end street with rows of beautiful buildings yet again, in pastel colors.
If you're looking for a quiet place for pictures, go here!
Colville Terrace
Not far from Colville Houses, in Colville Terrace, you will find another collection of colorful buildings waiting for you and your camera.
Denbigh Terrace
Denbigh Terrace is another great spot for photos if you're looking for pastel colors.
Despite being located right next to Portobello Road, it's never as busy as its neighbor!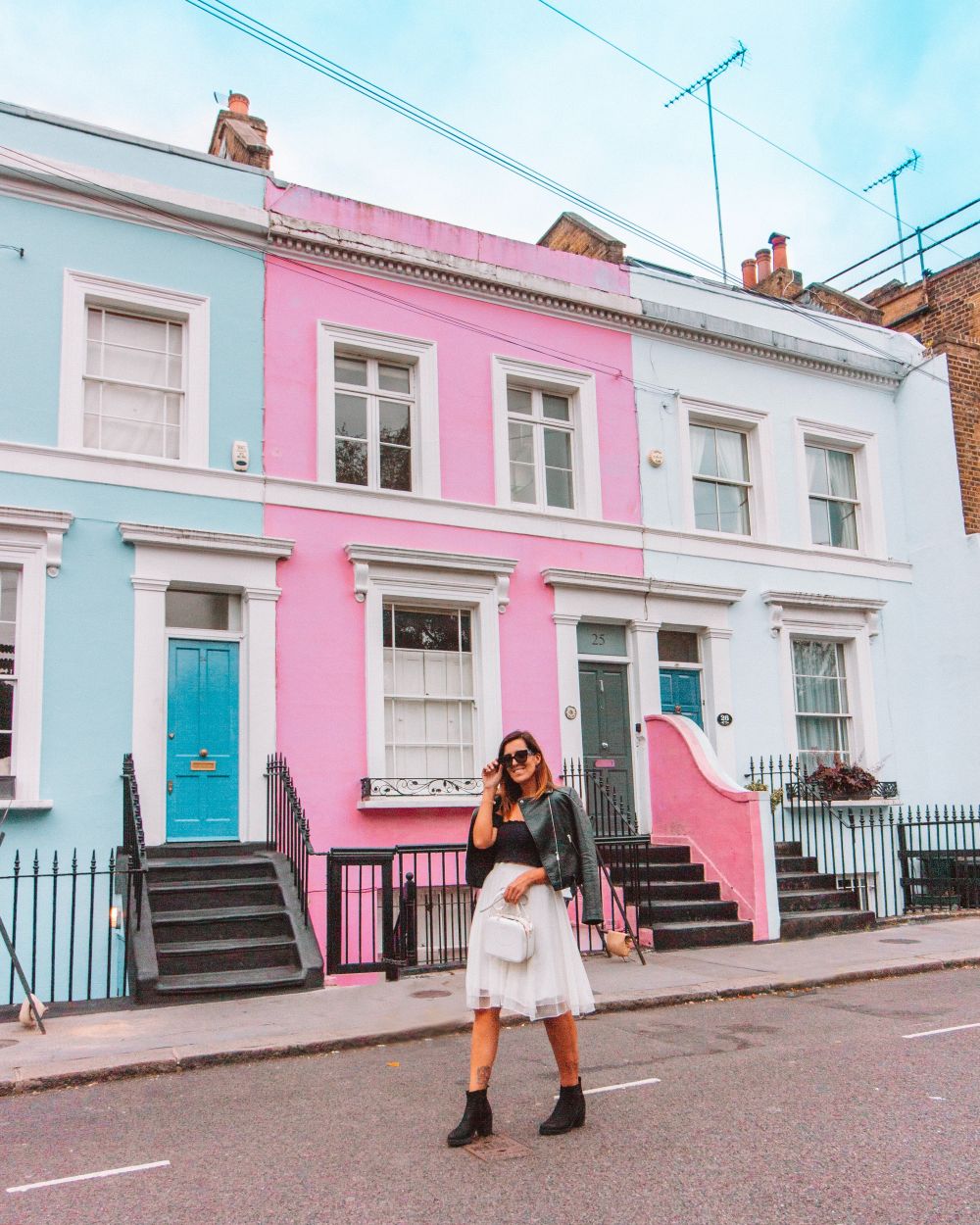 Alice's at Portobello Road
Portobello Road is the most iconic antiques market in London. Make sure to get lost and visit as many shops as possible! The most famous one is Alice's, selling antiques since 1887.
Chepstow Villas
Really close to Portobello Road, Chepstow Villas are a collection of beautiful buildings with pastel facades.
Stanley Gardens
If you're looking for beautiful doors, then head to Stanley Gardens, a quiet street where you can stay if you want! Here's where The Portobello Hotel is located.
Biscuiteers at Kensington Park Road
Continue this walking itinerary in Notting Hill around Kensington Park Road. There are so many beautiful white Georgian houses in this area.
Biscuiteers is a biscuit boutique & icing cafe that stands out from the rest for its façade in Notting Hill. Not only the building is pretty, they're specialists in designing homemade cookies and cakes!
If you need a rest between photoshoots, go here.
Churchill Arms
The most famous pub in the area is Churchill Arms, a traditional British pub that is always filled with flowers and flags since 1750: get yourself a pint, you deserve it after a very busy day of photo shooting!
And here's a fun fact: Churchill Arms is named after Churchill's grandparents who frequented this place back in the day.
The pink flatiron building
There's a new famous insta-spot in Notting Hill: a pastel pink flatiron building located between Pottery Lane and Penzane Street. This is a very quiet area as it's a bit far from the rest of the places from this list so consider if you have enough time to go.
Hillgate Place
One of the most photogenic places in Notting Hill is Hillgate Place and the surrounding area: it's like a pastel-colored rainbow!
This is the most popular location on this list, so pack a bag of patience and remember to always respect the neighbors when taking your photos. I'd recommend you going on weekdays and in the morning, if possible.
This spot is located really close to Notting Hill Gate Underground Station, so after finishing this route in Notting Hill it's very easy to continue exploring London!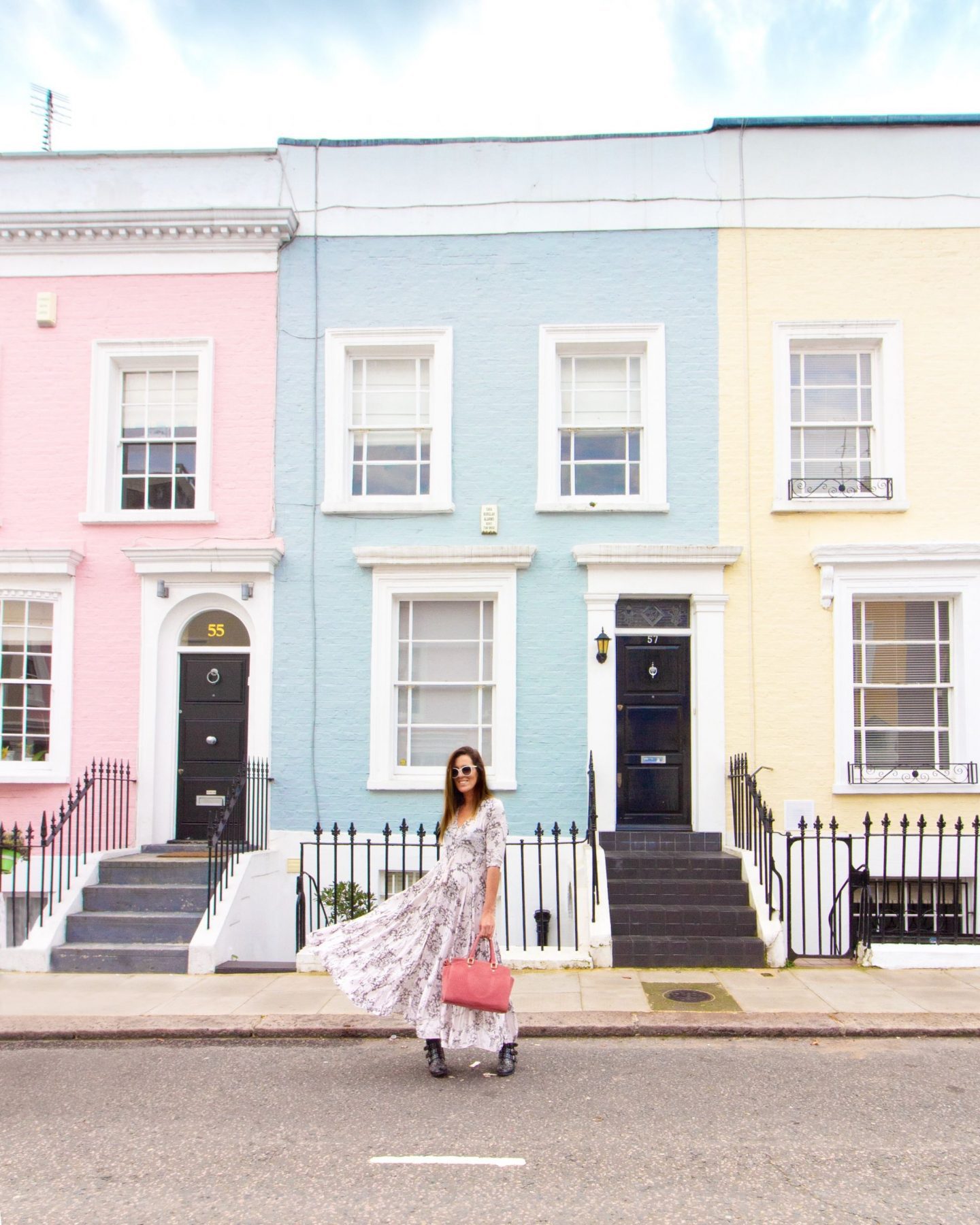 Where to stay in Notting Hill
Would you like to stay in Notting Hill during your next trip to London?
Luxury Hotel: The Laslett
Charming 5* hotel with a perfect location, very close to public transport and restaurants.
Boutique Hotel: The Portobello Hotel
A beautiful 4* hotel located in a Georgian house in Stanley Gardens.
Check here availability and rates.
Mews: Portobello Mews House
If you're looking for something really special, I cannot imagine anything better than staying in the mews. Portobello Mews House will make you feel like if you were in Love Actually!
Or, if you'd rather rent an apartment on Airbnb, click here to get a 25€ discount for your first stay.
Get the look

All the locations in the map
I hope I have helped you finding new places in Notting Hill! For more travel inspiration don't forget to follow me on instagram
If you've liked this post, pin it for later!