20 Instagram spots in Porto (with all the locations on the map!)
I've lost count of how many times you've asked me about my pictures from Porto. It's one of the most instagrammable cities in Europe, and I've been lucky enough to visit it several times, summer and winter. As a result of these trips, I've visited already all its famous Instagram spots but also its remarkable hidden gems.
If you're looking for all the Instagram locations in Porto, search no more. Here you have the most complete guide with all the Instagram spots in Porto – including hidden gems – with exact locations!
You won't miss any instagrammable place on your next visit to the most romantic city in Portugal.
Capela das Almas
Rua de Santa Catarina, 428
Probably, the most famous facade in Porto.
I remember when I first posted this photo, it went viral on Instagram! Ever since it's become a must for travel Instagrammers when visiting Porto. It's quite difficult to photograph as it's located in a busy corner that is often in the shade.
Igreja do Carmo
Rua do Carmo
Another Instagram-worthy facade in Porto is the one from Igreja do Carmo: it's tile paradise!
Sao Bento Railway Station
Plaça Almeida Garrett
This is probably the most beautiful railway station ever created.
Sao Bento Railway Station is always crowded, both with passengers and tourists. This photo was taken in wintertime before 9 am, right before the crowds arrived! Go as early as possible if you plan to take a picture like this. The light inside the building is truly mesmerizing.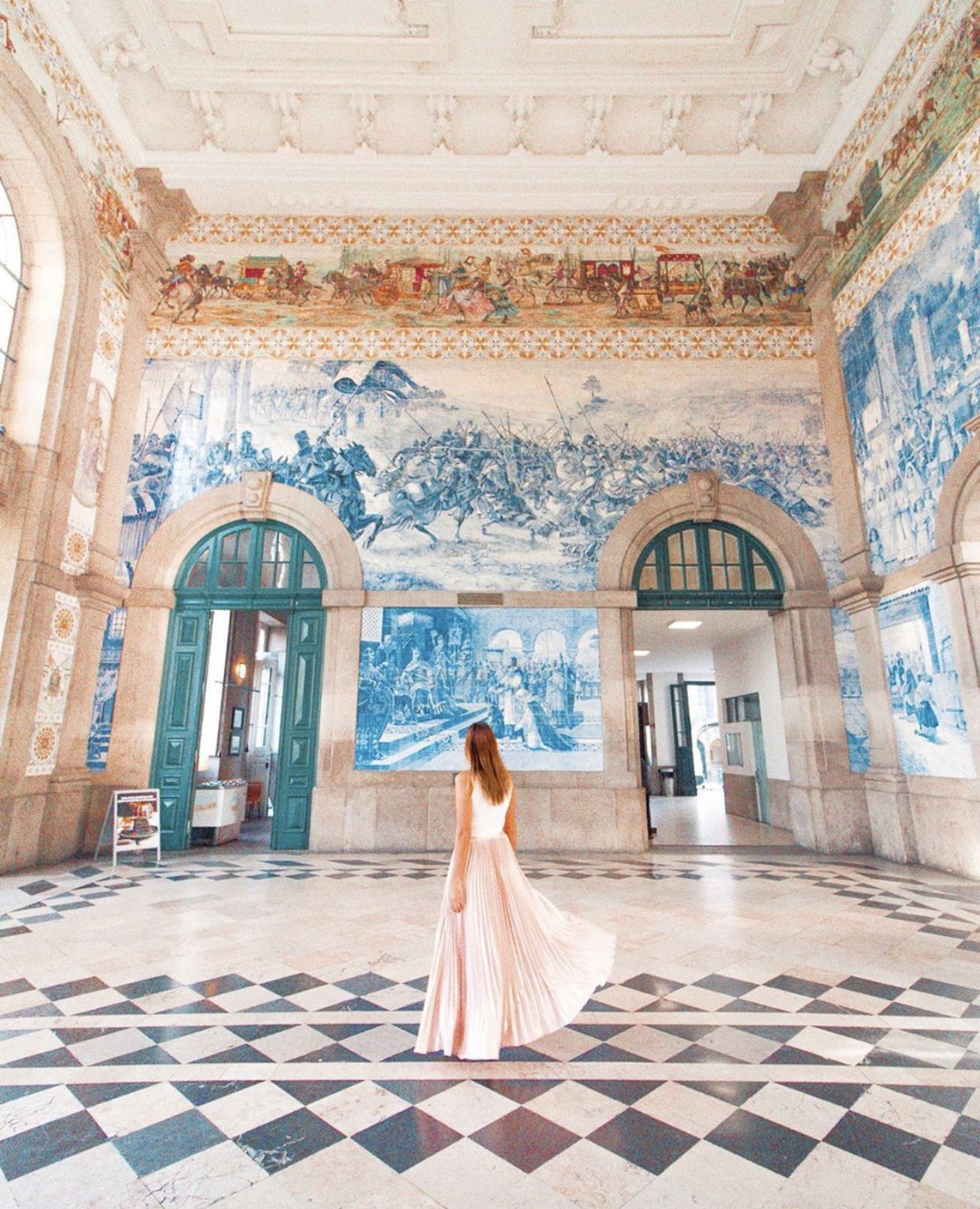 Livraria Lello
Rua das Carmelitas, 144
Another must in Porto is Livraria Lello. It's supposed to be the library that inspired J.K.Rowling to create Harry Potter's universe and it's always full of visitors, so if you're planning on visiting, bring a bag of patience.
Tip: the entrance fee is 5€ which will be discounted if you buy a book. So buy the book!
Ribeira
Cais da Ribeira
There's nothing more iconic in this city. Ribera has a charm like no other and there's nothing like enjoying a beer with a view to the Douro river while listening to the street artists.
Igreja de Santo Ildefonso
Rua de Santo Ildefonso, 11
The church you shouldn't miss if you're in Porto for the tiles!
Sé do Porto
Terreiro da Sé
Porto's cathedral has a beautiful view of the city and the Douro: it's another must!
Don't forget to visit its cloister: it's beautiful!
Clérigos
Rua de Sao Filipe de Nery
Clérigos Tower is one of the numerous icons in Porto.
If you can, go up the tower for an unforgettable 360º view to Porto.
Avenida dos Aliados
Avenida dos Aliados
Avenida dos Aliados is commonly known as Porto city center and also its most monumental avenue.
Play the tourist visiting the most beautiful McDonalds ever, located in this avenue!
Kitties Rock – Sunset Spot
Nearby Rua de Cabo Simao
This place is just awesome!
It's a bit tricky to find, as it's at the top of a huge rock somewhere near Mosteiro da Serra do Pilar. I've pointed the exact location on the map.
I've called this place Kitties Rock because there's a cat colony right there (but it's not its real name). I'm happy that someone is taking care of them! They have little houses, blankets, water and food and plus, one of the best sunset views in Porto.
This is one of the most beautiful viewpoints in Porto. If you can, bring a picnic with you to make it even more special! The view to river Douro and Luís I Bridge will leave you speechless. Cheers to that!
Palacio de Cristal
Rua de D. Manuel II
Seriously, the sunset from up here is totally insane!
Plus, this is not a famous spot yet. It's located at the gardens in Palacio de Cristal (look for Parque da Quinta Macieirinha).
Candyland
Largo da Pena Ventosa
Porto is not just about tiles and miradouros (that's how viewpoints are called in Portuguese).
Get lost in its beautiful alleys, especially at Ribeira district. It's a colorful playground for photographers! That's why I called it Candyland.
Stairway to heaven
Passeio das Fontainhas
*2020 update: the stairway is currently wired, but you can still take photos from other angles in this street.
*2023 update: there's no wire currently at the gate.
This spot was not easy to find. And yet again, I gave it a name that become insta-famous!
We didn't know the exact location of this place before arriving in Porto, but once we were there we went to the bridge and followed our intuition, without worrying if we were getting lost or taking wrong directions.
Now you have the exact location on the map!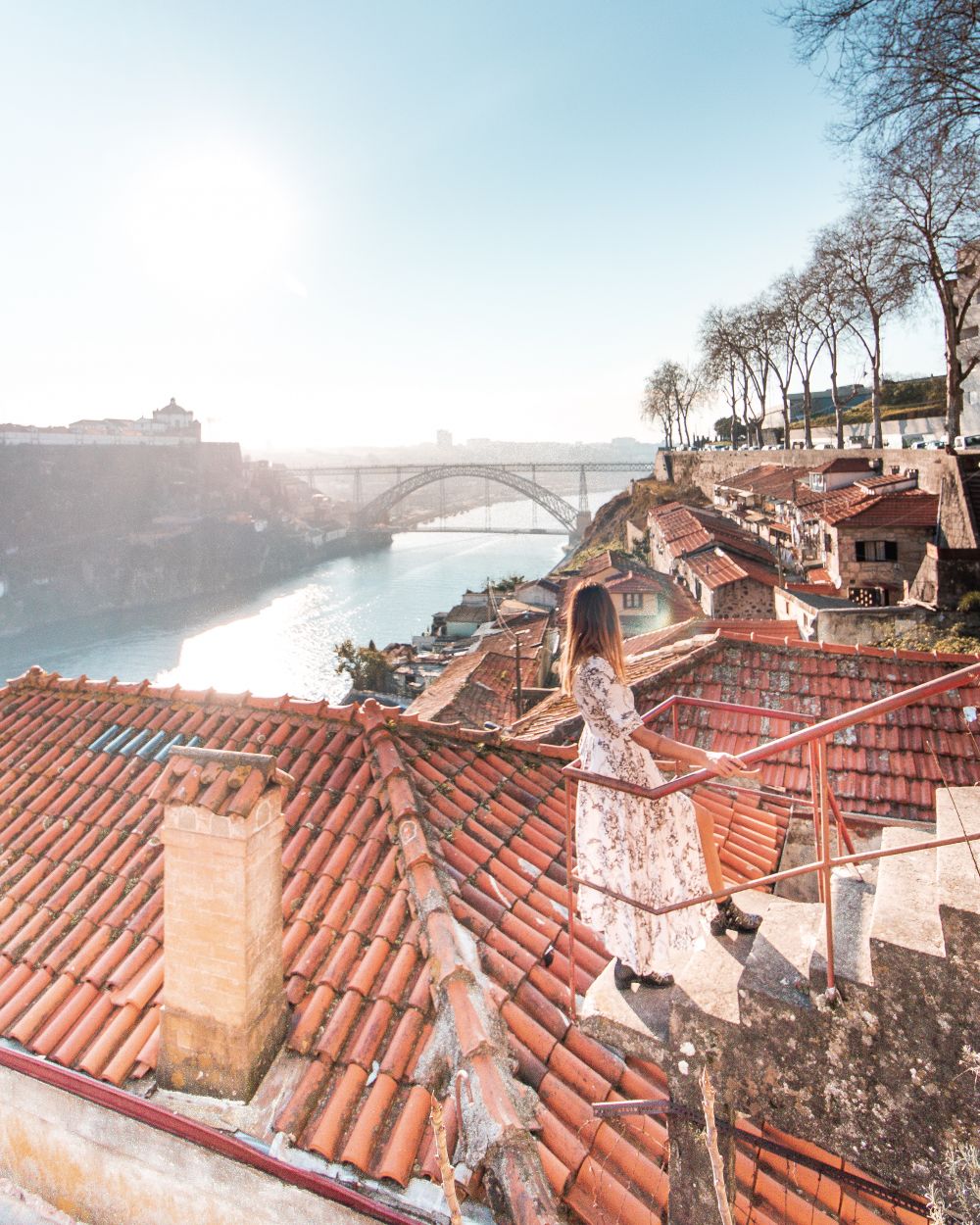 Trams
Carmo Tram Stop
When in Portugal, apart from tiles you need to photograph the beautiful and old trams!
Pérgola da Foz do Douro
Av. do Brasil, 694
My favorite side of Porto – especially during summer!
Most of tourists just miss the seaside of Porto, Foz do Douro. Don't make the same mistake!
Farol das Felgueiras
Jardim do Passeio Alegre
One of my favorite places in Foz do Douro, where you can feel the power of nature.
Steak'n'Shake
Praça de Guilherme Gomes Fernandes, 67
I love it when buildings come to life with art.
What happens at Steak'n'Shake, a restaurant that got insta-famous thanks to its wall, featuring a colorful mural painted by the artist Joana Vasconcelos.
Beautiful, isn't it?
Serralves Foundation (Museum & Gardens)
Rua de Serralves, 1052
Porto is not just about blue tiles, wineries, and views to river Douro.
There are many cultural and green spaces, and I encourage you to discover more places like Casa Serralves and its gardens.
This city has so many hidden gems that are waiting for you!
A Pérola do Bolhao
Rua Formosa, 209
Not only its façade is insta-famous! It's also popular between foodies.
Don't forget to pay a visit to A Pérola do Bolhao and buy local delicatessen to bring back home!
Teleférico de Gaia – Estação Jardim do Morro
Calçada da Serra, 143
The view from up here is incredible. Try different angles – they're all awesome!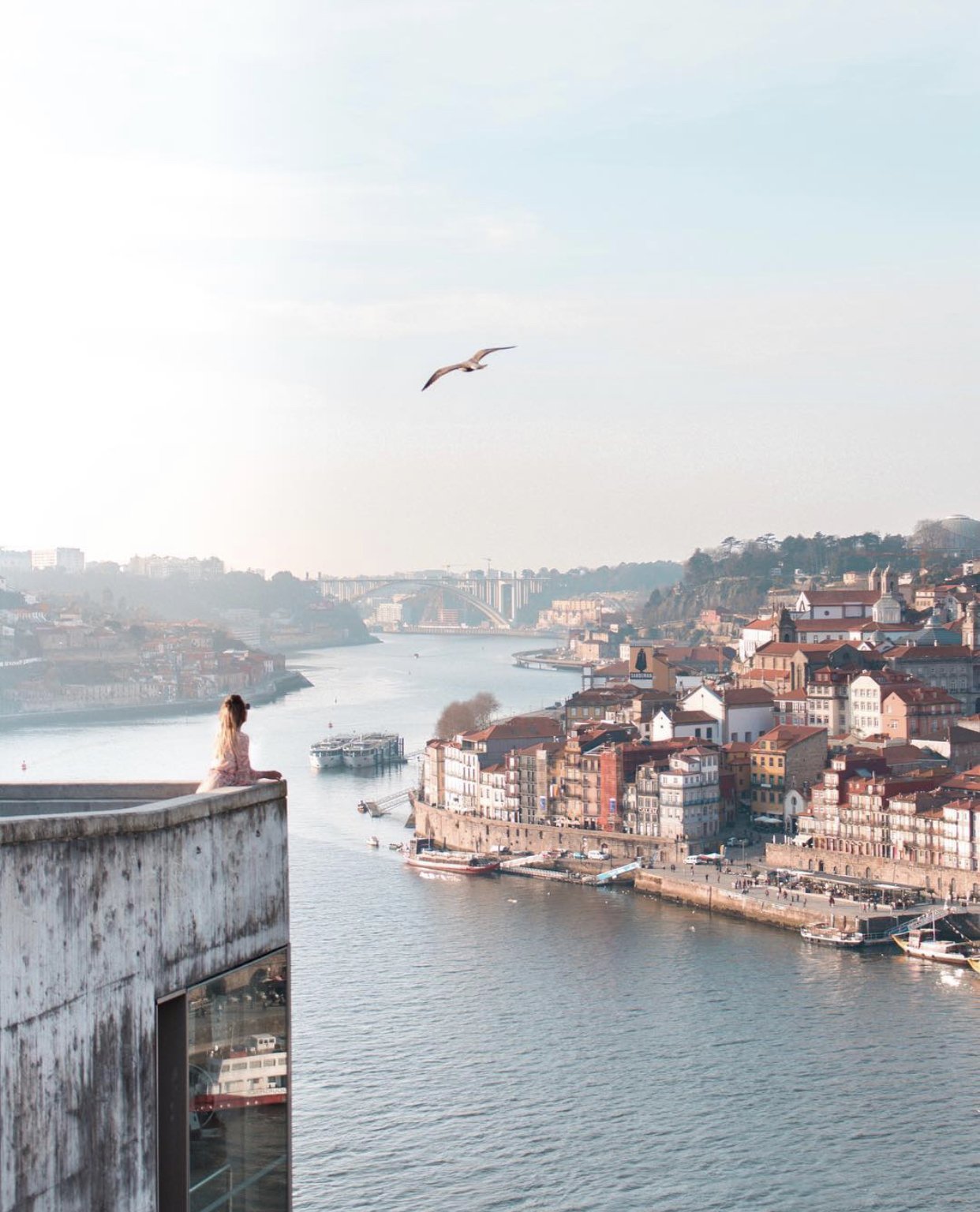 Capela do Senhor da Pedra
Praia de Miramar, Gulpilhares (Gaia)
This unique church was built on top of the rocks in Miramar Beach in Gaia.
Its uniqueness lies not only in its location and beauty. If you look closely you'll realize it's a rare find as the entrance is not facing the sea.
How to get to Capela do Senhor da Vedra from Porto? You can reach this area by bus from Sao Bento Railway Station but I really recommend you going on your own car.
All the Instagram locations in the map
Click on the star on the map to save it to your device!
If you liked this post, pin it for later!