20+ Best Instagram Spots in Tokyo
Tokyo is such a fascinating city. Seriously, I can see myself living there! It has a bit of everything: delicious gastronomy, mesmerizing culture, bustling streets, and many, many photo opportunities.
If you wonder where to take the best pictures in Tokyo, you're in the right place. Keep reading to discover all the best instagram spots in Tokyo, including their exact location in the map!
Senso Ji
2 Chome-3-1 Asakusa, Taito City
Senso-Ji is a Buddhist temple located in Asakusa, which happens to be the oldest temple in Tokyo and the most visited in the world with more than 30 million visitors every year.
If you're planning to take some photos like the ones below, go visit for sunrise! We were able to get these photos only because we showed up early in the morning (that means around 4 a.m!). We were staying at our hotel just at 5 minutes walking distance so we could make this happen.
Torii Gates
Torii gates are usually located at the entrance of a shinto shrine and they symbolize the transition from the mundane to the sacred.
The most famous red torii gates are located in Fushimi Inari Shrine in Kyoto, but good news! If you're not planning to travel around Japan, you can visit the red torii gates in Tokyo.
Here's where to find the red torii gates in Tokyo:
Nezu Shrine
1 Chome-28-9 Nezu, Bunkyo City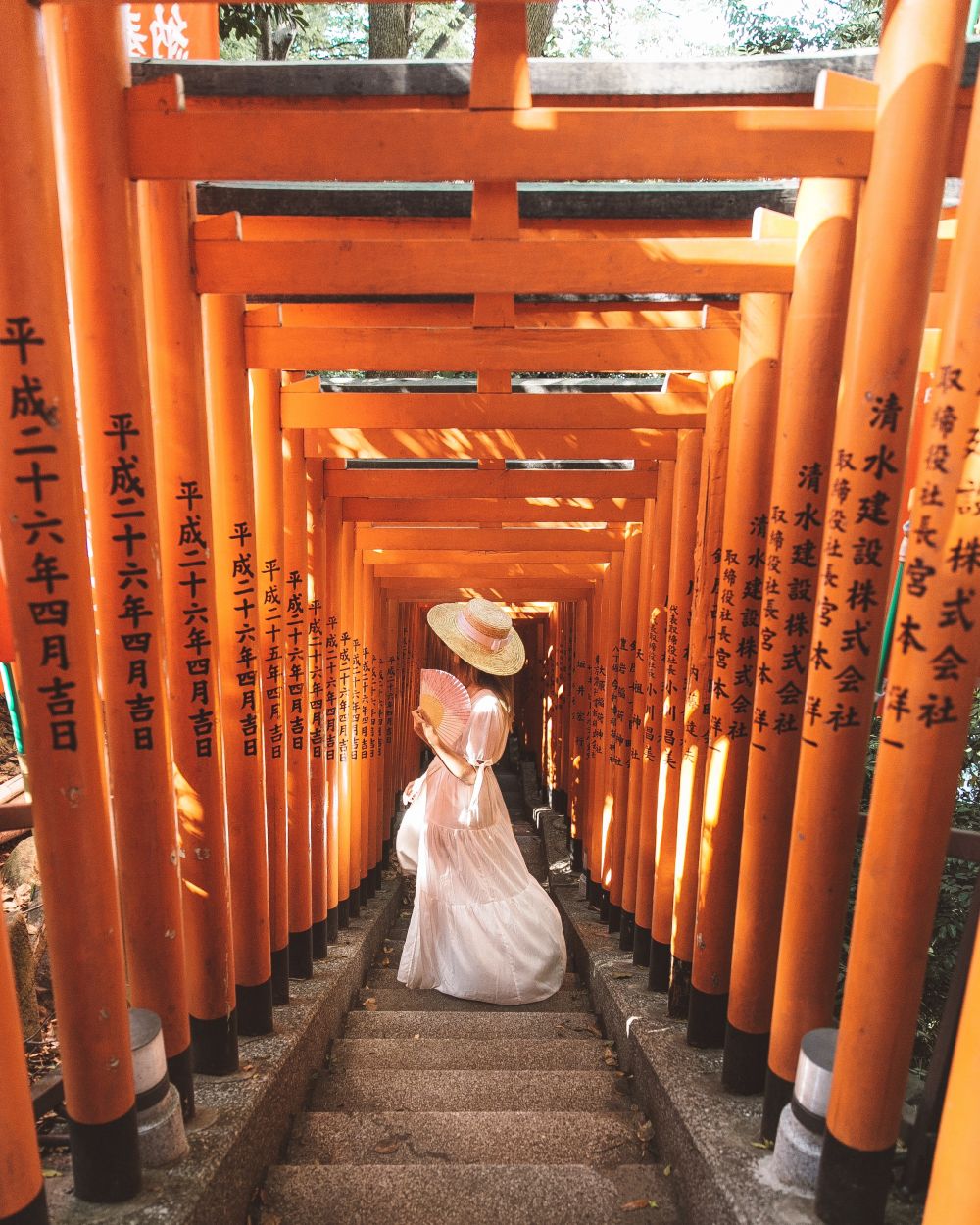 Hie Shrine
2 Chome-10-5 Nagatacho, Chiyoda City
Meiji Jingu Shrine
1-1 Yoyogikamizonocho, Shibuya City
Meiji Jingu Shrine and Yoyogi Park are a must-visit for both tourists and photography aficionados in Tokyo.
The most instagrammable spot in Meiji Jingu is this wall of Sake Barrels.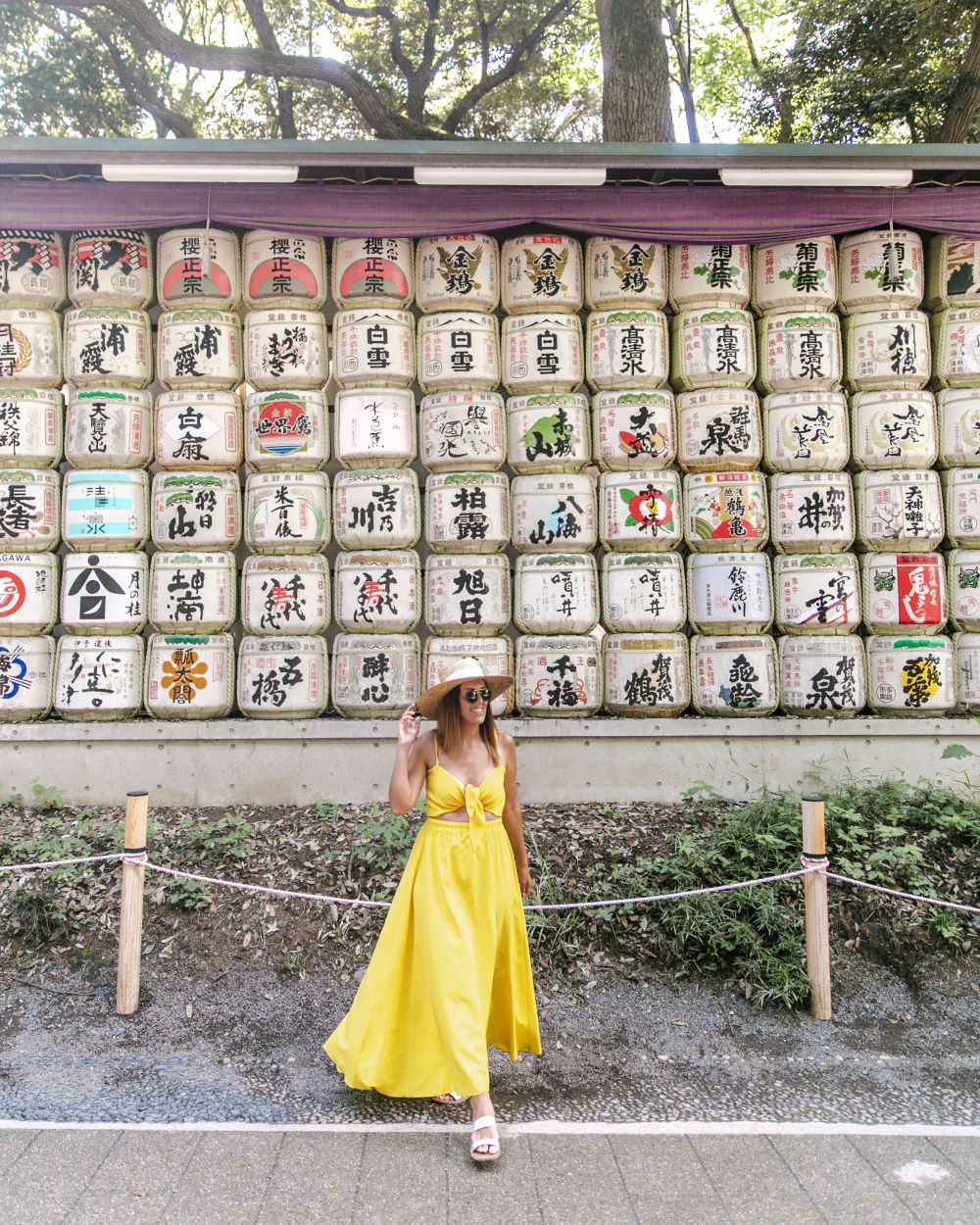 Harajuku
Takeshita Street
Harajuku looks like it was made for Instagram. Anywhere around Takeshita street is picture perfect and there are so many different options when it comes to colorful food to be used as a photo prop! Think about cotton candy, crepes, rainbow cheese, the fluffiest pancakes, and the cutest gelato ever!
Takeshita street is full of food stalls, shops, and cafes, everything targeting teenagers, tourists and photographers.
These are the most insta-famous crepe stores with fake food displays around Takeshita street.
Angel Crepes
35.67099, 139.70508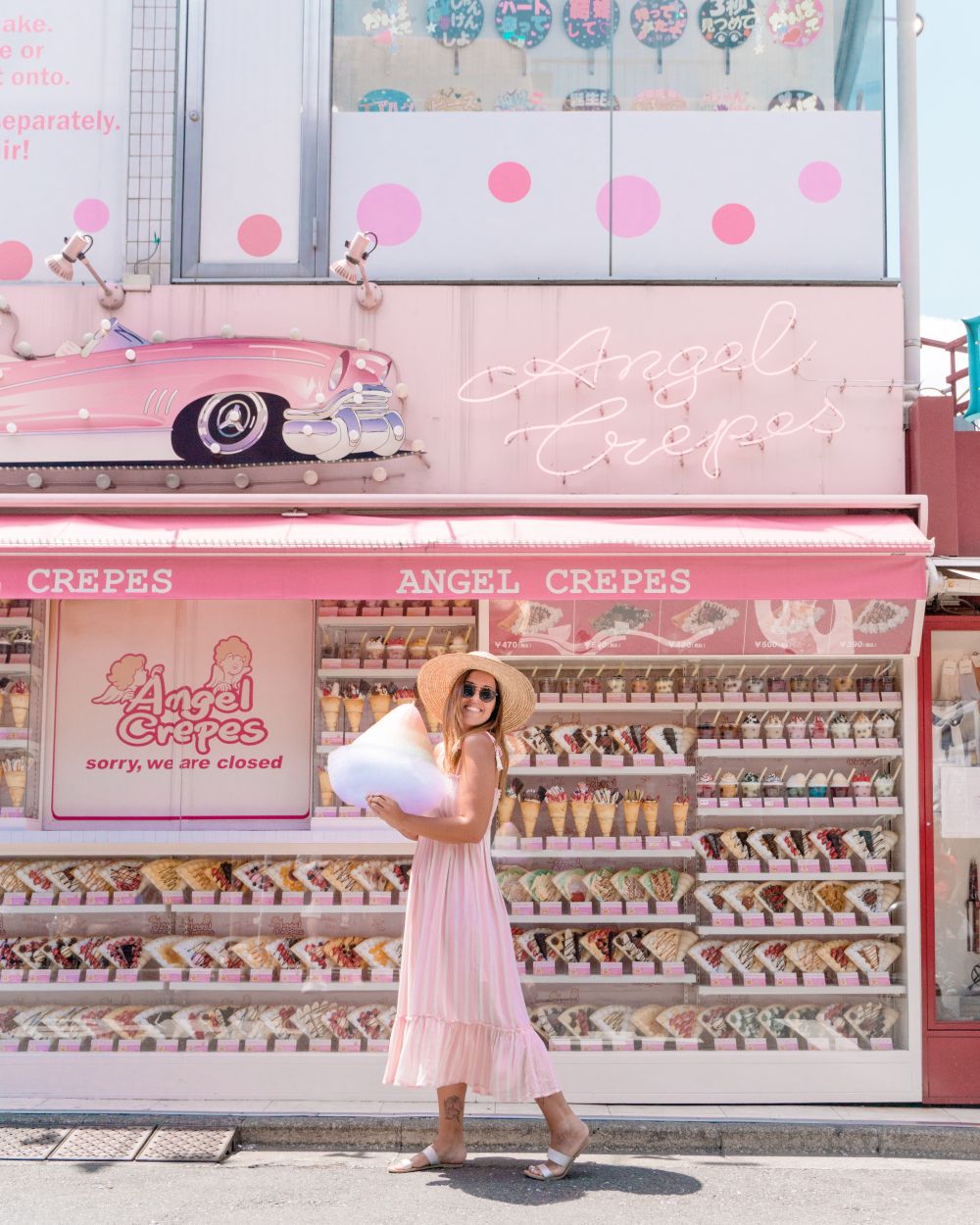 Santa Monica Crepes (1)
1 Chome-16-16-8 Jingumae
This street is extremely busy and it's so hard to take pictures without other people! I went back for sunrise to see (and take photographs) in Takeshita street without the crowds.
Santa Monica Crepes (2)
150-0001, 1-chōme-8-5 Jingūmae
Located at the very end of Takeshita street.
I couldn't help it but buying the cutest ice-cream ever in a store just around the corner! Isn't it incredibly photogenic?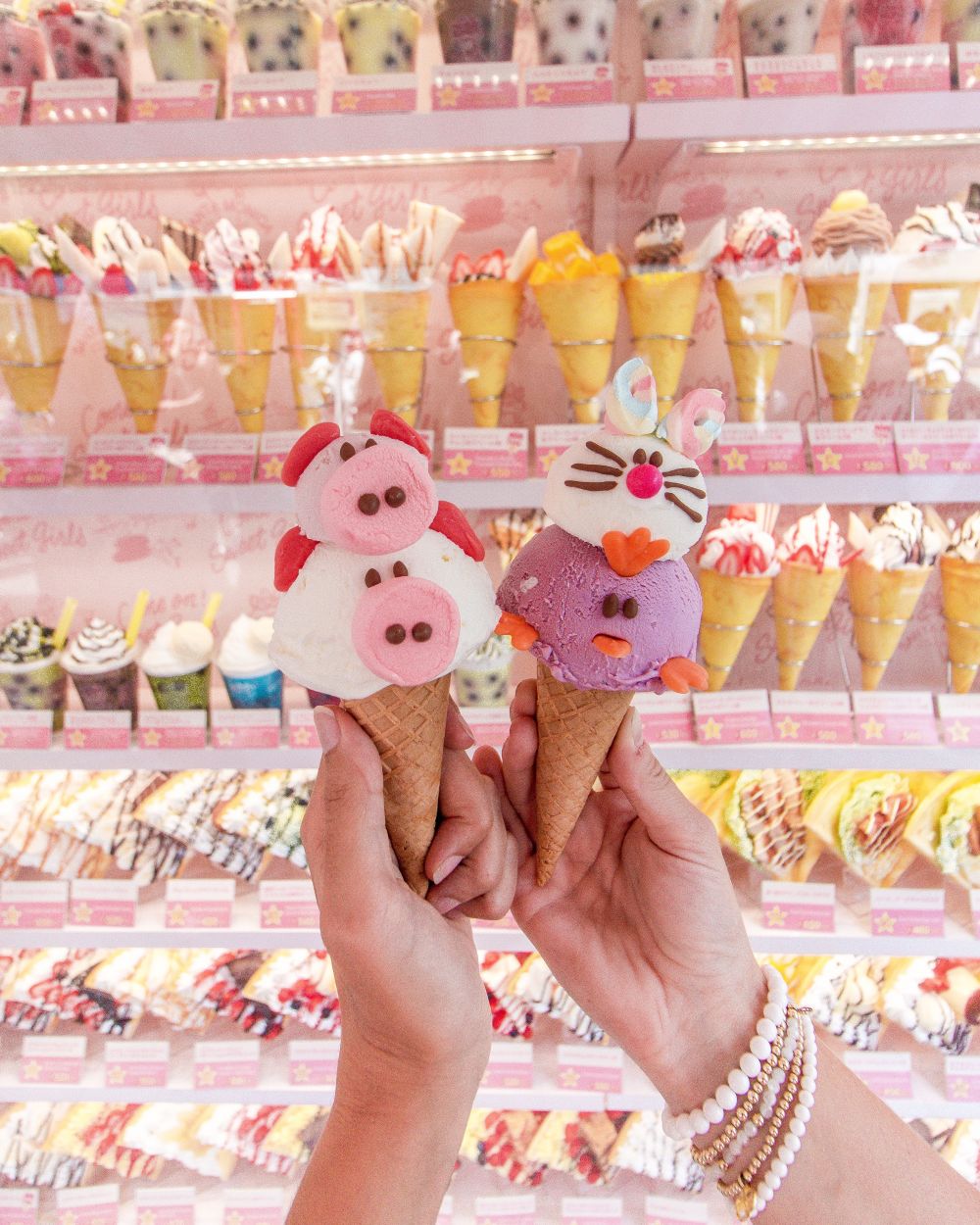 Tokyu Plaza Omotesando Harajuku
4 Chome-30-3 Jingumae, Shibuya City
Tokyu Plaza is probably the most famous shopping mall in Tokyo, thanks to its instagrammable kaleidoscopic entrance.
It's not far from Takeshita street and Galaxy Harajuku, so make sure to visit all these places when in the area!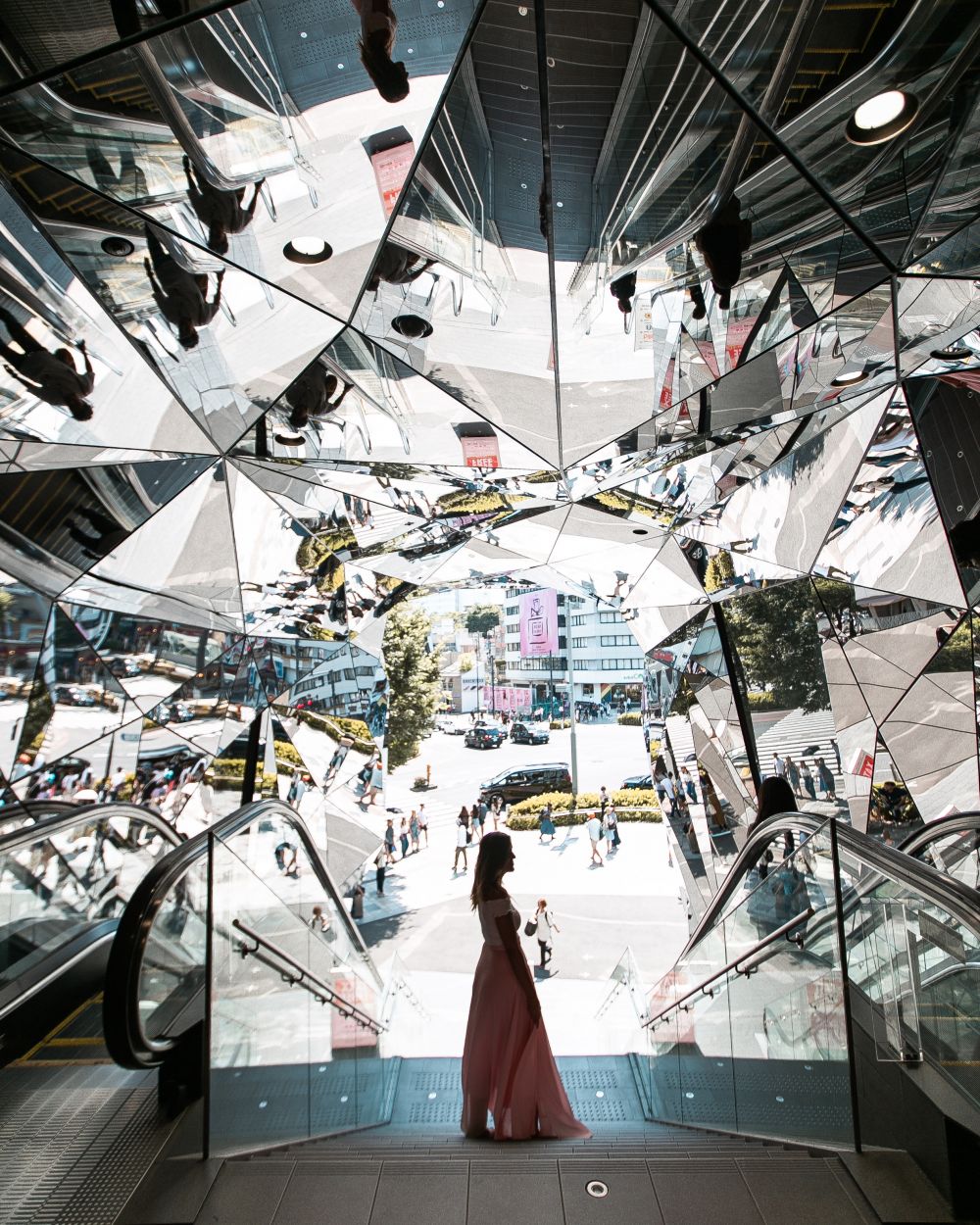 Galaxy Harajuku
Shibuya City, Jingumae, 1 Chome−8−9
If you have the time, go visit Galaxy Harajuku – a.k.a. the Samsung store in Harajuku and the largest Samsung store in the world.
Both its facade and its interior offer many photo opportunities!
Shibuya
Shibuya crossing
150-0042 Tokyo, Shibuya City, 1 Chome−22
Welcome to the busiest pedestrian crossing in the world!
Shibuya crossing is a must in every itinerary in Tokyo, and it's for a reason. You need to experience it yourself and cross a few times: have fun!
Shibuya crossing
from

Starbucks

21-6 Udagawacho B1F Q Front Bldg., Shibuya 150-0042

Don't forget to visit Starbucks to get the best view of Shibuya crossing.
Memory Lane / Piss Alley
1 Chome-2 Nishishinjuku, Shinjuku City
Located in Shinjuku, this maze of narrow alleys is a pleasure for both foodies and photographers. Get lost in the madness and don't forget to have a delicious meal!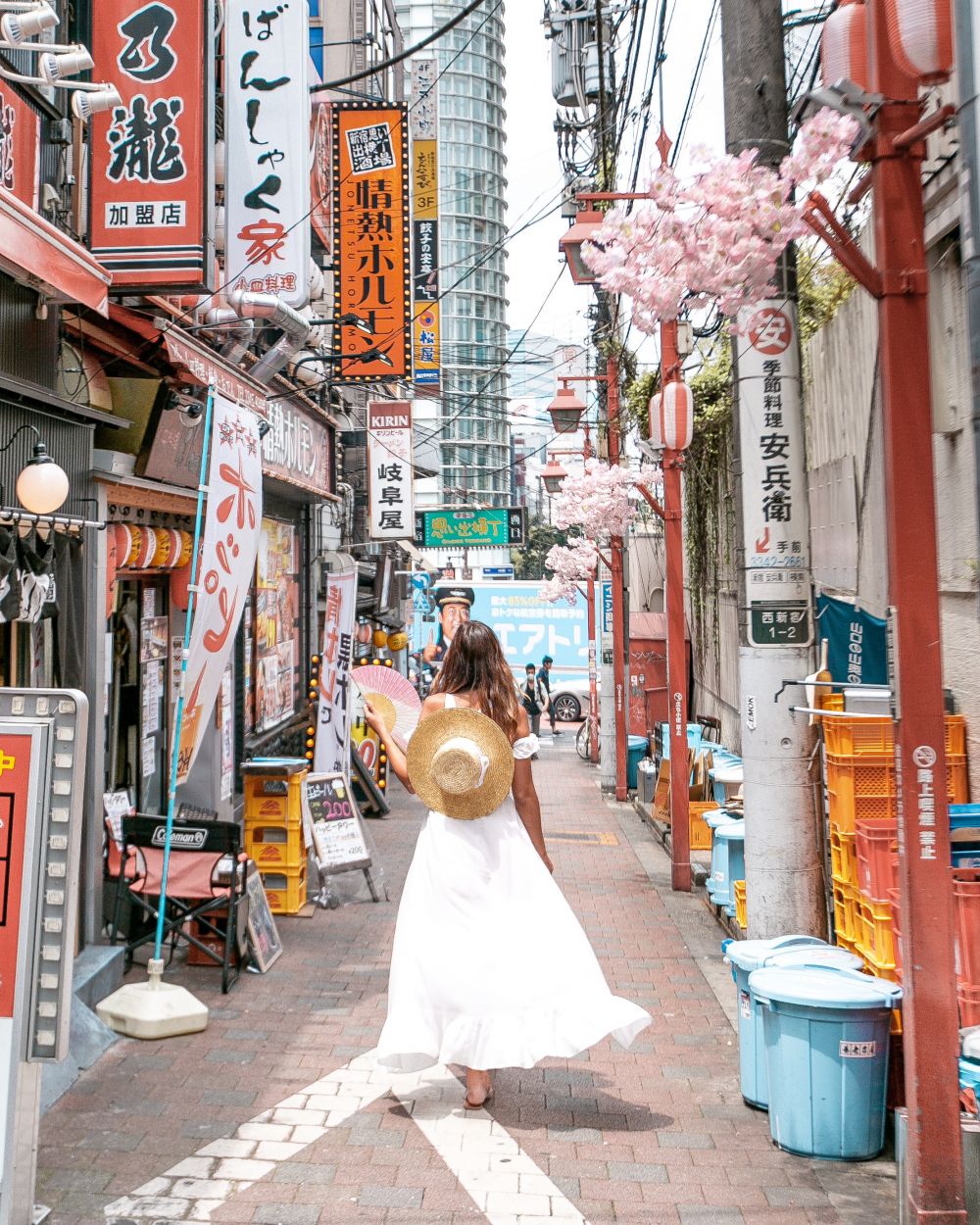 TeamLab Exhibitions in Tokyo
If there is an instagram famous spot in Tokyo, that is Teamlab Digital Art Exhibitions.
Read all you need to know about them here.
TeamLab Borderless
MORI Building DIGITAL ART MUSEUM
This exhibition is pretty magical. There are different rooms, located behind dark corridors and secret curtains: there are no borders! Try to explore every single corner – I visited it twice and still, I missed one of the rooms!
TeamLab Planets
6 Chome-1 Toyosu, Koto City
If you liked Teamlab Borderless, you'll love Teamlab Planets. I loved it so much! It's more about the experience, getting to walk on water, different textures, and shapes, and you won't miss any of the rooms as it happens in Borderless.
Don't forget to download the TeamLab app so you can interact with the artwork and make it change. Tripods are not allowed!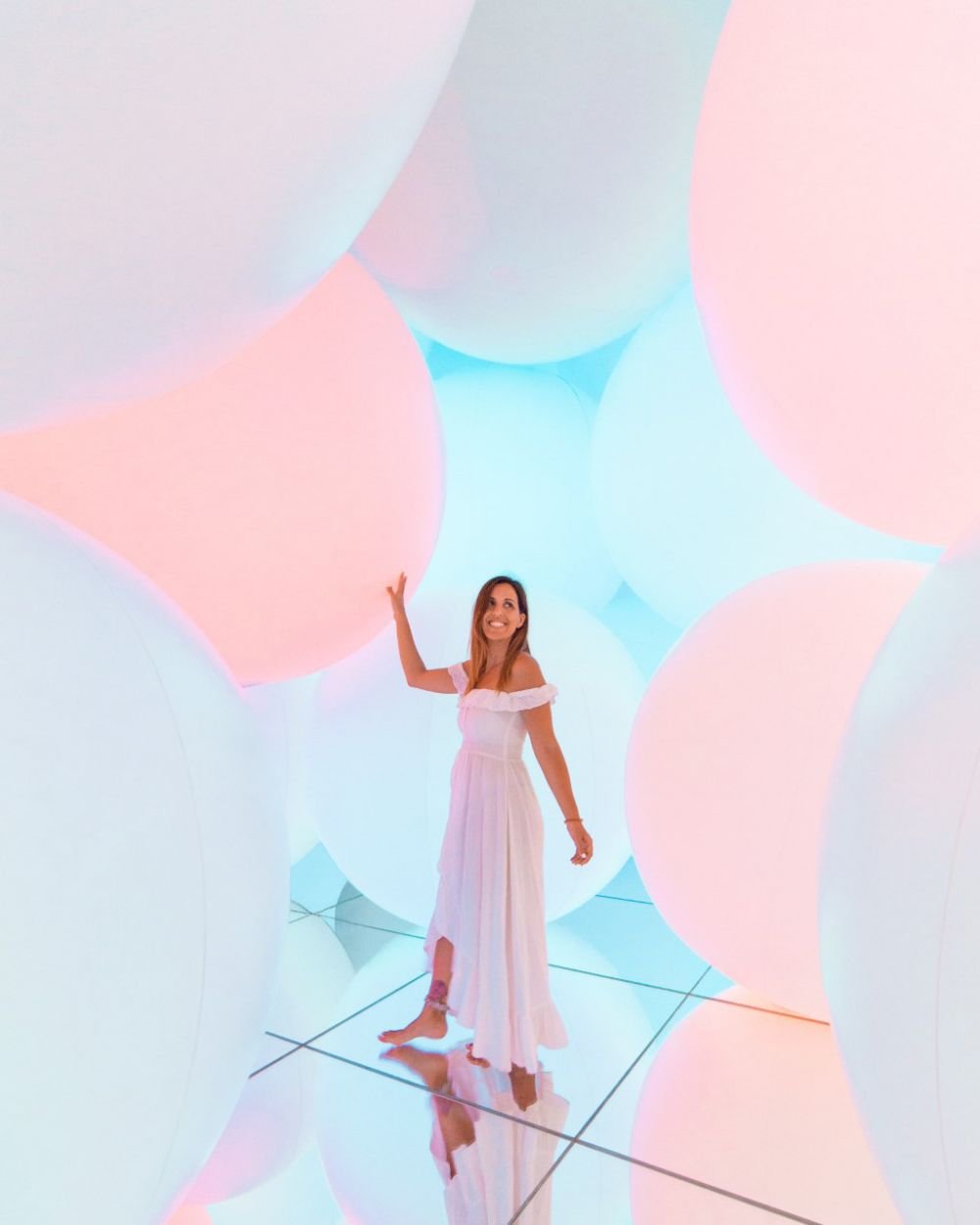 Akihabara
Located in central Tokyo, Akibahara is the Mecca for the otaku and anime culture. There are hundreds of shops specialized in electronics, games, manga, and figurines, apart from maids cafes and cat cafes.
If you're a gamer, you'll love this place: enjoy it!
Tokyo Skytree
1 Chome-1-2 Oshiage, Sumida City
Tokyo Skytree is the world tallest tower and the second tallest structure after Burj Khalifa.
You will get a perfect view of Tokyo Skytree from Asakusa, but if you can, visit the observatory deck at the top floor for 360 views to the city.
Ueno Onshi Park
Uenokoen, Taito City
There are dozens of traditional Japanese temples at Ueno Onshi Park and Instagram perfect angles, especially photogenic during cherry blossom season!
Don't forget to check the surroundings too!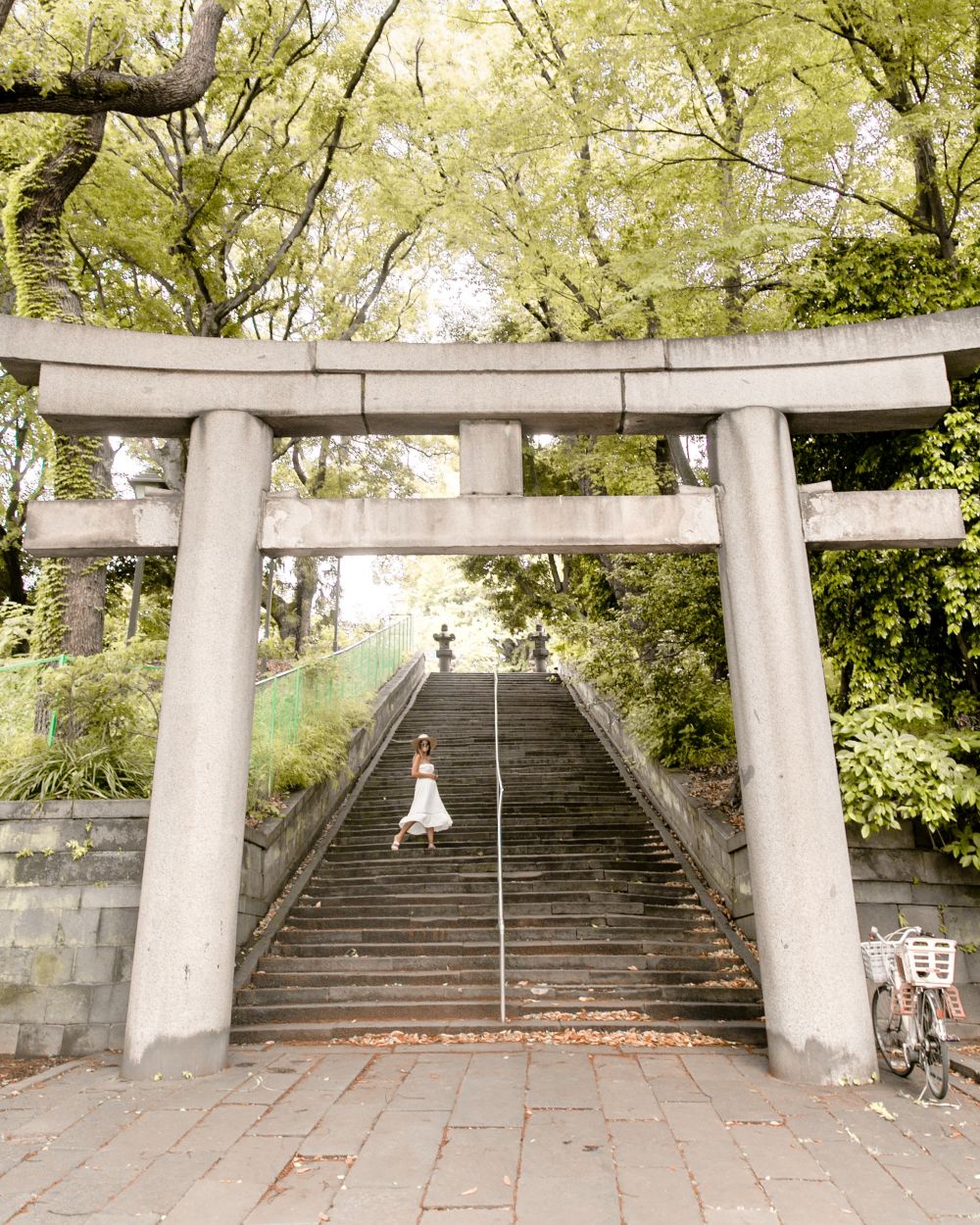 Kabuchiko
Kabuchiko is Tokyo's red-light district, an entertainment area filled with bright lights, bars, restaurants, and pachinko parlors. Do not miss it when in Tokyo!
Mandarin Oriental Tokyo
Staying at Mandarin Oriental in Tokyo was literally a dream! Japanese hospitality is top-notch and this has been one of the best hotels I've ever stayed at.
On clear days you have a view to Mount Fuji and Skytree too. These views from the suites and the restaurants are hard to beat and perfect for Instagram photos! I can't wait to be back.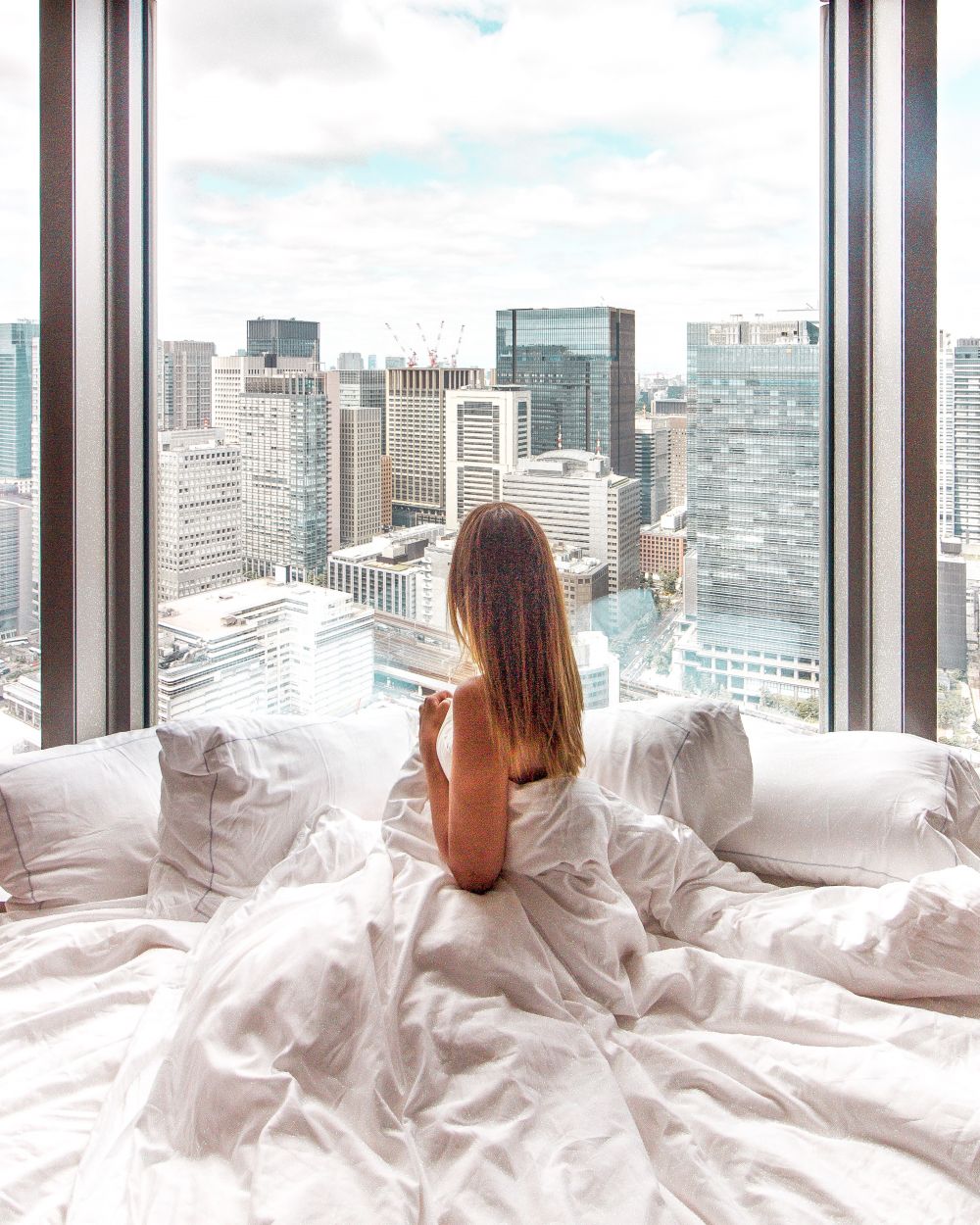 Gotokuji Temple
2 Chome-24-7 Gotokuji, Setagaya City
As the cat lady I am, I could't help but visiting Gotokuji Temple when in Tokyo. It was such a peaceful and beautiful place!
Mount Fuji
When in Tokyo, make yourself a favor and go on a one-day tour to Mount Fuji: you won't regret it! It's a symbol for the country, a sacred site, and the highest volcano in Japan.
These are the best locations for Instagram photos with a view to Mount Fuji:
Lake Kawaguchi
Chureito Pagoda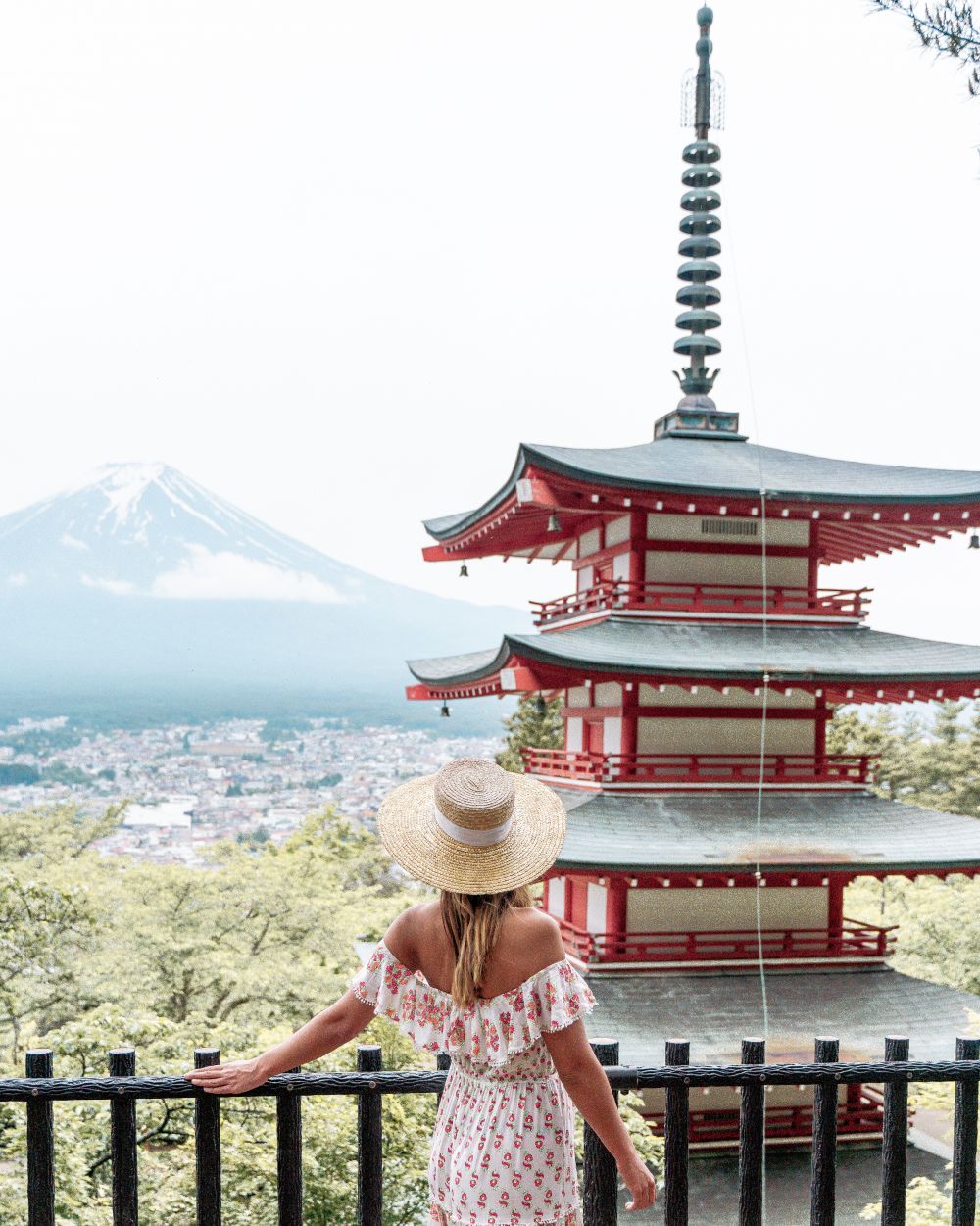 All the locations in the map
If you've liked this post, pin it for later!