Itinerary for 2 weeks in Morocco
Getting around
Traveling around Morocco is pretty easy. You can cover most of the country with domestic flights, trains, and buses.
CTM buses are highly recommended as they're the most reliable company. Their buses are new, comfortable, on time, safe and they tag and handle your luggage personally. You can book your CTM tickets in advance here.
In the cities, taxis are the best option. Always ask them to use the meter.
If you know a bit of French, even if it's rusty, it will come in handy especially when hopping on taxis and at train and bus stations.
For some other routes, it may be better to join a day tour or a private tour.
Travel insurance for Morocco
Do you really need travel insurance to travel in Morocco? The answer is yes, it doesn't matter where in the world.
Unpredictable events can happen anywhere, anytime.
I have had a number of situations on my travels, from stomach problems to a motorbike accident! During this trip to Morocco, I twisted my ankle in Chef Chaouen – there's no other city in Morocco with as many stairs!
I've learned the hard way that I needed travel insurance. And as I go on spontaneous trips every so often, I now have an annual travel insurance with Heymondo that keeps me protected in every situation.
After 2 years with Heymondo Travel Insurance, I can't live without it anymore. I especially love that I can chat with doctors that are available 24 hours a day through their app, saving time and avoiding international phone call charges!
Morocco Itinerary
Our Morocco itinerary pretty much covered all the places we wanted to visit in Morocco: I believe it was perfect!
Day 1-7: Marrakech (6 nights)
Day 7-9: Sahara tour (2 nights)
Day 9-10: Fez (1 night)
Day 10-12: Chef Chaouen (2 nights)
Day 12-14: Casablanca (2 nights)
Day 15: Fly out from Morocco.
We flew into Marrakech and flew out from Casablanca, but it's also a good idea to start in Casablanca and finish in Marrakech following this itinerary the other way round.
In case you want to fly in/out from the same airport in Morocco, Marrakech and Casablanca are just 4 hours apart by train, so you could also do that. In that case, make sure to book 1st class tickets: they're inexpensive and you'll get much better quality. Also, keep in mind that there can be delays.
Day 1-7: Marrakech
I love coming back to the places I love and Marrakech is clearly one of them. It was my second time in this city so I knew exactly how to make the most out of our time in Marrakech.
Day 1: Marrakech
Welcome to Morocco!
First things first: get a SIM card! You can get one as soon as you arrive at the airport or you can buy it close to Jemaa el Fnaa square. The best company in Morocco is Maroc Telecom.
Get some cash: the best place to exchange money is hotel Ali, near Jemaa el Fnaa square.
Taste the Moroccan gastronomy: you need to try the traditional tajine. One of my favorite places for this is Café des Épices, in Place des Épices.
Enjoy the sunset views from a rooftop bar: there are many cool options in Marrakech and I'd recommend you this activity at least once a day during your trip!
Day 2: Marrakech
Now that we have a sense of what Marrakech is, let's explore deeper – and let's go shopping!
Get lost in the Marrakech Medina: Jemaa el Fnaa, Souk Semmarine and Place des Epices (Spices market). Luckily, Google maps actually works in Marrakech!
Some of the best things you can buy in Marrakech souks are:
Moroccan argan oil
Leather bags
Straw bags
Spices, especially saffron
Pottery
Lamps
Carpets
If you're planning to take photos at any particular stall, buy something and then ask politely if you can take a photo: they will most likely let you take photos with no problems!
Day 3: Marrakech
Now that we've discovered the souks and the Marrakech vibes, let's play the tourist and visit Marrakech's historical sites such as:
Koutoubia mosque
Palais el Badi
Saadien tombs
Bab Agnaou gate
Marrakech museum
House of Photography
Day 4: Marrakech
Let's have some fun! After 3 days exploring the most famous places to visit in Marrakech, it's time for something different.
Let's go on an adventure: have you ever ride an ATV? You can explore the Palmeriae, a massive area full of palm trees right outside Marrakech. It's lots of fun! Plus, you get to visit a small village to have some mint tea with the locals. Just make sure to book a tour that doesn't offer camel rides.
Pamper yourself: Marrakech is also perfect for spa and hammam treatments. I can recommend the spa at Es Saadi, and although I haven't tried them myself yet, the spa at La Mamounia and Hammam de la Rose are very popular. Make sure to put them on your list.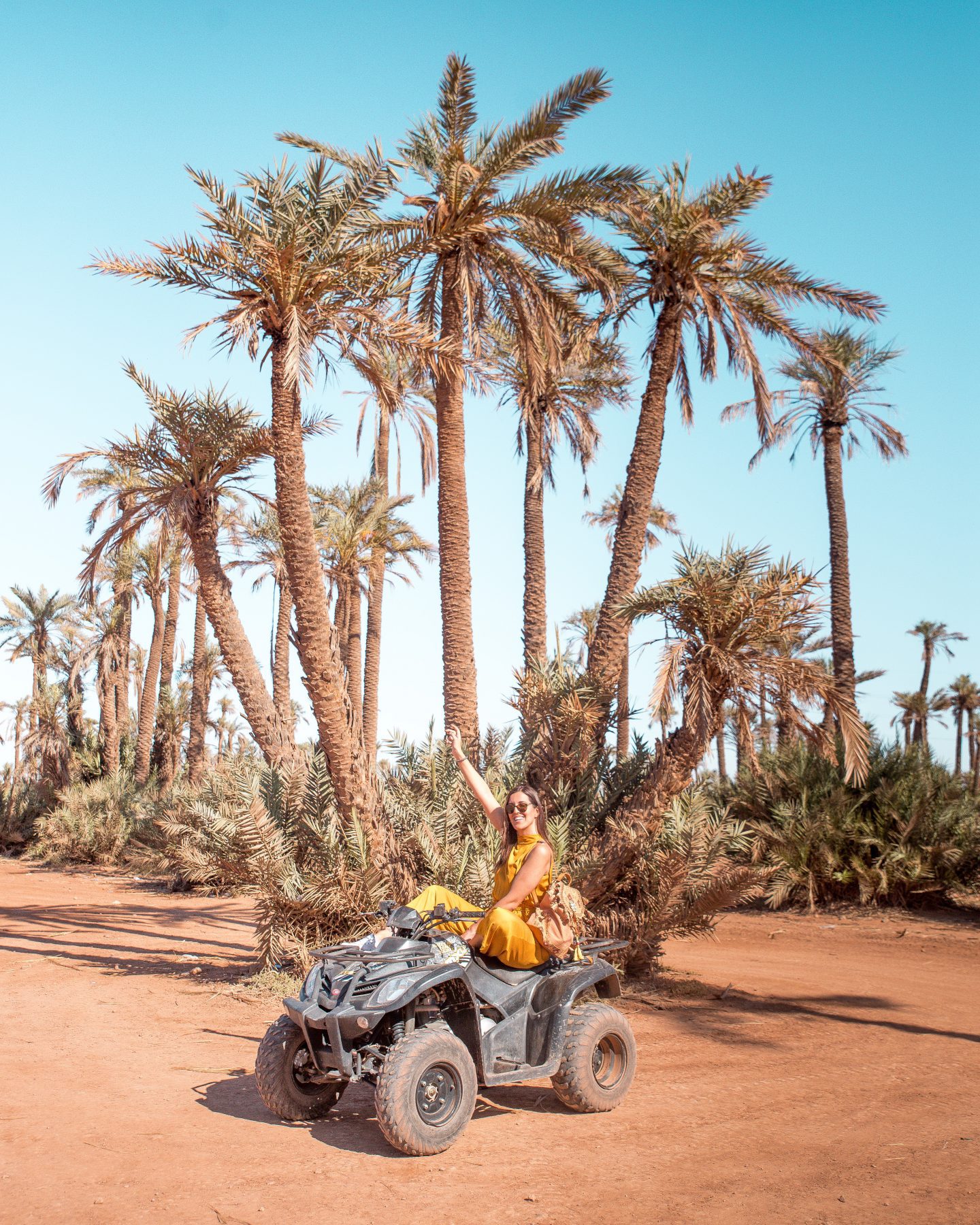 Day 5: Marrakech
This is our last day in Marrakech! We still have some things left to do.
Jardin Majorelle (Majorelle Garden): Yves Sant Laurent's dream home and source of inspiration. It's really packed with tourists, so make sure to get there as early as possible.
Musée Yves Sant Laurent: adjacent to Jardin Majorelle, here you'll enjoy the permanent exhibition with the most iconic designs by Yves Sant Laurent including the Mondrian dress, le smoking, and the safari jacket.
Le Jardin Secret: another beautiful spot to enjoy the Moroccan architecture and escape the hustle and bustle from the dusty Medina.
Day 6: Day trip from Marrakech
Many say that 4-5 days are enough for Marrakech, but I highly disagree.
Marrakech is also perfect as a base to explore other places nearby, like the Agafay desert.
Best day trips from Marrakech
Where to stay in Marrakech
There are so many great hotels in Marrakech, luxury resorts and beautiful traditional riads. They're all worth it!
These are the places I've stayed at in Marrakech and I can recommend 100%:
Where to eat in Marrakech
Moroccan cuisine is a pleasure!
These are my recommended places in Marrakech:
Day 7-9: Sahara tour
It's time to leave Marrakech for some bucket list material!
The trip from Marrakech to the Sahara desert takes around 9-10 hours but luckily there are amazing places to visit on the way there.
This was the itinerary we had:
High Atlas Mountains: we traveled in early December and we were lucky to see the first snow of the season in the High Atlas. It really reminded me of Iceland!
Aït Ben Haddou: the landscape changed completely and we got to enjoy a tea with a view in Aït Ben Haddou, a famous location thanks to movies as Gladiator and especially to Game of Thrones.
Ouarzazate: known as the gateway to the Sahara.
Gorges du Dades: we spent the first night on our way to the desert with a view to Gorges du Dades.
Gorges du Toudra: the next morning, we visited this breathtaking limestone river canyon. It's really impressive!
Sunset in the sand dunes: a dream come true. Finally! After sunset, we enjoyed a traditional Berber dinner with music in Dihya Desert Camp.
After a memorable sunrise in the desert, it's time to drive all the way to Fez!
It was an incredible day on the road as we experienced many different types of weather and different types of landscapes. It looked like the USA, Iceland, Ireland, Switzerland… it was insane (and pretty cool!).
This trip convinced me to come back to Morocco once again. Next time I want to visit more in the mountains.
These are the places we visited on our way from Merzouga to Fez:
Mid Atlas: again, we were so lucky with the snow. It really looked like Iceland!
Ziz Valley: an oasis in the middle of the desert. Literally. Tons of palm trees between the dramatic red cliffs is such a unique sight.
Azrou: we didn't expect this at all. We stopped in the cedar forest where there are friendly monkeys. Like, how on earth?
Ifrane: known as the Switzerland of Morocco, this city was really surprising!
Day 9-10: Fez
Fez is the former capital of the country and it has the oldest and largest Medina in Morocco, with over 10,000 streets and 14 different gates.
These are the main places to visit in Fez:
The Royal Palace
Chouara tannery
Shop 64
Rainbow Street Art
We only stayed one night in Fez. If you have the time, you can easily visit Meknes and Volubilis by taxi.
Where to stay in Fez
We stayed at Riad Anata and we will be forever grateful! It has the perfect location, the food and the service were impeccable and they helped us with absolutely everything we needed. 100% recommended!
Day 10-12: Chef Chaouen
Chef Chaouen is one of the most famous places on Instagram and Pinterest. I'm sure you have seen photos from this blue city before!
Make sure to explore the Medina at your own pace: every single corner is picture perfect!
I was also really good for shopping. Everyone was super friendly and the prices were way cheaper than in Marrakech.
For sunset, hike over the hill to get a gorgeous view of Chef Chaouen from the Spanish Mosque.
Where to stay in Chef Chaouen
There are plenty of options to stay at in Chef Chaouen. Make sure to choose your accommodation wisely s you can explore the town on foot and avoiding never ending stairs.
Day 12-14: Casablanca
As I was saying, I sprained my ankle in Chef Chaouen so after that I basically needed to rest – which is highly incompatible with traveling and exploring!
Must-visit places in Casablanca: Hassan II Mosque, Mahkama du Pacha and Sky 28.
I forced myself and finally made it to Hassan II Mosque. I mean, I had to! It's an architectural marvel and I loved the doors, the symmetry, the sound of the ocean, the friendly locals… I'm sure I'll come back to Casablanca. It left me craving for more!
Where to stay in Casablanca
In retrospect, my twisted ankle was a blessing in disguise. I was forced to slow down the hectic rhythm of traveling after two weeks so I ended up enjoying the nicest staycation ever at Four Seasons Casablanca.
Pro tip: if you can, stay at Four Seasons Casablanca during the weekend. They celebrate an amazing Afternoon Tea on Saturdays and I loved the Sunday Brunch as well. I basically ate my way through all the restaurants, relaxed at the spa and enjoyed the soothing view of the Atlantic Ocean from my room.
There's plenty of accommodation options in Casablanca, choose your stay near the beach if you can!
If you've liked this post, pin it for later!