Planning to visit Louvre museum during your upcoming trip to Paris? Here's the things you need to know to make the most out of your visit to the most popular museum in the world.
After a few visits to Paris, I finally made it! Today I'm sharing with you my tips if you're visiting Louvre museum for the first time.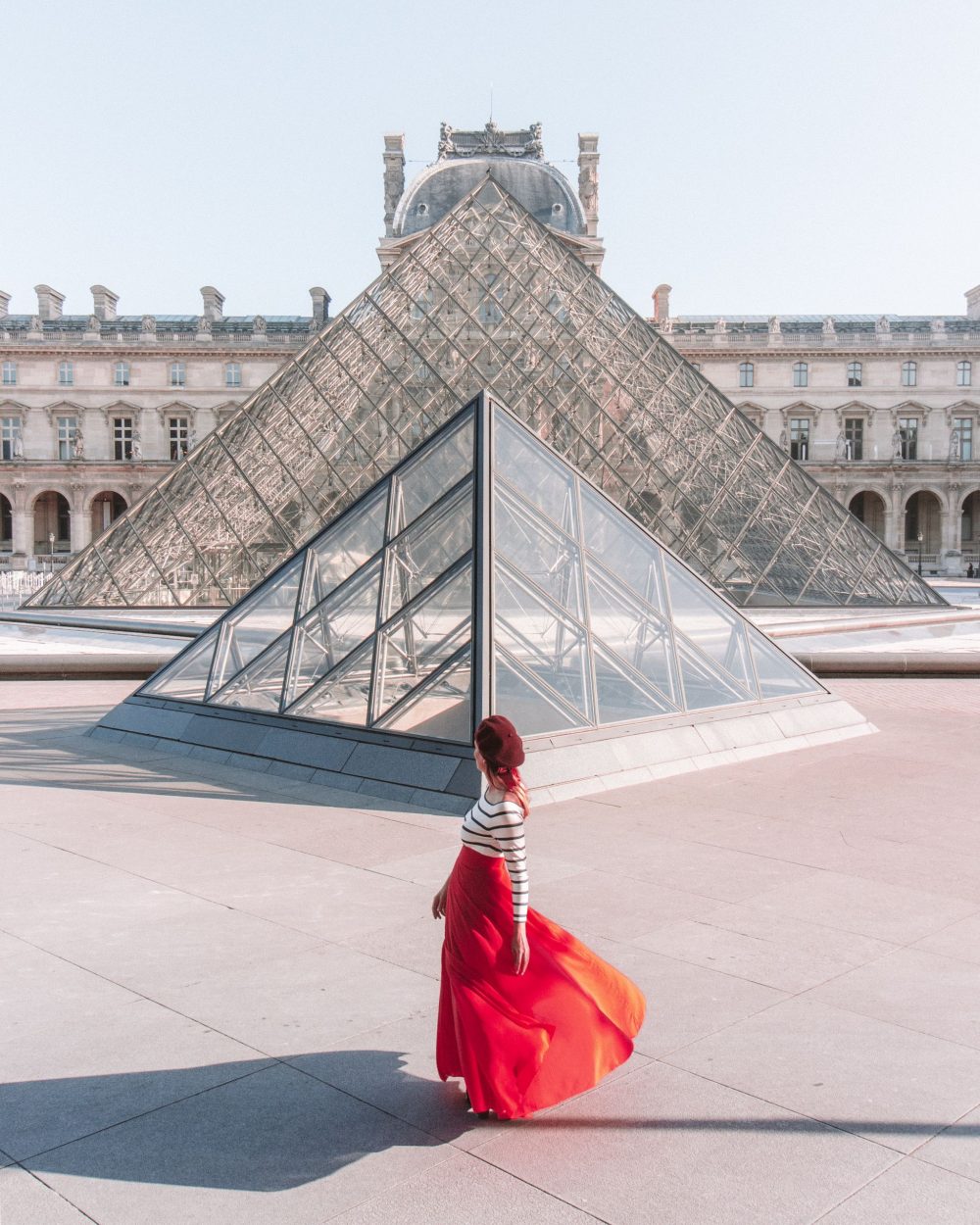 Things you need to know before visiting Louvre Museum in Paris
What you need to see in the Louvre
As you may know, Louvre museum is just huge. It would take you 75 years to completely see it if you were watching each piece for 60 seconds during 8 hours a day. It's just unmanageable to see it all.
But don't get discouraged! You can easily visit the main attractions in around 3 hours, and that's what I'd recommend you.
These are the masterpieces you shouldn't miss:
La Gioconda / Mona Lisa
Venus de Milo
Winged Victory of Samothrace
Sleeping Hermaphroditus
The Coronation of Napoleon
Liberty leading the people
Les Noces de Cana
Psyche Revived by the Kiss of Love
The Raft of Medusa
Louvre's Greek and Roman antiquities
The Crown Jewels of France
Great Sphinx of Tanis
The list, of course, goes on and on. You can stay at the museum as much as you want!
Make sure to get one of the free maps once you entered the museum so you don't miss anything.
Plan your visit
Guided Tour
I've visited other museums on my own and I always end up missing things. Always. And as important as the masterpieces are the stories behind them.
So this time, and given the size of Louvre museum, I followed a group tour with a local guide.
This way we didn't miss any important masterpieces (all the mentioned above and more) and most importantly, we learned a lot from the history of the museum (did you know it was a fortress first and a royal palace after?) and about History of Art and the importance and history of every masterpiece.
Plus, this tour included skip-the-line tickets so we didn't waste our valuable time at the queue – there's just to much to see in Paris!
You can stay longer at the museum once the tour has finished, though – and that's exactly what I did! I was really amazed by it.
Louvre ticket prices
If you prefer to visit the museum on your own, these are the official rates:
Tickets purchased online: 17€ (including quick entry).
Tickets purchased at the museum: 15€ (expect a long queue if you do this)
Please note that once you leave the museum you are not allowed to enter again with the same ticket.
For skip-the-line tickets and make the most of your time not only at the Louvre but also to visit other places in Paris, I recommend you visiting with a guided tour like I did.
How to visit Louvre museum for free
If you don't want to pay the entrance ticket, you have some options:
Every day if you're under 18 years old.
Every day if you're a EU resident between 18 and 25 years old.
First Saturday of each month, entrance is free from 6pm to 9:45pm.
Every Friday from 6pm to 9:45pm, entrance is free for visitors under 26 years old.
Entrance is free for all on Bastille Day (14th July).
Opening hours
Monday: 9 am – 6 pm.
Tuesday: Closed.
Wednesday: 9 am – 9:45 pm.
Thursday: 9 am – 6 pm.
Friday: 9 am – 9:45 pm.
Saturday: 9 am – 6 pm.
Sunday: 9 am – 6 pm.
Please note that on Tuesdays, Louvre museum is closed.
Where to eat nearby
Angelina
If you have some time, enjoy a coffee with a view to the pyramids right next to the Louvre – as many bloggers and instagrammers do!
Make sure to find a spot at Angelina's terrace and don't forget to pay a visit to its beautiful interior: the floor tiles, the wall paintings… everything is a work of art there, too!
Le Nemours
In between Louvre and Palais Royal there's a place I always go back to everytime I visit Paris for a typical croque madame.
Le Nemours is a typical Parisian cafe with a terrace, very well located and with reasonable prices – I really recommend it!
Where to stay nearby
Hotel Belloy St. Germain
I haven't stayed nearby Louvre just yet – because yes, I plan to come back! However, I can recommend you a hotel that is not too far, in a much more authentic and less touristy area: Hotel Belloy St. Germain. There I had a sweet view to Notre Dame from my balcony!
From there, you can use public transportation to get to Louvre in around 10 minutes – and if you prefer to walk, it will take you around 20 minutes.