One of the highlights from my recent trip to Amsterdam was visiting MOCO museum.
I visited MoCo museum during my last trip in Amsterdam and really enjoyed it! I love modern art and immersive digital installations since I visited the Teamlab exhibitions in Tokyo, so I had to visit this museum. It rapidly became my favorite museum in Amsterdam!
About MoCo Museum
MoCo Museum stands for Museum of Modern and Contemporary Art. It features amazing artworks from some of the most important artists in the world.
These are some of the artists featured in this museum:
Banksy
Warhol
Jean-Michel Basquiat
Keith Haring
KAWS
Marina Abramovic
Damien Hirst
Jeff Koons
Takashi Murakami
Irma Studio
book your tickets
MoCo Museum Location
Location: Honthorststraat 20, 1071 DE Amsterdam, Netherlands
MoCo museum is located in the same area as the most visited museums in Amsterdam, the Museumplein. This is where the Rijksmuseum and the Van Gogh museum are. This means you can visit these 3 museums in the same day!
This area is one of my favorites in Amsterdam. It's within walking distance from the city center and surrounded by gardens. It's a really peaceful place, especially on sunny days.
If you want to get a coffee or snacks before or after your museum visit, the Kiosk Rembrandt – Van Gogh is just next door.
MoCo Museum Opening hours
MoCo Museum is open every day. I'd recommend visiting in the early morning before it becomes too busy.
You can book your preferred time slot before your visit.
Monday to Thursday: 9 am – 7 pm
Fridays, Saturdays and Sundays: 9 am – 9 pm
MoCo Museum Tickets
Book the the MoCo museum tickets in advance.
How to visit MoCo museum in Amsterdam
It's highly recommended to book your tickets in advance, otherwise you'll probably have to wait in line.
I'd recommend starting your visit from the basement, where the Studio Irma rooms are. These are the busiest rooms in the museum and the ones you'd like to spend more time taking photos. Always remember to have fun!
Irma Studio x MoCo Museum
Irma Studio installations are aimed to celebrate connection. It's a Digital Immersive Art exhibition that shows endless connections to reveal what the future can look like, adding connectivism as a new art movement.
These are the rooms you will visit at Irma Studio:
We All Live in Bubbles
Kaleidoscope room
Diamond Matrix
Connect The Dots
Universe
This exhibition is located in the basement of MoCo museum.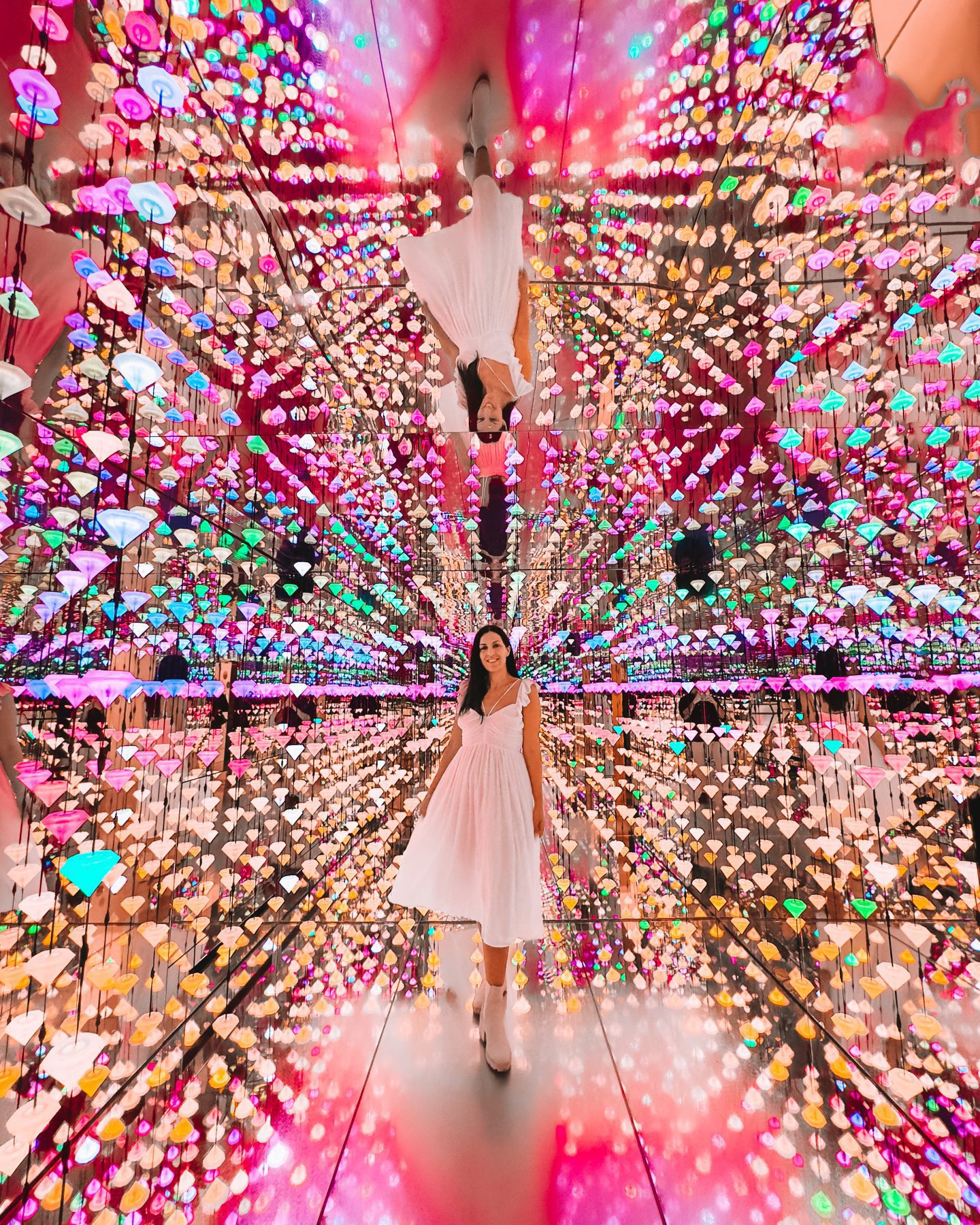 Things you need to know
Bring your own headphones: there's a free audioguide included with your ticket, available in 19 languages.
Download the interactive app MoCo Play to enjoy a interactive experience. It's available in the AppStore and the PlayStore.
You'd need a couple of hours to explore all the artworks in MoCo museum.
The artwork is located in 4 different stories and also in the garden.
Unfortunately, the museum is not accessible on a wheelchair. You'd need to climb stairs.
If you're carrying a backpack, you'll have to wear it in the front of your body as it happens in many other museums.
There's a cloakroom available for a small fee.
There's a shop where you can buy cute merchandise before you exit.
Other museums in Amsterdam
If you enjoy this type of art, you'll love the following exhibitions when you visit Amsterdam.
The Upside Down
Fabrique des Lumieres
Nxt
Final thoughts about the MoCo Museum Amsterdam
Overall, MoCo museum is really worth the visit especially if you like this type of art.
Their collection is amazing, with a huge variety of renowned artists from around the world, including a unique NFT exhibition and the Irma studio immersive exhibition. It's really worth it!