Welcome to Oaxaca!
A city that has it all: colonial buildings, colorful markets, ancient archaeological sites, lush mountains and delicious food (including tlayudas!). And of course, amazing and kind people.
Keep reading to discover everything you need to know to prepare your trip to Oaxaca.
How to get to Oaxaca
It's easy to get to Oaxaca via its international airport, which is connected to Mexico City and other cities in Mexico and USA.
While in Oaxaca is easy to get anywhere on foot, or you can rent a bike if you'd like!
To visit the sites outside the city, you can either rent a car or join day tours.
When to visit Oaxaca
The best time to visit Oaxaca is April-May or September October, when the weather is at its best.
However, Oaxaca has become a trendy destination all year round, attracting tourists and digital nomads.
These are the busiest times to visit Oaxaca:
Día de Muertos (Day of the Dead)
Guelaguetza (July)
Places to visit in Oaxaca
Andador Turístico
Andador Turistico is a lively pedestrian street in the heart of the city of Oaxaca, lined with historic buildings, shops, restaurants, and galleries.
Here, you will find street food and live music.
Zocalo & Benito Juarez market
The Benito Juarez market is located next to Zocalo, the main square in Oaxaca.
It attracts both locals and tourists, who can buy all types including fresh produce, flowers, clothes, handicrafts, and souvenirs.
The market also featuresfood stalls and restaurants, where you can sample traditional Oaxacan dishes such as tlayudas, mole, and chapulines (grasshoppers).
Church of Santo Domingo
The church of Santo Domingo is a former monastery. Its ornate facade is considered one of the best examples of Baroque architecture in Mexico.
Nowadays, it houses the Santo Domingo Cultural Center, which features a museum and a library.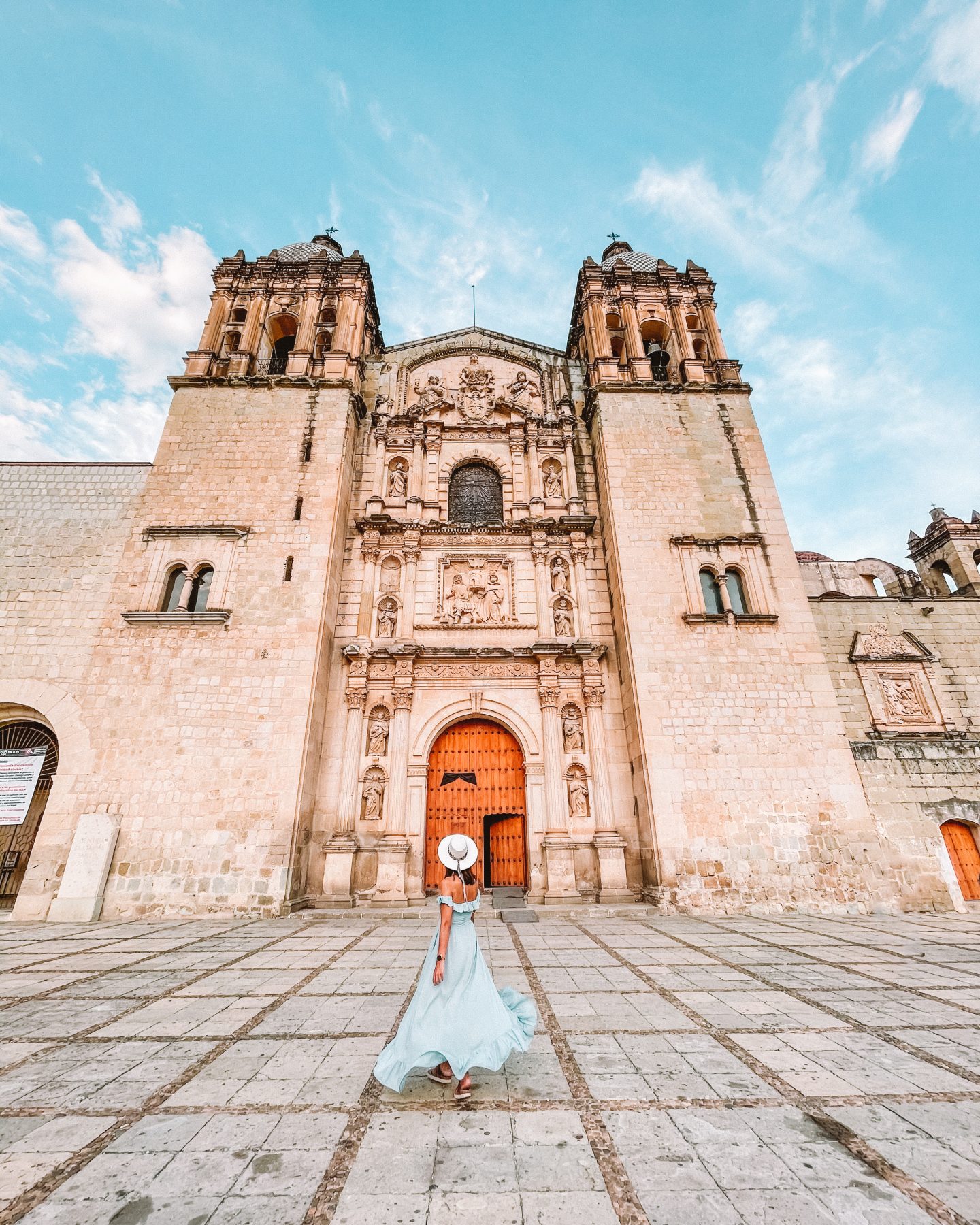 Basilica de Nuestra Señora de la Soledad
The Basilica de Nuestra Señora de la Soledad is an important religious site in Oaxaca, with an intricate façade and a highly decorated interior.
The funniest thing is that most visitors come here for a reason: to eat nieves at "Nieves de la Soledad", the most famous ones in Oaxaca.
Street art in Jalatlaclo neighborhood
Jalatlaco is a colorful neighborhood that is becoming an outdoor street art museum, just a short walk from Oaxaca Centro.
Make sure to check out the streets of Aldama, 5 de Mayo and Miguel Hidalgo. Do not miss the Day of the Dead-inspired murals by Bouler, Casa Curtidurías and other beautiful streets you will find along the way.
Xochimilco neighborhood
Xochimilco is a one of the coolest neighborhoods in Oaxaca.
This area features lots of colorful buildings, street art and artisans' shops.
It's also a residential area, so keep that in mind while taking photos here.
Day trips from Oaxaca
Oaxaca is much more than the city, with very impressive sites just a few minutes' drive away.
Make sure to add the following sites to your itinerary in Oaxaca.
Monte Alban
Monte Alban is one of the most important archaeological sites in Mexico and it was one of the most important centers of the Zapotec civilization.
It's a massive site, and it's quite unbelievable to realize they built everything by hand, without tools or animals.
It's quite an interesting visit. If you can, join a guided tour so you don't miss any details!
Mitla
Mitla is the second most important archaeological site in Oaxaca, recognized as a UNESCO World Heritage Site.
You can explore the ancient ruins, admire the intricate stonework, and learn about the history and culture of the Zapotec civilization.
El Tule, Mitla & Hierve el Agua day tour
Tlacolula market & church
Tlacolula market is a vibrant and market that takes places every Sunday in the town of Tlacolula. It's one of the largest and oldest markets in the region, and it has been operating for centuries.
Here, locals and tourists come to buy a wide range of products, including fresh produce, meats, textiles or crafts from vendors coming from the mountains around the valley of Oaxaca.
While in this area, do not miss the impressive Tlacolula church, a colonial church Inside the church with beautiful frescoes, altars, and statues that are ornately decorated with gold leaf.
Tip: I highly recommend visiting Tlacolula on the same day you visit Mitla as they're not far from each other.
Hierve el Agua
Hierve el Agua is a place like no other. Its name literally means "the water boils".
This magical place is known for its stunning petrified waterfalls, mineral springs, and breathtaking views of the surrounding valley. No trip to Oaxaca is complete if you haven't included a day trip to Hierve el agua to your itinerary.
In addition to the petrified waterfalls, there are also natural pools at Hierve el Agua that are filled with the mineral-rich water. You can swim in the pools and enjoy the healing properties of the mineral water, and take amazing photos!
The easiest way to get to Hierve el agua is booking a day tour. Do it in advance to make sure you're not missing out!
The best beaches in Oaxaca
If you stay long enough in Oaxaca, do not miss the coast, filled with beautiful beaches:
Puerto Escondido
Zicatela beach
Zipolite beach
Mazunte beach
Where to stay in Oaxaca
Top pick
Oaxaca City Centro: with a beautiful building, a rooftop pool and an amazing location, we absolutely love and recommend this hotel where I personally stayed at. The breakfast at the patio is amazing, too!
CHECK RATES & AVAILABILITY
Luxury hotels
Quinta real: a 5* hotel centrally located in a very unique building with a colonial decor.
Hotel La Casona de Tita: a boutique hotel with a central location and a colorful design that features paintings by Oaxaca artists on their walls that guests can purchase.
Mid-range hotels
Hotel Casona Oaxaca: located right next to the Cathedral, this hotel features an amazing colonial architecture and is decorated with paintings and traditional craftworks made by local artists from Oaxaca.
City Centro Oaxaca: as mentioned above, we love this hotel location in the heart of Jalatlaco neighborhood, plus the design, rooftop pool and breakfast in the patio makes it our favorite when in Oaxaca.
Budget hotels
Recommended tours in Oaxaca
If you want to visit Monte Alban, Mitla and Hierve el Agua during your stay in Oaxaca, you can do it easily joining any of the following tours:
Foods (and drinks) to try in Oaxaca
These are the foods and drinks you need to try while in Oaxaca:
Tlayudas
Guacamole with chapulines
Mole
Quesillo
Chocolate
Nieves
Mezcal
Recommended restaurants in Oaxaca
You can't go wrong if you choose the following places to eat in Oaxaca:
Boulenc
Los Danzantes
Las Quince Letras
El Negro (tlayudas)
Las tlayudas (tlayudas)
El Tendajon
Casa Convite
La Soledad nieves stand (nieves)
Selva Oaxaca (cocktails)
Rooftop City Centro Oaxaca (cocktails)
If you've liked this post, pin it for later!