Packing for a new trip is always stressful, especially when you're planning to take Instagram photos!
And if we're talking about Paris, we have a few more questions to solve: how to dress like a Parisian girl? What should you wear that doesn't scream "tourist"?
We will be replying to these questions and sharing tips an ideas to easily recreate the effortless Parisian style during your trip to the City of Lights.
On this article you will find inspiration and easy outfits for a trip to Paris in every season, including ideas for picnic photos, packing tips and where to shop in Paris.
Keep reading to learn more about the Parisian chic style!
Paris Outfit Inspiration
What to wear in Paris for Photos
What to wear in Paris in a nutshell:
Go for neutral colors, especially black, grey, dark blue and white.
Go for pastel colors if you're visiting in spring or summer.
Midi dresses and skirts are perfect for Paris.
Go for good fabrics like cotton, lace, cashmere.
Add a scarf to your outfits for an instant French touch.
Do you want to know where to take the best photos in Paris?
Check here the 20+ best instagram spots in Paris
Get some Paris outfit inspiration through my own pictures!
Easy Paris Outfit Ideas
Midi skirt
The best way to recreate the Parisian chic style is probably wearing a midi skirt! They add an effortless touch to your total outfit.
Go for a pleated or tulle midi skirt if you want to create a more elaborated look.


Little Black Dress
A little black dress is a timeless classic.
Originally designed by Coco Chanel, the little black dress has to be simple, elegant, and can be worn in – almost – all types of situations.
Her creation changed fashion in the 20's and ever since, little black dresses are easily found all year round in stores.

Long Skirt
If you're planning to create instagram content in Paris, then you need to pack a maxi skirt.
Ideally, go for a pleated or tulle skirt in soft tones. You will look like a princess!

Maxi Dress
Maxi and flowy dresses look beautiful on instagram photos: they have the power to enhance every picture!
Plus, they're the easiest when it comes to packing and you won't have to care about outfit combinations that much!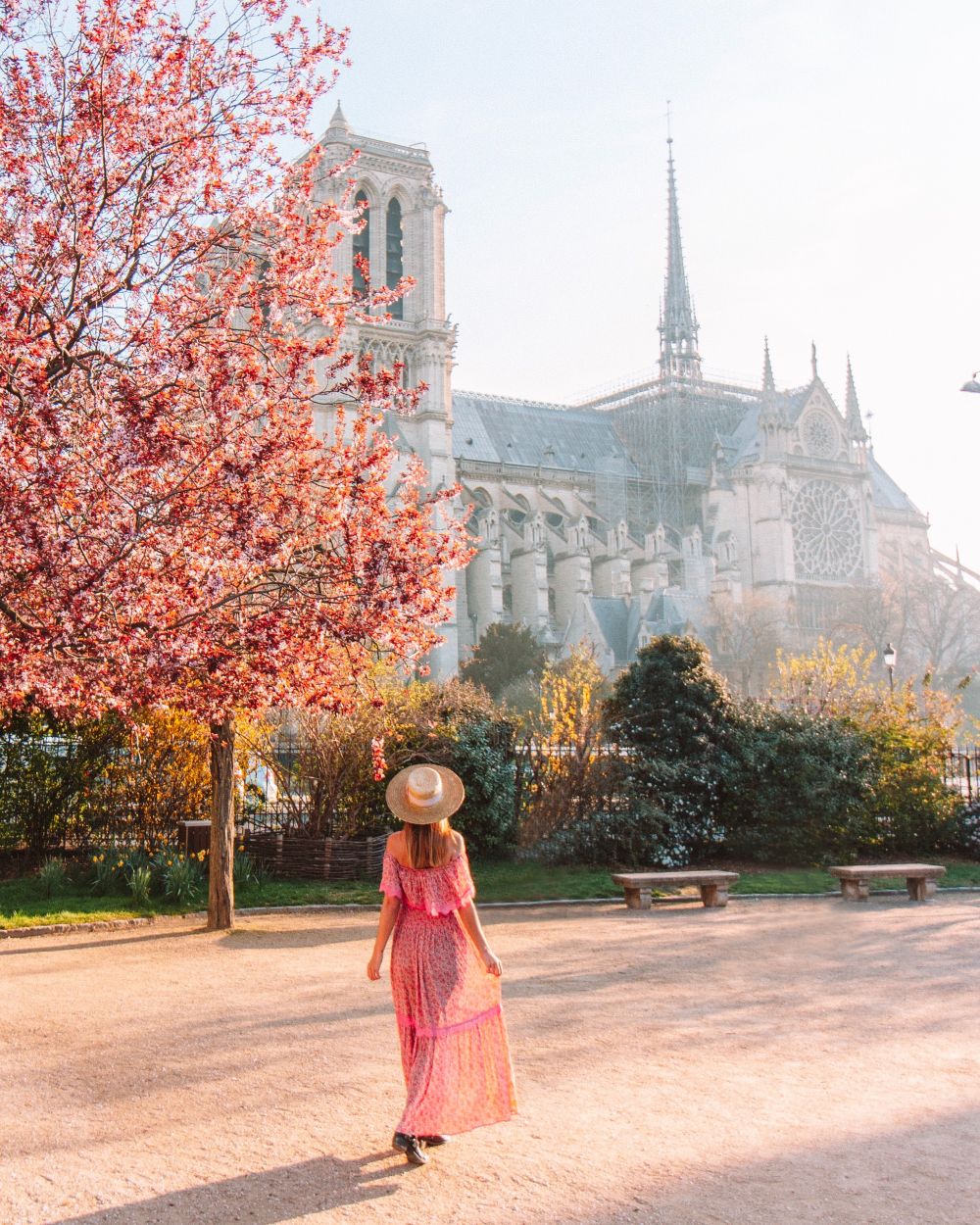 Gown Dress
If you're planning to have a memorable photoshoot in the City of Lights, a gown dress will be ideal! It's worth packing a gown dress even if it's just for a few photos.
And let's admit it, there's no other place like Paris for a wedding photoshoot! Get ready to feel like a princess for a day.

Breton Stripe T-shirt + Jeans
Another signature French outfit is the Breton stripe t-shirt: another classic that is super easy to wear!
Wear it with jeans or skirts in different color combinations.

Comfy shoes
You will probably walk a few kilometers a day when in Paris!
There's so much to see and do, so you'd better wear comfy shoes! Choose ballerinas, loafers, or retro sneakers to recreate the Parisian style.
Avoid wearing high heels or running shoes!

Classy Bag
Go for a classic bag that is big enough to carry all your stuff. Avoid wearing backpacks that scream "tourist"!

What to pack for Paris in spring / summer
If you're visiting Paris in spring or summer, pack these accessories:
Canotier Hat
The perfect spring/summer fashion accessory for travel photos in Paris is a classy canotier hat.
If you don't have one yet, get yourself one!

Hair Bow
Hair bows add a cute touch to your outfits. Make sure to pack some!

Sunnies
For a Parisian style, choose big, classy sunglasses.

What to pack for Paris in fall / winter
Fall and winter can get really cold in Paris. Our tip? Layer! Wear thermal tees and tights if necessary.
Make sure to pack all these items if you're visiting Paris in winter.
Beret
Can you think about anything more French than a beret?
If you're visiting Paris in winter, you will see many Parisian girls actually wearing a beret: it will help you to keep yourself warm in the cold!

Turtleneck & Jeans
Another perfect garment to wear in winter in Paris is a turtleneck. Again, go for plain designs in neutral colors.

Trench Coat
Winter in Paris can get really cold! Be ready for all types of weather wearing a trench coat – just add layers!

Scarf
Another must-have accessory in Paris is a scarf! Scarves are really handy and necessary in winter time!

Ankle Boots
The best option for winter in Paris is packing a pair of ankle boots.

Private photoshoots in Paris
Paris is chosen by many couples from all over the world for their wedding photoshoots – and let's be honest, I cannot think about any other city as photogenic and romantic as Paris.
Wether you travel solo, as a couple, with family or friends, if you want to get the nicest photo memories from your trip consider hiring a professional photographer for a private photoshoot in Paris. You will get the best photos out of your trip!
Where to shop in Paris
These are my recommended shops and brands in Paris.
Malls: Galeries Lafayette, Le Bon Marché, Le Printemps and Chatelet Les Halles.
Showrooms and boutiques: Miss June Paris, Polene, Veja, Make My Lemonade, Sandro, Jacquemus.
High end boutiques: Louis Vuitton, Christian Dior, Chanel, Hermés.
Vintage Clothing: RoseMarket Vintage, Kiliwatch, Thanx God I'm a VIP.
Paris Packing Tips
Keep your outfits comfortable: you can easily walk 10 km a day when in Paris! Hence, sneakers or comfy shoes will be the best options. You can always change your outfit for photos!
Check the weather forecast and pack accordingly. Keep in mind that it can be rainy and cold in spring and fall.
Always add a scarf to add an easy French touch to your outfits.
Keep it classy! Avoid workout outfits, neon colors or crazy patterns that scream "tourist".
Leave some space in your luggage so you can go shopping without restrictions!
If you've liked this post, pin it for later!