How to spend one day in Colombo
Ayubowan (welcome in shinalese) to Sri Lanka!
Colombo, the capital city of Sri Lanka, will be most probably your first or last stop in Sri Lanka. Even if you only have a few hours in Colombo I recommend you visit its main sights: it's worth the visit!
On this post you will find how to spend 24 hours in the capital of Sri Lanka including places to visit and tips on how to get around and where to stay.
Keep reading to find all the places you shouldn't miss in Colombo!
10 Places to visit in Colombo
Gangaramaya Buddhist Temple
Buddhism is the majority religion in Sri Lanka and one of the most popular buddhist temples in Colombo is Gangaramaya. It's located by the Beira lake and is frequented by both locals and tourists.
Temple etiquette: make sure to cover both shoulders and knees and leave your shoes at the entrance.
Ticket price: 300 LKR
Beira Lake and Seema Malaka Temple
Located in Colombo's city center, Beira Lake is the heart of the city.
Make sure to visit Seema Malaka Temple, a peaceful oasis built over the water where you can escape from the hustle and bustle from the city.
There are 3 platforms featuring a stupa, numerous buddhas and sculptures from Hindu gods. All of this, surrounded by water and Colombo's skyline.
Temple etiquette: make sure to cover both shoulders and knees and leave your shoes at the entrance.
Ticket price: 300 LKR
Independence Memorial Hall (Independence Square)
The Independence Memorial Hall was built in Colombo to commemorate the independence of Sri Lanka from the British. Hence, you can imagine its importance for the Sri Lankans!
National Museum of Colombo
The National Museum of Colombo is the largest museum in Sri Lanka and holds important collections from the country's history and culture that will help you understand the story from Sri Lanka.
Viharamahadevi Park and the Buddha
Just across the Town Hall, Viharamahadevi Park – aka Victoria Park – is the oldest and largest park in Colombo. Here you will find all types of people from Colombo that come to this park to spend their leisure time.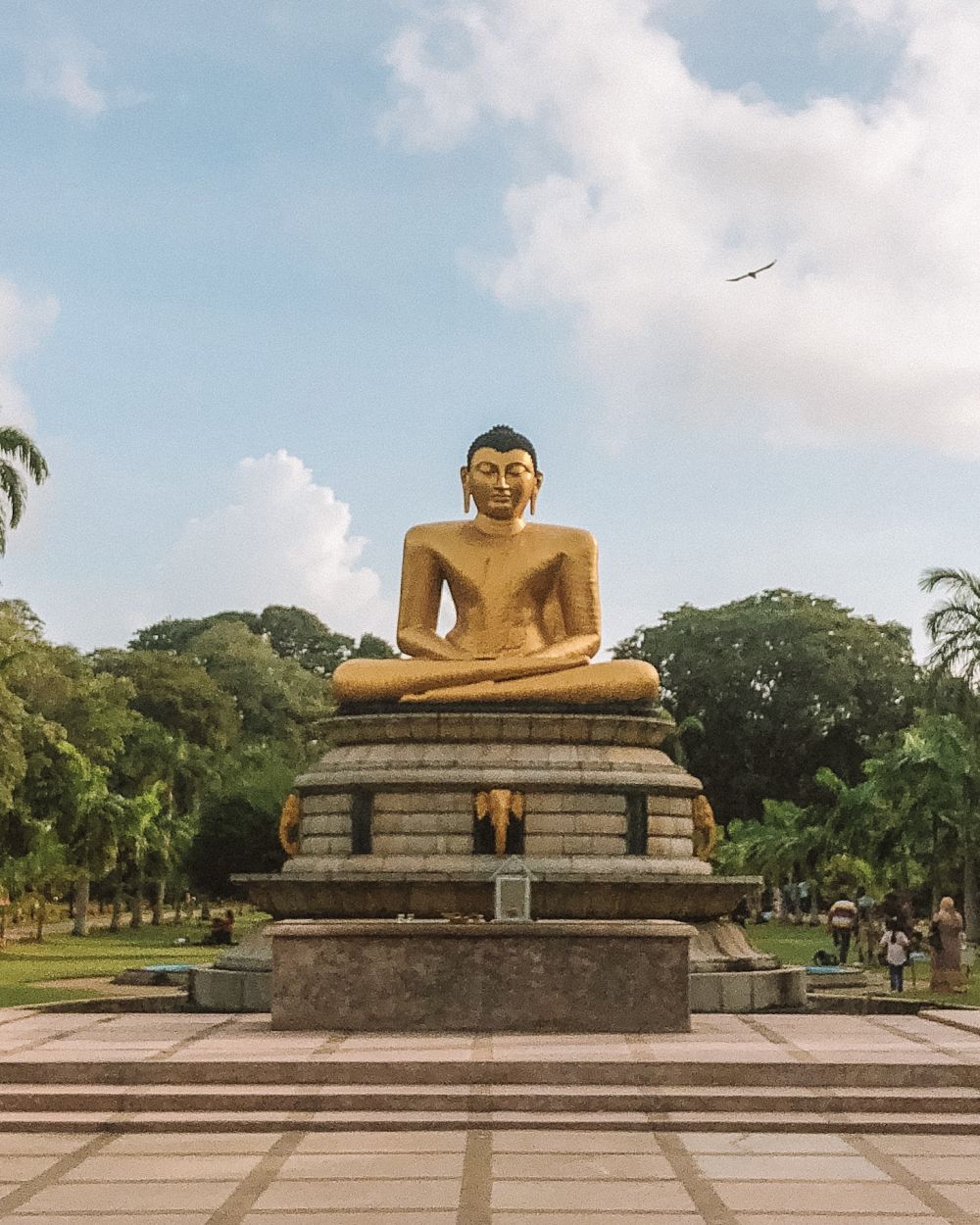 Temple of Sri Kailawasanathan Swami Devasthanam Kovil
The Temple of Sri Kailawasanathan Swami Devasthanam Kovil is the oldest Hindu temple in Colombo and one of the most beautiful ones.
Built about 2 centuries ago, this temple is dedicated to Ganesha and Vishnu.
Tip: go on Full Moon to see the festival.
Temple etiquette: make sure to cover both shoulders and knees and leave your shoes at the entrance.
No photos are allowed inside the temple.
Free entrance.
Pettah Market
Famous for its market and bazaars, Pettah area is always busy!
In Pettah you will find everything from fruits to fabrics – enjoy shopping!
Jami Ul-Alfar Mosque
Jami Ul-Alfar Mosque is one of the oldest mosques in Colombo. It's located in Pettah and it's very popular between tourists thanks to its candy-striped facade.
Mosque etiquette: you need to cover your hair and body and remove your shoes before entering the building.
Free entrance.
Avukana Buddha Replica
One of the most visited landmarks in Colombo is the replica of the Avukana Buddha.
The original Avukana Buddha statue is located in the north central Sri Lanka, in between Anuradhapura and Dambulla. It's the tallest Buddha statue in Sri Lanka and it has its replica in Colombo to represent the importance of Buddhism in the country.
Lotus Tower
The lotus flower has numerous meanings for the Buddhists: from enlightenment to purity or rebirth, there's no wonder why it was the inspiration for Sri Lanka's tallest tower.
The Lotus Tower will be open to visitors from 2020. Until then, you can see it from afar to admire its beautiful lotus flower shape.
How to get around in Colombo
Colombo is quite a big city, so depending on where you're staying, you can rely on different means of transport to get around:
On foot
TukTuk: you cannot leave Sri Lanka without riding a tuktuk at least once!
Uber: Uber works is very reliable in Sri Lanka! You can choose an UberTuk or UberMoto too if you prefer it!
Private driver: this is how I visited Colombo and I can totally recommend it. I visited all the places I wanted in Colombo at my own rhythm, with a very knowledgeable tour guide.
Sundays and every full moon in Sri Lanka are considered bank holidays. I've visited Colombo on a Sunday afternoon and the city was far from busy – I totally recommend visiting on a day like this! Otherwise, Colombo is quite a busy big city.
Recommended Day Tours in Colombo
If you'd rather book your tour in Colombo in advance, these are great options:
Where to stay in Colombo
Hotels are quite affordable in Colombo. These are the 5* hotels I can recommend:
All the locations in the map

If you've liked this post, pin it for later!