Porto Travel Guide: Things to Do in Porto
Porto has become one of the trendiest destinations in Europe thanks to its colors, blue tiles, and bohemian charm. On top of that, it's an affordable destination, with welcoming locals, a lively atmosphere and it's really well connected with international direct flights.
Do you need any more reasons to visit Porto?
If you've already booked your ticket, you're in the right place. In this post, you will find out everything you need to know to plan your trip to Porto: what to do, what and where to eat, where to stay, shopping recommendations, and packing tips!
Porto must-visit places
These are the 10 places you can't miss during your trip to Porto:
Cais da Ribeira
Luís I Bridge
Sao Bento Railway Station
Capela das Almas
Igreja do Carmo
Igreja de Santo Ildefonso
Porto Cathedral
Lello bookshop
Monastery of Serra do Pilar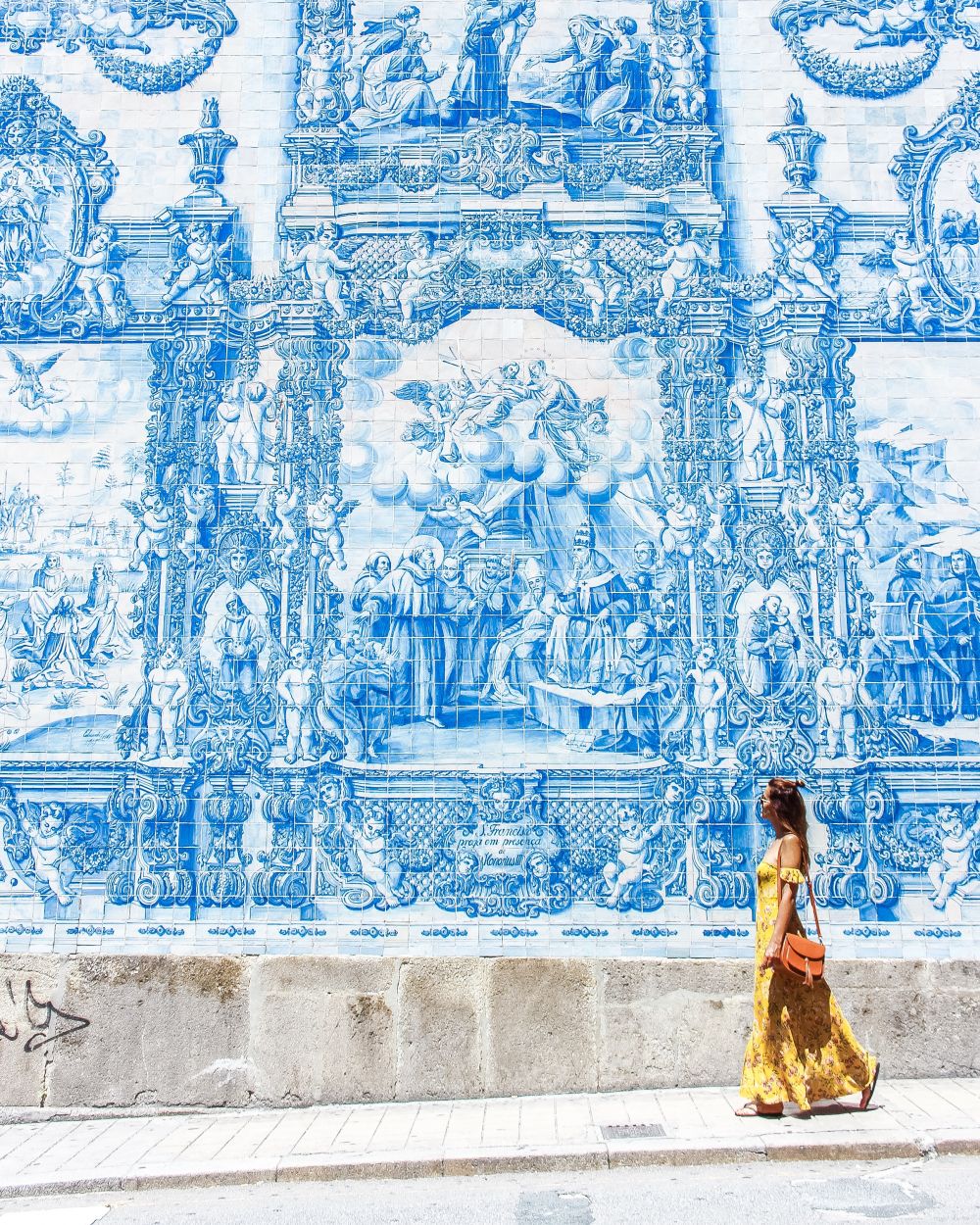 Porto hidden gems
After many visits to Porto, we always try to go the extra mile and find new places off the beaten path.
These are some of our favorites, being now instagram-famous:
"Kitties Rock"
A Pérola do Bolhao
Largo da Pena Ventosa
Passeio das Fontainhas
Jardims do Palacio de Cristal
Steak'n'Shake
Capela do Senhor da Pedra (Gaia)
Related posts:
All the Instagram spots in Porto – including a map with locations!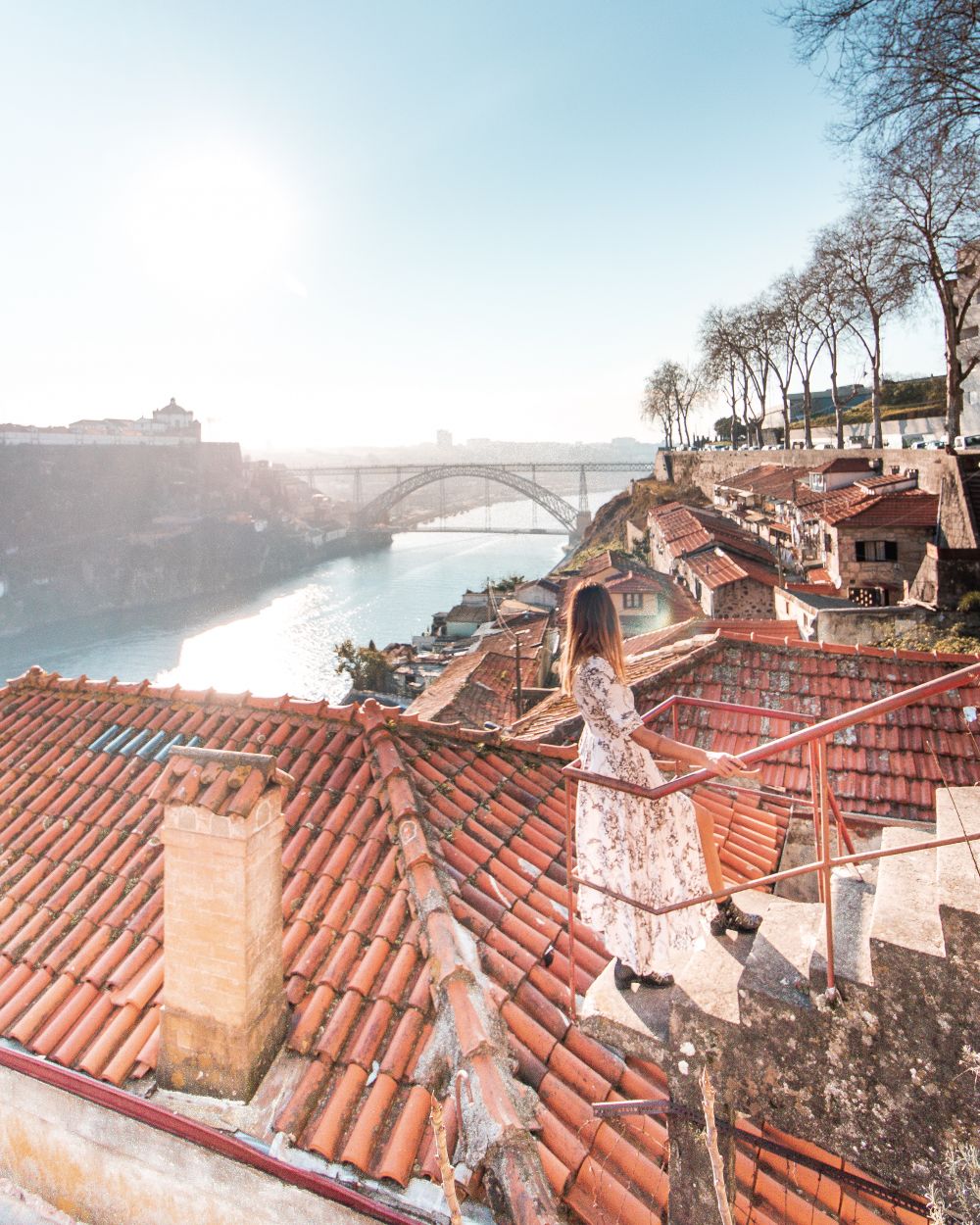 Recommended Food & Restaurants in Porto
Food
Porto is not only a paradise for photography aficionados, but also for foodies! Food in Porto is quite affordable and keep it mind it usually comes in big sizes.
These are the foods you need to try when in Porto:
Francesinha: a sandwich that features sausage, steak, cheese and lots of stuff. It's a bomb!
Bacalhau a grelha: if you enjoy fish, cod is a must-try when in Portugal.
Pasteis de Chaves: head to A loja dos pasteis de Chaves near Clerigos Tower to learn how these cod pastries are made.
Dozinhos: my favorite pastries, they're really good! They're available at a small stall in Sao Bento Railway station.
Restaurants
These are our recommended restaurants in Porto:
Traditional Portuguese: Bota & Bira, Cantina 32, Tapabento, Casa Guedes.
Restaurants with a Michelin star: Antiqvvm, Pedro Lemos, The Yeatman Hotel.
Vegan restaurant: Cultura dos sabores, Árvore do Mundo, Da Terra.
Cute cafés in Porto: Rota do Cha, Cafe Majestic, Vogue Café.
Cat café in Porto: O Porto dos Gatos.
Beach side terrace: Praia da Luz.
Related post: Recommended cafés in Porto
Where to stay in Porto
I don't recommend staying at an Airbnb in Porto as they are currently facing gentrification.
These are our recommended places to stay in Porto by areas:
Shopping in Porto
Porto is a real paradise for shopping addicts, too!
Our shopping recommendations in Porto:
You'll find well known international shops in Rua de Santa Catarina – do not miss the Bolhao market nearby to get a sense of the real Porto!
A beautiful shop that I like to visit when in Porto is A Vida Portuguesa, not far from Lello Library. It's my favorite place for souvenirs, travel accessories and it also has some Portuguese designers' creations.
My absolute favorite shop to visit is Armazem, not far from Alfandega do Porto: an old warehouse with antiquities shops, an art gallery and a tapas bar.
If you prefer to visit a shopping mall to spend the day shopping and go to the movies (because in Portugal they play movies in the original version) then pay a visit to Norte Shopping – it closes at midnight!
In Gaia, El Corte Inglés offers a free shuttle service from the Cable car station.
Related post: Portugal shopping guide
Packing list
5 items you should pack for your days in Porto:
Camera: you won't stop taking pictures!
Pack for the weather: The weather in Porto can change rapidly from rainy and cold to sunny and warm. Check the weather forecast before your trip and pack layers!
Reusable water bottle – tap water is drinkable in Porto.
Also…
If you're planning to take Instagram photos, pack yellow and red outfits to create the best color combinations.
You may need an umbrella during your days in Porto: you can borrow one from your hotel or buy a cheap one on the spot.
Related post: How to color coordinate your outfits in travel photos.
Getting around Porto
It's easy to walk around Porto and reach all the touristy spots on foot and in fact that's one of the best things about Porto. However, keep in mind that Porto is quite hilly, so make sure to wear comfortable shoes!
To reach further places you can use uber or public transportation. To use the metro, buses, and trams, just buy and recharge an "andante" card at the ticket machines at any metro stop. It's also the cheapest way to go to/from the airport!
Best day trips from Porto
Portugal is perfect for a road trip: there are so many amazing places to visit every few kilometers.
If you visit Porto, make sure you get to visit some of these places!
All the locations in the map
Click on the star next to the name of this map to save it for your trip!
If you've liked this post, pin it for later!