You Need to Visit Campeche: Here's Why
Little did I know about Campeche before arriving there.
We traveled to this lovely city after visiting other colorful places in the Yucatan peninsula, as Merida and Valladolid, but Campeche was the one that stole my heart.
Read on for some of the best reasons to visit Campeche on your next trip to Mexico!
Related post: Campeche Travel Guide
Campeche is the safest state in Mexico
¿Is it safe to travel to Mexico? Every year, millions of tourists prove it is. Despite some news, you should know that many states in México are really safe, as it happens in Campeche, the safest state in Mexico.
In Campeche is not dangerous to walk the streets, as it's a small and friendly city. As usual, use common sense!
Campeche historic center is a Unesco World Heritage Site
There are 10 UNESCO World Heritage cities in Mexico and Campeche is proud to be one of them.
Campeche has been listed because of its well preserved colonial historic center, its walls, and fortress, which are Campeche main touristic attractions.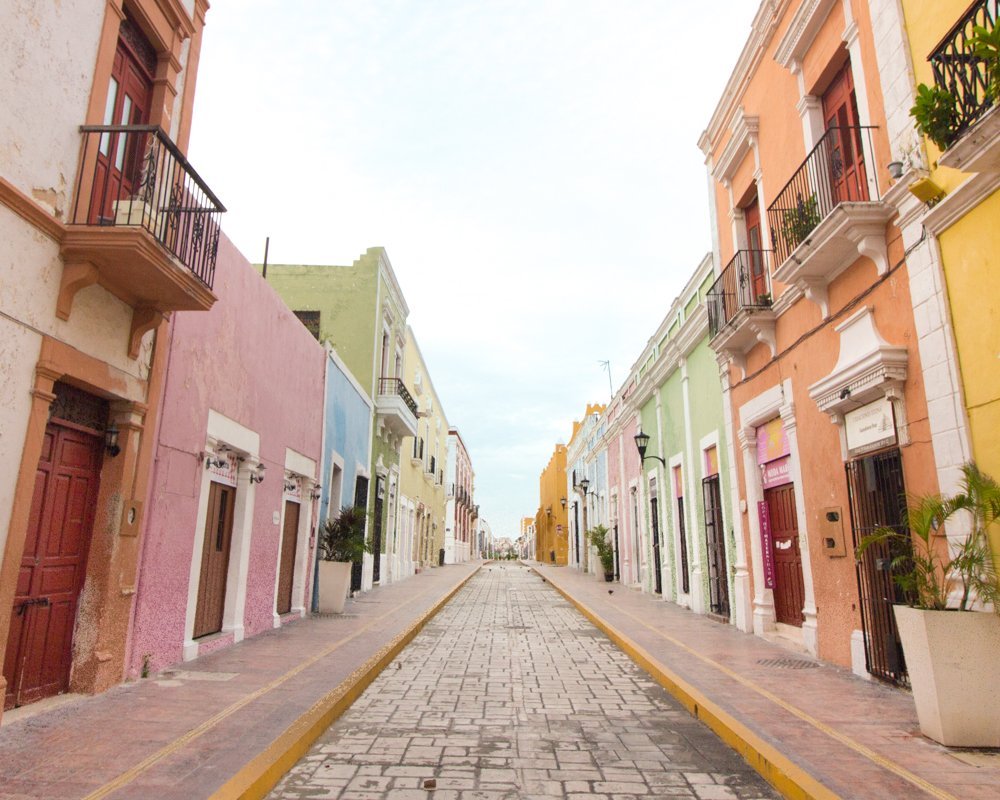 Campeche is the only walled fortress city in Mexico
Campeche is the only walled fortress city in Mexico.
The wall was built in the 17th century against pirates and it's still being preserved.
It's still possible to visit 2 forts: Fuerte de San Miguel and Fuerte de San José el Alto.
Campeche is a fairytale town
Campeche could be part of a Disney fairytale: pirates, colorful houses, forts and the kindest people. I could feel like a princess when I walked its colorful streets with a bunch of pigeons flying all over the place.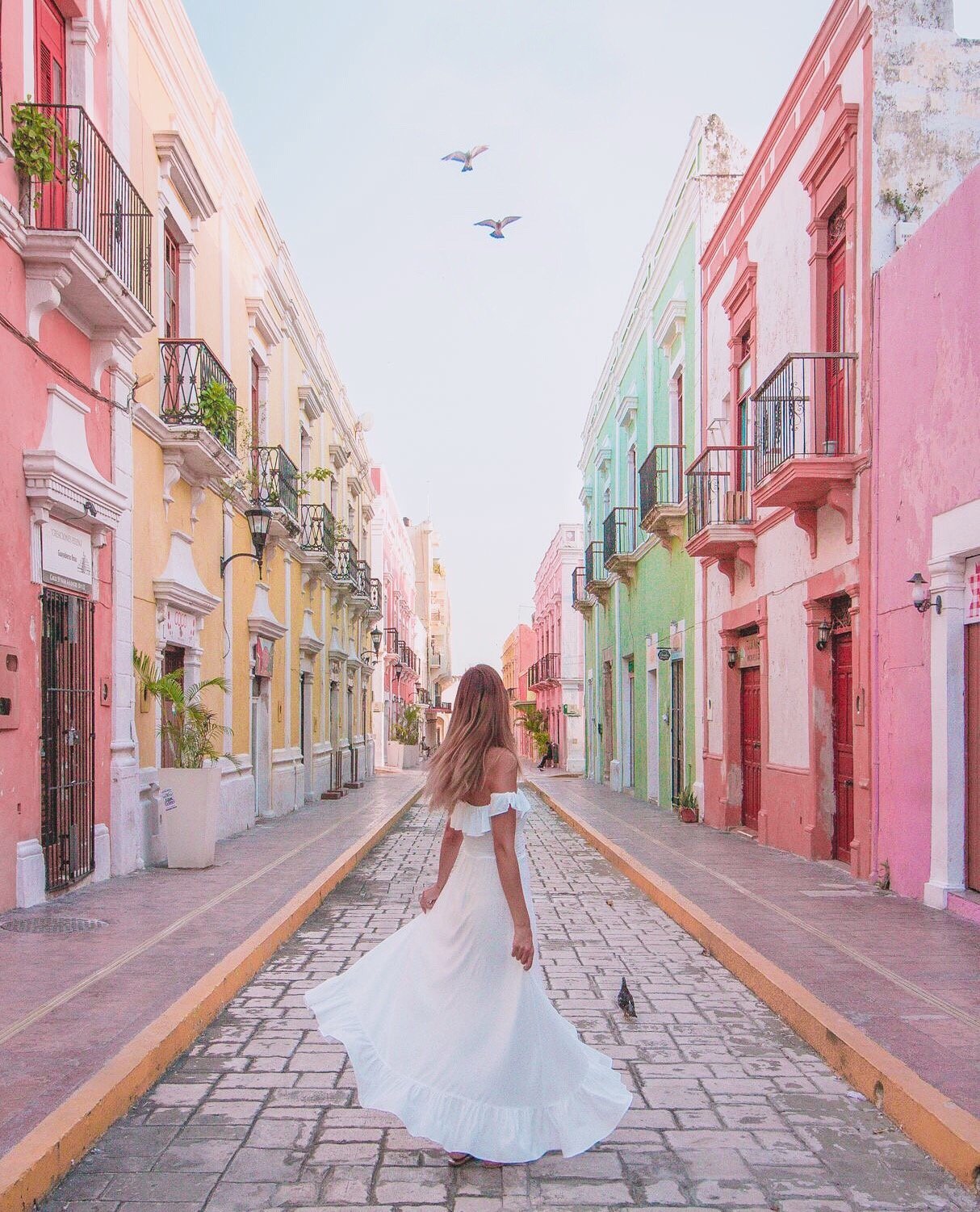 Campeche city is beyond pretty
Every corner in Campeche city is picture-perfect. Colorful houses and façades, walls and fortresses and lovely little cars every now make the perfect photo paradise!
Because of that, it's a popular location for wedding photography and we discovered it is a very instagram-friendly city, with plenty of instagram spots.
You can follow me on instagram to see more pictures from Campeche.
Look at these colors
I have a thing with colorful places. Rainbow-like locations like Procida and Jaipur are always my favorite, so I was no surprise when I fell in love with Campeche too.
Its historic center has been restored and every façade shines in bright pastel colors. I could spend hours taking pictures… actually I did!
There are incredible archaeological sites nearby
The state of Campeche counts with 17 archaeological sites – including Calakmul, the biggest Mayan city ever discovered. And there's more to be discovered yet.
Calakmul is a spectacular natural reserve – the second biggest in Mexico – and in the jungle, jaguars, birds, and butterflies live together with more than 6,000 archaeological structures.
Pretty close to Campeche, Edzná will blow your mind. It's already the number 1 on the archaeological sites I've visited in Mexico so far. It has to be also on the top of my list of the most incredible archaeological sites I've ever visited along with Angkor Wat in Cambodia, Acropolis of Athens and Colosseum of Rome.
The impressive 5-story pyramid is 39m high and the most shocking thing about this place is that the inhabitants built a system of channels to store and distribute the water from the rains to use it in the dry season.
I promise it will leave you speechless.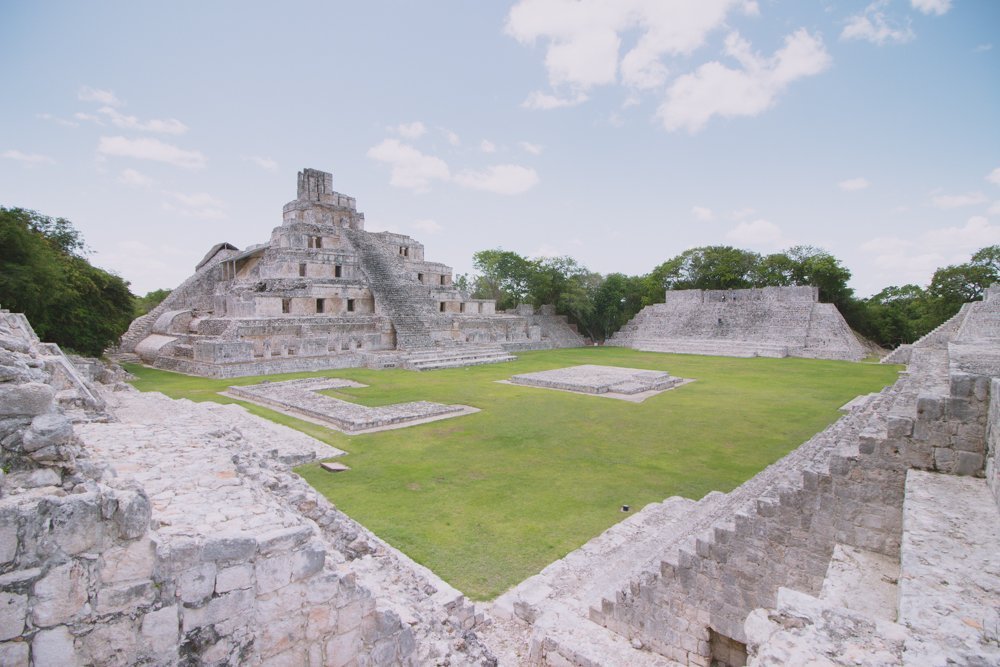 Campeche remains untouched by tourism
Campeche still remains untouched by tourism and I believe that's one of the major reasons why I fell in love with it.
During my first visit to Mexico, I was staying in an awesome all-inclusive hotel in Riviera Maya and I loved it, but I missed the possibility of exploring the authentic Mexico. I was lucky to come back to this amazing country and discover places like Campeche!
Campeche has an international airport and is not too far from Mérida, or even Cancun, being easy to include it in any trip to Yucatán. I'm sure that more and more tourists will decide to include Campeche in their itineraries soon.
Sunsets in Campeche are unforgettable
The perfect way to end the day in Campeche is to visit the malecón. Some will have a walk, some will go for a run. My recommendation? Just head to the sculpture "La novia del mar" (Sea's girlfriend) and like her, fall in love with the view.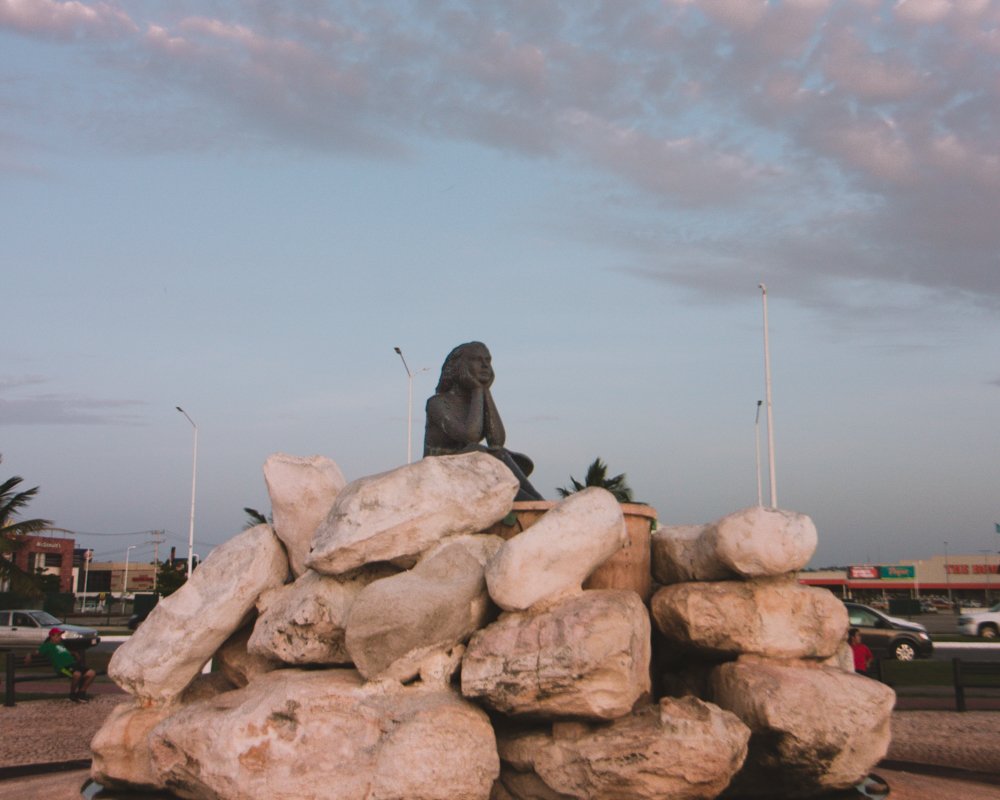 Campeche has some beautiful hotels
If you're looking to stay in a traditional place, with history and charm, then you should go for an authentic traditional Mexican hacienda. 2 awesome haciendas (Uayamón and Puerta Campeche, part of Luxury Collection) are waiting for you in Campeche. Its facilities, decoration, and location are awesome.
Campeche has a wide variety of accommodation for all types of travelers and budgets. We were staying at Hotel Boutique Casa Don Gustavo and we can highly recommend it for its location, decor, swimming pool, staff and value per money.
If you'd rather stay in a hostel, Hostal Boutique Casa Balché has some of the most epic views in town.
Recommended hotels in Campeche: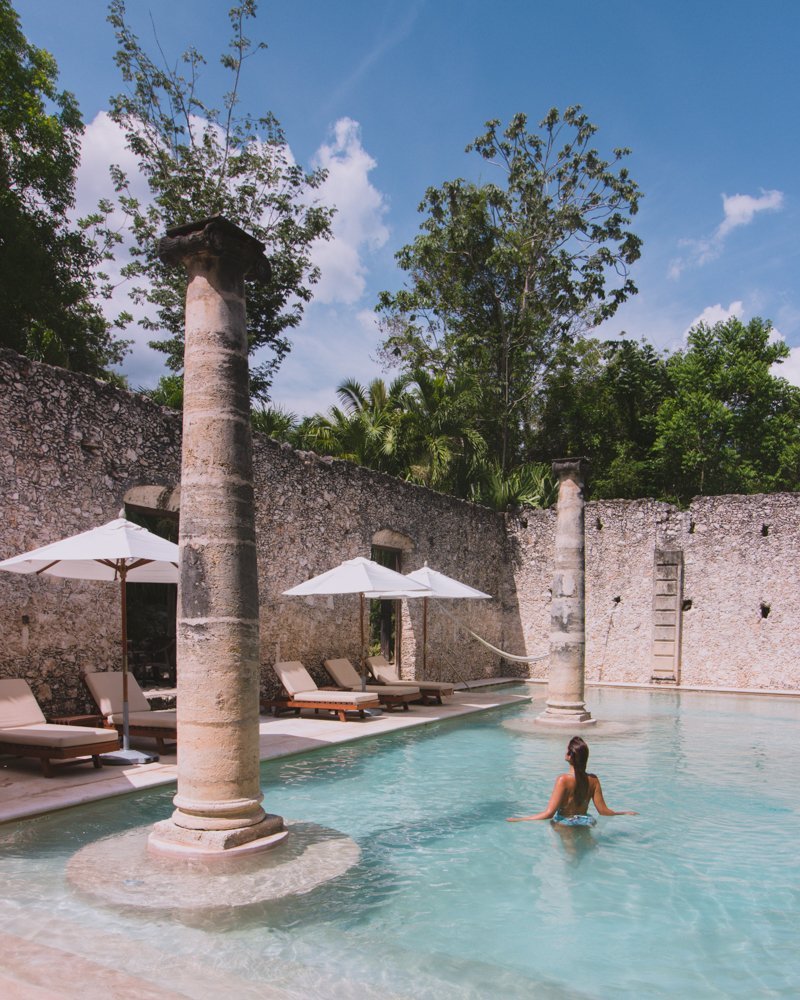 Food in Campeche is delicious
Given the location of Campeche, its gastronomy is well-known for its excellent seafood, is also influenced by the Maya culture. Food justifies the trip to Campeche!
These are the dishes you need to order when in Campeche:
Pan de cazón (dogfish)
Camarones al coco (shrimps with coconut)
Manitas de cangrejo (crab)
Pámpano en escabeche (pompano fish in pickled onions)
Pulpo a la Sir Francis (octopus)
Chile habanero, being Campeche one of the biggest producers in Mexico.
Recommended restaurants in Campeche city:
La Pigua
El Bastión
Los Portales de San Francisco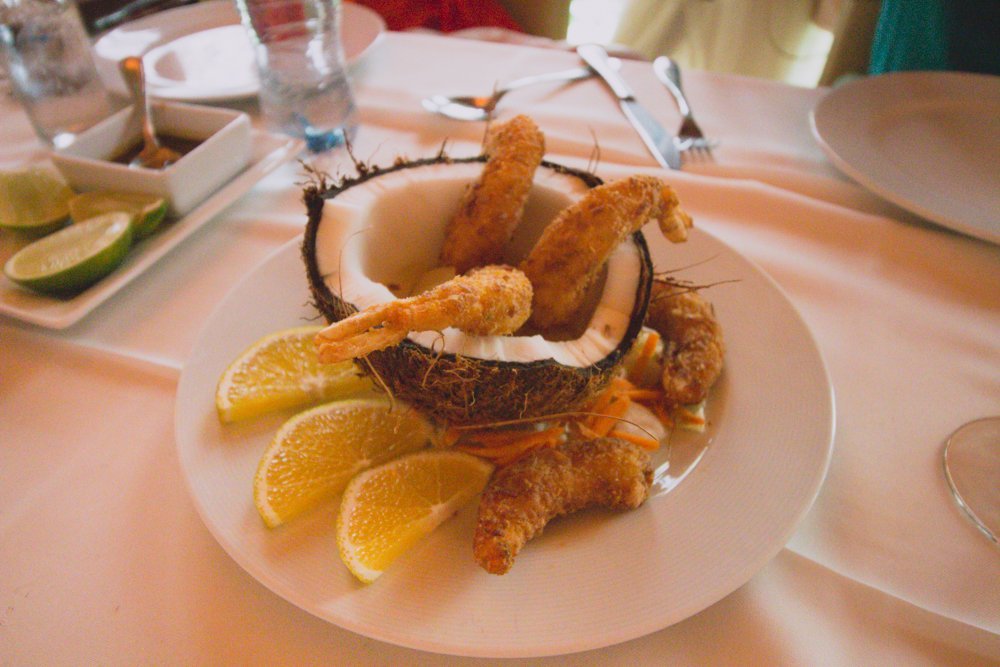 You will discover how jipijapa hats are made
In Bécal, a small town close to the border with Yucatán, 70% of the people work every day creating the jipijapa hats (also known as Panama hats). Here is where most of the hats you can buy along the country are made.
We visited la tienda de Alfredo in Bécal and he showed us how they use the jipi leaf to make them. The hats are elaborated in a cave under the family house, as humidity and warmer temperatures make it easier to elaborate them.
Campeche is an inclusive city
Campeche city is an example that needs to be followed. It's an inclusive and smart city, 100% adapted for visually impaired pedestrians with tactile paving on the sidewalk and location written in Braille in every corner.
The same happens in museums and public spaces. ¡Viva Campeche!
Campechanos are the kindest
I was really surprised by the kindness of the Campechanos. Actually I shouldn't have, as the word campechano could be translated as hearty, kind and cordial. Thank you for everything, Campeche.
You better go and check it by yourself. Campeche is waiting for you!
If you've liked this post, pin it for later!