Best Rooftop Restaurants in Marrakech
Marrakech rooftops are the oasis you need to escape from the hustle and bustle of the souks. Here you will find my top picks for a first timer in Marrakech.
You will find all the locations on the map at the end of this article – keep reading!
Marrakech Food Tips
It's highly recommended to book a food tour in Marrakech. This way, you'll learn about spices from a local, you'll taste Moroccan delicacies in the souks, and you will savor a traditional dinner in Jemaa el Fnaa square.
Jemaa el-Fna stalls: nothing seems more authentic than eating at a stall in Jemaa el-Fna square. Be careful, some of these places are not always a good option and sometimes they lack hygiene.
My favorite meal in Morocco was during my stay at Scarabeo Camp, in the Agafay desert. If you have extra time book one night in the desert: you won't regret it.
Good news: it's easy to find vegetarian alternatives in all restaurants!
What to eat in Marrakech
Orange juice: a must-drink at Jema el-Fna square. Moroccan orange juices are world-famous for being tasty and refreshing!
Tajine: a Moroccan dish named after the pottery where it's cooked in. It contains couscous and either meat, vegetables or both.
Pastilla: a meat pie that is usually served as a starter, but you can also find it as a dessert.
Harira: traditional Moroccan soup made with tomatoes, lentils, chickpeas, etc… that is usually eaten after Ramadan.
Moroccan mint tea: you will get invited to a cup of tea every time you check-in at a hotel or shop. It's delicious!
Top Picks for Rooftop Restaurants in Marrakech
Cafe de France
One of my favorite sunsets in Marrakech was from Cafe de France.
Cafe de France has one of the best views over Jemaa el Fnaa square – 100% recommended!
Atay Cafe
If you're looking for the best views in Marrakech, that doesn't mean you cannot get out from Jemaa el Fnaa and the Koutoubia mosque area. A great example of this is Atay Cafe, a cute rooftop in the heart of the Medina – the views from up here are stunning!
Prices are very reasonable (it's probably the cheapest from the list) and service, decor, and views are really worth it.
Cafe Kif Kif
Cafe Kif Kif features a lovely rooftop with a view to Koutoubia mosque – it was one of my favorite picks for sunset.
The view to the Koutoubia mosque is exceptional, but the terrace is quite small. Make sure to book your table in advance!
Nomad
Nomad is the most famous restaurant in Marrakech, and it's for a reason! Nomad's rooftop has several levels and it's the bigger from the list, anyways you should book your table in advance.
It's perfect for sunset!
Cafe des Epices
Cafe des Epices is one of my favorite restaurants in Marrakech, located in the Spices square.
The atmosphere is very chilled and I really love their chicken tajine with pears – I always go for it every time I visit Marrakech!
Kabana Food & Cocktails
The newest and coolest spot for sunset drinks and dinner is Kabana. It's also the highest drinking hotspot in the Medina!
It's highly recommended for cocktails. Plus, they have 2 chefs specialized in sushi and Mediterranean flavors – I went for the sushi and I totally loved it!
Plus, it has live music and Dj's every weekend.
MY Kechmara
If you're looking for great Western food while getting out of the touristy area, your place is MY Kechmara in Gueliz, the French quarter of Marrakech.
This rooftop restaurant and bar serves the best burrata in Marrakech – enjoy!
Ksar Kasbah
Ksar Kasbah is a wonderful place to stay in a much quieter area of Marrakech, not far from El Badi Palace and Saadien Tombs.
Everything is really cool at Ksar Kasbah, and so is its rooftop. 100% recommended!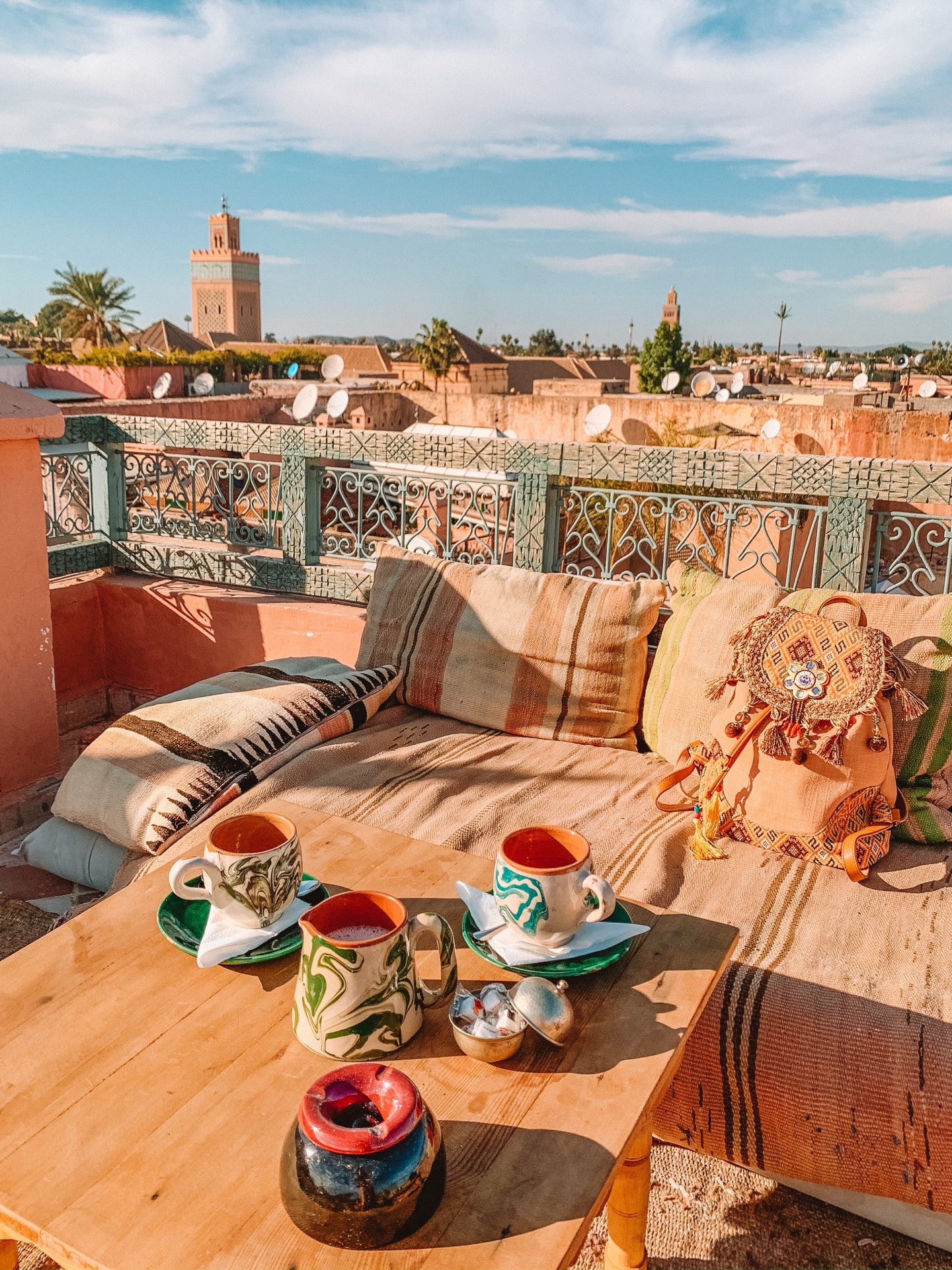 Riad Marrakech by Hivernage
We stayed one night at Riad Marrakech by Hivernage so we could easily visit the Koutoubia mosque for sunrise the next day: it's just 5 minutes away.
Turned out, it has a lovely rooftop with a view where they serve breakfast: we really enjoyed it.
Le Salama
Le Salama is one of the most famous restaurants in Marrakech. It's touristy, and you either love it or hate it.
I loved all the decoration details, we enjoyed an impeccable service and the food was delicious, one of the best we had in Marrakech.
The belly dance show though is a bit too touristy for my particular taste, but it's great fun for some.
You need to visit it and decide by yourself (spoiler: you won't be disappointed by the food – it's fabulous!).
Argana
Jemaa el Fnaa square has plenty of options when it comes to rooftop bars and restaurants. You can't really go wrong if you're looking for sundowners with a view!
Argana was perfect for sunset drinks – although they also serve food.
You will find it right in front of the fruit stalls.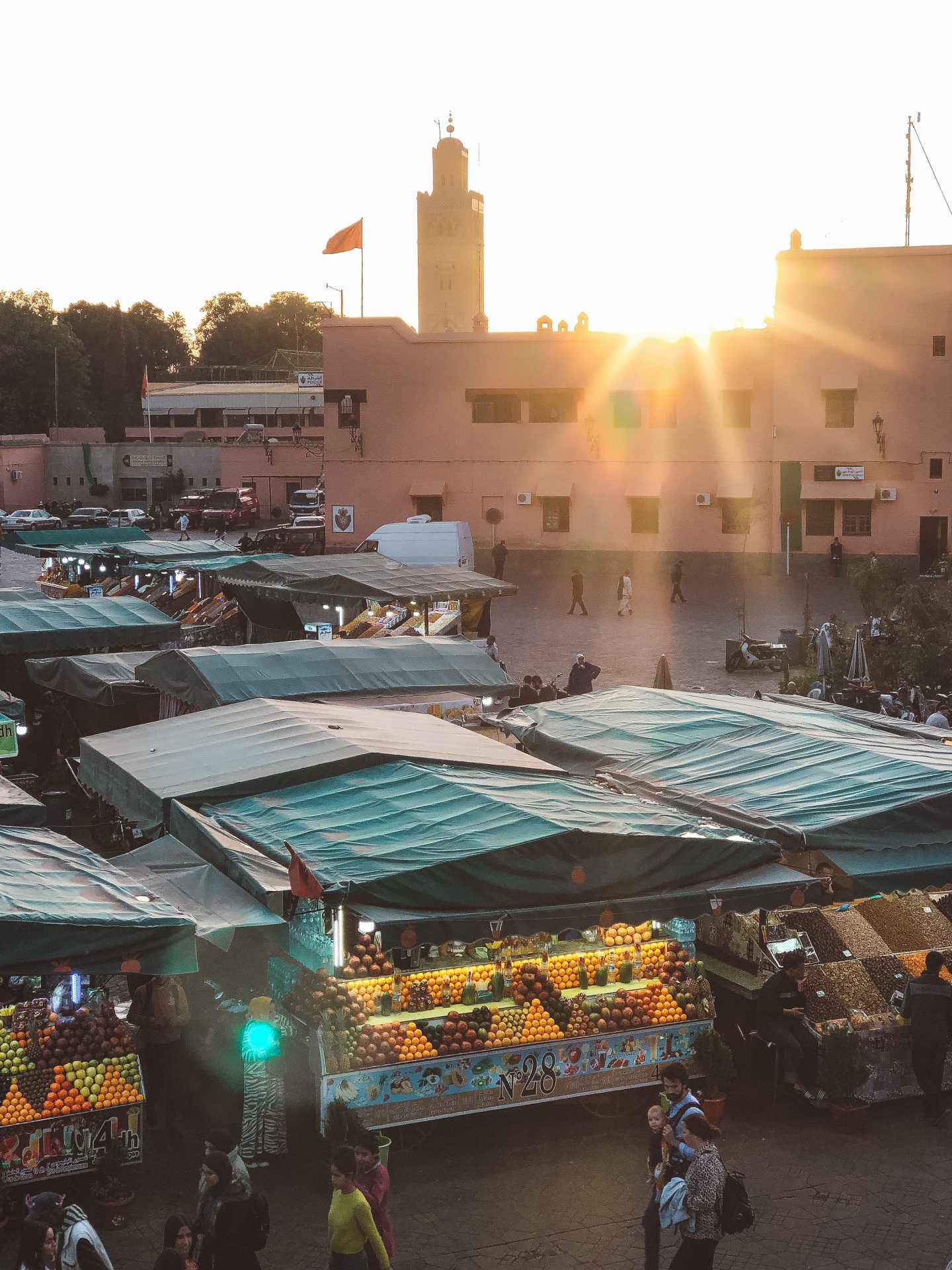 Museum of Photography
We visited the museum of Photography in Marrakech where they have photos from the old days in Marrakech. It was really nice to see that Marrakech hasn't changed that much, being Jema el Fnaa frequented by dancers and snake charmers like nowadays.
The biggest surprise was the rooftop upstairs, small and cozy and yet again, with a beautiful view.
PS: Le Jardin
Le Jardin is the only restaurant from the list that doesn't actually have a rooftop. However, it's located in a lovely courtyard full of plants, lovely decor, and even birds so it feels like an outdoor place and it deserves a spot on this list.
Le Jardin is a very good restaurant with gorgeous food – you shouldn't miss it when in Marrakech!
Map of locations
Click on the star to save this map to your device!
If you've liked this post, pin it for later!