Sahara Desert Tour
One of those experiences we all want to have at least once in our lifetime: visiting the sand dunes in the Sahara desert!
After a few trips to Morocco, I finally made it and I couldn't be happier about it.
We went on a private 3 days tour from Marrakech to Merzouga and coming back to Fez.
Day 1: Marrakech – Aït Ben Haddou – Ouarzazate
(370km)
Pick up in Marrakech: Our driver Hamid picked us up from our riad in Marrakech and off we went! Our adventure started.
High Atlas Mountains: not long after leaving Marrakech, the first surprise of the tour happened. We arrived in Tizi-n-Tichka mountain pass that links the southeast of Marrakech to Ouarzazate through the Atlas Mountains. The views are breathtaking from up here, with winding roads, snowy mountains, and Berber villages.
Aït Ben Haddou: one of the highlights of the day was visiting this UNESCO World Heritage site that is now famous thanks to Game of Thrones and Gladiator.
Ouarzazate: known as the gateway to the Sahara desert, Ouarzazate is also a popular location for all types of movies. They even have a theme park about it!
Dades Valley: we spent our first night on our way to the desert with a view to Gorges du Dades.
Day 2: Dades Valley – Toudra Gorges – Erg Chebbi
(280km)
Ziz Valley: literally an oasis in the middle of the desert. It was surprising to see the colors of the palm trees in between the mountains.
Toudra Gorges: another breathtaking location in Morocco is this limestone canyon.
Sunset in Erg Chebbi: we arrived at the sand dunes in Erg Chebbi right on time for the golden hour and it was pretty magical. The sand dunes look like mountains from afar and the color of the sand is unbelievable. It's definitely one of my most beloved travel memories.
Where to stay in the desert: After dinner, we headed to our luxury tent at Dihya Desert Camp. There, we enjoyed a beautiful dinner and we dance to the rhythm of the drums under the stars! It was unforgettable.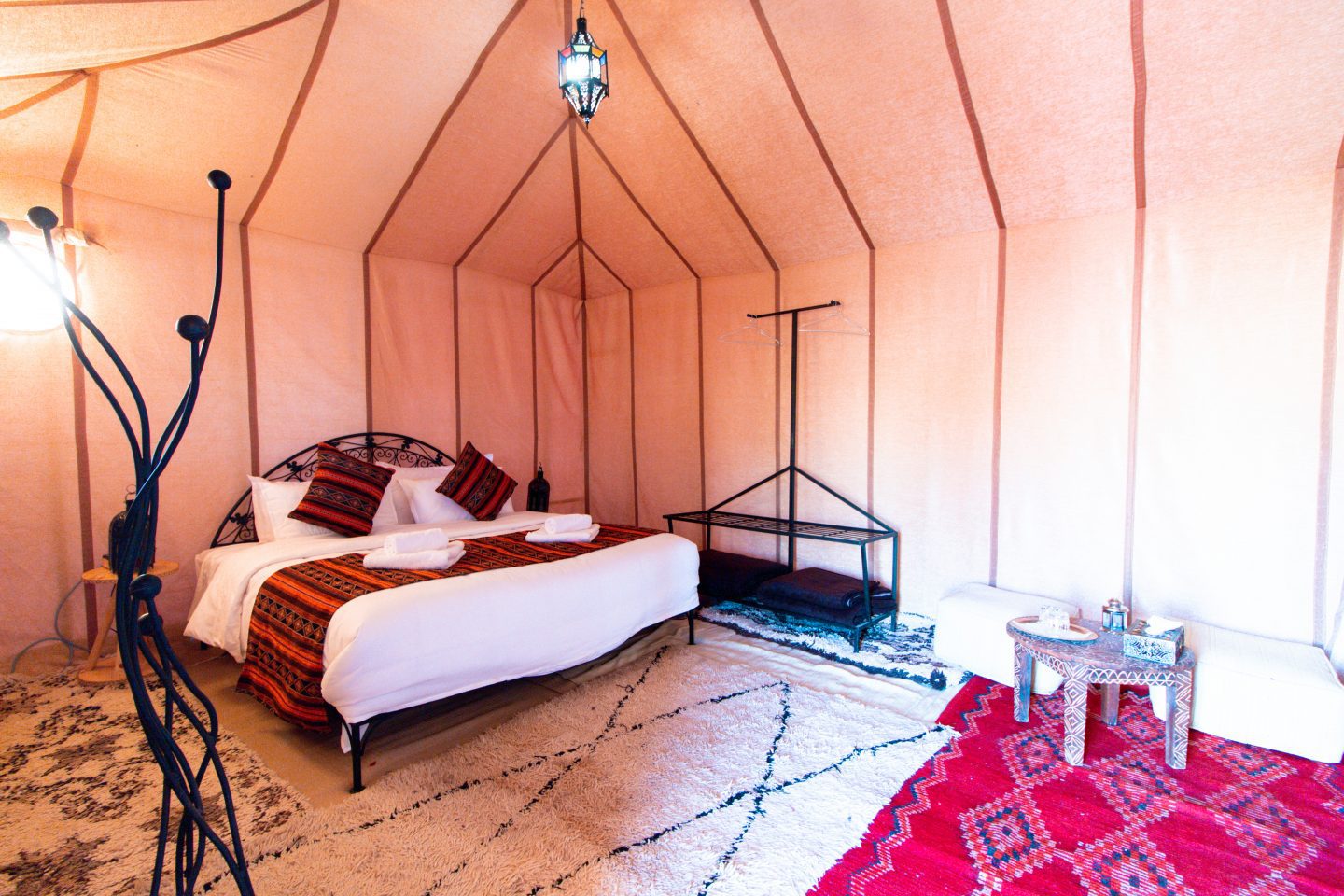 Day 3: Merzouga Desert – Ziz Valley – Azrou – Ifrane – Fez
(460km)
Sunrise in Merzouga: we woke up before sunrise to experience sunrise in the sand dunes. It was really beautiful.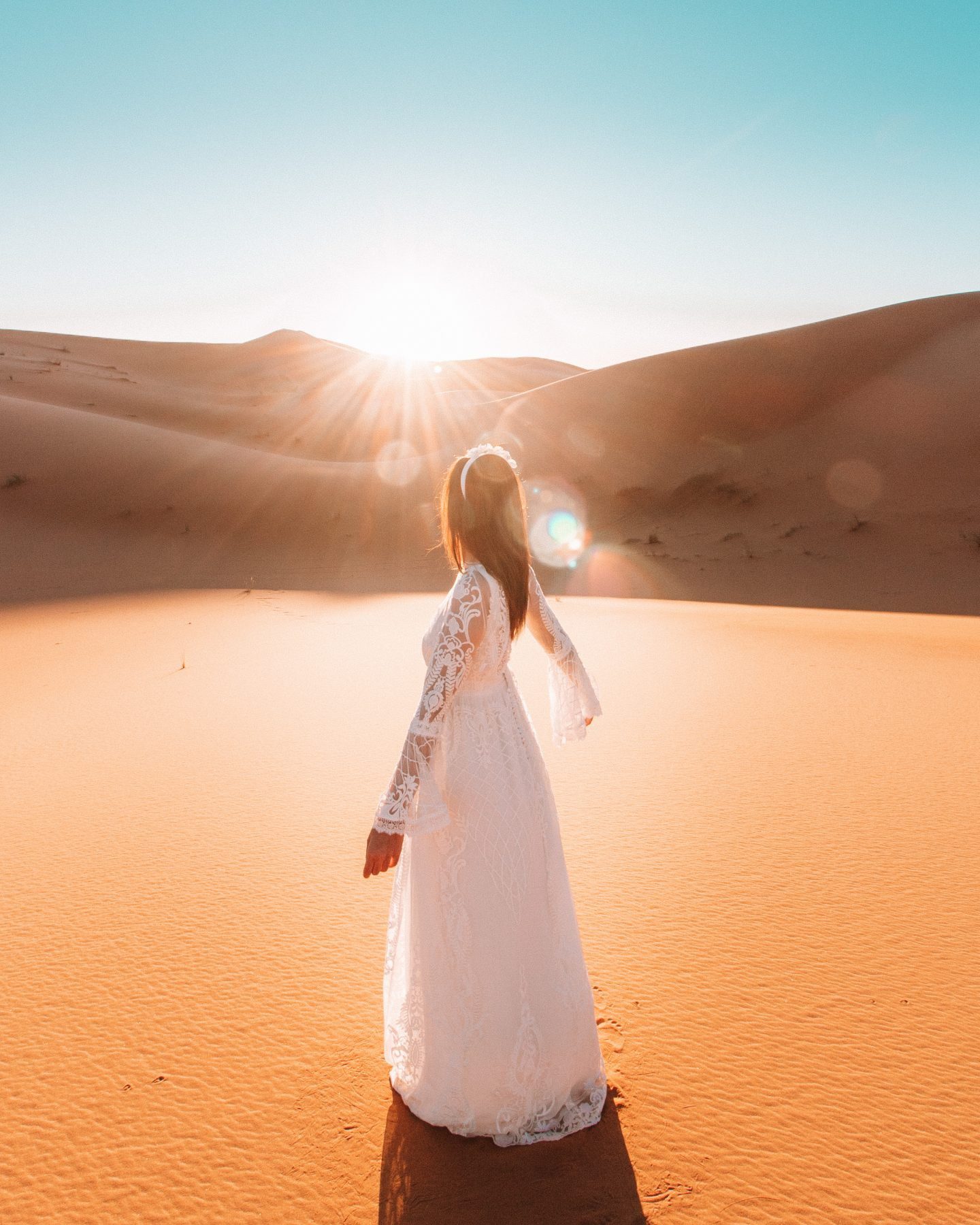 Mid Atlas Mountains Morocco never ceased to amaze us. Not far from the desert, the landscape changed completely. Again, we've found snow on our way to Fez. In only one day we've experienced all types of weather and very different landscapes. Sometimes it looked like the USA, sometimes like Ireland, sometimes like Switzerland… Morocco is one of its own.
Azrou Cedar forest: we were very lucky to meet the apes here!
Ifrane: Ifrane is known as the Switzerland of Morocco.
Arrival in Fez: after 3 days on the road, we finally arrived in Fez. Ready for the next adventure!
Read more:
If you've liked this post, pin it for later!