Sharjah Travel Guide
Have you ever heard about Sharjah? It's part of UAE, and it's less than 30 minutes away from Dubai.
I've been recently invited to Sharjah and I was really surprised by its diversity. It has something for everyone: culture, nature and archeological sites.
Given its proximity from to Dubai, Sharjah is the perfect escape for those who want to add more to their itinerary in UAE.
10 Things To Do in Sharjah
Visit the Heart of Sharjah
The Heart of Sharjah is the largest project in UAE in terms of preservation and restoration.
Go shopping!
You know shopping is part of the experience in UAE, and Sharjah is no exception.
Do not miss the souks in the Heart of Sharjah:
Souk Al Arsa: the oldest marketplace in UAE.
Souk Al Shinasiya: one of the oldest souks in the region.
Other shopping experiences you may want to experience:
Al Noor Mosque
Al Nour Mosque is the most famous in Sharjah. There are 600 mosques more for you to explore!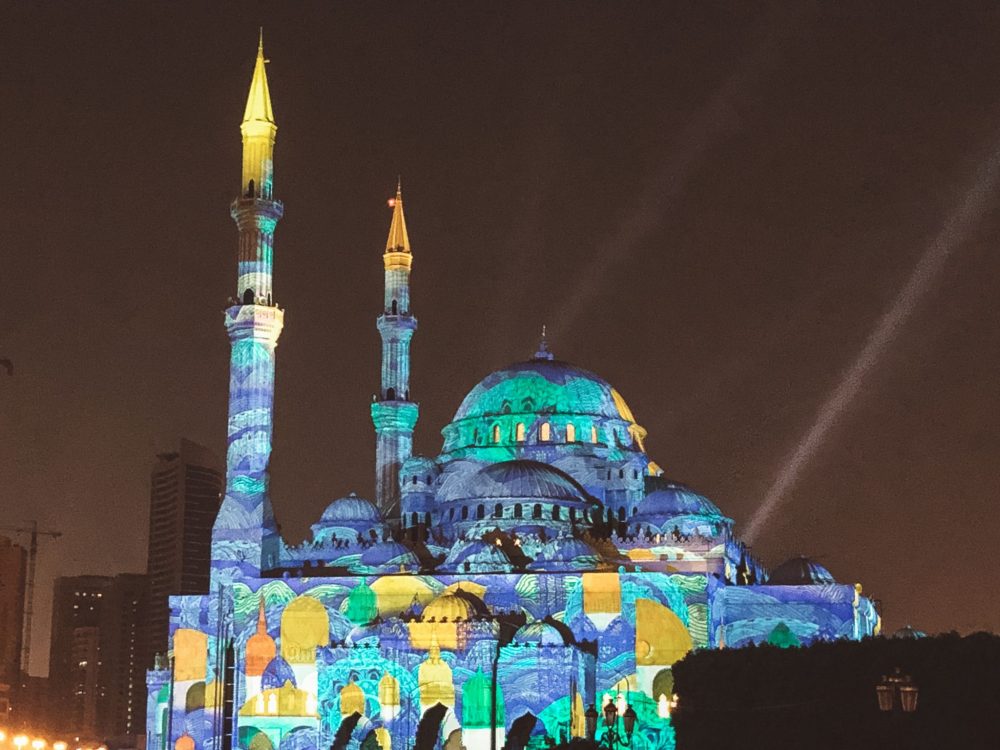 Al Noor Island
If you're looking for nature, search no more.
Al Noor island is an oasis in the heart of the city. Just cross the bridge and get ready for a pleasant and relaxing walk in the nature.
Rain Room
Rain Room is an immersive installation that invites everyone to walk under the rain without getting soaked, thanks to a system controlled by 3D cameras.
This installation uses 2,500 liters of self-cleaning water and it's its first time in UAE after being at the Barbican in London, MoMA in NY and LACMA in Los Angeles.
We were lucky to be there while some dancers were performing, which was really magical!
Tickets are sold online and on site at Sharjah Art Foundation (25 AED). Click here to buy yours.
Al Qasba
Al Qasba is the Venetian part of Sharjah. It's truly a magical area, with pedestrian bridges, shops, terraces and the Ferris wheel in the background.
https://www.instagram.com/p/BsIj4cBHv9u/
Mleiha desert
Mleiha is a trip back in time.
You can easily spend the whole day visiting the museum and archaeological sites, dune bashing in the desert to Fossil Rock, where the fossils show up when pouring a bit of water – showing that this desert was under the sea years ago.
Kalba Conservation Reserve
Al Qurm Nature Reserve, located in Sharjah's East Coast is home for the most northern mangrove forest in the world.
This place is perfect for those looking for a tranquil escape and feel the nature. Main activities here are bird-spotting (like the kingfisher) and kayaking its crystal clear waters to find sea turtles.
Treat yourself with real Emirati food
Have you ever tried Emirati food? Hint: it's delicious!
I had a lovely lunch at Al Fanar in the Corniche area that included fatoush, samboosas, machbous and beryani.
I also had a welcome 5 course dinner at Al Bait Hotel, which was truly memorable.
It wasn't difficult to follow a vegan diet when in Sharjah. There were always veggie options in every hotel and restaurant I visited.
Sharjah Light Festival
I was lucky to visit during Sharjah Light Festival, celebrated every year during 10 days in February. I really recommend you visiting Sharjah during this time of the year!
2019 edition had 17 different sites across the city with mapping and music shows. There is no entrance fee so everyone is welcome to celebrate the festival every night in any of the sites. Plus, during Sharjah Light Festival there's an impressive circus-like closing show every night at the lake that ends up with magnificent fireworks!
You can check more information about Sharjah Light Festival here.
How to get around in Sharjah
Taxi / Uber
Getting to Sharjah from Dubai is very easy by taxi or Uber, as it's just 30 minutes away. Keep in mind that you'll need cash if you use a taxi – they don't accept credit cards yet.
Local buses
You can also use public buses to get from one place to the other but first you'll need to buy a Hafilat card. They are available for 5 dirhams at vending machines and bus stations, and you can use them to get around Sharjah and to travel between other Emirates too.
Keep this in mind
Many people choose Sharjah as their home: prices are cheaper than in Dubai and life pace is quieter. This means that many commute everyday to work in Dubai and traffic can get really – just keep this in mind when planning your journeys, especially if you're heading back to the airport!
Useful info
Currency
Currency in Sharjah is AED (Emirati Dirham). You will mostly need cash if you're planning to use taxis, as they don't accept credit cards just yet – you can use Uber to pay with your credit card. Credit cards are accepted anywhere else.
Type of plugs
The electrical current is 220/240 V, 50 Hz AC. Type G / British-style 3-pin electrical plugs are used.
Click here to buy my universal charger.
Alcohol
Sharjah is the only emirate that is 100% dry – alcohol is not served, not even in luxury hotels.
Where to stay in Sharjah
Al Bait Sharjah
Al Bait Sharjah is the newest luxury 5* heritage hotel in the Heart of Sharjah.
I really loved this place. It's like a labyrinth (I literally got lost several times!), the service is excellence and the architecture couldn't be better. It's part of Heart of Sharjah so it's very well preserved and it has an easy access to the souks.
If you're looking for a special place for your days in Sharjah, stay in Al Bait.
Check here availability and rates.
Kalba Kingfisher Lodge
Kalba Kingfisher Lodge's highlight is the possibility of spotting turtles when kayaking. Go there if you're looking for tranquility.
Check here availability and rates.
Sheraton Sharjah
If you're looking for a beach escape in Sharjah, there's a Sheraton with a private beach with a unbeatable view to Sharjah's skyline.
Check here availability and rates.
Dress code in Sharjah
Sharjah is more conservative than the neighbor Dubai. Because of that you'll need dress appropriately covering your shoulders, cleavage and knees – especially when visiting the city. When visiting the desert or the seaside you don't need to care as much about it.
I packed midi and maxi dresses that I combined with a denim jacket, a shawl or a kimono and sandals. They were perfect for the sunny weather!
Don't forget to pack your sunglasses and a hat, as well as sunscreen!
Get the look

When to visit Sharjah
Best time to visit Sharjah is from October to April, as in the rest of UAE. I visited Sharjah in February and the weather was really nice! Plus, it's when Sharjah Light Festival takes place – do visit during this time of the year!