Abu Dhabi Day Tour From Dubai – Sheikh Zayed Grand Mosque and Louvre Museum
Abu Dhabi is home for a few architectural wonders – and I didn't want to miss any them! It's easy to visit Sheik Zayed Grand Mosque and Louvre Museum on a day trip from Dubai, so I did.
Sheikh Zayed Mosque
First stop in our tour was Sheikh Zayed Grand Mosque, an architectural wonder that mixes old and modern Islamic architecture. This place alone justifies a trip to Abu Dhabi.
If you have a long layover in Abu Dhabi's airport, GO. If you're visiting Dubai and can use one of your days to visit the mosque, GO. I promise you won't regret it, it's one of the best things you can do in UAE.
Facts
Sheikh Zayed Mosque construction started in 1996 and was finally opened to the public in 2007.
It's one of the largest mosques in the world.
It costed 2 billion dirhams, around 545 million USD.
It's home for 2 World Guiness records: the largest carpet and the largest chandelier in a mosque.
It has 82 domes and 1,144 columns, in a space of 22,000 square meters.
It has a capacity for 40,000 worshippers.
Visiting timings
Daily: 9 am to 10 pm (last entry at 9:30 pm).
Fridays: 4:30 pm to 10 pm (last entry at 9:30 pm).
Free tour
There's an informative free tour starting every hour from the tourist desk, but you can visit the mosque on your own, too.
If you plan to visit the mosque for sunset, join the group starting at 5 pm. Go well ahead in time to make sure you're in!
Best time to visit
Early in the morning: if you want to avoid the crowds, visit the mosque when it opens (9 am), before the day tours from Dubai arrive.
During sunset: the most magical time of the day to visit the mosque is for sunset. The light is beautiful and you can see how it's lighten up when it gets dark.
At night: the mosque looks really beautiful at night with the lights!
Ticket price
Sheikh Zayed Grand Mosque price ticket is free.
Dress code
You may wonder how to dress at Sheik Zayed Grand mosque. You've have seen pictures of visitors covering their hair and wearing a long dress.
As a female, the easiest thing is to wear the abaya, this traditional loose dress. Abayas are provided for free at the mosque or by the tour operator you're traveling with. Make sure you're covering your hair.
Don't forget to wear sunglasses as the place is really bright, with the sun reflecting in the marble.
Extra tips
Keep your ticket until the end of the visit as they will ask you for it at the praying rooms.
Tripods and selfie sticks are allowed.
When posing for a photo, don't make funny poses, touch or hug your partner. If you do so, they will ask you to delete the photo. If they do, please delete the photo and don't argue.
There's a coffee club inside the mosque if you want to stop by before heading to your next stop.
Louvre Museum
Louvre Museum in Abu Dhabi may be smaller than its brother from Paris, but this doesn't mean it's not worth the visit.
The first thing that catches your attention when visiting the building is its huge dome, that weights exactly the same as Eiffel Tower (7,500 tons!). This dome creates a beautiful effect inside the space that looks like a rain of light.
I've said space because under this dome, Louvre museum feels like an open space. It's surrounded by water and you can actually access the museum by boat – how awesome is that? It feels like you're somehow floating in the water but under a rain of light. It's really worth the visit if you're into architecture.
The numbers: Louvre Abu Dhabi was built in 2018 and they paid 5,45 million USD just to use the name Louvre for the next 30 years. Let's see if the name changes in 2048. Plus, 700 million USD have been paid to different museums all around the world to bring more than 100 unique pieces of art. When I visited, there was a gallery dedicated to Rembrandt, Vermeer and the Dutch Golden Age.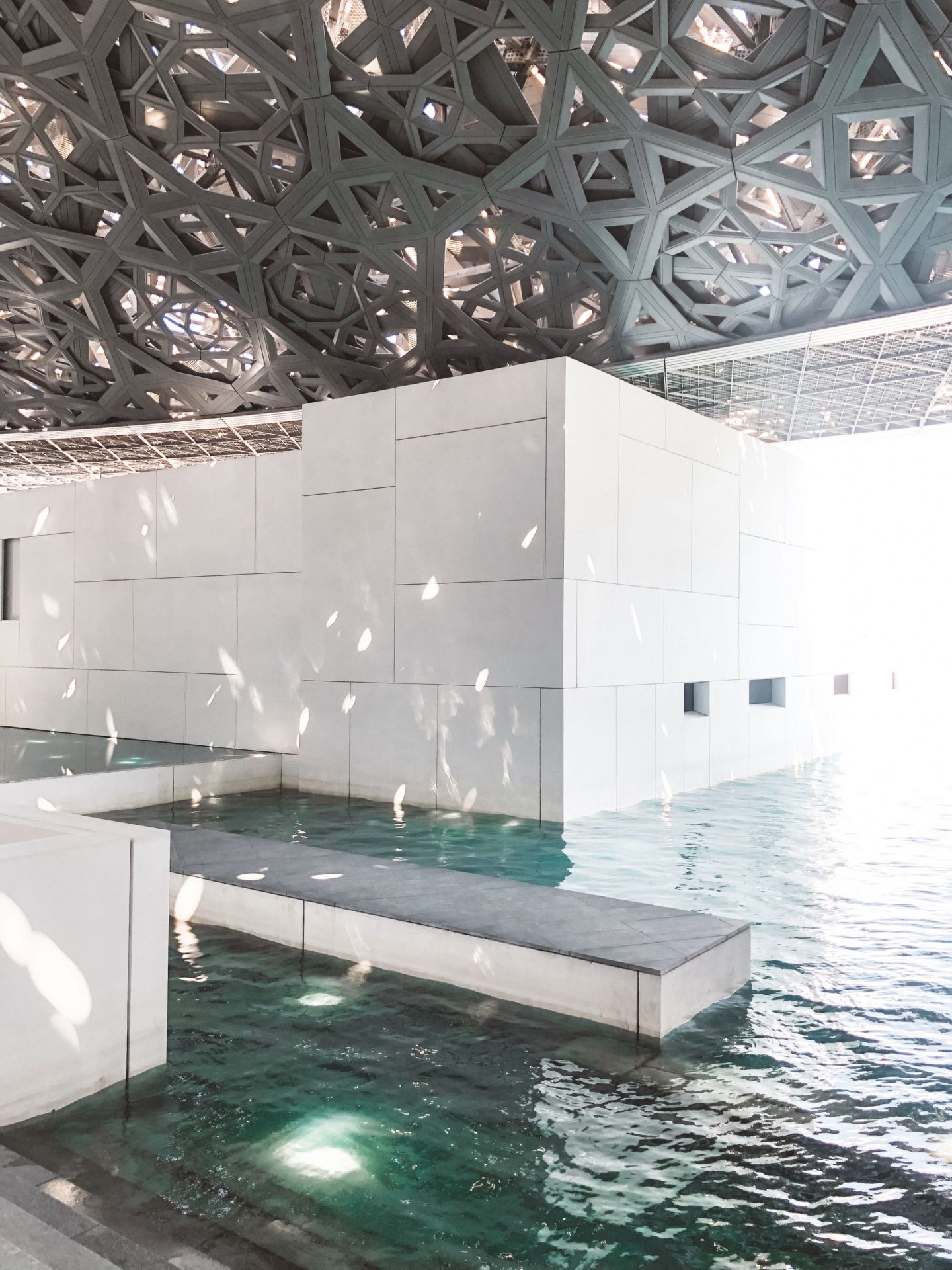 Ticket price
Louvre Abu Dhabi museum day pass costs 63 AED (around 15€). Ticket price is included if you're visiting on a day tour as I did.
Opening hours
Mondays: closed
Tuesdays, Wednesdays, Saturdays and Sundays: 10 am – 8 pm
Thursdays and Fridays: 10 am – 10 pm
Last entry is 30 minutes before closing
Things you need to know
Tripods and selfie sticks are not allowed. They will be kept at security control with your name so you can get it back again once you've finished your visit.
As in most museums, flash is not allowed.
There's wifi included! Ask for the wifi password once you've got in.
You can download the official app to follow the auto guides throughout all the exhibitions.
There's a cafe inside the Louvre if you need to stop for drinks!
How to visit Abu Dhabi's Grand Mosque and Louvre Museum in Abu Dhabi in one day
Taxi / Uber
It will take you around 20 minutes to get there from Abu Dhabi's city center, and around 1 hour and a half from Dubai.
Keep in mind that taxis in UAE are meant to be paid in cash. If you'd rather use your credit card, use Uber.
Use the code 95v9p8hbue for 5€ off on your first Uber ride.
Local buses
The cheapest way to get around Abu Dhabi and United Arab Emirates is on local buses.
Before using any bus, you need to buy a Hafilat card. They are available for 5 dirhams at vending machines and bus stations, and you can use them to get around in Abu Dhabi and other Emirates too.
However, keep in mind that you will need a combination of buses or even add a taxi journey depending on your route. It will take definitely longer.
Day Tour from Dubai
The easiest way to visit Abu Dhabi's Grand Mosque and Louvre Museum in one day from Dubai is on a day tour.
This was my selected option and I didn't regret. I partnered with Ocean Air Travels, who picked me up at my hotel in Dubai Downtown early in the morning, we visited both sites and they provided me with all the info I'm sharing with you in this post. I even had time for a siesta on the way back!
As I wanted to take my time for my photos at Sheik Zayed Grand Mosque, I enjoyed the place at my own pace and we met at a certain time at the entrance. Easy!
Rent a car
Another great option if you dare to drive in UAE is renting your own car
Other places to visit in Abu Dhabi
If you have extra time in Abu Dhabi, there's plenty to do and visit there:
Corniche: Corniche means seaside in French – now you know what you can expect from this area!
Emirati Palace: one of the most expensive hotels in the world. Do not miss its lobby!
Abu Dhabi desert: expect red dunes and lots of fun!
Guggenheim museum, to be opened in 2020 in Es Saadiyat island, not far from Louvre museum.
Yas island Ferrari park: Ferrari's theme park with world's largest Ferrari logo – you can easily see it from the road or from the plane if you're flying out from Abu Dhabi with Etihad airlines.
Zaya Nurai private island for a beach vacation!
Where to stay in Abu Dhabi
There are many options in Abu Dhabi if you're planning an unforgettable stay. My top picks are:
Shangri La Abu Dhabi
Shangri La Abu Dhabi for a beautiful sunrise and sunset view from their pool.
Check here availability and rates.
Zaya Nurai Private Island
For a very special stay, head to Zaya Nurai Private Island – it's the most incredible place I've ever stayed at!
From there, you can grab a taxi, uber or a combination with local buses to visit the mosque and the museum – only if you're capable to leave this paradise, though.