Staying at St. Pancras Renaissance Hotel
Staying at St. Pancras Renaissance Hotel in London is something I've always dreamt of. And I finally made it!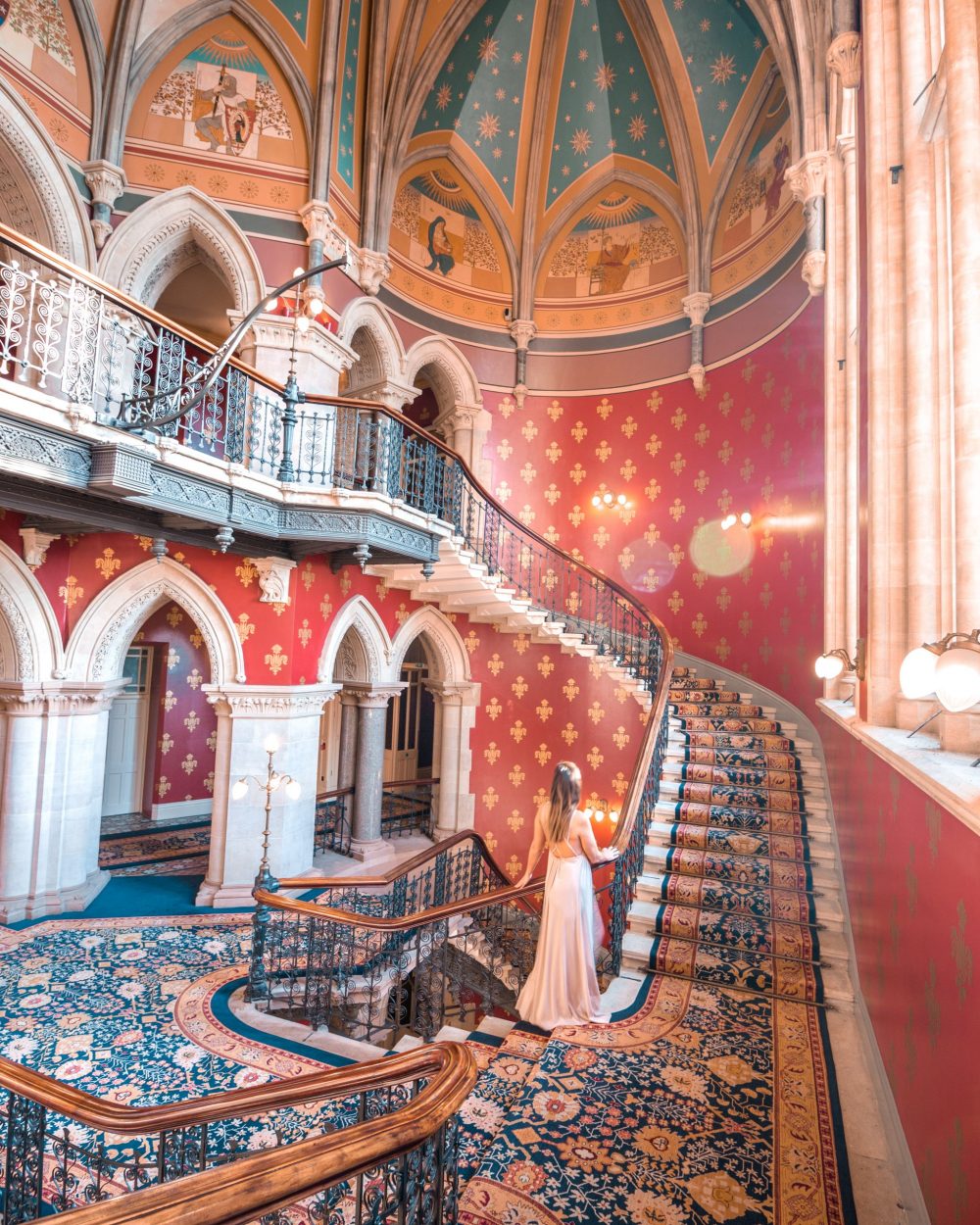 An historic facade
St. Pancras Renaissance famous curved facade was designed by Sir. George Gilbert Scott for the former Midland Grand Hotel. Made out of red brick, it's one of London's most iconic buildings.
St Pancras' iconic staircase
The grand staircase at St. Pancras Renaissance Hotel is one of the most famous instagram spots in London. However, you'd only have access to it if you're a guest at the hotel.
It's a really impressive part of the building and there's no doubt why it's insta-famous. I think I spent around 2 hours just taking photos of it.
This staircase became even more famous after Spice Girls' Wannabe video – they have even created a Wannabe package that includes a photoshoot at the staircase – no kidding!
Suites with a view
I stayed at one of the Chambers Suites, with a sweet view to King's Cross International Railway Station and The Meeting Place statue.
The suite is humongous, with tall ceilings and a beautiful Victorian decor. The bathroom is also ginormous and it comes with the iconic rubber duck.
A welcome gift was at the room at my arrival with fruits and macarons, a welcome note and a lovely mug.
Breakfast at The Booking Office
Breakfast is served at the former Booking Office of the station, which is opened to non guests too.
Although I was staying 2 nights at St. Pancras Renaissance, I had to leave early on my last morning at the hotel. Otherwise I'd used room service to enjoy breakfast with a view from my suite. Next time for sure!
The Chambers Lounge
The Chambers Lounge is available for all the guests at St Pancras Renaissance. The staff was really friendly and the service was lovely.
At The Chambers Lounge, light afternoon tea and pre-dinner canapés as well as a selection of beers, wines and cocktails are available every day. I had everything I needed for a perfect staycation!
The Chambers Lounge is accesible too for Marriott Bonvoy Elite, Platinum and Ambassador members.
The Spa at St. Pancras Renaissance
I have the chance to enjoy the spa at the hotel on my second night.
It features a relaxing pool, sauna and they also have massage, scrub and facial packages available upon request.
They also have a 24 hour fitness centre.
Marriott Bonvoy Membership
St. Pancras Renaissance Hotel is part of Marriott Bonvoy rewards program. Just sign up to this program when checking in at reception so you can enjoy free wifi during your stay and start earning points on any of the hotels that are part of it.
If you want to stay at this hotel, you can check here rates and availability.