Have you ever heard about Nurai? It's literally the Maldives of the Emirates. A private island that makes the perfect escape from the hustle and bustle from Abu Dhabi.
Picture yourself in a beach villa facing your private swimming pool by the beach – this is the most incredible hotel I've ever stayed at. And I've been to a few!
Staying at Nurai Private Island
How to get to Nurai Private Island
My experience in Nurai started at the other side of the coast, at Nurai Welcome Center. That day I grabbed a female taxi from Dubai to Abu Dhabi and I was welcomed at Zaya Nurai Welcome Center with a glass of Veuve Clicquot champagne. Cheers to that!
From there, arriving to paradise takes just a 10 minutes boat ride. Of course, you can also fly on your private helicopter, if you fancy 😉
Once I arrived to the private island, a buggy was waiting for me. They drove me to my villa and I had no words – I could have never imagined how this place is like.
You can also visit Nurai island as a day visitor if you're not planning to stay there, too.
Nurai is the perfect plan for a day trip from Abu Dhabi or Dubai.
Beach Villa
I was staying at a beach villa, where everything was ridiculously huge and incredibly beautiful. It's located by the private beach that is not accessible for non-guests.
This villa has an amazing lounge area, a really comfortable bed facing the pool and the beach and a huge bathroom that features a bath tub with a view.
The outside area had a sweet view. The first thing that grabs your attention is of course, that heated pool! It was so incredible that I would go in the water every once in a while just because it was so good, and both sunset and sunrise were memorable. Every beach villa features a garden with a heated pool, a shower, a balinese bed, sitting areas, plus sunbeds and umbrellas by the beach. Actually, the part of the beach in front of the villa is only for yourself.
Each villa comes with 2 bikes to discover every corner in the island. However, you can also call reception and ask for a buggy or simply walk.
They've been inspired by Maldives resorts to create this slice of paradise – and I think they've made it!
Other villas
If I thought my villa was huge, well, I think I ran out of words to describe the other villas.
Out of curiosity I visited a couple of estate villas, including the one where the sheikh stays at when he's at Zaya Nurai. It was incredible! There was a famous Hollywood star commuting from this villa to work from the helipad everyday. So funny!
Beaches
Private beach
As I was saying, the beach villa is facing a private beach that is non accesible for day visitors.
Smoking Pineapple
Smoking Pineapple is the party area in Zaya Nurai, but not only that. Apart from cocktails, the infinity pool and the swings on the water make the perfect spot for sunrise. I spent literally 2 hours taking photos one morning here!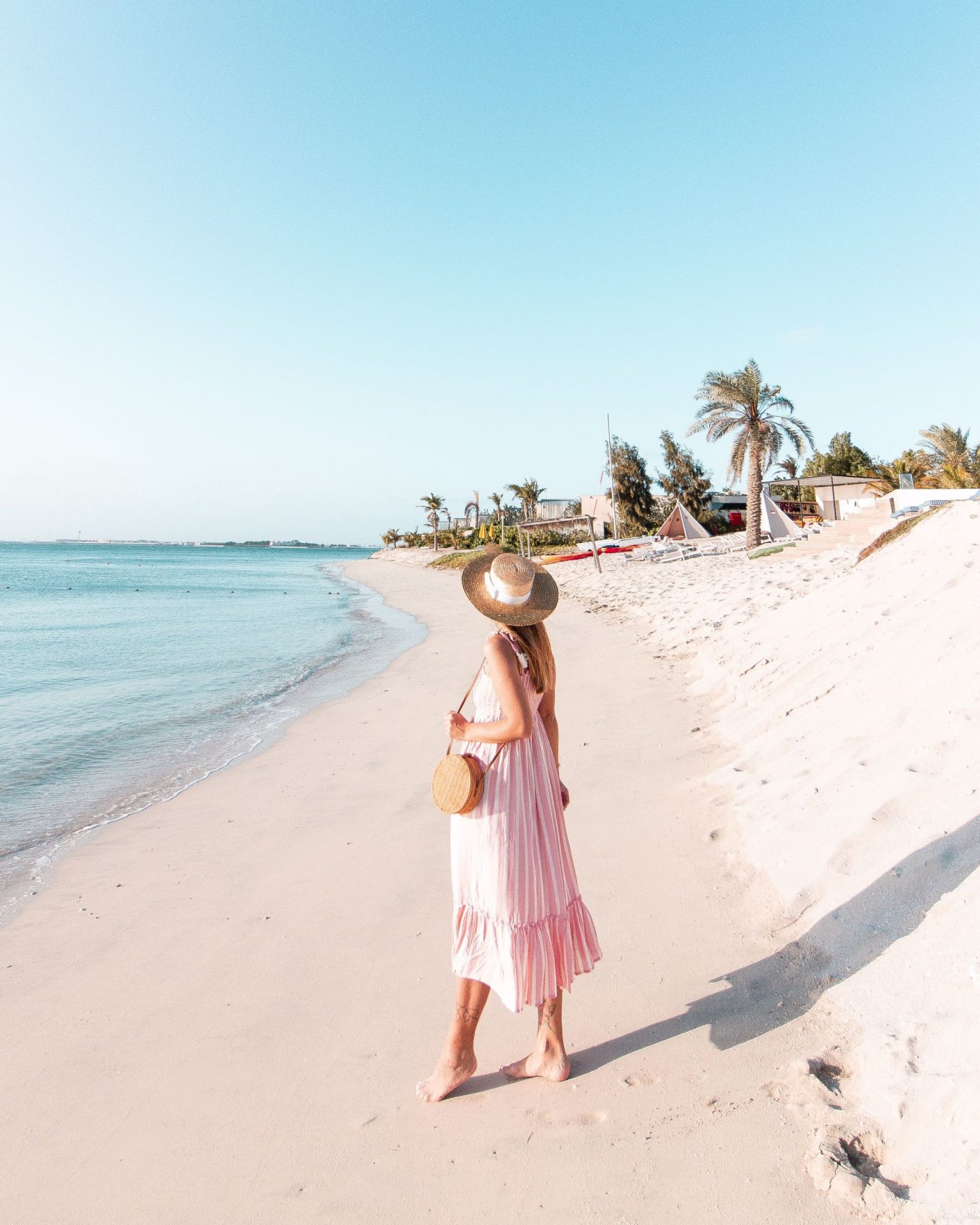 Ginger Mermaid
Ginger Mermaid is the best spot in the island for to sunset. They have even installed a bench in the best spot to watch it!
Facilities
Spa
The spa at Zaya Nurai is unbelievable. Really. It's the kind of things that are too good, that you couldn't even imagine.
The treatment rooms are built on top of the rocks so you're literally facing the sea, hearing the sound of the waver as you're receiving your massage. It's just too good.
Restaurants
Nurai have 3 superb dining options:
Frangipani: gourmet international brasserie, it's also where buffet breakfast is served
Dusk: Mexican restaurant
Hooked: Lebanese restaurant
Plus, there are 2 beach bars located by the pool in every beach:
Ginger Mermaid: beach bar serving sushi and cocktails
Smoking Pineapple beach club: woodfire oven pizzas and cocktails
Activities
Most of the guests come here looking for privacy, so they rarely leave the room! In case you need more than a relaxing vacation, there's plenty of activities to do.
Morning yoga, meditation, tai chi and pilates
Book cellar with games
Outdoor cinema
Water activities:
Stand up paddle board
Jetsky
Kayaking
Banana rides
Snorkeling
Wave Pool
Fishing cruise
Sustainability
Zaya Nurai uses solar powered electricity, produces 0 wet waste, and uses locally sourced and organic ingredients when possible. They use paper straw in cocktails, what made me happy – I'm sure they will remove the single use plastic very soon.
Check here rates and availability.
If you've liked this post, pin it for later!