One of the highlights from my recent 5 day trip to Tokyo was visiting Teamlab exhibitions.
I visited Teamlab Borderless and enjoyed it so much that I came back a few days later and decided to visit Teamlab Planets too – and it ended up being one of my most beloved memories from the trip: we had so much fun!
You've probably seen a bunch of instagram photos taken in Teamlab exhibitions: Tokyo and Singapore are the most popular ones but you can find them all over the world! But believe me when I say that pictures don't make Teamlab justice.
Teamlab exhibitions are different from any other art exhibitions I've ever visited. They're body immersive and transcend boundaries through digital art, creating ultra subjective spaces and changing the relationships among people.
Related article: The best instagram spots in Tokyo
How to visit Teamlab digital art exhibitions in Tokyo
Teamlab Borderless and Teamlab Planets
There are 2 Teamlab digital art exhibitions in Tokyo: Teamlab Borderless and Teamlab Planets.
Teamlab Borderless is the most popular one. You've probably seen on instagram some eye-captivating shots, in a room full of dreamy lanterns or under the most incredible waterfall that almost looks like a painting. Believe me, reality is even more incredible than pictures!
Update: Teamlab Borderless in Odaiba has closed in August 31st, 2022 and it's expected to reopen in 2023. It will relocate at Toranomon-Azabudai project.
Teamlab Planets is not as famous as Teamlab Borderless but I somehow liked it even more. The experience was way more immersive, it was far from crowded as it's not as touristy as Teamlab Borderless. Besides, you won't miss any exhibition as you have to follow a path.
Whatever the case, I highly recommend visiting both, if possible.
Here's what you can expect from both exhibitions!
Teamlab Borderless
Teamlab Borderless is expected to reopen in 2023.
TeamLab Borderless is a world of artworks without boundariess, a museum without a map created by the art collective teamLab. Artworks move out of rooms, communicate with and even influence other works, in a 10,000 square meter space.
Teamlab Borderless is about discovering a new world, exploring with intention and getting lost at the same time. The artwork continuously changes in the presence of people, creating a new relationship between the people and the world.
There are secret rooms behind curtains and secret dark corridors: make sure to explore every single corner and remember: there are no borders!
The rooms at Teamlab Borderless
These are the rooms in Teamlab Borderless – I missed a few even when I visited twice!
Flower Forest
Crystal World
The Forest of Resonating Lamps: you usually have to wait 30 minutes in line and are granted access to the room for just one minute!
Athletic Forest
Memory of Topography
Black Waves
Weightless forest of resonating life
Animals of flowers
The nest
Light shell and vortex
En Tea House
If you don't want to miss any room, save this list and ask politely to the staff where to find these rooms: they will help you with indications.
Teamlab Borderless tickets
Currently unavailable.
When to visit Teamlab Borderless
Teamlab Borderless is a permanent exhibition. (Currently unavailable)
Opening hours:
Weekdays: 10 am – 7pm
Saturdays, Sundays and Holidays: 10 am – 9 pm
Closes 2nd and 4th Tuesday of the month.
Give yourself at least 2 hours to visit Teamlab Borderless. Because of its popularity it's a bit crowded and you'll have to wait in line if you visit early in the morning. I'd recommend going before closing time.
Location
MORI Building DIGITAL ART MUSEUM: teamLab Borderless, Odaiba Palette Town 2F, 1-3-8 Aomi, Koto-ku, Tokyo
It will reopen at Toranomon-Azabudai project this 2023.
How to get to Teamlab Borderless
You can easily get there in public transport. It's just 2 minutes walking from Aomi station (Yurikamome line)
Teamlab Planets
TeamLab Planets is a museum where you walk barefoot, getting to feel different textures and sensations – including walking on water!
It features 4 big exhibition spaces and 7 works of art. The artworks are based on art collective teamLab's concept of "Body Immersive". Our bodies get immersed in the art, and the boundaries between viewer, art and other visitors become ambiguous.
Unlike Teamlab Borderless, in Teamlab Planets there's a path that you need to follow, so you won't get lost and you cannot miss any of the rooms.
Things you need to know
Some of the surprises at Teamlab Planets:
You will be barefoot.
Water levels can rise up to knee height.
Areas of the site are mirrored, so there's a possibility of your underwear reflecting if you're wearing a skirt or a dress (there are shorts available if you want to wear them).
The rooms at Teamlab Planets
All the rooms in Teamlab Planets have a detailed explanation These are some of the rooms you may encounter.
Soft black hole – your body becomes a space that influences another body
The infinite crystal universe
Drawing on the water surface created by the dance of koi and people
Expanding three-dimensional existence in transforming space
Floating in the falling universe of flowers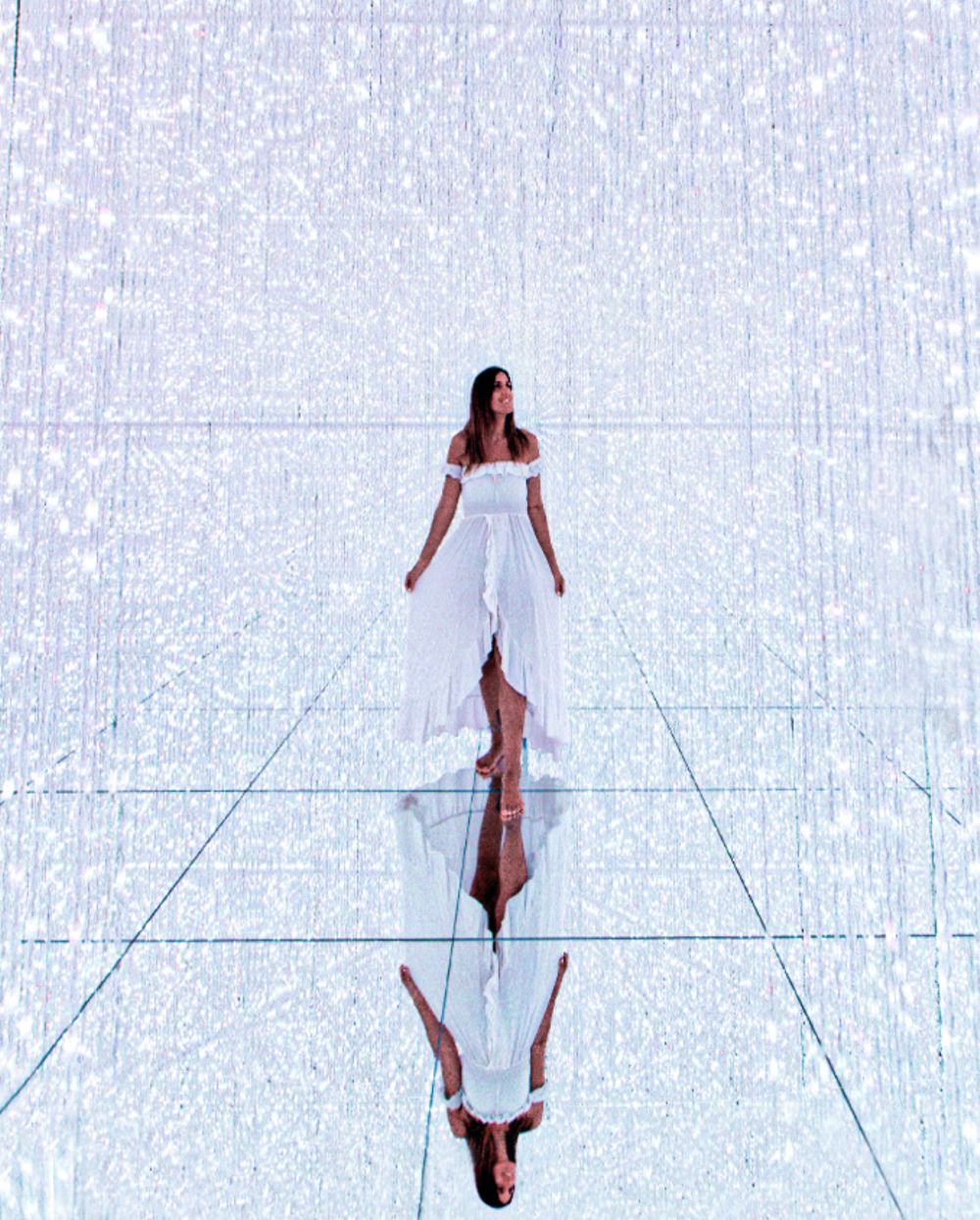 Teamlab Planets Tickets
Book here your Teamlab Planets tickets in advance.
When to visit Teamlab Planets
This exhibition is available until the end of 2023..
Opening hours:
Working days: 10 am – 10 pm (last entry at 9pm)
Saturdays, Sundays and Holidays: 9 am – 10 pm (last entry at 9pm)
As in Teamlab Borderlesss, you need a minimum of 2 hours to visit the whole place.
Location
Toyosu 6-1-16, Koto-ku, Tokyo
How to get to Teamlab Planets
It's easy to get to Teamlab Planets on public transport. It's just 1 minute away from Shin-Toyosu Station (via Yurikamome line) or 10 minutes walking from Toyosu Station (via Yurakucho line)
Useful info before you visit Teamlab
Book your tickets in advance as they're often sold out – especially for Teamlab Borderless.
Take into account that you'll possibly have to wait in line a few minutes before getting inside.
Download the Teamlab app before visiting so you can interact with the artwork!
You can leave anything in the lockers before entering the exhibition, just take your phone or camera with you.
Getting photos without others is not an easy task. Don't get frustrated about it and enjoy the visit!
Once you're in you can stay as long as you want.
Using a monopod, tripod, selfie stick, etc., is not allowed.
The sites feature dark areas and strong lights.
Teamlab app
Teamlab has launched an app that is available for iPhone and Android that you can use in both Tokyo exhibitions .
In Teamlab Borderless, you can use the app in the Crystal World room: swipe up on a character and the world contained within it will be released into the space.
In Teamlab Planets, you can use the app in 2 rooms: in the Crystal Universe, swipe up on a star and it will change the exhibition space; in the Floating universe of flowers, you can release butterflies into the space.
Teamlab Borderless vs Teamlab Planets – which is better?
If you're wondering which Teamlab is better in Tokyo, here are my thoughts.
As I've said, I recommend visiting both. They're just 10 minutes away from each other in the Yurikamome line so it's really easy to do so!
If you cannot visit both exhibitions and you're still debating which one should you visit, here's my 2 cents.
Both exhibitions are different. Teamlab Borderless is more about discovering, while teamlab Planets is more about feelings. So that's on you!
If you're planning to take instagram pictures, Teamlab Borderless will be challenging. The instagram photos you see from instagram influencers with nobody around are only possible with a special press pass before opening times. They are very difficult to recreate otherwise, being nearly impossible in the lantern room and the waterfall. However, it's quite easy to take photos in Teamlab Planets as it's not as crowded.
There are some rooms that are similar in both spaces, but most of them are different and so are the experiences and feelings. Borderless' Crystal room is smaller than the one in Planets, but Planets doesn't have anything like the waterfall or the lanterns room.
Teamlab Planets is slightly cheaper.
Teamlab Planets opens until late, so you can visit after a whole day visiting Tokyo's main spots!
If you have to choose only one, I'd recommend you visiting Teamlab Planets, mostly because it was less crowded so it was easier to enjoy. We had so much fun visiting and we were in awe with its beauty. We didn't care at all about running out of battery in our cameras – it was actually a blessing. We were playing, laughing, feeling completely immersed in the artwork. I confess I even got emotional in the last room, where I was laying under the falling universe of flowers. It was so much beauty to handle, and also the perfect closing for our last day in Tokyo.
Now let me know: which one would you choose?
If you've liked this post, pin it for later!