Ohh, Morocco. I've been dreaming about you for so long.
It's been a while since my first trip to Morocco. I remember it was my very first stamp on my very first passport, but it was just a short trip to Tangier and I've been wanting to come back ever since.
I could finally make it. A few more times. I fell in love with Marrakech, with the desert, with the blue city, with the mountains, with the coastline, the food, and the souks. It has an energy that I cannot put into words. It's also Instagram perfect!
If you're planning to visit Morocco too, here you'll find everything you need to plan your trip.
Morocco Travel Tips
Visa
You don't need a visa if you're coming from the European Union or the USA.
When flying from Morocco, make sure to be at least 2 hours in advance at the airport. They don't accept e-boarding passes yet so you need to stop at the check-in counter and get it stamped before passport control.
Travel insurance
Traveling is exactly like real life. You never know when you're going to get sick or being involved in an accident or getting robbed.
The insurance price is minimal compared to the advantages you will get if you need it, so I'd recommend it 100%. I always book it with Heymondo, so I can get the best offer with a self-customized insurance.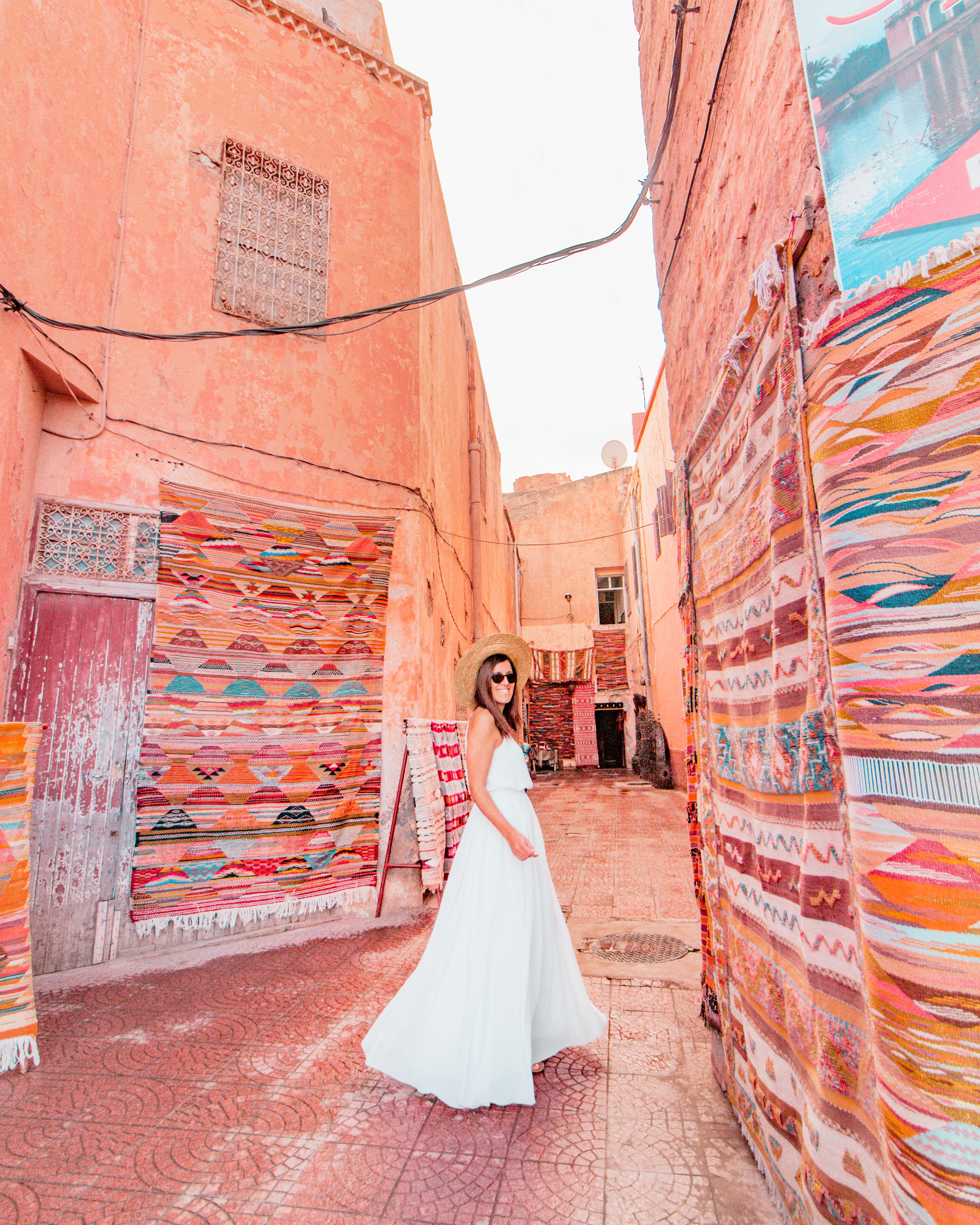 Vaccinations and hygiene
There are no compulsory vaccinations required to travel to Morocco and there's minimal risk.
However, be careful when eating out and avoid food stalls that do not look clean enough.
Read more:
Safety tips
I'd say Morocco is a safe tourist destination.
However, there are a few things to keep in mind.
You will probably get cat calling if you're a female solo traveler, or if you're travel in a female group. Try to ignore them!
You won't get lost with Google maps if you have internet on your phone. Do not trust anyone who volunteers to guide you can end up in an unwanted situation and they will probably ask you for money.
What to pack for Morocco
Regarding outfits, Morocco is an Arabic country but they're very open to tourism. Personally, I felt comfortable wearing midi and maxi dresses and showing my shoulders. However, you can get catcalling on the streets, especially if you travel alone. Just ignore them and don't let them make you feel scared.
If you visit Morocco in winter, pack your coat! Temperatures plummet dramatically compared to the rest of the year.
Finding alcohol for sale in Morocco is not easy. The best you can do is buying some alcohol at the duty-free shops at the airport.
Flights
Many airlines fly to and from Morocco, including low cost.
If you're planning to travel around the country, then consider flying to an airport and flying out from a different one (for example arriving in Marrakech and flying out from Casablanca).
Read more:
Itinerary for 2 weeks in Morocco
Hotels
Morocco has accommodation for every type of traveler: from resorts that look like palaces to dreamy boutique riads and luxury glamping sites in the desert. And of course, budget alternatives.
One of my favorites in Marrakech is Es Saadi Marrakech Resort – Palace, a beautiful resort with incredible decor, art exhibitions, gardens, swimming pools, spas… The marble pool is an icon in Marrakech and the whole experience is highly recommendable. It's like staying at a palace.
Internet
Most hotels and restaurants offer a great connection to the internet, so don't bother if you're on a relaxing vacation and don't need the internet 100% of your time. Use this opportunity to relax!
However, SIM cards in Morocco are really affordable and they come handy so you don't get lost in the souks and for those moments on the road if you're touring around the country.
The best SIM card in Morocco provider is Maroc Telecom. SIM cards cost around 3€ and you can recharge it with 5GB every time for around 5€. I had connectivity with them even in the desert!
You can buy your SIM card at your arrival at the airport or local shops in the touristy areas, which I recommend.
Read more:
Money
The official currency in Morocco is the dirham, however, they accept euros in many places.
Money tips in Morocco:
Use the app Xe Currency to know how much you are paying.
There are ATM's available at certain hotels and central locations in the cities. ATM's will charge you a commission.
At the souks, always bargain. You should pay around 60% of the first offer, so good luck and enjoy it!
If you've liked this post, pin it for later!