5 Days in Tokyo Itinerary
Tokyo, the city capital of Japan, offers endless possibilities for the traveler. It's the perfect blend of traditional and modern culture and there's never a dull moment.
To help you make the most of your trip, we've put together a comprehensive Tokyo itinerary for a 5-day trip. Whether you're interested in the city's history and culture, its delicious cuisine or just taking cute photos and going shopping, this itinerary has got you covered.
Keep reading and get ready to experience the best this city has to offer!
Day 1: Senso Ji, Meiji Jingu, Ueno Onshi Park and Akihabara
Getting up early in the morning for Senso Ji, you can get to all these places in one day. They are located not too far from each other on public transport:
Senso Ji
Nezu Shrine
Ueno Onshi Park
Akihabara
Tokyo Skytree
Senso Ji
Fun fact time: Senso Ji is the oldest temple in Tokyo and (surprise!) the most visited temple in the world with estimated 30 million visitors per year. Hence, imagine the crowds!
With this in mind, we decided to visit Senso Ji early in the morning and we got there around 4 am for a sunrise photo mission: and it was such a great idea! We had a lot of time to enjoy the place all for ourselves while the city was still sleeping. It was the best time to take photos, too!
If you plan to visit Senso Ji for sunrise, I recommend you staying in a hotel nearby in Asakusa area. We were staying at Hotel Amanek Asakusa Ekimae, located less than 10 minutes away from the temple, which was pretty basic but it was perfect for getting to Senso Ji temple on foot early in the morning. Plus, it has a beautiful view to Tokyo Skytree from the rooftop!
Nezu Shrine
Torii gates are usually located at the entrance of a shinto shrine and they symbolize the transition from the mundane to the sacred, being the most famous red torii gates located in Fushimi Inari Shrine in Kyoto.
Good news! If you're only visiting Tokyo, you can visit the red torii gates in Nezu Shrine or Hie Shrine.
Ueno Onshi Park
Ueno Onshi is the biggest and one of the oldest parks in Tokyo.
It's extremely popular during spring, being one of the best locations in Tokyo for cherry blossoms!
However, if you're traveling to Tokyo during any other time od the year, it's still worth the visit. There are dozens of traditional Japanese temples, sanctuaries and the surroundings are just beautiful!
Akihabara
One of the best places to get to know the Japanese contemporary culture.
Located in central Tokyo, Akibahara is the Mecca for the otaku and anime culture. There are hundreds of shops specialized in electronics, games, manga and figurines, apart from maids cafes, cat cafes, even owl cafes! Akihabara is such a crazy, overwhelming place – you need to visit by yourself!
Tours in Akihabara:
Tokyo Skytree
Tokyo Skytree is the world tallest tower and the second tallest structure after Burj Khalifa.
You will get a perfect view to Tokyo Skytree from Asakusa, but if you can, visit the observatory deck at the top floor for 360 views to the city.
Day 2: Harajuku & Shibuya
Harajuku and Shibuya deserve a full day from your itinerary. These are the places you can visit in one day:
Shibuya crossing
Takeshita Dori
Tokyu Omotesando
Meiji Jingu Shrine & Yoyogi Park
Shibuya crossing
Welcome to the busiest pedestrian crossing in the world: 2,4 million people are crossing here every day – around 2,500 people at a time! Can you believe that?
Shibuya crossing is a must in every itinerary in Tokyo, and it's for a reason. You need to experience it by yourself and cross a few times: have fun and don't forget to pay a visit to Starbucks! From there, you'll get the best views to this world famous pedestrian crossing.
Plus, in Shibuya crossing area there's a very special meeting point, where Hachiko memorial statue stands. Hachiko was an Akita dog that waited for his owner, Professor Ueno, to come back from work at university everyday, standing just like the statue in that same spot. Ueno never came back after dying at work but Hachiko still waited for 9 years until he also died *literally crying*.
Hachiko is very important in Japanese culture as an example of loyalty and fidelity. More recently there's another memorial statue at Tokyo University, showing Hachiko being reunited with Professor Ueno *crying again*.
Takeshita Dori
Harajuku is famous for being the Japanese youth culture and fashion hotspot, and the ultimate example of this is Takeshita Dori (also known as Takeshita street).
Takeshita street is the place to go for colorful food like massive candy floss, the cutest gelato in animal shapes, crepes that look like they were made for instagram, rainbow cheese and fluffy pancakes – everything looks out of this world (and extremely photogenic!).
In Takeshita Dori you will find all these cute food stalls along with kawaii shops, cat cafes and just around the corner, the Galaxy Harajuku store that is also well worth the visit.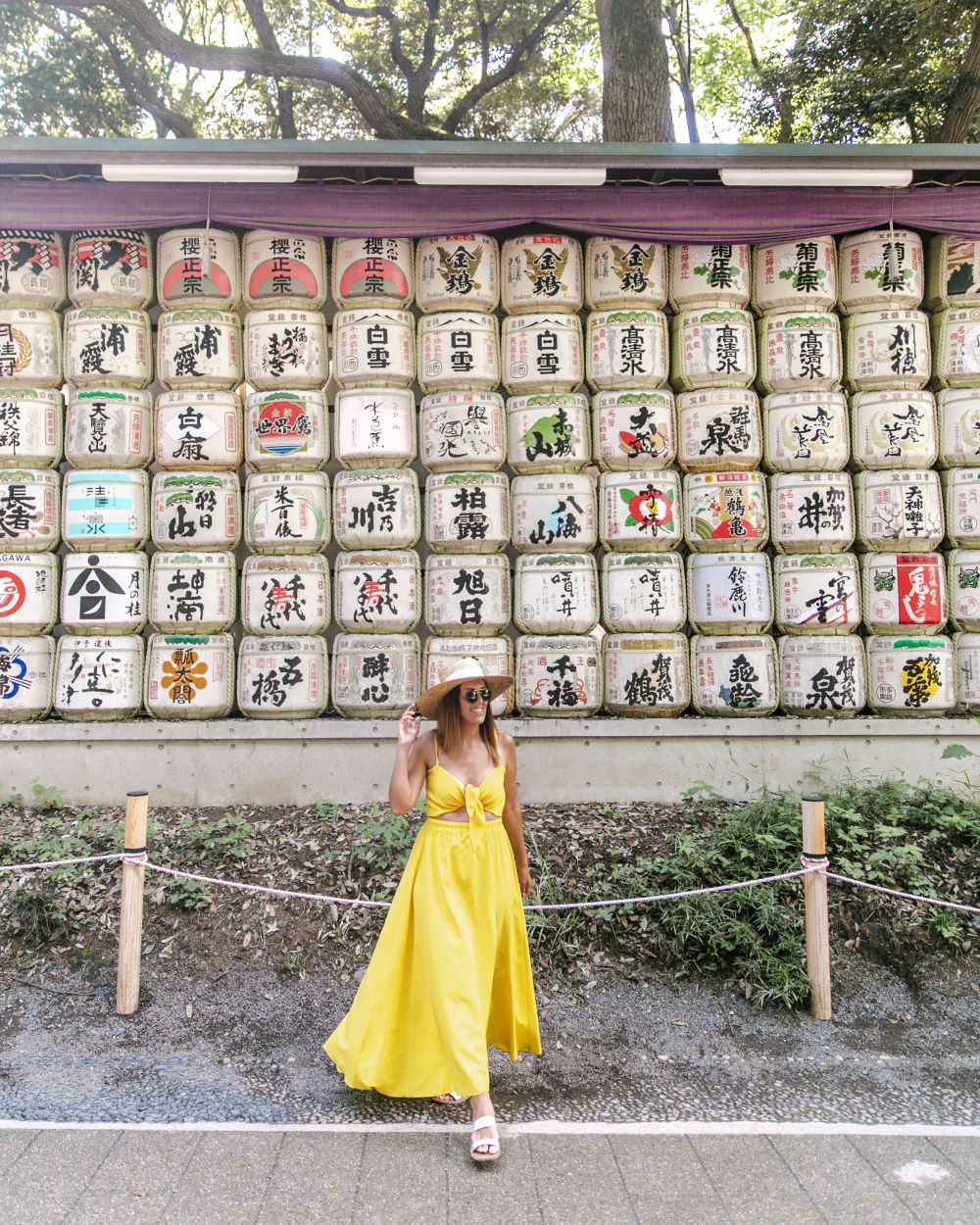 Tokyu Omotesando
Also in Harajuku and not far from Takeshita Dori we can find Tokyu Omotesando, where more international and upmarket shops can be found.
Tokyu Plaza is probably the most famous shopping mall in Tokyo, thanks to its instagrammable mirrored entrance – it's rooftop terrace is also well worth the visit!
It's not far from Takeshita street and Galaxy Harajuku, so make sure to visit all these places when in the area!
Meiji Jingu Shrine & Yoyogi Park
Meiji Jingu Shrine and Yoyogi Park are a must visit when in Tokyo.
This shrine is dedicated to Emperor Meiji, who's considered the founder of modern Japan in a cultural sense.
Day 3: Mount Fuji Day Tour
Mount Fuji is a must when visiting Japan: it's a symbol for the country, a sacred site and the highest volcano in Japan.
We visited Mount Fuji on a day trip from Tokyo with our lovely tour guide Taka, who even taught us how to create our own origami Mount Fuji on the way!
Or first stop was at Station 5 from where it takes around 3h to get the top of Mount Fuji. There, we had the traditional houto for lunch.
After that, we visited lake Kawaguchi and Chureito Pagoda, two beautiful sites to see Mount Fuji – if you're lucky, though! Mont Fuji is quite shy so there's a chance you cannot see her during your day trip.
Best day trips from Tokyo
Day 4: Shinjuku and Gotokuji
Also known as Piss Alley and Omoide Yokocho, Shinjuku's Memory lane is a maze of narrow alleys: a visual pleasure for photographers and a real pleasure for foodies, too. Get lost in the madness and don't forget to have a delicious meal!
It's highly advisable to visit it at night, when the place is bustling – not everything is opening during the day!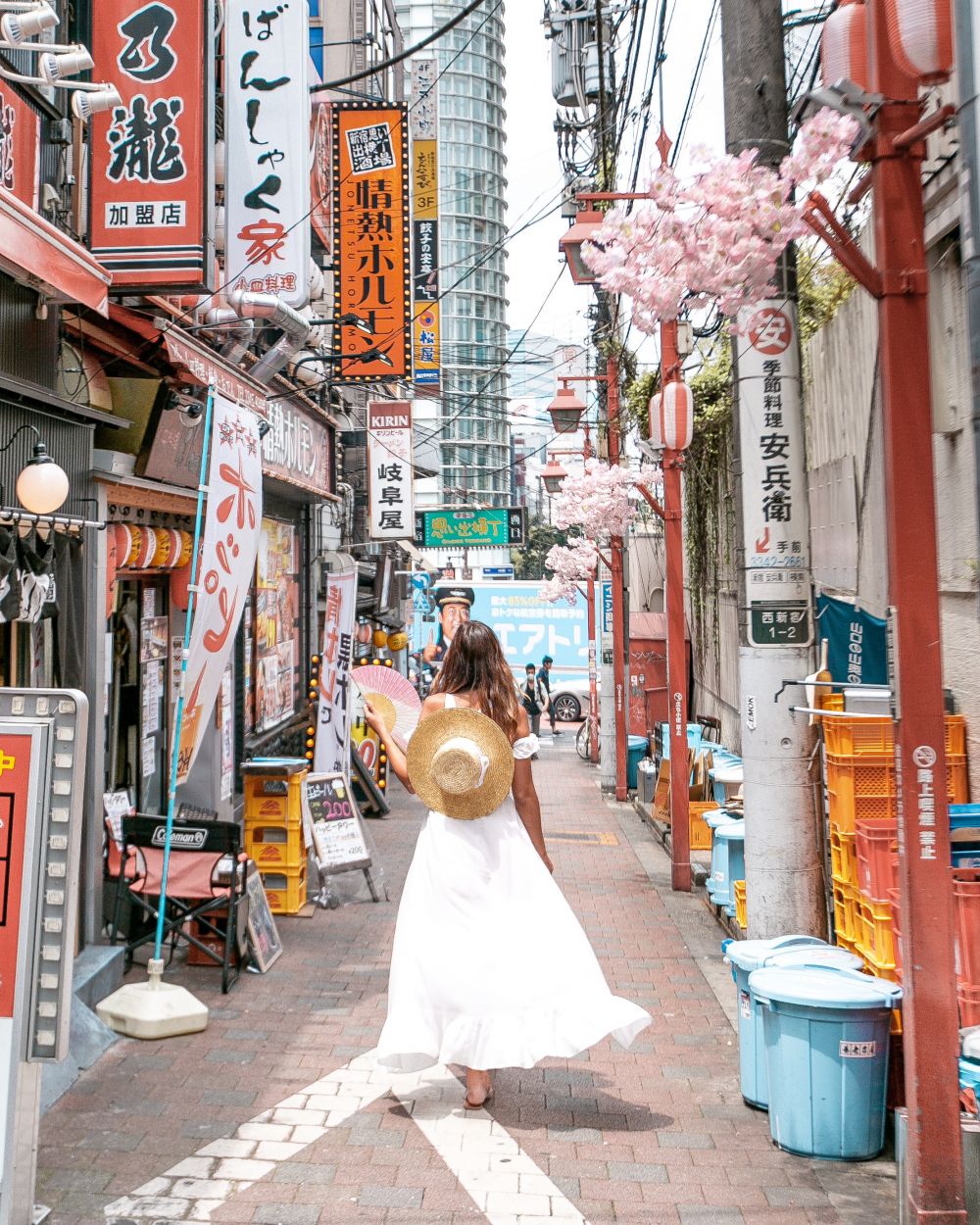 Gotokuji Temple
Gotokuji Temple is a place of worship for the famous maneki neko – also known as the beckoning cat.
The beckoning cat is a symbol of good luck. A raised left paw is for business success, while a raised right paw will bring protection to your home.
The temple has a lovely zen atmosphere and there can be found around 10 thousand maneki neko figurines at one of the areas.
How to get to Gotokuji temple?
Gotokuji Temple is located in Setagaya, a residential area away from the hustle and bustle from the city.
You can easily get to Gotokuji temple by taking the train to Gotokuji Station from Shinjuku Station on the Odakyu line.
You will find many signs on the way after exiting the train station that will lead you to the temple easily.
Day 5: Odaiba
The best places to visit in Odaiba:
Toyosu Outer Market
Teamlab Borderless
Teamlab Planets
SoHo
Toyosu Outer Market (former Tsukiji Outer Market)
Get ready to wake up for sunrise to attend the tuna auction!
Tsukiji's inner market, where sushi chefs from around the world bid on massive tuna, closed in 2018 and has been relocated in Toyosu, where it has been renamed as Toyosu Market. It's the biggest fish market in the world.
One of the best experiences you can have in Tokyo is having sushi for breakfast! And there's no better moment than after attending the tuna auction. It may sound crazy at first, but sushi in Tokyo is so delicious that you will fall in love after the first bite: it was the most delicious sushi I ever had!
Teamlab Digital Art Exhibitions
If there is an instagram famous spot in Tokyo, that is Teamlab Digital Art Exhibitions.
There are actually 2 different Teamlab exhibitions in Tokyo, Teamlab Borderless and Teamlab Planets. They are located less than 15 minutes away by pubic transport from each other and they're a must visit for everyone.
Teamlab Borderless is the most popular exhibition so it's always crowded. Meanwhile Teamlab Planets is still overlooked by most tourists and the overall experience is less stressful. If you can, visit both of them! Click here to learn more about these exhibitions.
Get your tickets in advanced here – they're sold out often!
Teamlab Borderless – currently unavailable.
How to get around in Tokyo
Japan's largest city may look overwhelming at first glance: just make sure to plan your visit to Tokyo so you can visit a different area a day otherwise you'll waste your time in transportation.
I totally recommend you getting a prepaid Suica or Pasmo card as soon as you get to the airport or train station – they're available at vending machines at the subway and shops. You can use the card for all trains, subways and buses all around Tokyo, it's very easy to top up and use.
Uber is also available and reliable in Tokyo, but a bit pricey. It's the best alternative when there are no public transportation available late at night.
Make sure to buy a SIM card as soon as you arrive in Japan: you won't get lost with one of them!
Where to stay in Tokyo
When traveling to Tokyo, it's very important to book your accommodation well in advanced, and also choose the location wisely so you can save time in transportation.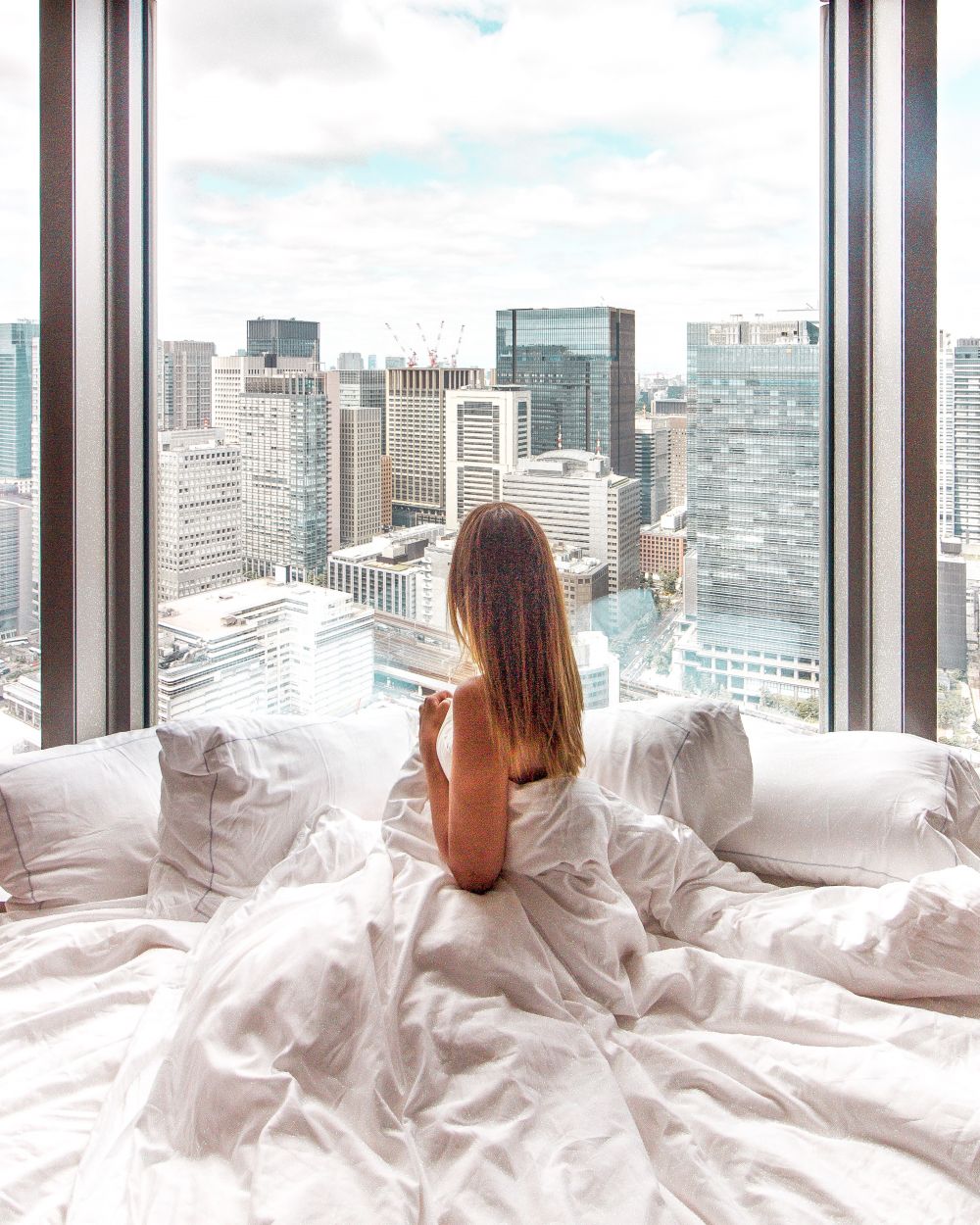 During my days in Tokyo I had the chance to stay at 2 different hotels: